Crash Team Racing Nitro-Fueled For PS5 continued the legacy of reviving Crash Bandicoot in its prime by remaking one of the best non-platforming games from scratch on the PS4, Xbox One and Nintendo Switch. Released in the middle of 2019, the game was developed by Beenox and had saw great critical and commercial success, however, it seems that a surprise PS5 version may be in the backburner.
Crash Team Racing Nitro-Fueled For PS5 – Drifting into the next-gen
Crash Team Racing Nitro-Fueled For PS5 is a game that many fans were hoping to make its way to the PS5 without backward compatibility. The game was truly a work of technical marvel, but when fans realized that the PS4 Pro and Xbox One versions of the games were capped at 30 FPS, they were disappointed.
This could change with a rumor in the Crash world where a leaker stated the arrival of Crash Team Racing Nitro-Fueled for the next generation consoles that bring in a slew of new features, and new content.
Here is a comment thread of the aforementioned leak: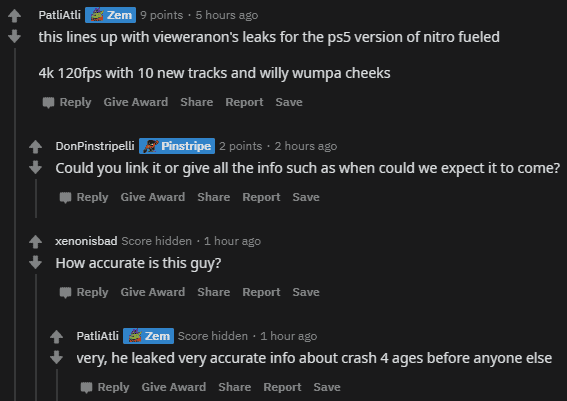 Considering the people on the subreddit have confirmed that vieweranon did reveal Crash Bandicoot 4 before everyone else does give the anonymous leaker credibility.
According to the leak, the improved modes on the PS5 will include 4K resolution with 120FPS support, 10 new tracks, and Willy Wumpa Cheeks as a new character.
While we have yet to hear from Activision or Beenox about the improved version of the game, we have yet to hear about Crash Bandicoot 4 for the PS5, where it has been rated for the Xbox Series X by the ESRB.
The current generation is still in its prime and thus leaves a lot of time for developers and publishers to announce improved versions of their games from the previous generation of consoles.
This could also be a glitch, or perhaps could join the ranks of similar games that show a potential PS5 version if we are to believe another listing on a different subreddit.
Nier Automata also had a similar glitch a couple of weeks ago, where selecting the PS5 version puts a lock on the game.
For now, all we can do is keep our eyes peeled for the PS5 versions of these games. Let us know if you're excited for Crash Team Racing Nitro-Fueled For PS5.