Crash Bandicoot 4 for Xbox Series X has been rated by the ESRB for the Xbox Series X but curiously the game has not yet been rated for the PS5 which is odd. However, we also don't have an announcement from Activision yet, which means that one should be imminent. The absence of a PlayStation 5 version is odd but should follow soon.
Crash Bandicoot 4 for Xbox Series X has been rated – currently no PS5 version
Crash Bandicoot 4 is the first main entry to the series in almost 2 decades. The Bandicoot has been absent from the gaming world for almost 20 years with Activision taking the initiative to revive Crash and Spyro starting in 2017, and their efforts continued from then on.
Crash Team Racing Nitro-Fueled was the second remastered game that the marsupial got, but everyone's favorite purple dragon has yet to receive a similar treatment.
Earlier this year, Crash Bandicoot 4 released for the PS4 and Xbox One and was met with great critical and commercial acclaim, showing that gamers do want the classic platformers to return.
A curious listing on the ESRB website shows that Crash Bandicoot 4 has been rated exclusively for the Xbox Series X and its disconcerting that there isn't a rating yet for the PS5 version. Could Activision be turning the tables on PlayStation and buying an exclusivity with Activision for being a console exclusive?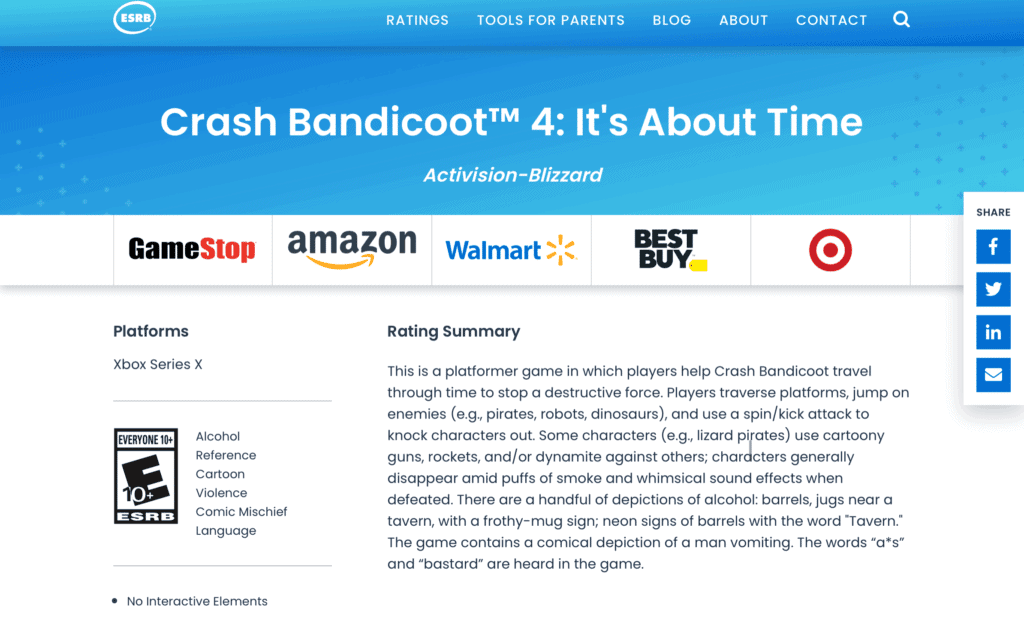 We are entering the second month of the new consoles and it is rather odd that Activision has yet to announce the next-generation version of their latest entry into the fray, but perhaps we can expect an announcement in early 2021.
Previously, Sony has had a good relationship with Activision when it comes to exclusives. As evident by the console exclusivity of Crash Bandicoot N. Sane Trilogy and the Spyro Reignited Trilogy. After them as well, there has been several instances of Activision offering incentives and early betas to PlayStation players for even Call of Duty, their most precious franchise.
For now, all we can do is wait and see for official news, as of right now, it might look like Crash Bandicoot 4 For Xbox Series X could be a timed exclusive on Microsoft's console.