Epic Games and Ubisoft Store are giving out free games every day for PC users, and while there were a number of lists that made rounds, one list has proven to be the most consistent. This Epic Games Store Free Games 2020 List has a good track record and should give confidence to people looking forward to a specific game on the Epic Games Store.
Epic Games Store Free Games 2020 List – It's on a steady track
It seems that an Epic Games Store Free Games 2020 List has proven its legitimacy by following the same pattern and dates for all games released to date.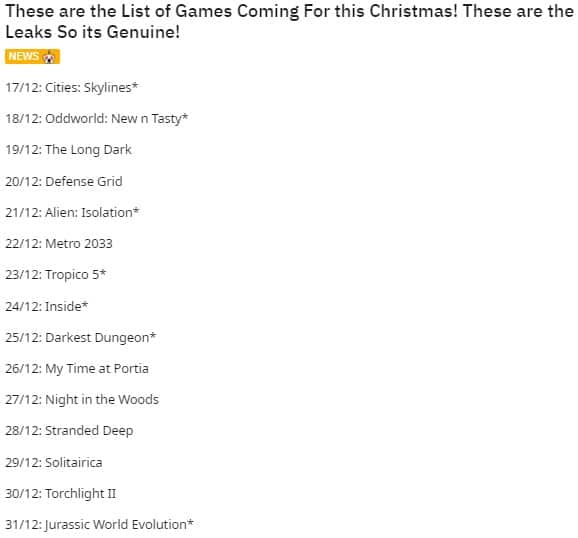 Alien Isolation just went as the latest free game and the post itself is several days old. While many similar lists made their way around the internet, this list has a good track record because of the age of the image that coincides with the games that have been revealed thus far. It seems that teh games that will follow Alien Isolation are ones fans will truly be clamoring for.
While the games leading up to Alien Isolation have been good, I'm personally a fan of the games after Isolation such as Night in the Woods and Inside.
Epic Games and Ubisoft are giving away one free game a day via their desktop clients. All you have to do is login to each respective app and redeem the game. While Ubisoft's list is more evasive, Epic Games list may seem to be more predictable if all the games could be forecasted this early.
All of the free games are yours to keep given and are also retroactive. You can redeem the games of previous dates to your Epic Games Library but after December 31st, the games will go back being full-price. If you are looking to build up a small library, this would be the best place and time to start.
We can only hope that Epic sticks to this list because I know many people are looking forward to a lot of games that are set for later dates in the list.
What are your thoughts on the list and which game are you looking forward to the most? Let us know in the comments section below.