As the 2022 launch event from Google is nearing, and people are excited about the all-new Pixel Watch, the rumor mill has wonderfully kept the fans hooked by continuously teasing with interesting insider leaks. The latest leaks suggest that the new Google Pixel Watch will come in four colors, satisfying various users' color preferences.
Google Pixel Watch To Boast Four Colors
According to Roland Quandt from the German media site WinFuture, the new Google Pixel Watch will boast four color variations.
Earlier, some reports suggested that the new Apple Watch rival shall arrive in three color variants. These included black, silver, and gold variants featuring black (obsidian), white (chalk), and hazel-colored bands.
However, Quandt has confirmed that the new Pixel Watch will actually come in four (and not three) colors. (And what he suggests looks like Google has tried mixing the three colors to create four variants.)
According to Quandt, the Pixel Watch colors will include Matte Black (Obsidian), Chalk (silver-white), Charcoal (greyish silver), and Hazel.
We currently haven't seen any pictures confirming this news. But, indeed, it isn't difficult to wait a few more days to witness the confirmed Watch variants on October 6. Until then, here's an official sneak peek at the Google Pixel Watch design.
What To Expect In The October 2022 "Made by Google" Event?
Alongside the much-anticipated Pixel Watch, the "Made by Google" October 2022 event will have many more exciting releases for Google fans.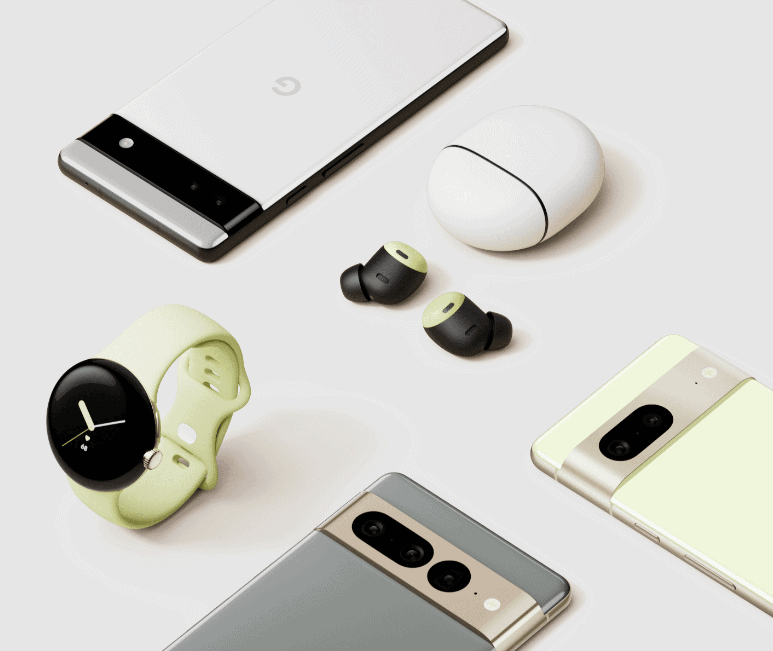 Here's what the firm teased in its announcement, confirming October 6, 2022, as the event date.
Google Pixel 7 And Pixel 7 Pro Phones – the latest 2022 Google Pixel flagship phones.
Nest hardware – Google has hinted about "additions to the Nest smart home portfolio). It may likely release a new Nest WiFi router with WiFi 6E support. And, perhaps we can have a new Nest doorbell too?
Google Chromecast – a new streaming stick (maybe?)
Pixel Buds Pro
Though we expect an announcement for a Pixel foldable phone and a Pixel tablet, that's something lacking weightage for now. So let's wait a couple of weeks to see what Google brings for all of us!