The dark mode feature is slowly becoming standard for any interface as applications update. Many websites and apps provide the option for a dark mode in them, including Snapchat. Even operating systems such as iOS, Android, and Windows come with a dark mode option.
Have you been looking for dark mode on your Snapchat? If you've been looking for it on your phone but haven't been able to find it yet, we'll show you how to enable Snapchat dark mode on your phone.
Dark Mode
Dark mode is a feature that reduces the light emitted by device screens while maintaining enough color contrast for ease of readability. Dark mode is a feature that is offered by operating systems globally as well as by apps individually. It has been increasingly becoming more and more common across apps and platforms.
Wondering what pending on Snapchat means? Read Here!
Enabling Dark Mode on Snapchat
While you may expect the dark mode to be enabled by default, this is not the case. You need to go into an app or an operating system's settings to enable this feature manually.
Some apps, however, may enable dark mode by default if you are using dark mode on your phone. Let's take a look at how to enable dark mode on Snapchat's mobile app as well as on Snapchat Web.
Enabling Dark Mode on App
Turning on dark mode within the Snapchat app is easy. All you have to do is head on over into the app appearance and toggle dark mode on. This method is the same on both iOS and Android. Here's a step-by-step guide: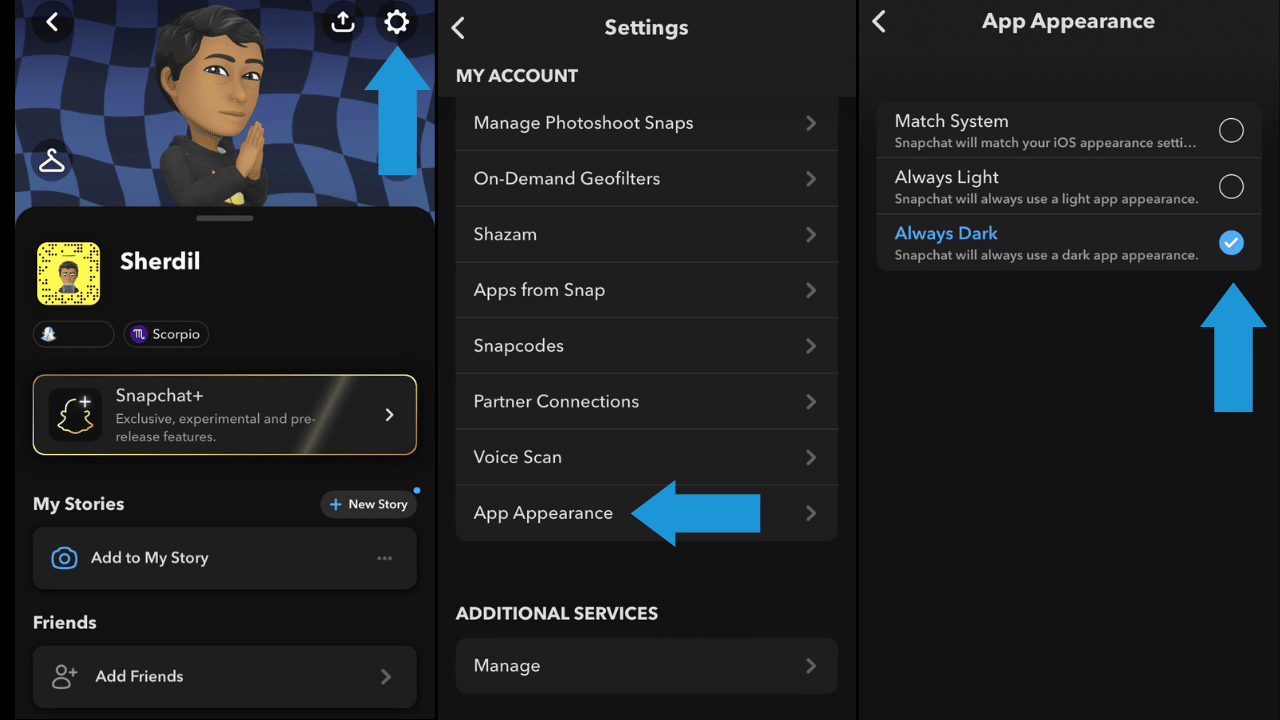 Firstly, open the Snapchat app on your phone.
Next, tap on your Bitmoji at the top left.
Then tap the gear icon at the top right to go to Settings.
Now, scroll down in My Account and find App Appearance.
Lastly, go into App Appearance and switch to Always Dark. If your phone is set to dark mode already, you can also select Match System as it will also switch Snapchat to dark mode.
Enabling Dark Mode on Web
Did you know that there is Snapchat for Web? It allows you to use your webcam as a camera and provides Snapchat functionalities on your web browser. To enable dark mode on Snapchat Web, follow these simple steps: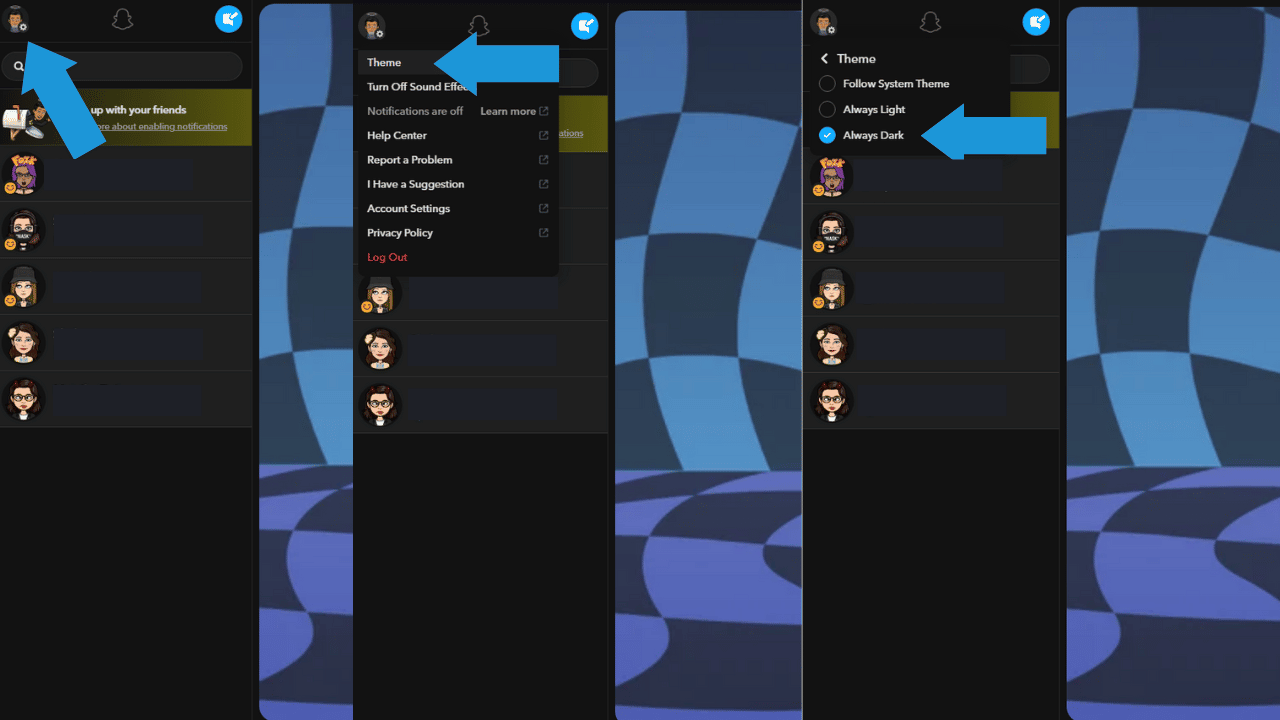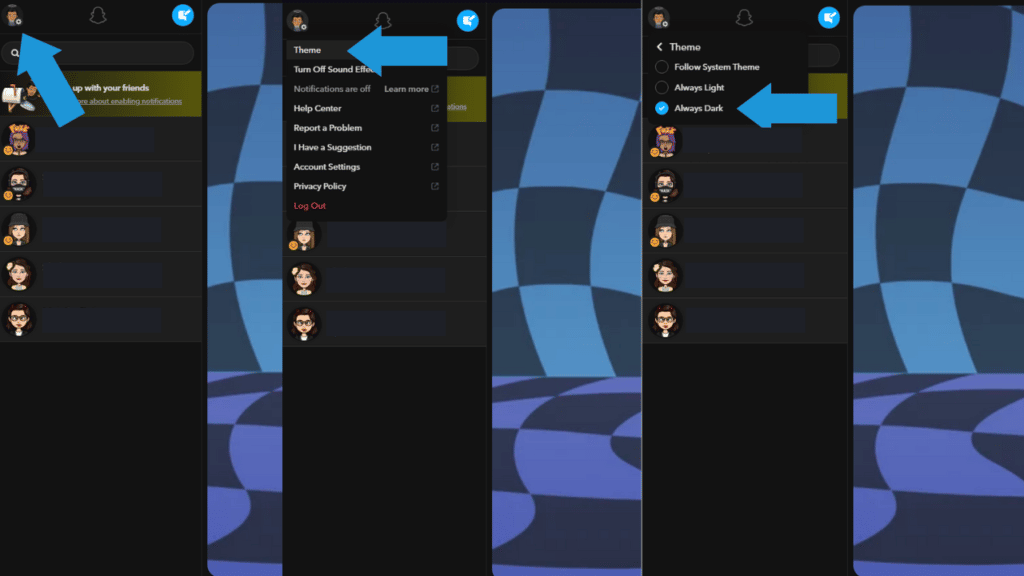 Firstly, go to Snapchat Web.
Next, go to Settings from the Bitmoji icon at the top left.
Then click on Theme.
Finally, select Always Dark. If your desktop theme is toggled to dark mode then you can also turn on the dark mode feature by clicking System.
Conclusion
While the dark mode feature is not a feature on every app, we are slowly seeing more and more apps introduce it within their applications and services. Snapchat also has dark mode which many of its users are already using. If you haven't enabled it already, I hope you've learned how to toggle it from our article. Let us know how we're doing in the comments below and react with an emoji to let us know what you think of the article!