According to the Linkedin details of a user experience researcher at Insomniac Games, the studio still has a PS4 title up its sleeve. The user experience researcher in the question has mentioned that the studio is working on a number of platforms, including AR, PS4, and VR:
Conducted human-centred user research on existing and unannounced AR, PS4/PS5, and VR titles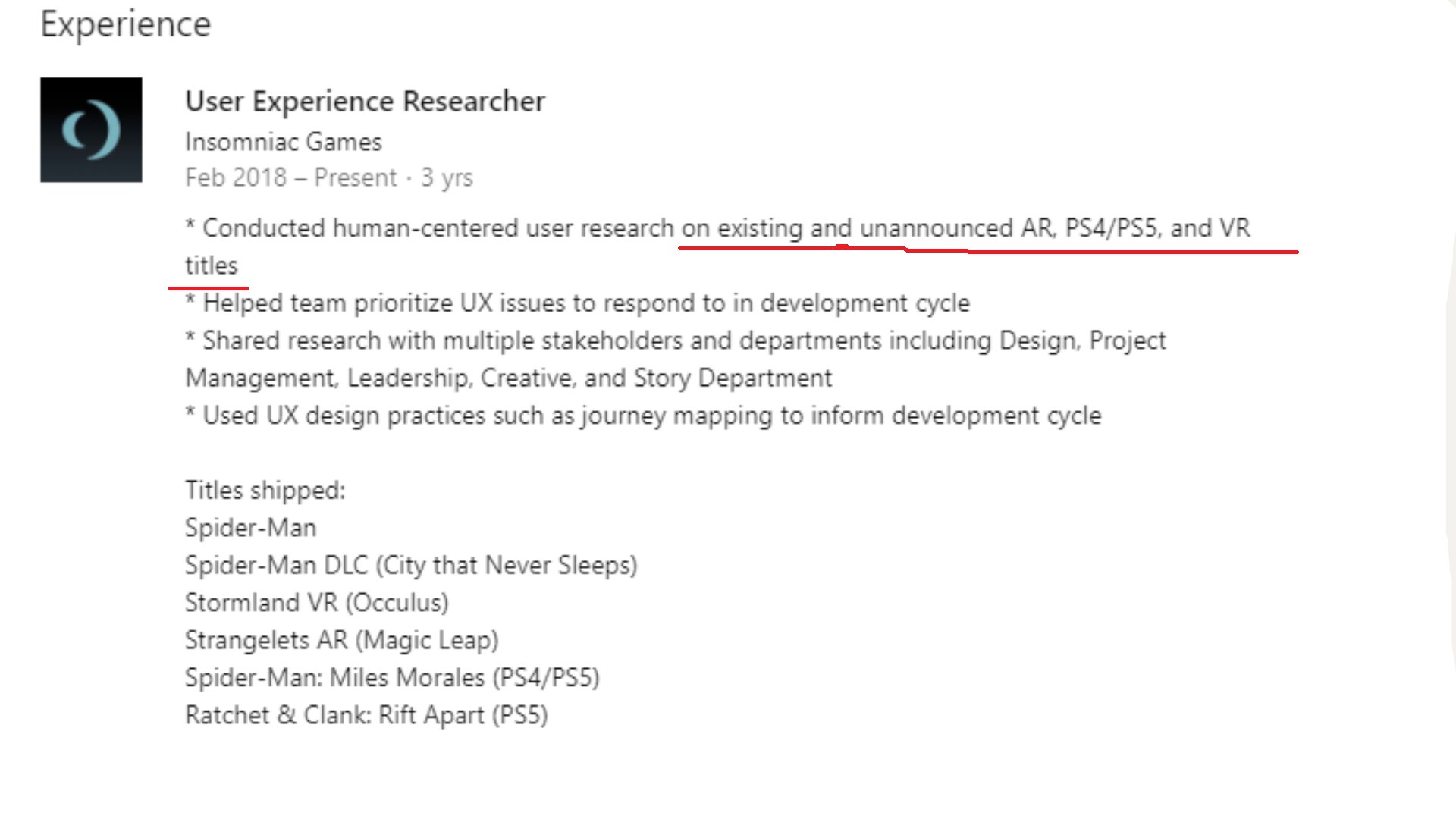 The detail was first noticed and posted by Timur222 on Twitter. Here, focus on the word UNANNOUNCED title/s for PS4. This is an unmistakable hint that Insomniac probably still has a PS4 title up its sleeve. Right now, the studio is working on Ratchet & Clank: Rift Apart, a release title for the PS5 that won't be a cross-gen release like Horizon: Forbidden West.
The game was used to show off how fast PS5's SSD is by travelling between different worlds without any loading screens. So far, the game has been only announced for PS5 and is slated to release sometime in 2021.
It is possible that Sony may drop Ratchet & Clank: Rift Apart on PS4 as well, though it would be pretty difficult to deliver the lag-less experience on the PS4, while adding loading screens may ruin the whole vibe.
Given that the Linkedin details also account VR titles, where there is a chance, or rather a pipedream of the players, that's hoping for a VR Spider-Man title from Insomniac Games. The thrill of swinging across Manhattan blues and Brooklyn highs in VR will be unmatchable.
The studio already nailed the web-swinging and VR tech, so a VR Spider-Man game would be a match made in heaven. Previously leaked patents revealed that Sony was working on PSVR 2 for PS5, so a VR Spider-Man title could act as a launch title for the PSVR 2, while simultaneously releasing on PS4 and the OG PSV4.
We can't ignore the fact that a simple wordplay and interpretation error. While the researcher mentions unannounced titles, she also mentions 'existing' titles for PS4.
Further down, she also listed all the shipped titles, so it's quite likely that she is talking about one of them in the first line. If such is the case, then PS4 is dead for Insomniac Games.