Apple has been trying to keep other gaming services off their App Store and while services have found ways to bypass this via a web browser, Microsoft could be taking the same high road when Spring 2021 rolls around. That's when xCloud will integrate itself into the Game Pass program and allow gamers to play their game collection away from a PC or Microsoft Console. xCloud is iOS is also possible, but with a catch.
xCloud on iOS will come … through the web browser. No App.
Microsoft's xCloud is the company's answer to GeForce Now and Google Stadia. Where other companies are looking to decentralize the console and PC gaming experience, Apple is fighting against letting them have unparalleled access on their own store.
This is obviously to help keep Apple Arcade front and center, but Stadia managed to find a way, and Microsoft is looking to copy that approach.
According to a new Blog Post from Microsoft earlier today, the company is looking into integrating xCloud into Game Pass Ultimate by Spring 2021. For PC's this will be done via an app, but with Apple's rigid conditions, it seems that Apple users will have to settle for a web browser-based experience.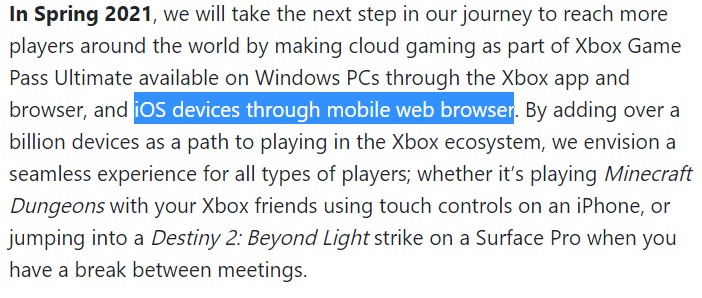 While Apple Arcade is something that is a part of Apples own Apple One Program that bundles Apple TV, Additional Storage, Arcade, and more in one convenient monthly subscription model, it's obvious that Apple is intentionally creating hurdles for Google and Microsoft using draconian policies.
We talked about this earlier, where Microsoft and Google will have to comply with a set of demands as shown below:
You can see from the above that this would be an arduous task for companies to do, even on the scale of Google or Microsoft. As such, the only way into the iOS world is through the web browser in the OS.
While it's unfortunate for Google and Microsoft to go through such lengths to get their cloud service in the door, the iOS market is one that can't be ignored. This is evident by how much of a hit Epic Games is taking by not having Fortnite on the Apple Store anymore.