NieR Replicant is coming to Nintendo Switch according to a leaked listing on Amazon France. At the time of writing this post, the said listing is still available on Amazon with the current status set to 'Temporarily out of stock.' The release mentioned release date is April 23, 2021.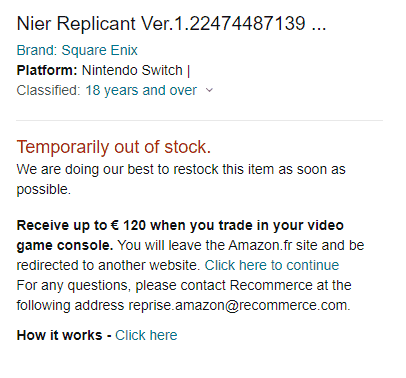 Intriguingly, on the contrary, the "Date first available at Amazon.co.uk" is listed as 8 Oct 2020, so this leaked listing may be nothing more than a false alert. If you dig further into the leak, you'll find that there is no cover art or any sort of supported documentation, which makes it all the more dubious.
If you keep your eyes on the bright side, Nintendo Switch may finally receive a NieR title. There was a rumour going around that NieR Automata is coming to Nintendo Switch, but that shunned away for its lack of evidence. While Switch players may have to wait a few more years to get their hands to NieR Automata, NieR Replicant is not so far from reach.