There is a rumor floating around which suggests that an anonymous CDPR employee is detailing plans for Cyberpunk 2077's future in terms of DLC and how the studio plans on rectifying the current-generation version of the game (For PS4 and Xbox One). We can't say for certain that this truly is a CDPR employee, so take what they say with a heap of salt.
Update, CDPR has responded to the rumors on their official forum.


Cyberpunk 2077 can still be saved
Cyberpunk 2077 is by far one of CD Projekt Red's most controversial game yet, and for all the wrong reasons. Enough so that the company has gotten embroiled in some class-action lawsuits because of it.
However, a post over at GameFAQS forum shares some new details about the game and plans for the future.
If you don't wish to visit the link, you can see the images of the post below and a brief summary below the images.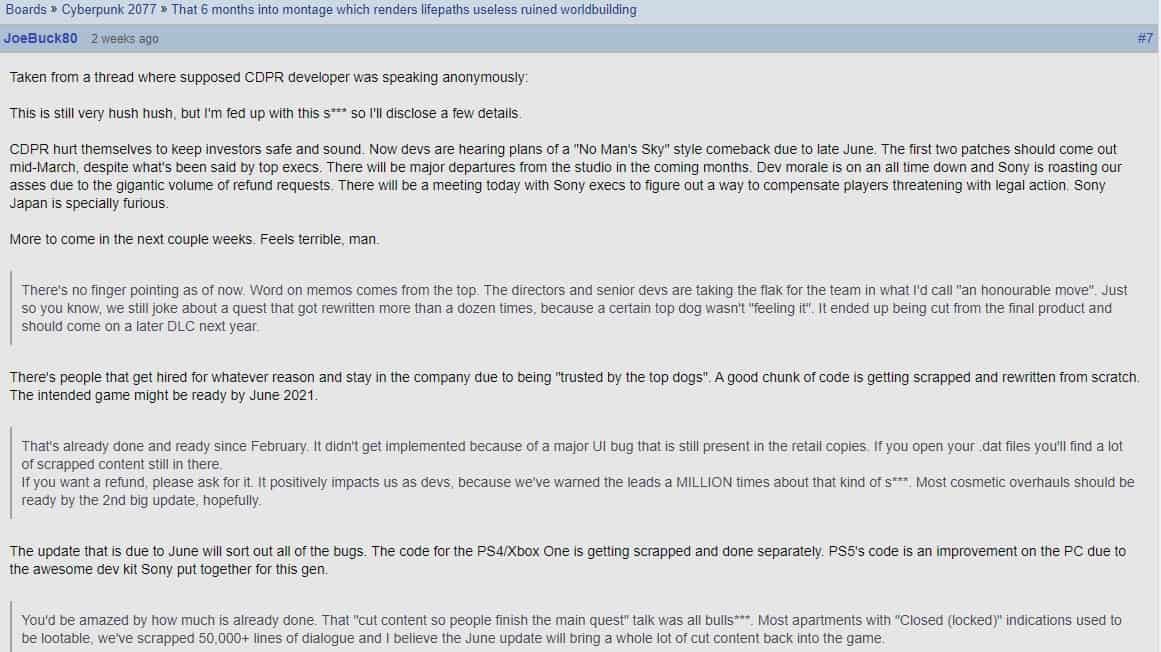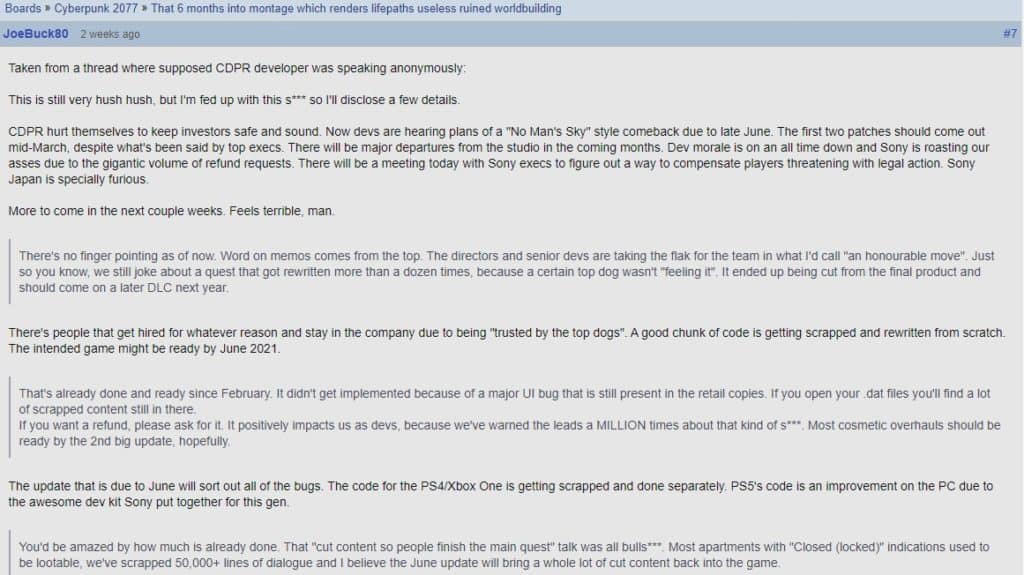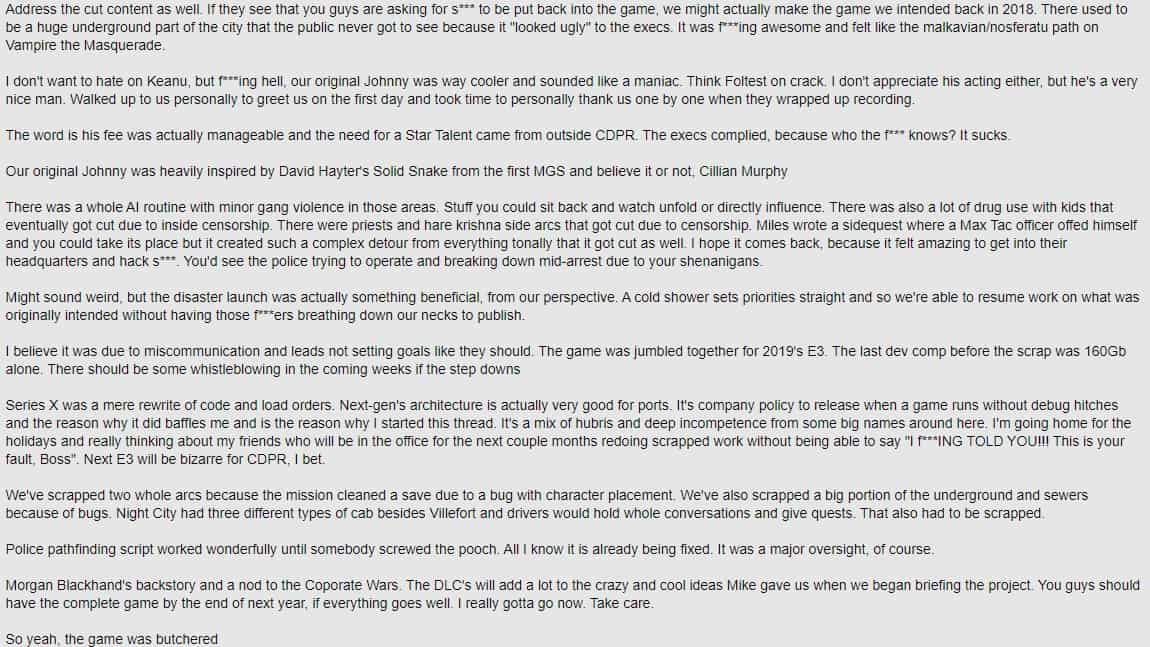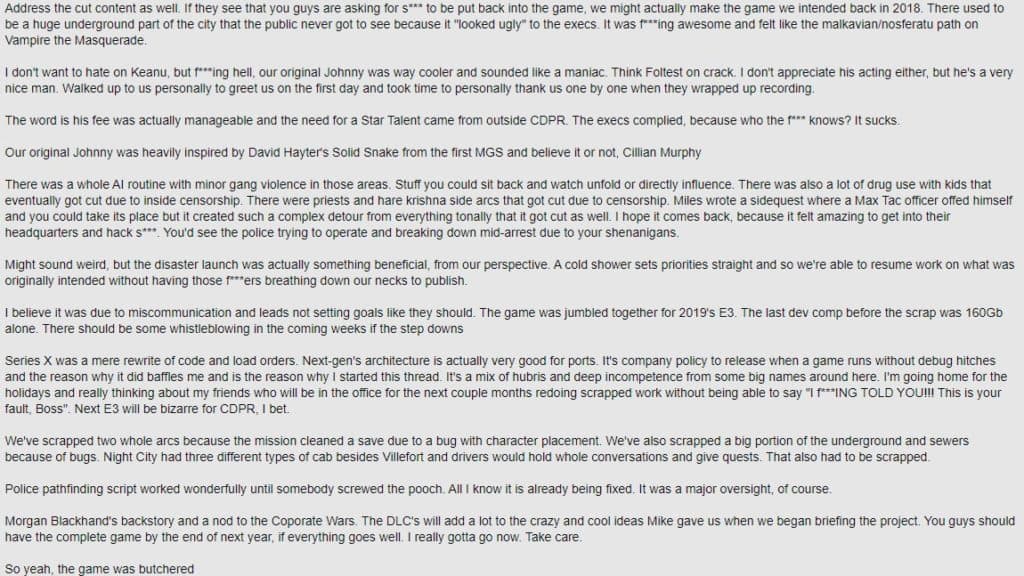 The basic gist of the whole post is that the game is looking to be in its best form for PS4 and Xbox One by the June update. According to the alleged developer, the code for the current-generation consoles is being rewritten entirely from the ground up which would make the most sense.
As of Patch 1.06, the game is some what playable but far from ideal, where 30FPS is the standard on the PS4 Pro and 20FPS on the base PS4.
In addition, the alleged developer also teases that a lot of cut content from the game will also make a return in future updates. This includes expanded quests and other details of the world that were left out prior to the games launch.
While Cyberpunk 2077 was a game that was eagerly anticipated for almost a decade and ended up becoming a case study for a bad example of marketing, we can only hope that CDPR is able to pull themselves out of the trenches with the current mess the game is in.
The game was such a catastrophe that CDPR had no choice but to work together with Sony and Microsoft in efforts of issuing refunds to digital purchases on PS4 and Xbox One, an unprecedented event in gaming which games like Anthem and No Man's Sky managed to survive past.