Samsung Electronics has recently announced working on an enhanced 2ng generation SmartSSD. As announced, the new Samsung SmartSSD will ensure faster data transfer between components, deliver improved performance, and ensure energy efficiency.
Samsung's 2nd Generation SmartSSD
According to a recent press statement from Samsung Electronics, the tech giant has confirmed developing a @ng generation SmartSSD.
Samsung introduced its proprietary SmartSSD computation storage drive in 2020 as a revolutionary storage device in the industry. Developed in collaboration with AMD, the SmartSSD is powered by Xilinx Adaptive Platform – a customizable and programmable computation storage platform.
Since its introduction, the SmartSSD has garnered immense praise. And now, after the success of the first generation, Samsung is all set to launch the second generation with further enhancements.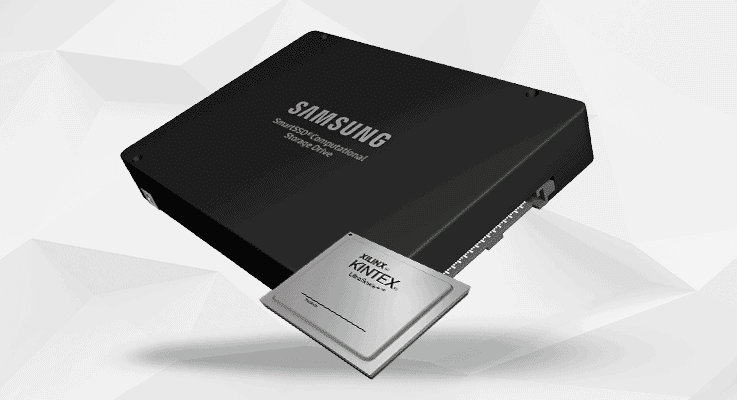 As elaborated, the 2nd Gen SmartSSD will feature built-in Arm cores and ensure faster and more efficient data transfer. Compared to traditional SSDs, Samsung SmartSSD exhibits a 50% decrease in the "scan-heavy database queries." Besides, it reduces energy consumption and CPU usage up to 70% and 97%, respectively.
Samsung believes such revolutionary developments can significantly improve the computing and storage in data centers.
According to Jin-Hyeok Choi, Executive Vice President and Head of Memory Solution Product & Development at Samsung Electronics,
"Commercialization of the first-generation SmartSSD, in collaboration with AMD, established that the computational storage market has great potential. With the upgraded processing functionality of the second-generation SmartSSD, Samsung will be able to easily address increasing customer needs in the database and video transcoding sectors, as we expand the boundaries of the next-generation storage market."
Samsung's SmartSSD has already attracted popularity among IT firms, especially video communication service providers. With the innovative enhancements with the second generation, the tech giant aims to expand the overall applications for the SmartSSDs. The company believes such improvements are necessary to cater to the growing resource requirements for next-gen data-intensive technologies like artificial intelligence, machine learning, and 5G/6G.
See also: Samsung Galaxy Flip 5 and Fold 5: Release Date, and All We Know