'The secret to business success is to treat the customers as if your world revolves around them.'
Without customers, there is no company. So, it makes sense if we say 'customers are the greatest assets to a company'. And, if you need to treasure this greatest asset then CRM (Customer Relationship Management) is a boon for you.
In this blog, we will take you through the journey of some of the best free CRM software that delivers results.
So, read on to know which software is the right fit for your business.
What is Customer Relationship Management
'Truly listening is hearing needs of customers and understanding them with the goal of boosting business growth.'
CRM (Customer Relationship Management) is the combination of strategies, technologies, and practices used by businesses to manage data and analyze customer interactions throughout the customer lifecycle. Its prime goal is to enhance customer service relationships.
Used for building long-lasting relationships between customers and the organization, CRM also assists in customer retention and boosts sales growth. CRM application development give you all the detailed information on the customer's personal details, purchase history, preferences, and concerns to the staff dealing with potential customers.
For building long-lasting relationships with the customer there are several factors and touch points that you need to manage and analyze throughout the lifecycle.
Just keep in mind if you want to lead the business, you need to win your customers.
Types of CRM
Cloud-Based CRM:
Also known as on-demand CRM, and SaaS (Software as a Service), with cloud-based CRM, employees can access data that is stored on external or remote networks anytime and anywhere.
It has easy deployment capabilities which make it appealing to companies dealing with limited resources and technological expertise.
Cloud-based CRM is completely hosted by a third party and any business can use it without worrying about the license or installation. It gives minimum operation control to users.
On-Premise CRM:
This type of CRM is self-hosted and license based. It has a huge cost and prolonged installation process. It is generally used by big businesses that deal with a high level of customer associations and complex data.
Open Source CRM:
Open source CRM is technically expert and offers amazing features such as artificial intelligence, machine learning, and so on. It is a brilliant choice for a cost-conscious organization. It is customizable and an affordable solution.
Features to Look For in a CRM Software
Lead Management:
It is a necessary feature for determining high-quality leads. This feature allows you to follow up with the best customers based upon the psychographic and demographic factors. It helps you focus on the right lead`s at the right time, therefore, improving the productivity of the sales team.
Contact Management:
With this feature, you can easily collect crucial customer data that strengthens the marketing strategies at the time of introducing any new product.
It ensures the personalization of contacts with the customer and makes them feel important. In short, it is an essential feature to obtain customer satisfaction.
Mobile CRM:
Since everyone these days is using a smartphone, utilizing this amazing technology for business growth will be a great step. Through this feature, your staff can easily receive valuable alerts and view data about the ongoing campaigns anytime on a mobile device.
Reports and Dashboards:
Reports and dashboards are considered as the top features of CRM. They provide a platform that can be accessed through various portals. This enhances the ease of access. Businesses use these reports to make data-driven decisions.
Customized reports and dashboards enable users to view statistics in a highly engaging and visual perspective.
Sales Forecasting:
It determines a metric for success. It lets you create a benchmark which helps you determine whether the results are actually on par with your efforts or not. With this data, businesses can even direct future efforts.
Chat Integration:
It is a priceless feature of CRM to a modern user. Businesses can integrate a chat program such as LivePerson or Olark with the CRM software. It will enable them to chat with employees and partners from the same user interface.
Comparison Table of Free CRM Software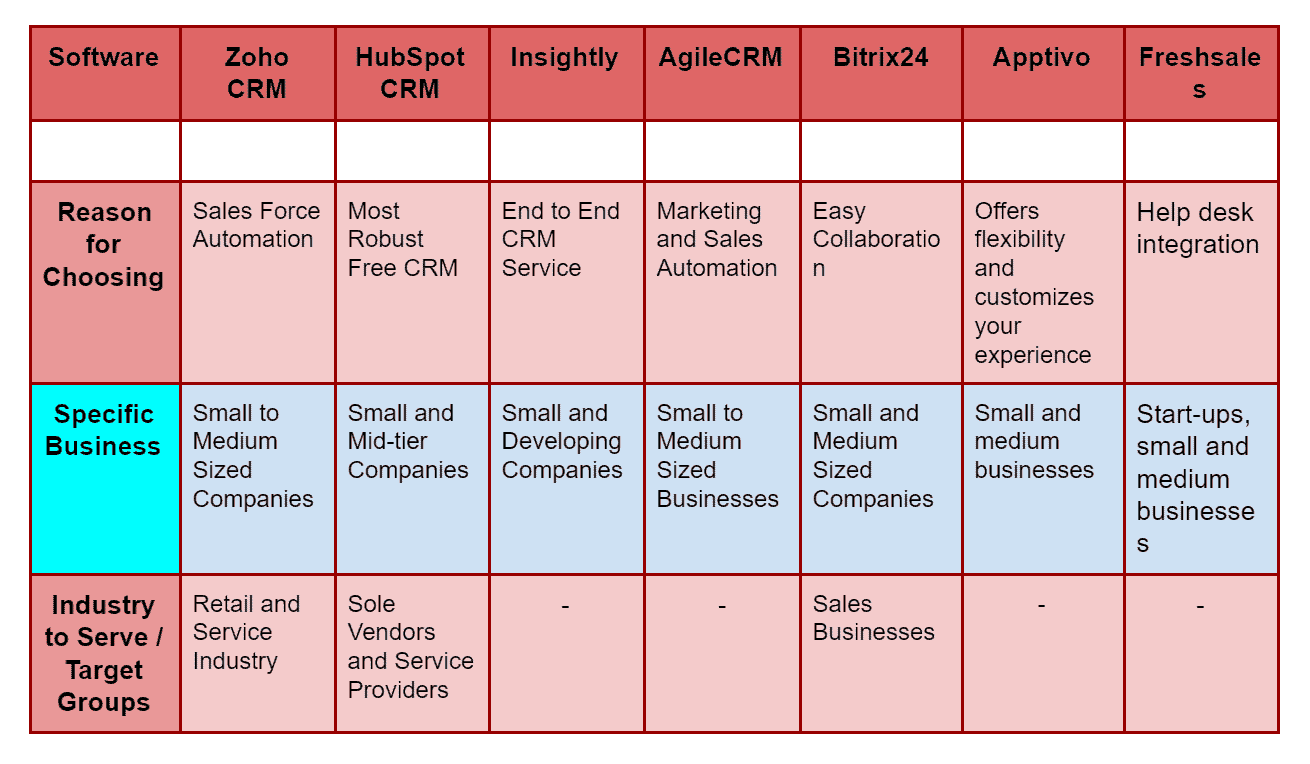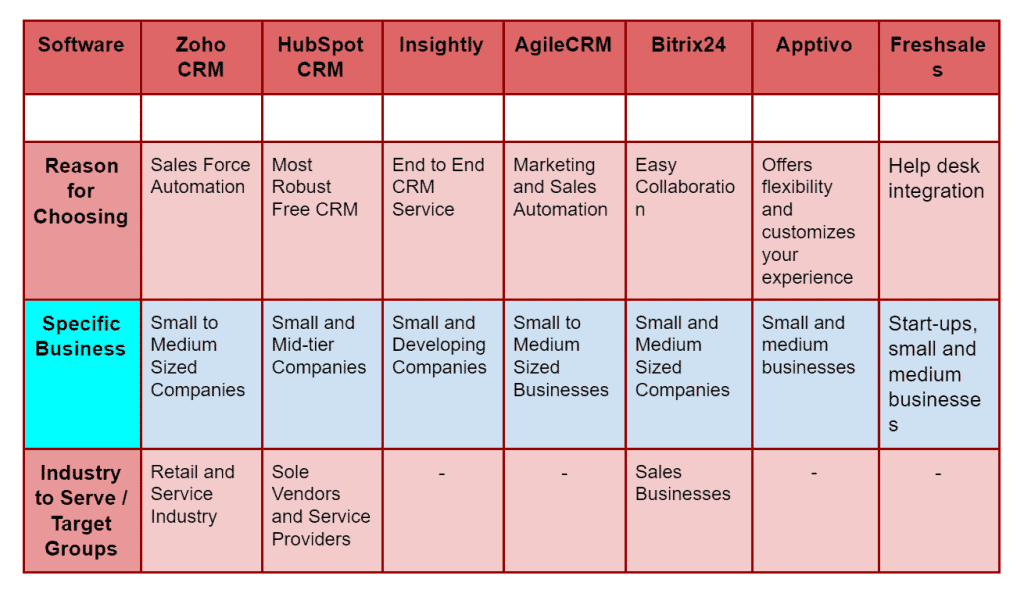 Best 7 Free CRM Software
1.) Zoho CRM

Zoho CRM is one of the best free CRM software designed to attract, retain and satisfy customers for the growth of the business. Its main functionalities are lead, contact and sales pipeline management.
It can easily be integrated with Zoho productivity products, popular applications, Microsoft Outlook, MailChimp, Google Apps and even with other cloud-based connectors.
Used for automating daily business tasks, tracking sales and engaging customers, Zoho CRM offers multi-channel support for enabling organizations to connect with their customers via live chat, phone, email, and other social media platforms.
Core Features of Zoho CRM
Sales and Activity Management:
One of the outstanding features of Zoho CRM is sales and management activity since free plans do not offer it mostly.
It has the ability to capture social media interactions and set up workflow rules. It also lets you track log call notes and events.
Customer Support:
It offers customer support but only to a limited extent. For instance, if you want technical support, this free version will offer it between business hours i.e. eight to five, however, email response for an incident report can take a long time. So, if you want unlimited support go for Zoho's paid versions.
Lead and Contact Management:
It offers basic lead management features such as organizing as well as storing leads and accounts. It enables you to set up basic rules as a part of your interaction strategy.
This software provides a streamlined way to capture leads from your website.
Mobile App:
It offers a mobile app with astonishing features such as accessing customer emails, google maps, locating customers and contact with geolocation.
It has the ability to manually log calls and add voice notes to contacts.
Other Features of Free Edition:
Salesforce Automation

Leads

Documents

Web forms

Workflow management

Standard reports

Marketing automation

Product customizations

Social media features
Is it User-friendly?
Zoho CRM is easy to use and you do not require any technical skills for it. Additionally, you can add it with other Zoho productivity products.
Users Review:
Users are relatively happy and satisfied with this free CRM software. It has some featured add-ons such as Zoho Desks, Zoho Campaigns and Zoho Books for the marketing purpose.
This integrated approach enables users to efficiently coordinate prospect information. It even opens a communication line across the entire sales department.
2.) HubSpot CRM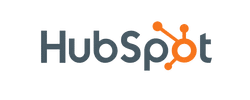 HubSpot CRM is one of the best-integrated platforms in the market. It is great for companies who are still recognizing the value of CRM.
It effectively tracks, assigns deals and controls the performance of agents. It has an automated engine that tracks customer interactions through various channels such as social media, meetings, emails and so on.
Core Features of HubSpot CRM
Lead and Contact Management:
HubSpot CRM provides automatic contact enrichment. It extends free lead scoring, therefore, allowing salespeople to focus on important leads.
With a database of over 20 million businesses, it automatically adds contact information to the user's contacts.
It also saves time from data entry and manual research.
Mobile App:
It has a feature-rich mobile app that provides access to contacts, analytics, and reporting. HubSpot CRM extends access to email tracking features, thus giving valuable insights if you need to respond to contacts.
Sales and Marketing Activity:
HubSpot CRM offers a plethora of sales features such as email-functionality, phone integration and communication tools like chatbots and live chats.
With the feature of phone integration, you can easily connect a desk phone to CRM to make as well as log calls. However, phone integration is not that much robust as compared to Freshsales.
Customer Support:
Members of the product will only get the phone and email support. However, free CRM customers will get support from the HubSpot community.
HubSpot customer support is not that much comprehensive when compared to Freshsales. The reason is Freshsales provides phone and email support to free CRM customers also.
If you want a high touch customer support then maybe you need to look for some other option.
Other Features of Free Edition:
Live Chat

Contact management

Conversational bots

Documents

Company records

Contact activity

Ticketing

Email scheduling

Reporting dashboard

Calling

Team mail
Is it User-friendly?
It has gained a lot of popularity among users because they find it easy to use. However, some users dislike it because of upgrades to advanced features and changes to site navigation.
User Reviews:
HubSpot development services have become one of the most popular free CRM software among users. The reason it has amazing tracking features. Its ease of use and custom sales pipeline creation makes it a popular CRM software, with an outstanding marketing automation feature and high email marketing rate.
3.) Freshsales

Freshsales is best known for its up-to-date interface. It is a brilliant option for a telephone-based outreach strategy.
It is a great choice for prospects and contacts who want a high level of customer support. Freshsales offers lots of benefits including scoring, verification of leads, distribution and capturing through various communication channels.
Core Features of Freshsales
Sales and Marketing Activity:
Basic email and built-in phone are two wonderful features of this free CRM software. With the built-in phone feature, the salespeople can make calls without leaving the CRM. On the other side, the basic email feature enables sales professionals to blind copy a Freshsales email address. This way it links emails to customers and prospects.
Mobile App:
This free CRM software has a mobile app, using which, you can schedule follow-up activities and even add them to your calendar.
It enables you to make and log calls. It even locates nearby contacts and arranges a ride with Uber to their location.
Customer Support:
It offers generous customer support which makes it stand out from the rest free CRM software. It offers phone supports and 24*5 mail services for its free as well as paid customers.
What makes Freshsales different from other software is that it offers low-touch support options for customers.
Lead and Contact Management:
This free CRM version has the ability to organize leads and contact details. It also has the ability to search for specific results.
Freshsales does not put a limit on the number of users or contacts that you can add. It includes lead management functionality such as lead scoring. This helps sales professionals to focus on the best leads.
Other Features of Free Edition:
Unlimited users

Accounts

Deals

Unlimited support

Leads

Contacts

Built-in phone

Unlimited contacts
Is it User-friendly?
Although it is easy to use there are some notably difficult features. The set-up is simple and now has become easier with phone and email support.
It is a great option for teams that do not spend much time in front of a computer because its features are intuitive and require drag and drop user interactions.
Users Review:
Users love this free CRM software because it is easy to use and has inbuilt phone integration. It provides great support and has basic features.
Some users dislike it because they feel the system is slow sometimes.
4.) Insightly

Whether it is about adding voice memos or email templates, Insightly is a good option. It has a current user base of 500,000. It is a great option for companies who want to build long-lasting relationships with leads beyond the sales cycle.
Core Features of Insightly
Lead and Contact Management:
This free version of CRM enables users to create custom fields, thus making it easier for them to create a segmented list of leads and contacts. With Insightly, users can easily add contacts to the CRM with the Gmail plug-in. Now, users can link contacts to leads and display the activity feed showing recent interactions.
Customer Support:
Insightly offers customer support for free plans only through their help center. If the customer is using paid plan then direct support is offered through email.
This is the disadvantage of Insightly when compared to other free CRM software. Freshsales offers customer support via mail for free plans also.
Sales and Marketing Activity:
Insighlty's free plan offers task management that helps teams to stay on top of critical follow-ups related to projects and leads.
This free plan also provides the ability to send bulk emails and view the sales pipeline at glance.
Mobile App:
This feature allows you to add voice memos to leads or deals, reminding the team members to take an action. It gives you access to task lists and keeps you up to date on items that are overdue.
One of the most unique features is that you can create projects while you are in the field. You even receive push notifications of important deals.
Other Features of Free Edition:
Online community support

Lead conversions

Mass emails

Customer email attachment

Project and task management

Lead funnel streamlining

Advanced reports

Social media account linking of customers
Is it User-friendly?
Users find it easy to use and love its feature of linking contacts to projects and to opportunities. Users like it because it can be used as an add-on in Gmail, thus making it easy to save contacts.
User Reviews:
Users love the project management featured that Insightly offers. What makes Insightly users' favorite is its ability to stay in contact with customers even when the deal is closed. It can easily track opportunities and organize contacts.
Users feel Insightly can improve on training and onboarding features.
5.) Agile CRM

Agile CRM is one of the most powerful CRM software that combines sales, marketing, service tools into a single product. It encourages sales and helps in the growth of the business. You can perform diverse tasks in one place such as desk tasks and creating landing pages.
Core Features of Agile CRM
Sales and Marketing Activity:
What makes it different from other service providers like HubSpot is that it has the ability to build landing pages in a free CRM. It includes engagement tools such as email campaigns and lead generation.
Agile CRM also provides the ability to build email templates.
Mobile App:
This feature provides a plethora of contact management features such as updating associated tasks, add contacts and deals, updating lead scores and so on.
You can even schedule appointments with Google two way calendar sync.
Lead and Contact Management:
With this feature, you can easily add or update contacts with web-to-lead forms. This ensures to convert website visitors into leads. It enables you to prioritize leads with scoring.
It gives you a comprehensive view of contacts when you access information like social profile updates, lead scores, and conversation history.
Customer Support:
This free CRM software offers direct customer support via email as compared to other software like HubSpot and Insightly.
Other Features of Free Edition:
Lead scoring

Marketing automation

Appointment scheduling

Mobile marketing

Landing page builder

Custom data fields

Email tracking

Web engagement

Contact level analytics

Social monitoring

Email templates builder
Is it User-friendly?
Agile CRM has a consumer-grade user interface which makes it easy to use. The technical set-up is not at all time-consuming. Its integrations with Google and other productivity tools make it easy to sync email communications.
Users Review:
Users find it easy to use and like the number of integrations that it offers. People feel that it could have more built out features and the mobile app could have more updates.
6.) Bitrix24

Bitrix24 is a fully featured CRM solution that manages all the contacts on a single dashboard and sends automated emails. It is also referred to as collaboration tool because it is equipped for secured document collaboration, project management, video chat, and internal social networking.
Core Features of Bitrix24
Lead and Contact Management:
One of the amazing features of Bitrix24 is simple contact management (online database for contacts with their names, emails and other essential information).
You can automatically log all phone calls that you receive or make from a specific contact. It even allows recording these phone calls. Bitrix24 does the same with email marketing.
This free CRM software first captures the lead and then gather data about the potential lead/customer.
Mobile App:
Mobile applications of Bitrix24 come with a plethora of functions such as a mobile intranet, calendar, and tasks, instant messages and chats. It also has push notifications which makes sure message recipients are instantly notified.
Customer Support:
Bitrix24 supports customers through various communication channels such as email, instant messenger, live chat and so on.
Marketing:
An integrated call center is one of the amazing features of Bitrix24. The best thing about this feature is that it is available in the form of an app. Bitrix24 has the feature to automate all aspects of marketing.
Other Features of Free Edition:
Online storage

Version history

Access rights

Cross-device synchronization

Sales automation

Invoicing

In text search

Email marketing

Public file sharing

Local editing

Group Chats
Is it User-friendly:
It is easy to use and flexible platform. You can add details of different companies and even make tasks for your team members or for yourself.
7.) Apptivo

Apptivo is used by more than 150,000 businesses and is an effective choice for start-ups that are using products rather than services. It has basic sales features and is a good choice for invoicing, project management, help desk, and work orders.
Core Features of Apptivo
Customer Support:
Apptivo offers good customer support and it is similar to that of Freshsales. It provides webinars, videos, an option of live chat and email support.
Lead and Contact Management:
This feature of Apptivo enables you to add and update contacts. If you are looking for some advanced features such as web-to-lead capture, then you need to choose paid plans.
Sales and Marketing Activity:
The free version of this CRM does not provide any sales and marketing features and totally focus on lead and contact management.
If you want to go for sales and marketing features, then choose paid plans.
Paid plans offer email templates, bulk email, and marketing automation.
Is it User-friendly:
Apptivo is user-friendly and it does not require a lot of technical skills. Its interface is easy to navigate.
Users Review:
Users generally live Apptivo but some have bad experiences only because of small bugs or slow systems.
Comparison of Best Free Features
| | | | | | |
| --- | --- | --- | --- | --- | --- |
| Software | No. of Contacts | Storage Availability | Number of Users | Email-marketing Features | Sales Automation Features |
| | | | | | |
| Zoho CRM | Unlimited | 1GB | 10 | Approximately 10 email templates | Workflow management |
| HubSpot | Unlimited | Unlimited | Unlimited | Integrated with HubSpot sales and Marketing plans | In paid plans |
| Insightly | 2,500 | 200 MB | 2 | In paid plans | In paid plans |
| Agile CRM | 1,000 |     – | 10 | Email Marketing | Deals and Sales Automation |
| Bitrix24 | Unlimited | 5 GB | 12 | Basic Email Marketing kit | Basic Sales Automation kit |
| Really Simple Systems | 100 | 100 MB | 2 | In paid plans | Full SA (Sales Automation) Kit |
| Freshsales | Unlimited | Unlimited | Unlimited | Bulk Emails, templates | Leads, Deals, Accounts |
Final Analysis
'Happy and satisfied customers will be a walking advertisement'.
In business, what matters the most is good relationships with your customers. CRM is one of the swiftly growing software in the business world. Its ability to carry out business processes with ease is its biggest advantage.
The cost-effectiveness and its ability to retain customers in the future are driving businesses to welcome the free CRM software available in the market.