A good game never gets old. Bethesda gave us a piece of art when they released Fallout 4. It's a game that had the gamer's attention even years before its release. If you think that there isn't a way to make this game even better, that means you haven't heard about the best Fallout 4 mods.
This is a lenghty list so we added in some quick shortcuts for you below:
Fallout 4 is an open-world game with a great focus on world exploration. The same company that made Skyrim is behind the making of Fallout 4. There are a few games that resemble Skyrim and Fallout 4 out there. But if you want to keep playing Fallout 4, mods are the best tool for you.
After several hours playing the vanilla Fallout 4 and the DLCs, it's time to take the game a step further and enter the world of Fallout 4 mods.
Mods will enhance your gaming experience in Fallout 4 by allowing you to have more game options, better textures, and a list of other cool new features that the vanilla version does not offer. Here are some of the best mods for Fallout 4:
---
1: Unofficial Fallout 4 Patch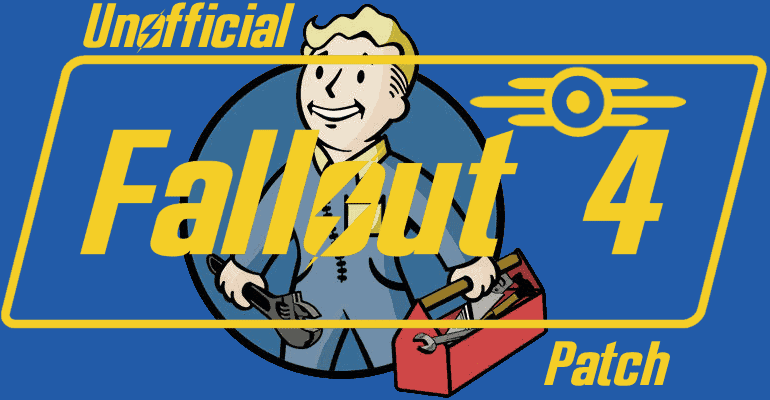 Before we get into the texture and optimizations mods, we have to talk about the Unofficial Fallout 4 Patch. This mod aims to solve all the bugs in the game because gamers have learned to expect some bugs in Bethesda games.
There is a reason why it's considered one of the best Fallout 4 mods and it's one of the most downloaded mods in the NexusMods website. It's an obligation to install it before you do anything inside Fallout 4.
---
2: Fallout 4 Configuration Tool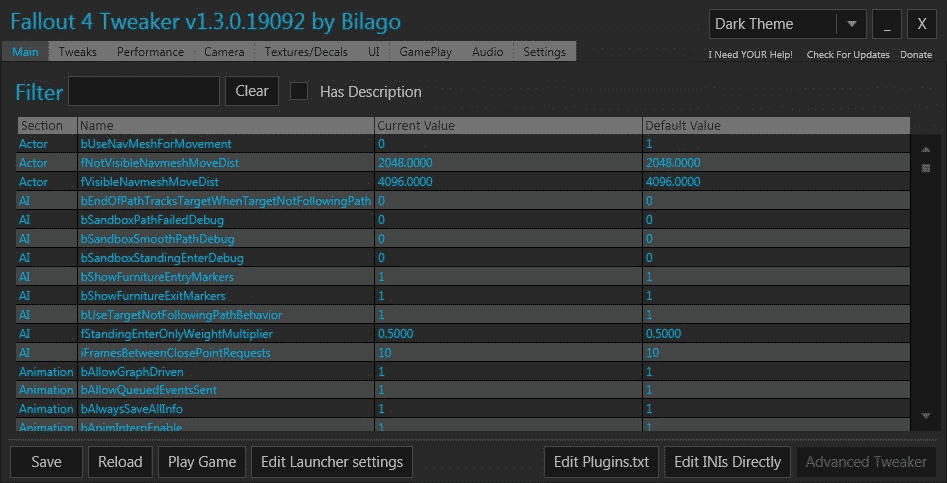 The Fallout 4 Configuration Tool is another very popular mod that has gained respect among the Fallout 4 modding community. It was made for those who are not familiar with tweaking .ini files and for those who simply wished it was simpler.
With this tool, you can easily configure your settings on a menu that tells you exactly what changes you will be doing. Fast and simple, just how we like it.
---
3: Mod Configuration Menu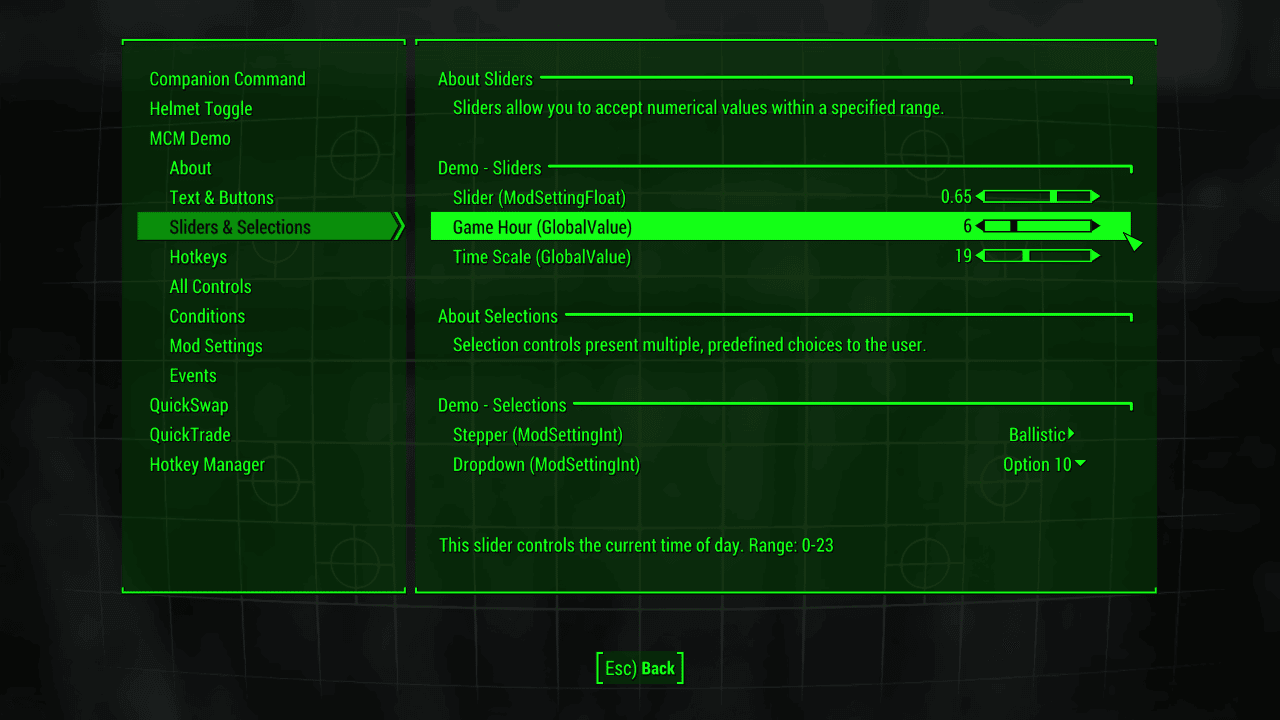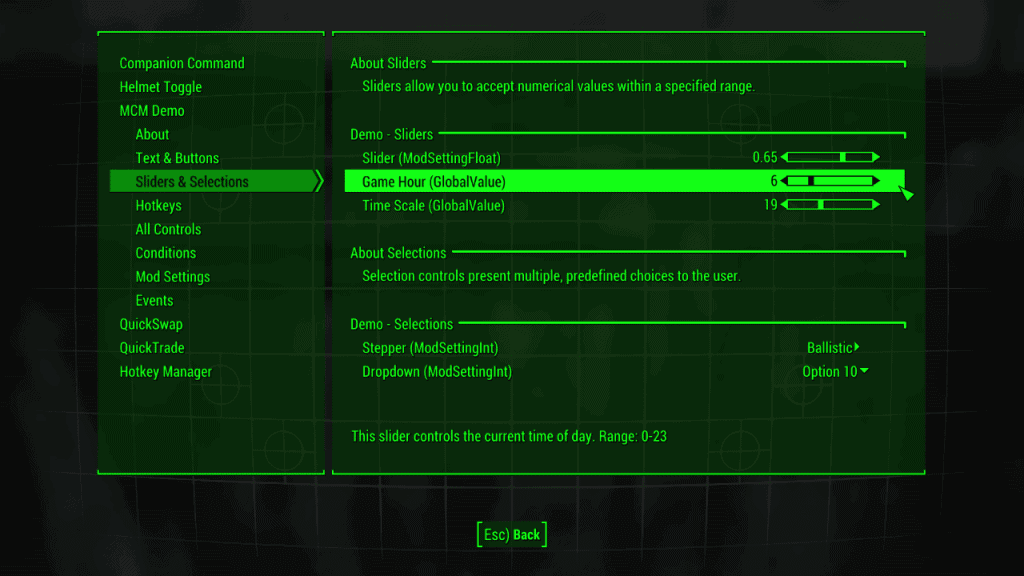 Believe us, you'll want this mod once you know what it does. The Mod Configuration Menu allows you to have a settings page just for you to toggle with your mods. This is very useful because there are more mods than you can think, and having them organized in one place is always a great idea.
It appears in the pause menu and it comes with a whole set of configurations to twitch and organize our mods esily and without much problems.
If this mod sounds like a sweet deal, you should consider the Game Configuration Menu mod. You need the Mod Configuration Mod to install it, and it's very useful. This mod will let you easily change most of the game's default settings. It works great and fast. So instead of downloading smaller mods for every setting, you have Game Configuration Menu.
---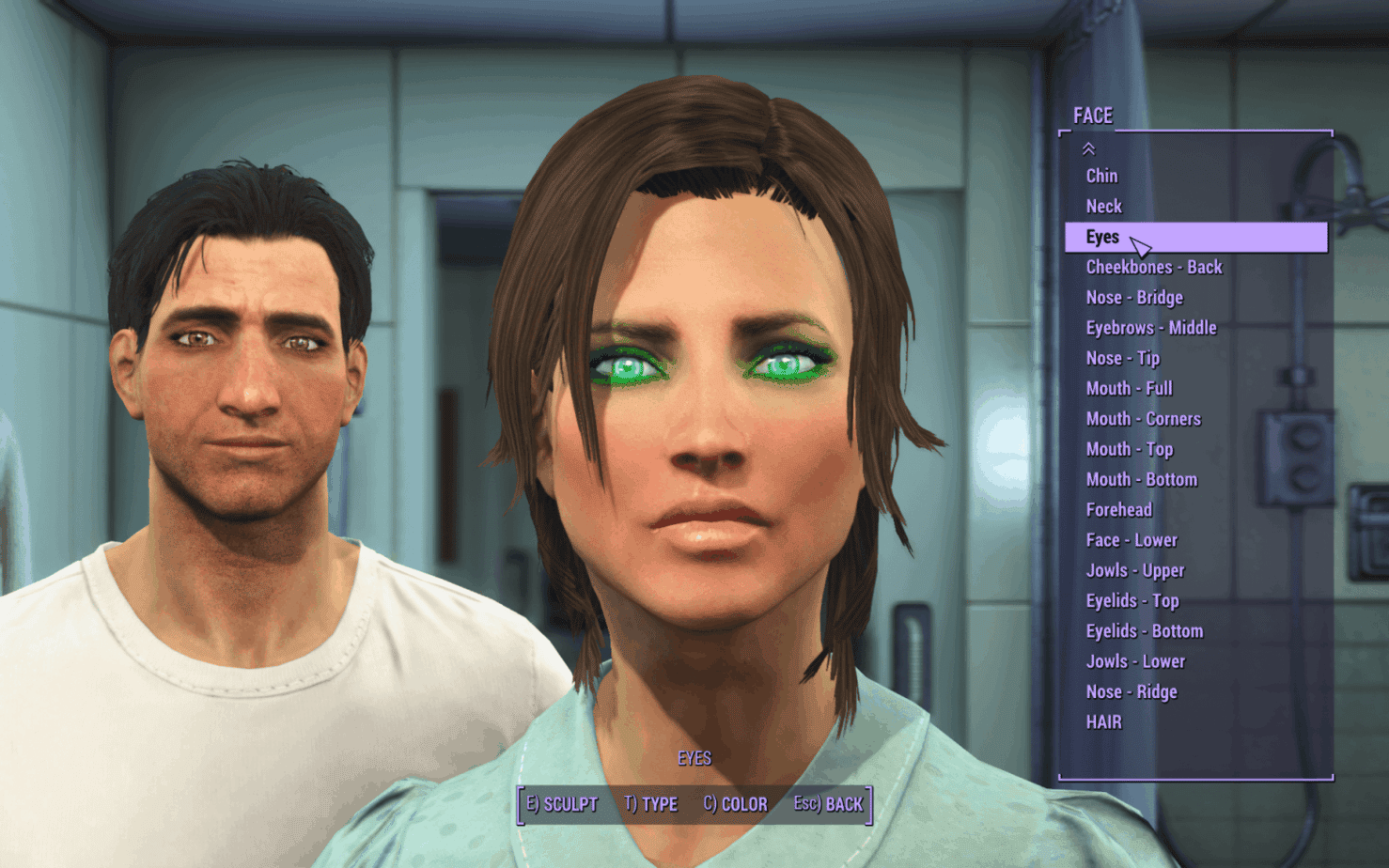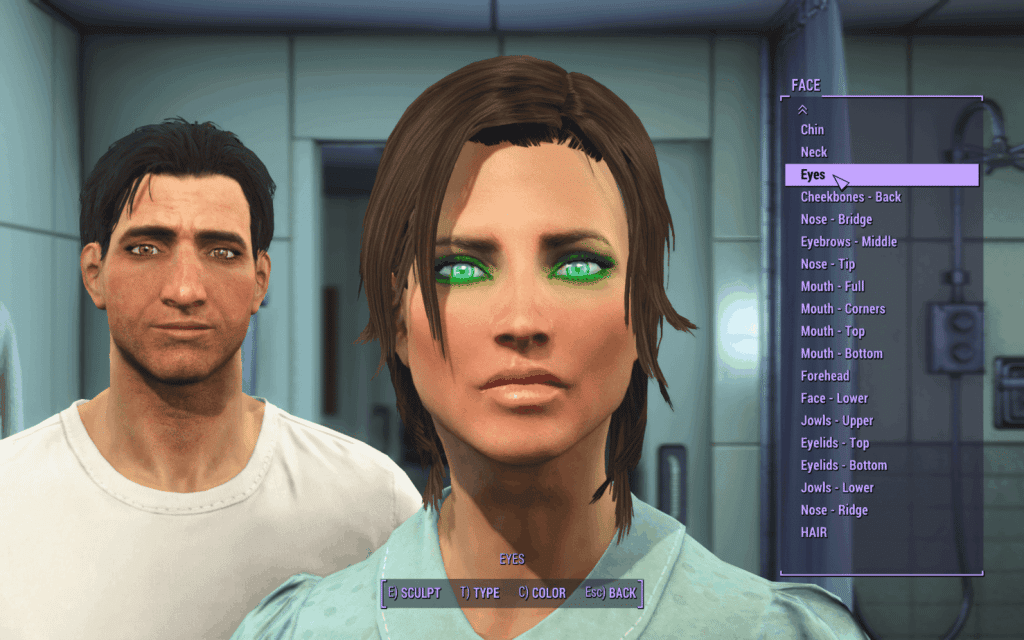 Do you wish that the character creation options were bigger? Then LooksMenu is the mod for you.
It offers an easier way to change the looks of your characters. Now you can save and load presets and you will have more options, like more hair colors for you to play with. And if you already have existing characters you can give them a little tweak too. A mod that is worth the try if you like creating characters like if you were playing The Sims.
---
5: BodySlide and Outfit Studio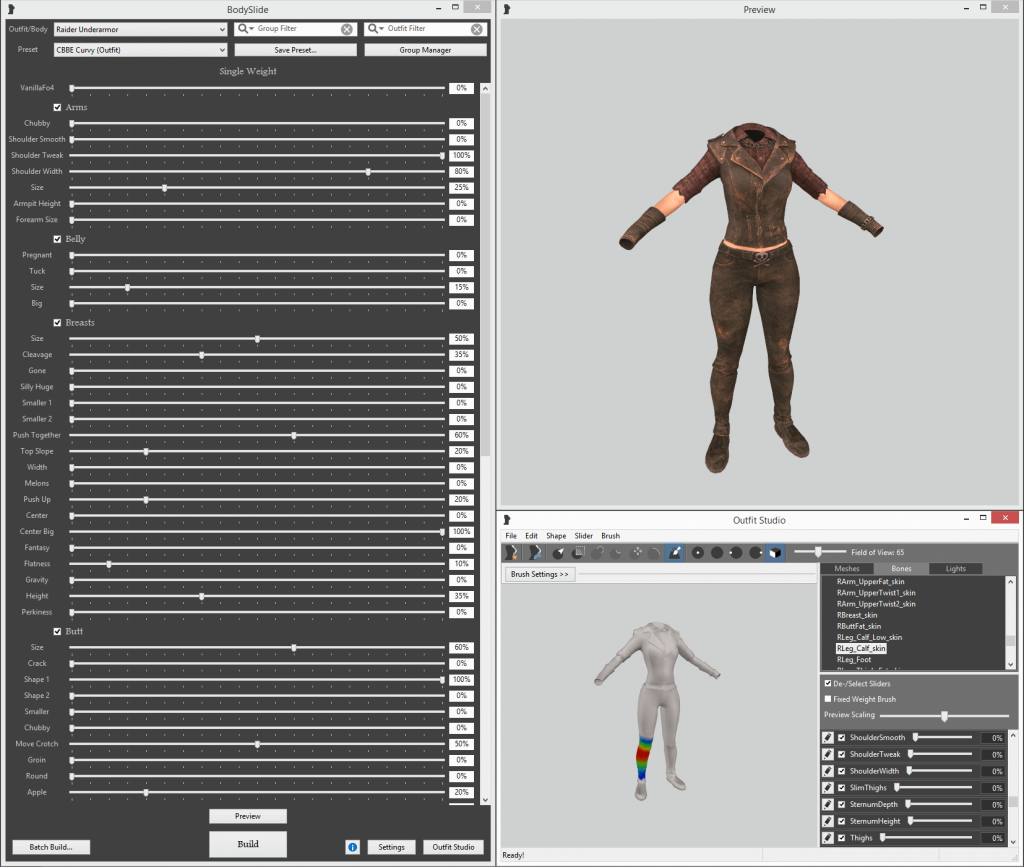 You can now customize outfits and bodies with the BodySlide and Outfit Studio mod. This is one of the Fallout 4 best mods for character customization.
You don't need to be a modding expert, because with this tool you can convert outfits between bodies, correct animation weights, and create completely new outfits for your Fallout 4 characters.
---
6: Full Dialogue Interface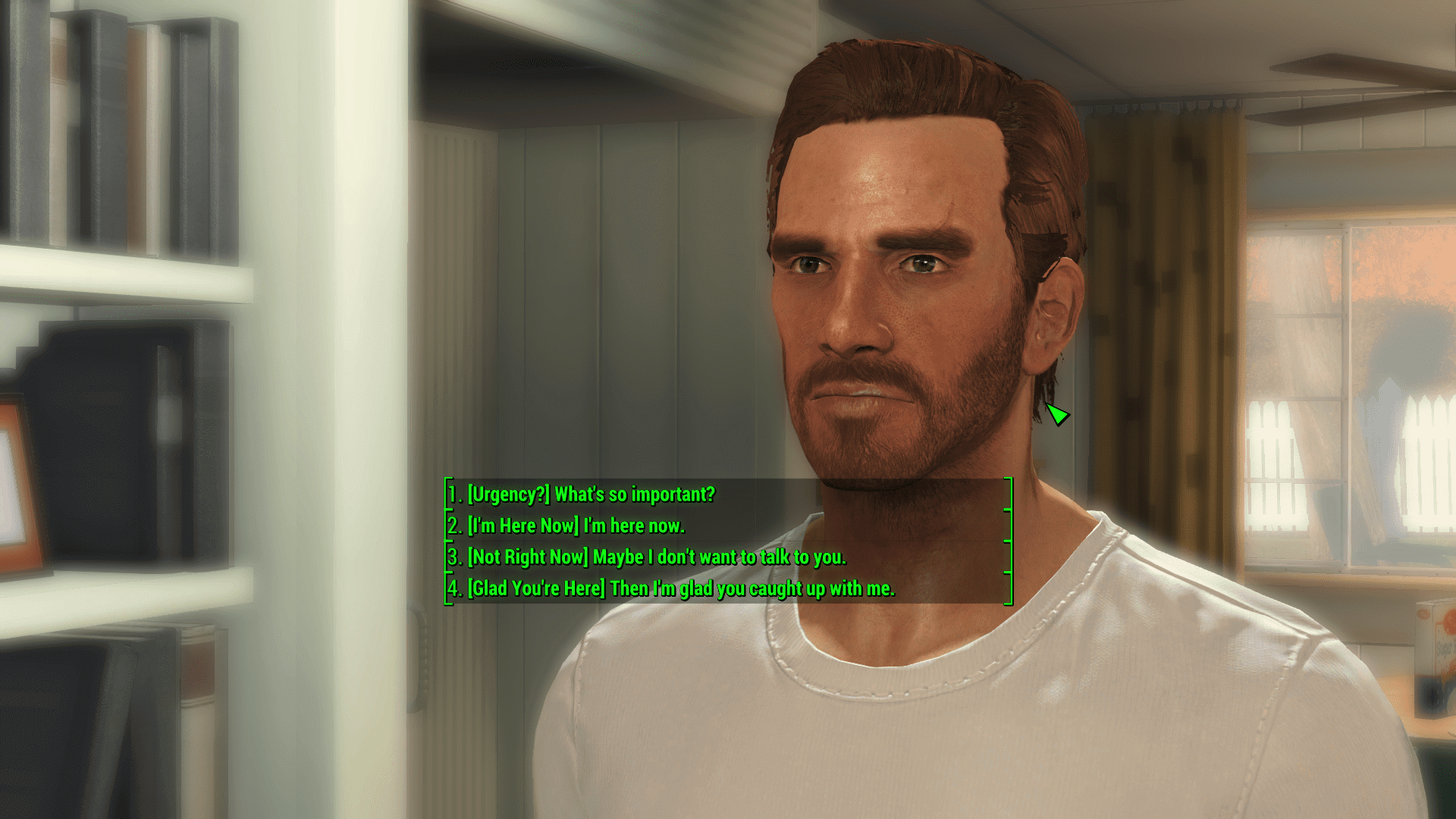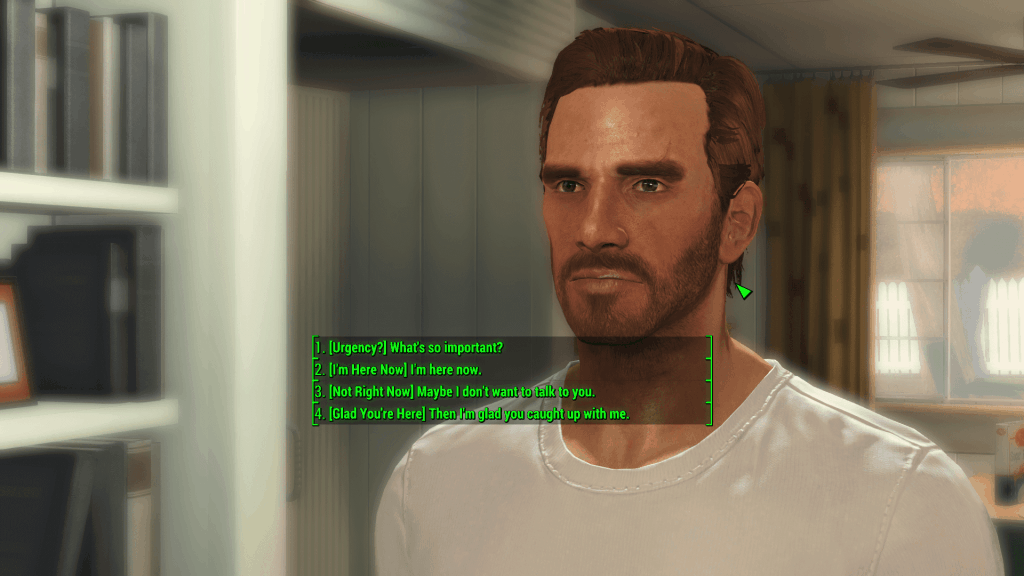 The Fallout 4's dialogue interface isn't really the best out there. But the Full Dialogue Interface mod aims to solve that problem.
It can be uncomfortable when you get just a paraphrased option in your dialogue options. This mod makes the game display the full lines of the phrases that your character will say in a conversation.
It also revamps the dialogue interface in a way that shows them in a list and you can use the number keys to select an option. Communication is everything in real life, and Fallout 4 should be no exception.
---
7: Improved Map With Visible Roads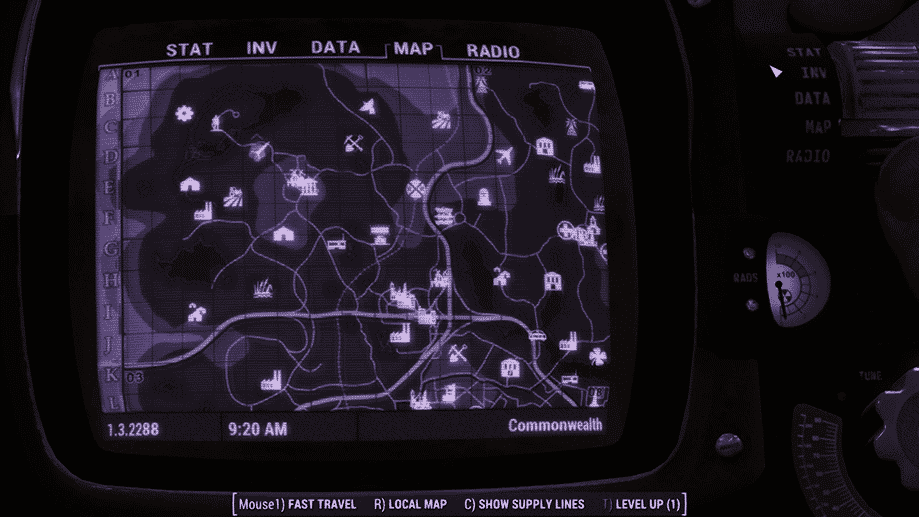 Fallout 4 embraces exploration, but it would be great if it would embrace a good map. PibBoy's map of the Commonwealth could use some enhancements, and that's why Improved Map With Visible Roads is one the best Fallout 4 mods.
With this mod, you get a much better map contrast, you can make train and roads tracks visible, show the topography, and even the waterlines. It's almost unbelievable that the vanilla version doesn't include this, but that's what mods are for.
---
8: Fallout 4 – Texture Optimization Project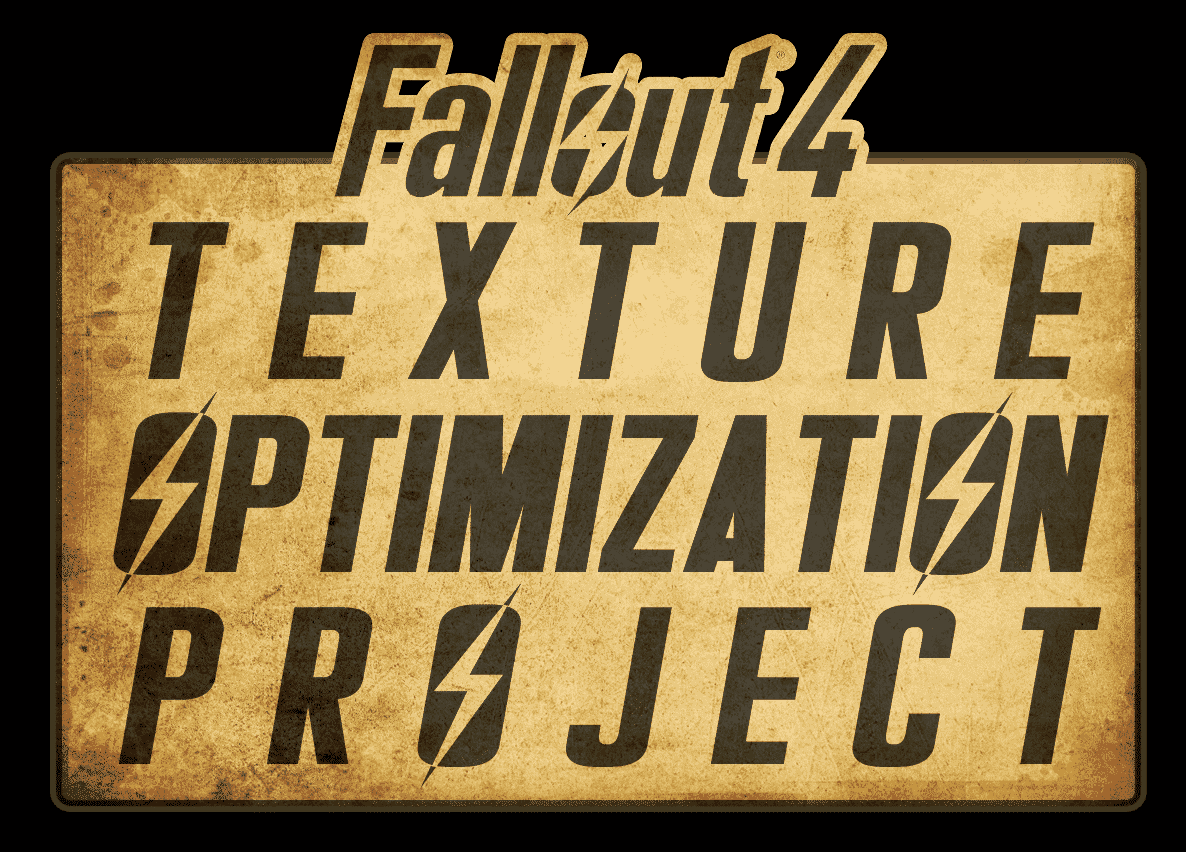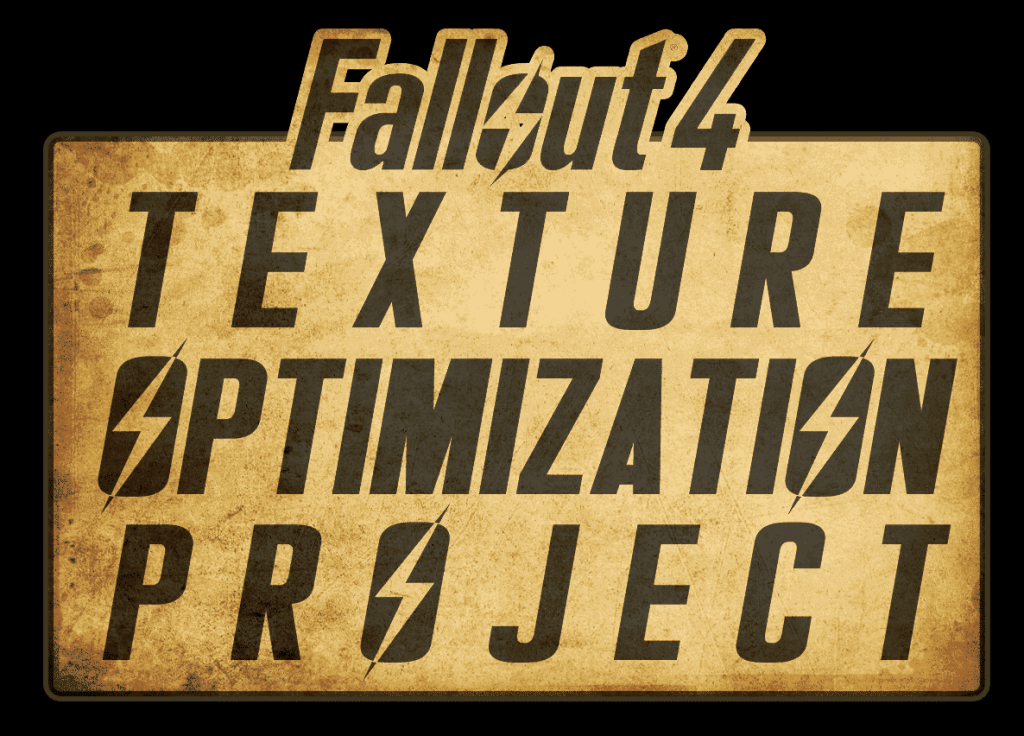 The vanilla textures of Fallout 4 are ridiculously huge for so many PCs.
The Texture Optimization Project offers you the same vanilla textures, but now they come in compressed and reduced size. This way you can improve your FPS without having to sacrifice the texture quality.
This can be cataloged as one of the best mods for Fallout 4 if your FPS isn't helping you at the moment.
---
9: Enhanced Blood Textures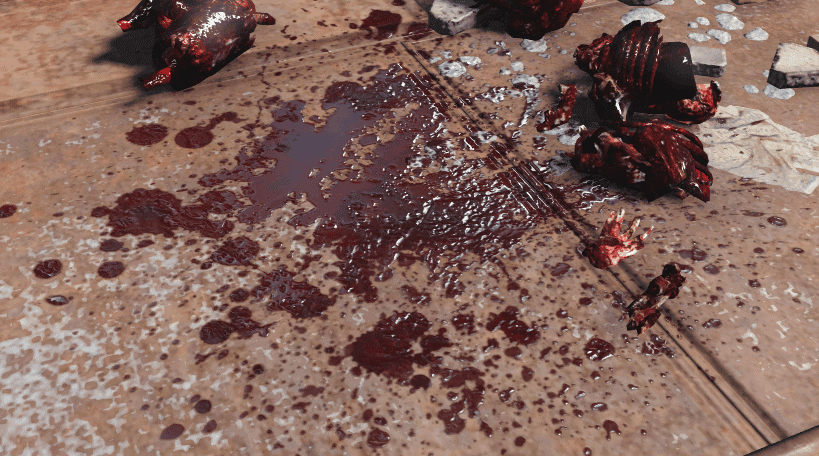 Blood is the fuel of life and a great enemy of white shirts.
You might as well get used to seeing a lot of blood in Fallout 4. But why should you settle with low-quality blood when you can have an HD blood texture thanks to the Enhanced Blood Textures mod?
And not only that, but it also adds more types of bloodstains and Synths that bleed oil, how cool is that?
---
10: Vivid Fallout – All In One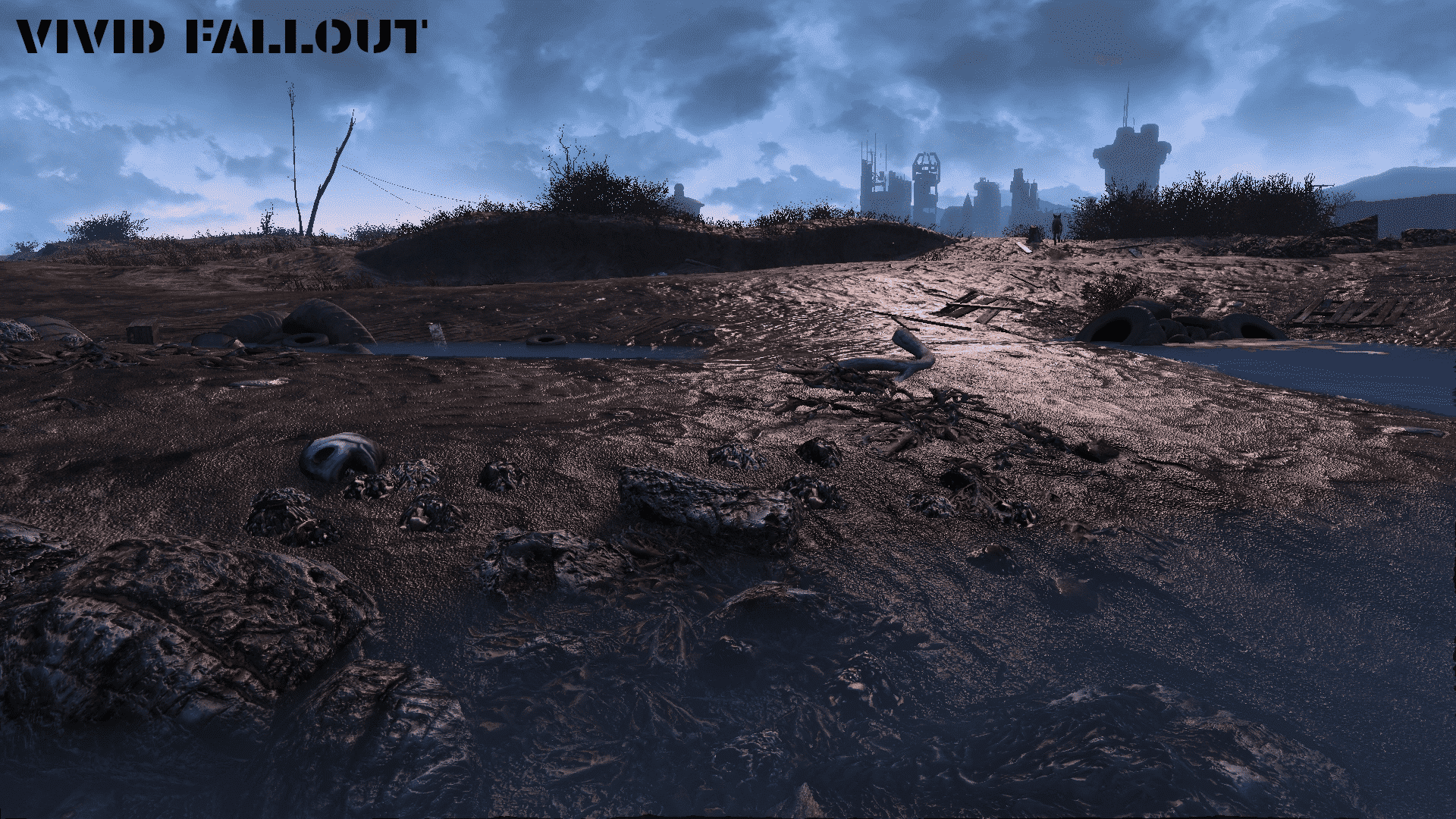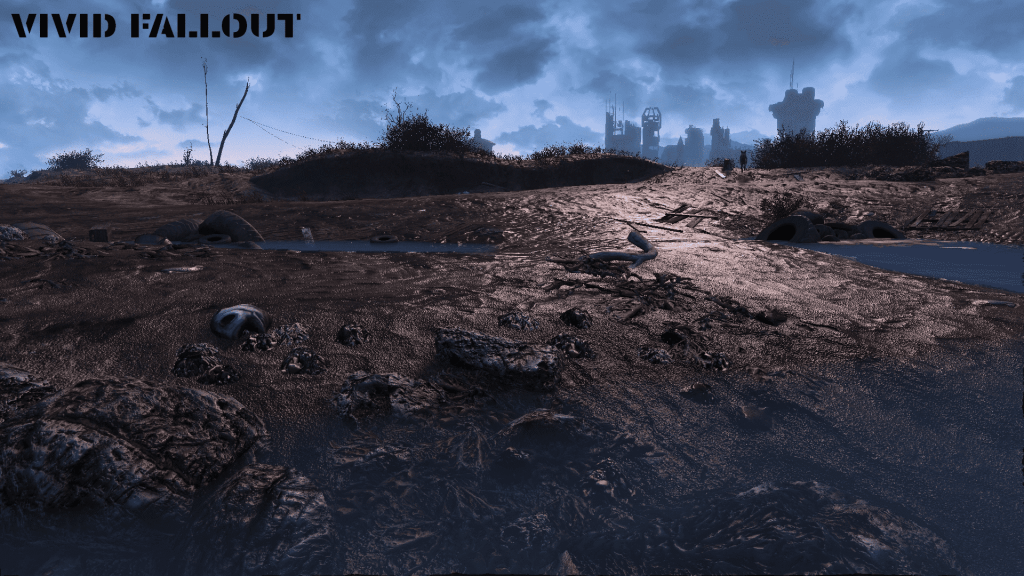 Vivid Fallout – All In One is actually closer to a mod pack. It combines all of the Vivid Fallout mods into one single file. Now you don't have to install them separately.
This mod is an overhaul of all the landscape textures in the game, but it also includes rocks, trees, bridges, and concrete.
The textures in this mod are actually less V-Ram heavy than the separated files. But if you don't feel like having the whole package you can still install a single Vivid Fallout mod to add better textures on trees or landscapes.
---
11: Fallout 4 Seasons – Grass – Trees – Plants – Snow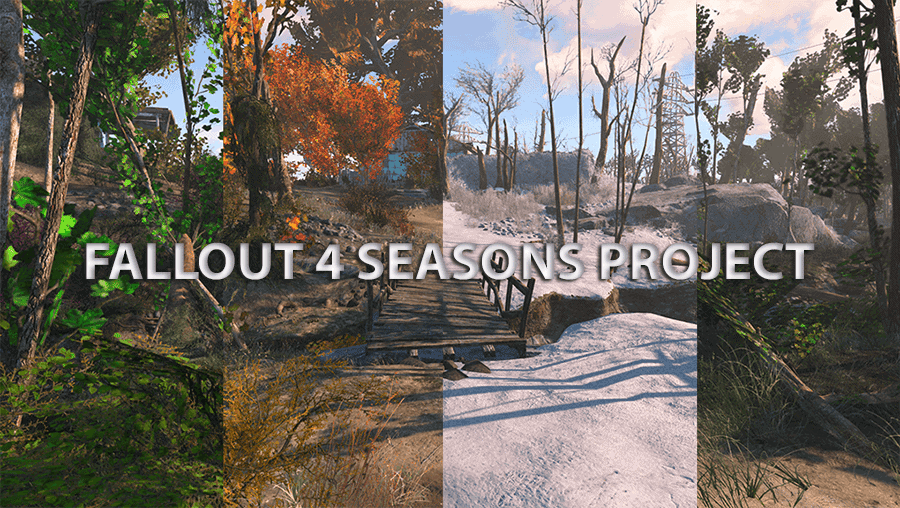 If you want to give a new look to the Commonwealth then you should definitively try the Fallout 4 Seasons – Grass – Trees – Plants – Snow mod.
You can now add the 4 seasons to enhance your gameplay. From white snow mountains to green and flowery landscapes. But unfortunately, the seasons don't change on their own, you have to manually change them and play in one season at a time.
Nevertheless, it's a mod worth the try if you feel like having completely new landscapes.
---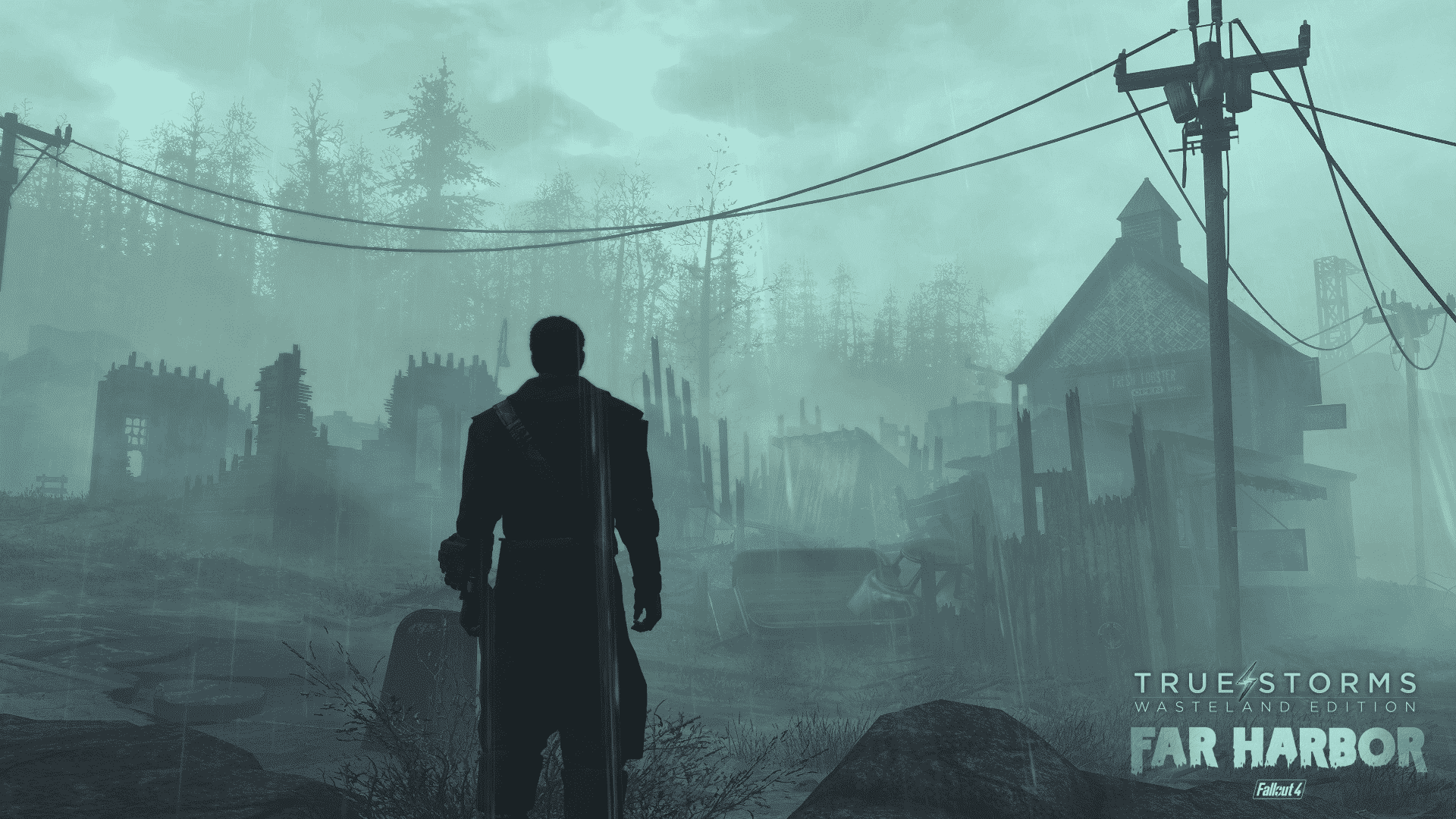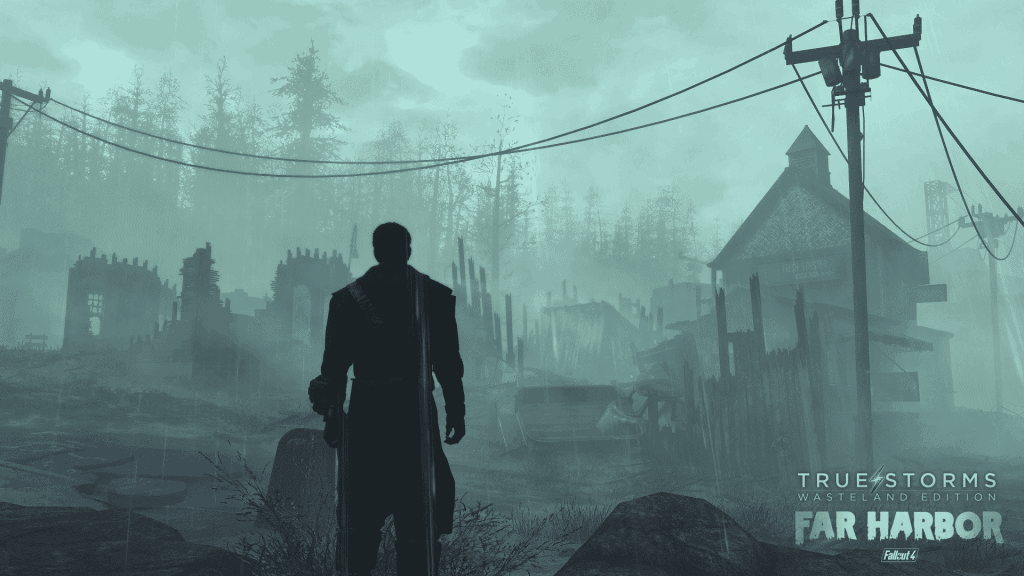 We can't make a list about the best Fallout 4 mods without mentioning True Storms.
This mod adds an entire overhaul to the regular storm system of Fallout 4. It includes dust storms, dangerous radiation rain, fogs, particle effects, and more intense sound effects.
Improve your weather options and visual effects with this awesome mod.
---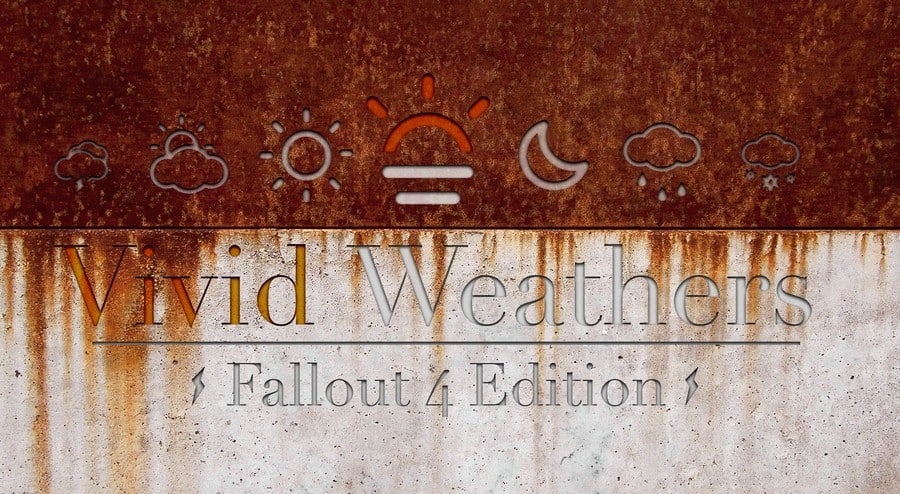 Another awesome weather mod has to be Vivid Weathers.
It adds more than 75 new types of weather and 110 new cloud textures! These new weathers will play with the game's colors, brightness, contrast, and saturation.
But what's difference between Vivid Weathers and True Storms? Well:
True Storms aims to add heavier or lighter versions of the vanilla storms. It doesn't change the colors, brightness, or contrast. It also focuses on sounds and visuals about the storms, like interior rain and thunder sound. If you want to experience the vanilla storms with intense weather that immerse you, then True Storms is for you.
Vivid Weathers adds a more visual overhaul. With 75 new kinds of weather changing the colors, night brightness, lighting, contrasts, etc. It focuses more on the visual aspects of the weather, not just the storms. If you got tired of the same old weather from the vanilla version, then Vivid Weathers will be a treat for your eyes.
It was impossible to have these two installed because they are incompatible with each other. But that's a thing from the past thanks to the Weather Synergy mod. This mod is a merge patch for these two mods to work together. Read the description on NexusMod to find out more about this mod.
---
14: Everyone's Best Friend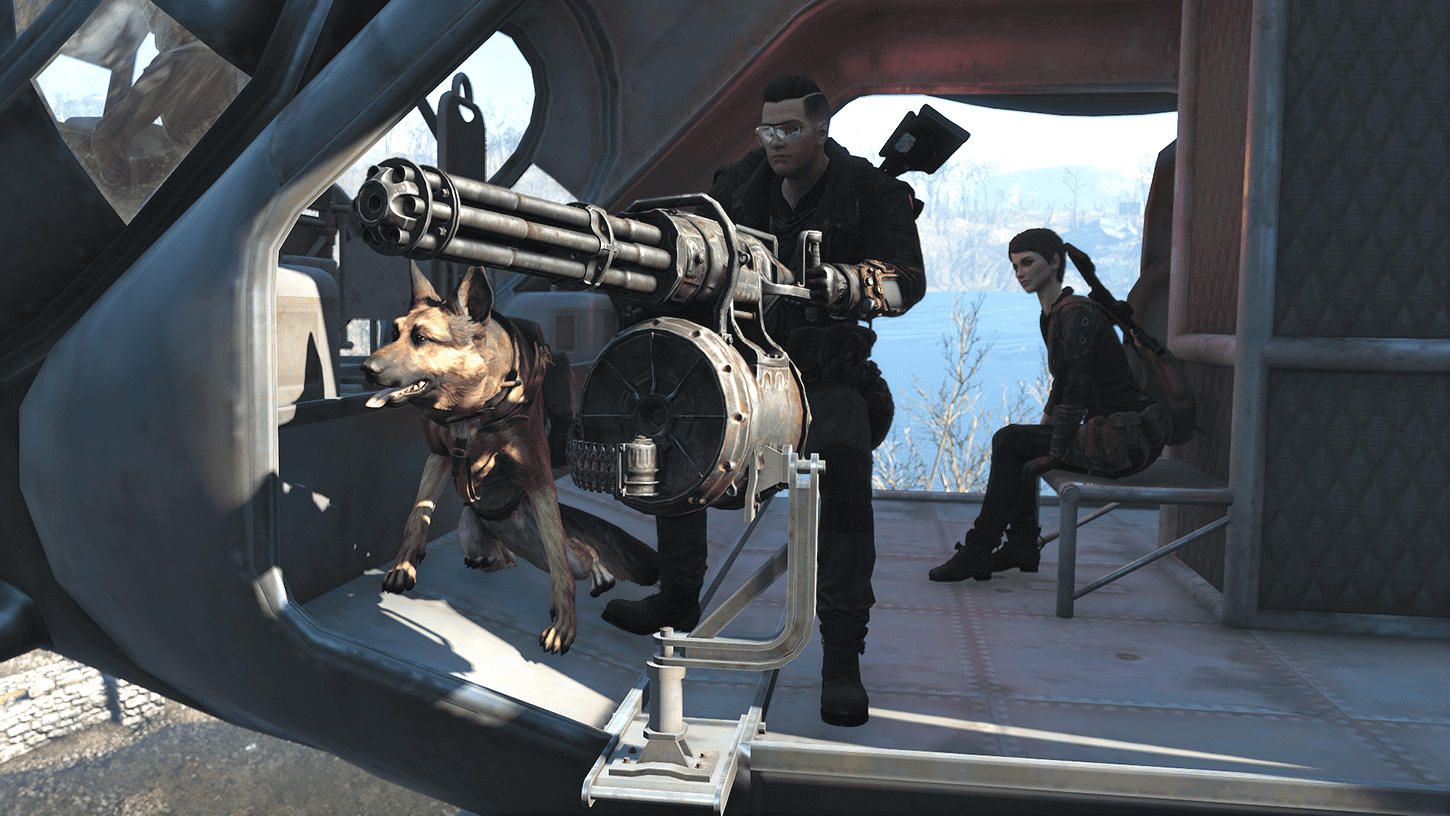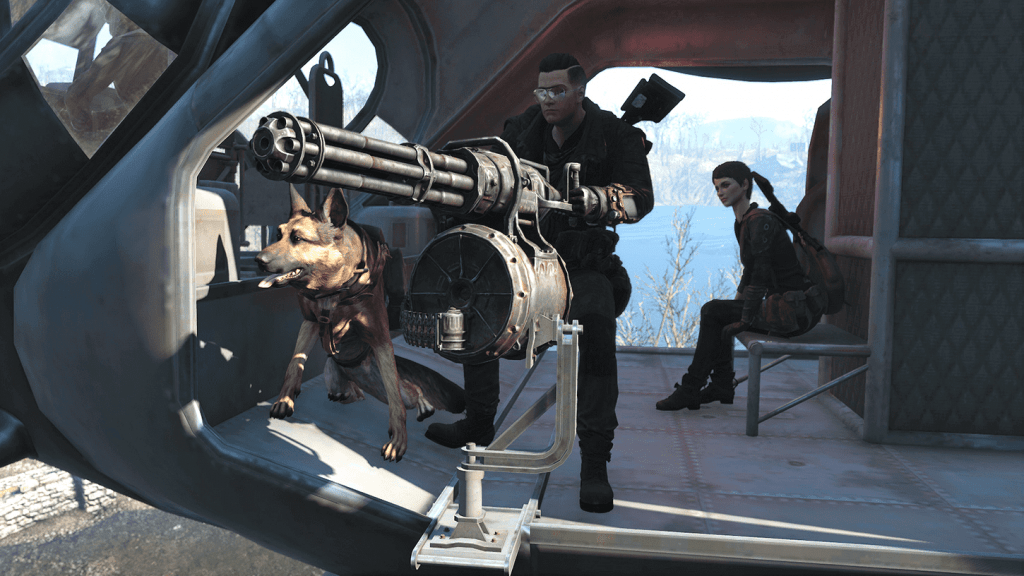 We can't believe they have us choosing between Dogmeat and a human companion. One Bethesda developer revealed that originally, the game was intended to allow you to have a human companion along with Dogmeat, but it seems they changed their mind.
Everyone's Best Friend is a mod created to solve that problem. You can now go with a human companion and Dogmeat.
This is a really helpful mod that lets you have the best options for companions. Though we know you prefer Dogmeat.
---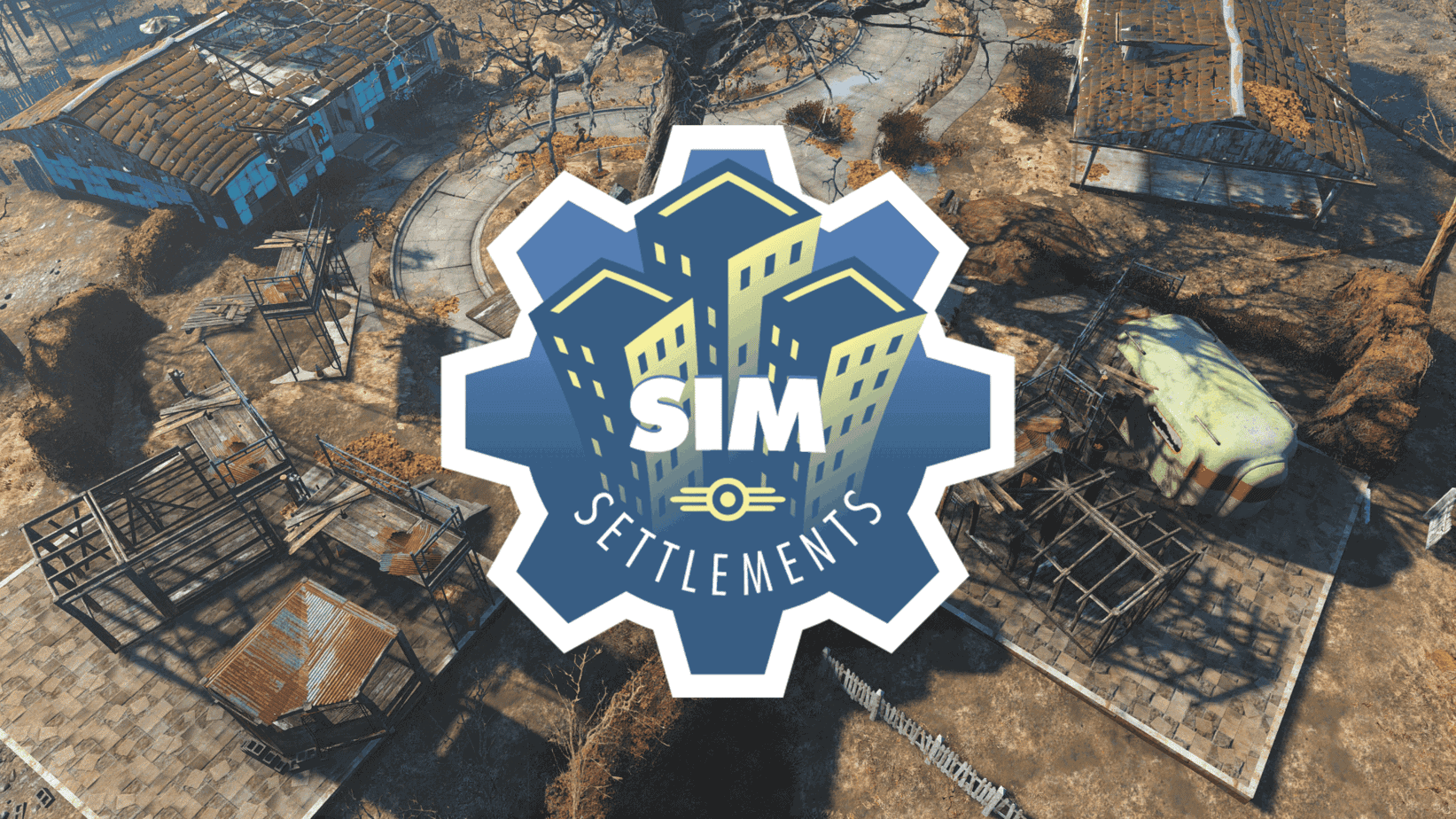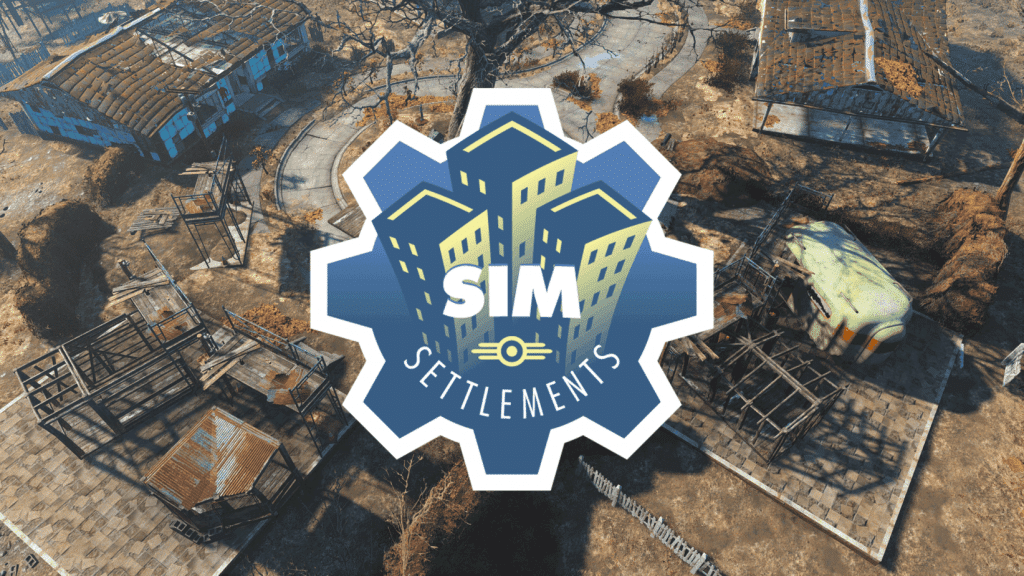 If you ever get tired of having to micromanage your settlers like if you were their mother, then Sim Settlements is a mod you should explore.
Another thing to explore is the Commonwealth. With this mod, you can keep exploring while your settlers build and improve their settlements. They will build a random structure that will somehow fit into the settlement.
It also adds more game dynamics, like adding backstories to settlers and a more enhanced settlement system. Now you don't have to worry about which beds will your settlers sleep and focus on exploration.
The Industrial Revolution and The Rise Of The Commonwealth are two expansions for the Sim Settlements mods that will add new features, newer buildings, and will surely improve your experience. That is why this is one of Fallout 4 best mods.
---
16: Homemaker – Expanded Settlements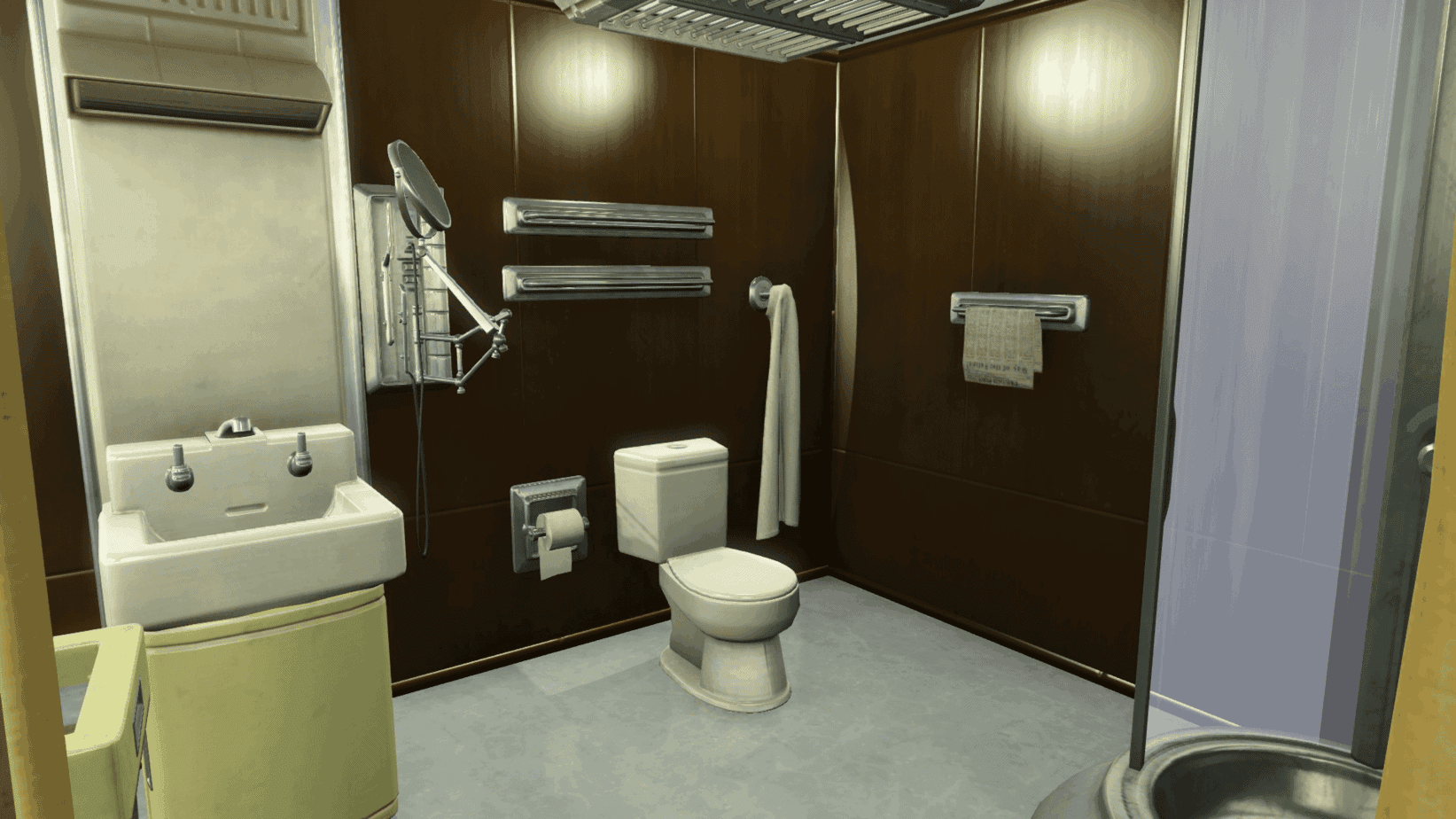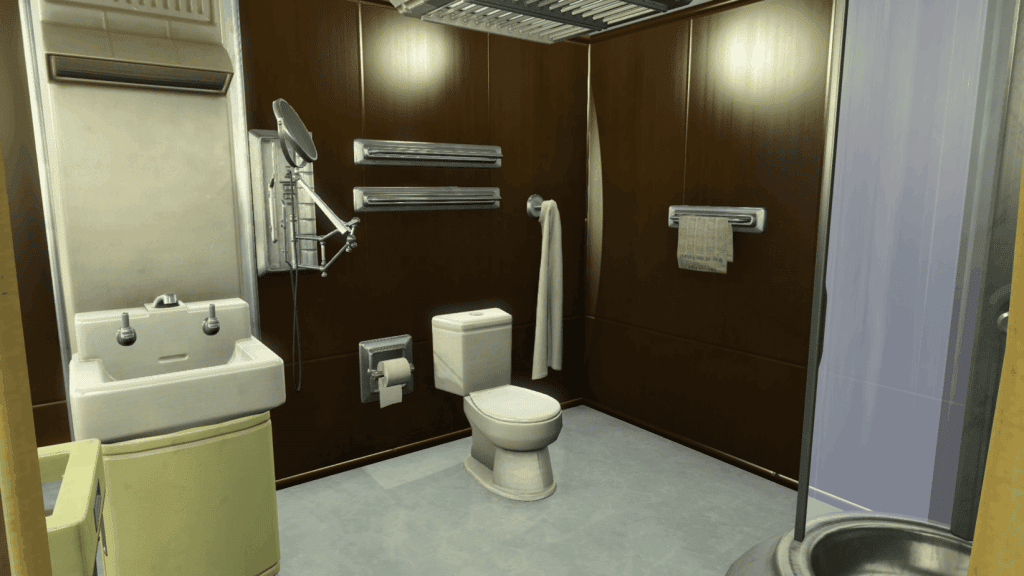 If you've ever felt like your settlements were lacking something, but still don't know what that is, let us tell you that Homemaker – Expanded Settlements is that thing that was missing.
It adds more than 1,000+ new items for the vanilla crafting system of Fallout 4. The objects vary from street lights and even refrigerators because why not! It also includes a new Institute build set with stairways, floors, walls, and so much more!
---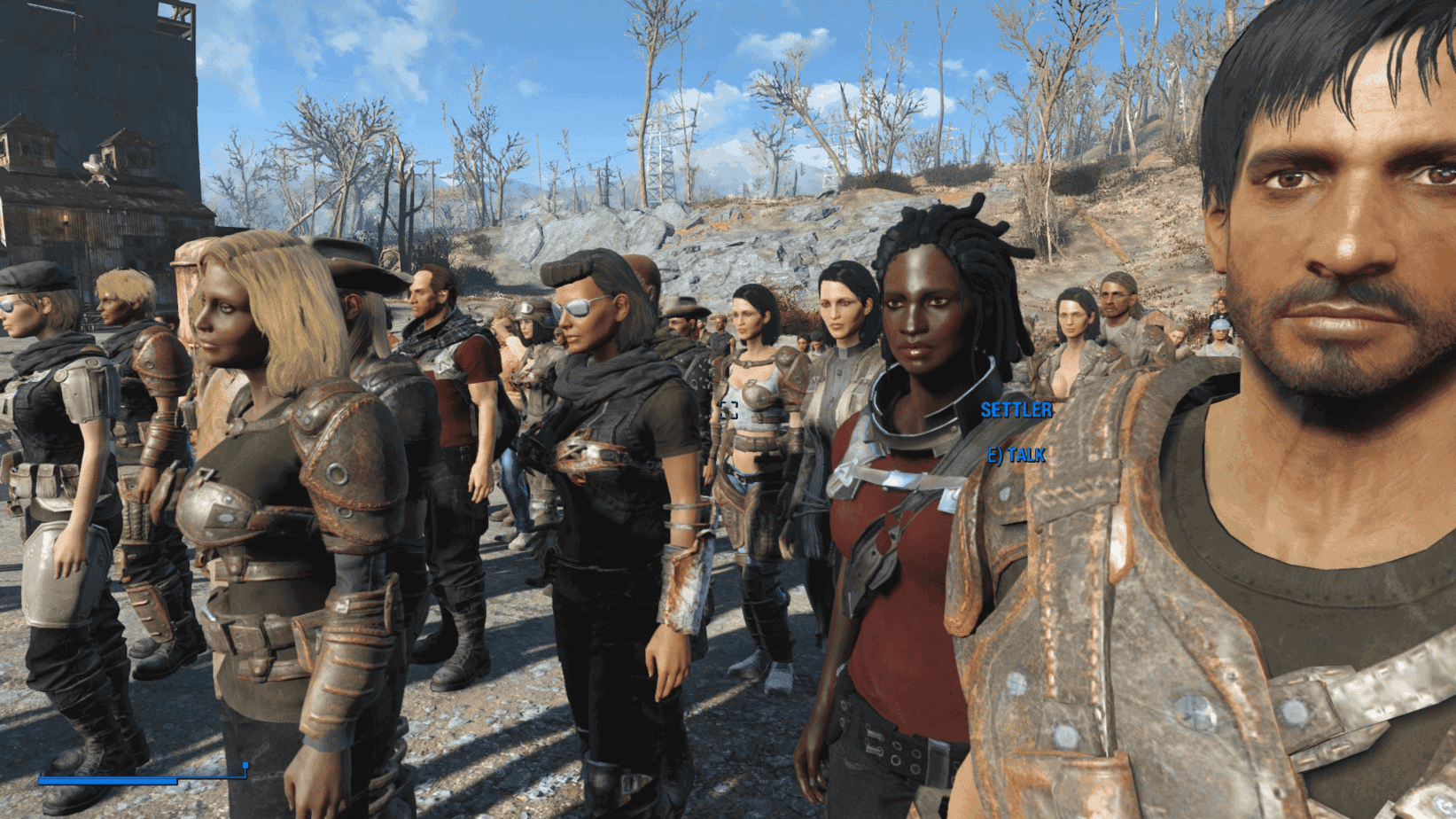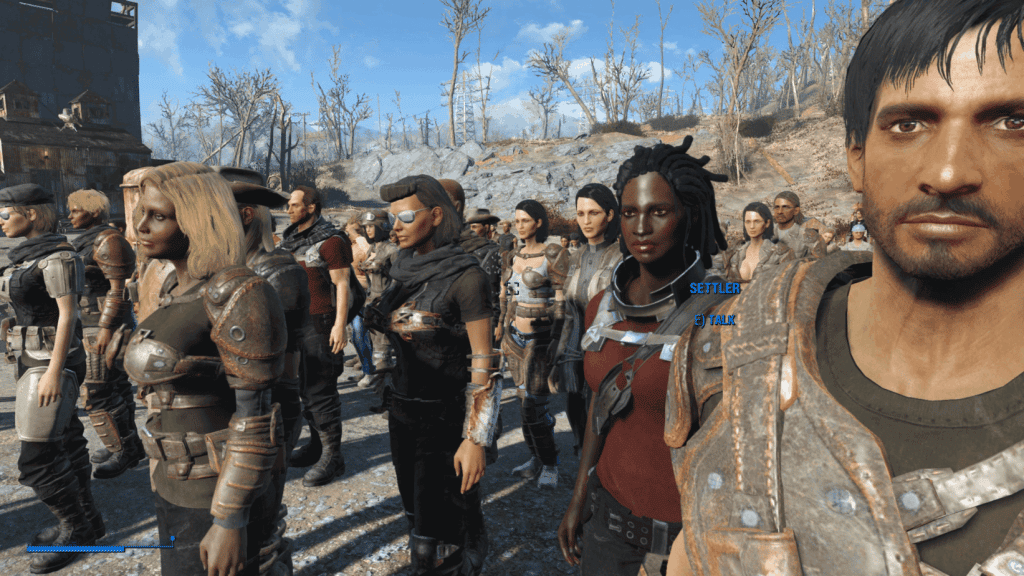 Better Settlers is a mod that adds more than 230 settlers for the regular vanilla version of Fallout 4. This number of settlers, combined with the already existing ones, gives you a total of 270+ settlers to choose from.
You can choose to stay with just that or you have the option to include other features. You can make changes to their equipment, their stats, their mortality rates, and even their gender ratio to have mostly females or mostly males. You're going to have a lot of control over your settlers with this mod.
---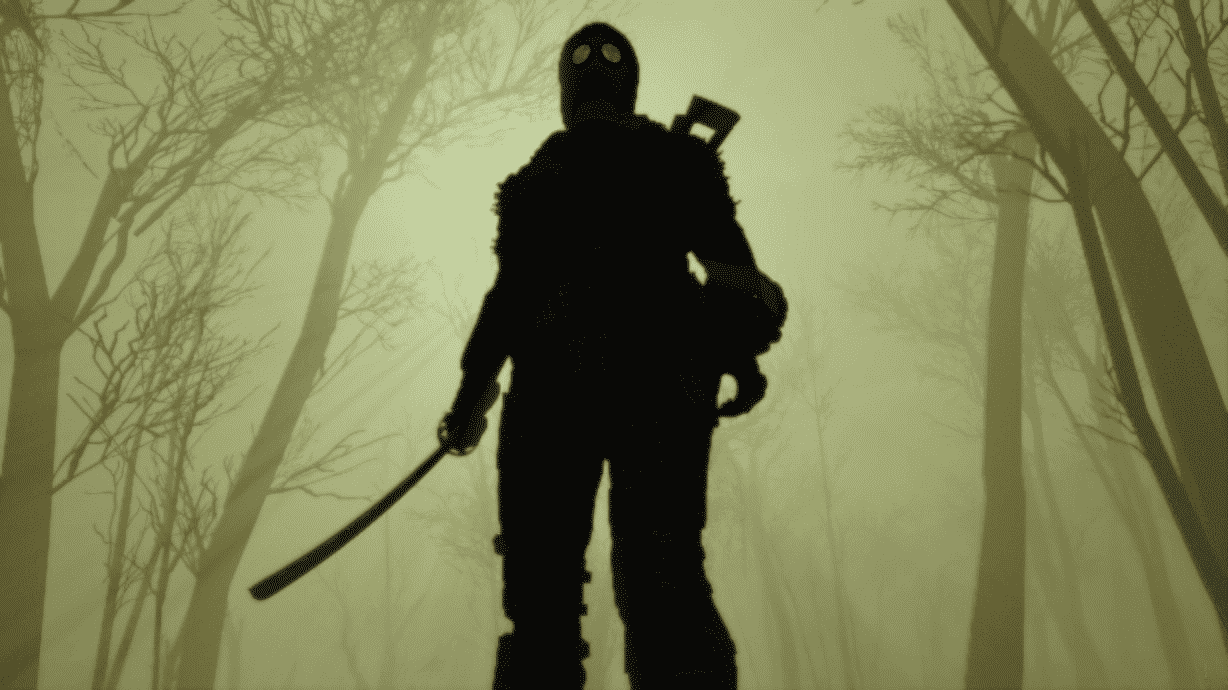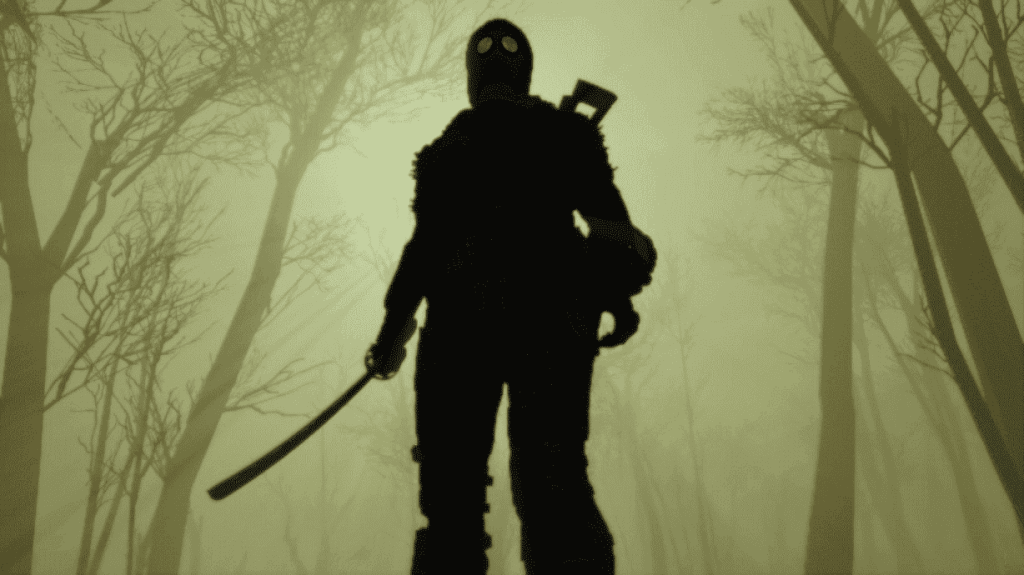 Armorsmith Extended is the most downloaded mod on the NexusMods page and one of the best mods for Fallout 4 for a reason.
This mod lets completely improves the armor system of the game. It does many things, but the most predominant are:
Every outfit in the game can now be worn under armor equipment and items.
Every outfit can have ballistic weave armor added to it.
The slot usage is now optimized.
The armor mod system has been massively expanded, you can now mod and re-name all clothing items.
Adds new creatable outfits, that can be crafted at the Armorsmith bench.
As you can see, this mod has the lead when it comes to armor mods. Check it out yourself, read the full descriptions on NexusMods, and live the Armorsmith experience.
---
19: Armor and Weapons Keywords Community Resource (AWKCR)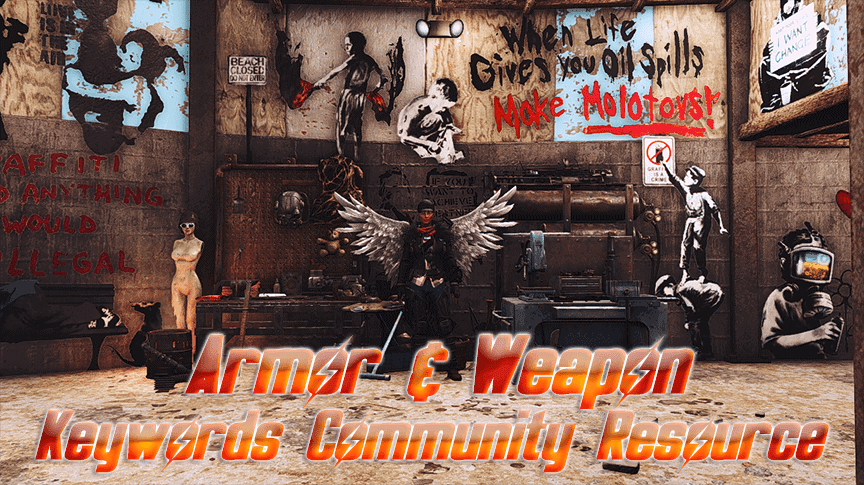 Another great mod regarding armors in Fallout 4 is the Armor and Weapons Keywords Community Resource (AWKCR) since it's the second most downloaded mod in the NexusMods webpage and it's one of the Fallout 4 best mods in existence.
Among many things, this mod creates a standardized framework of keywords for armor and weapon records, crafting menus, and a color swap framework. Modders can create and do armor modifications while making compatible edits that adjust dynamic item naming.
Another thing is that if you want to make Armorsmith Extended compatible with a variety of other mods, you'll need to download AWKCR.
---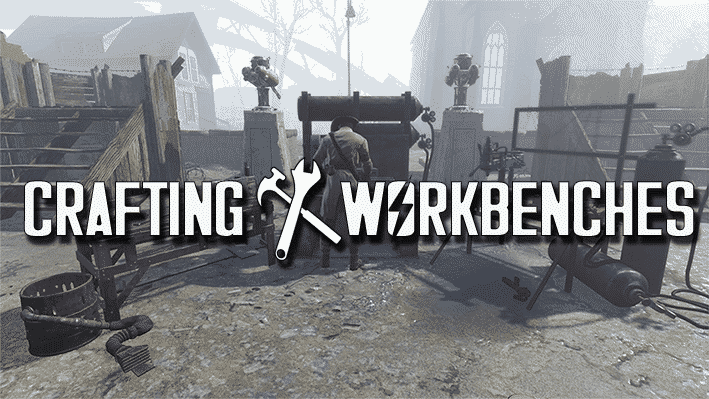 Disappointment spread all around the planet when gamers realized that it wasn't possible to craft weapons, armor, and ammo in Fallout 4. But Crafting Workbenches solves that problem.
Instead of just wandering around searching for weapons and armor, now you can craft them from scratch, rather than modifying pre-existing ones. This mod adds three new workbenches that you can place in your settlements.
You can now craft weapons, ammo, armors, clothing, helmets, glasses, and other miscellaneous. Make your life a lot simpler by installing this really creative mod.
You need to have AWKCR installed to use this mod, read the description at NexusMods.
---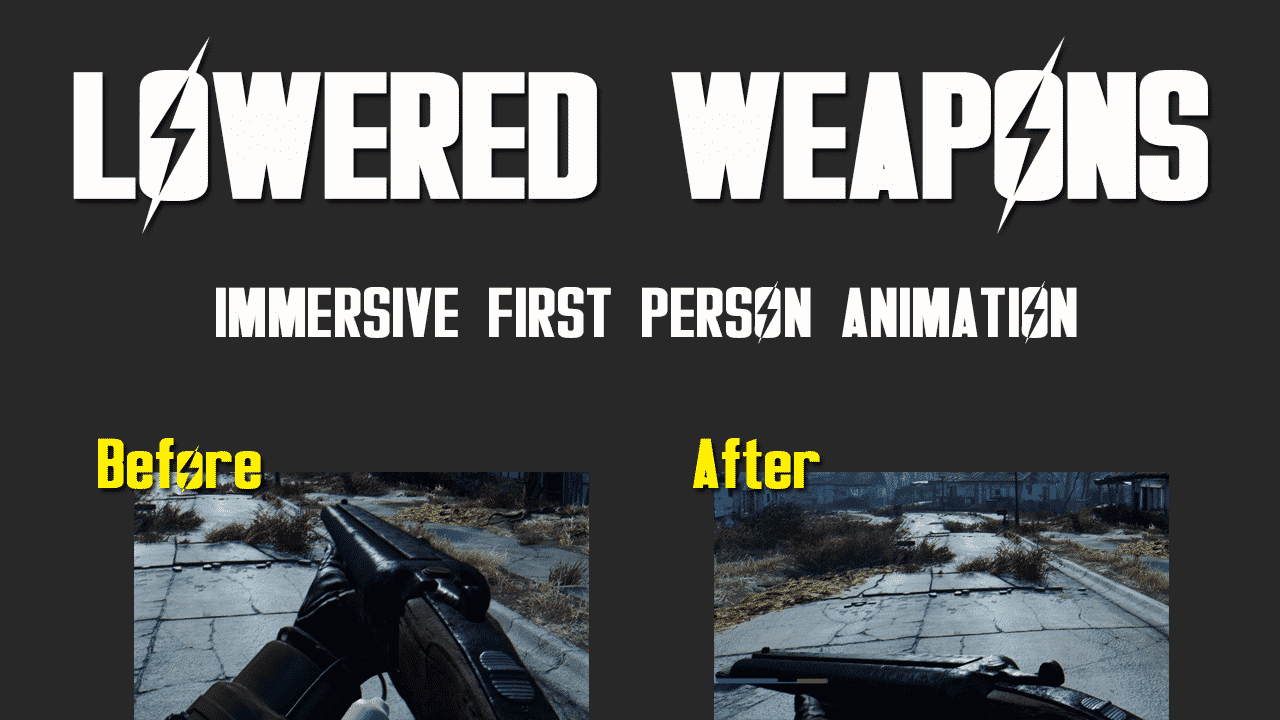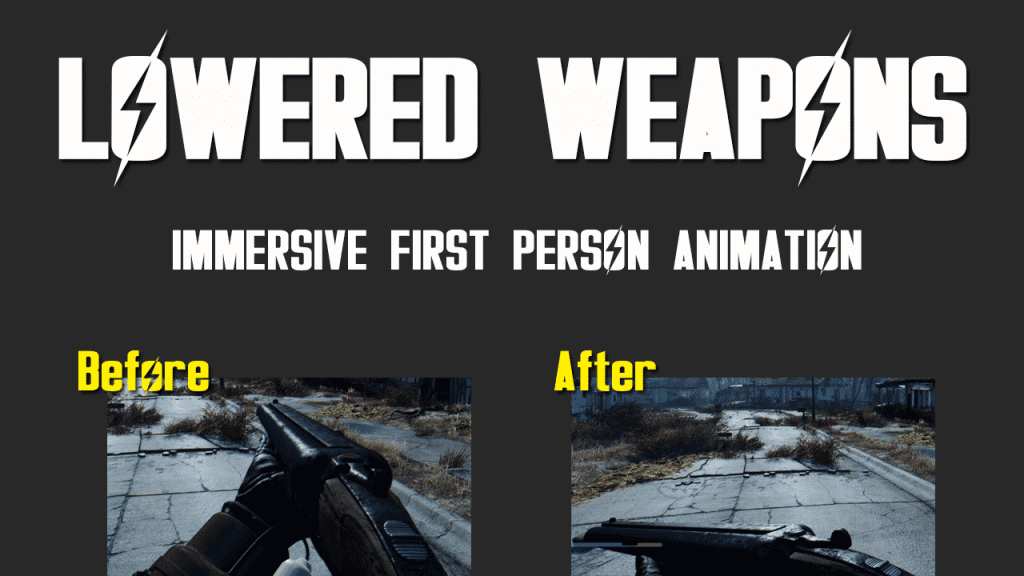 A simple, yet useful mod is Lowered Weapons.
There is nothing more uncomfortable than having your weapon pointing forward all the time when being in First Person. It really prevents you to completely immerse in the game since there is a big weapon covering a great part of the screen.
Now your character will lower the weapon whenever it's not being fired. So simple and practical at the same time. Despite its simplicity, it's one of the most downloaded and most recommended mods on NexusMods. We don't even know why they didn't add this option in the vanilla version, but thank God someone solved it for everyone.
---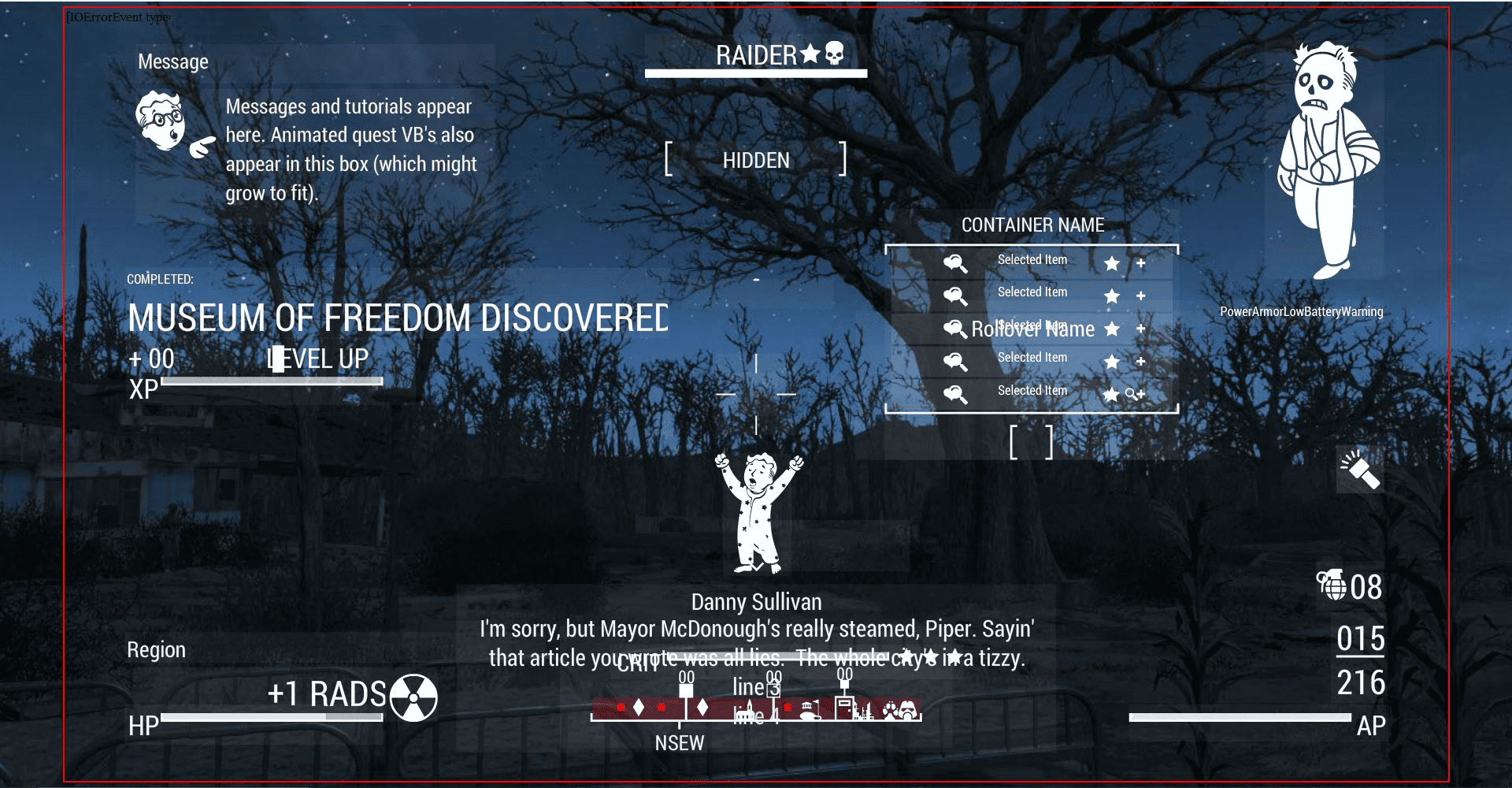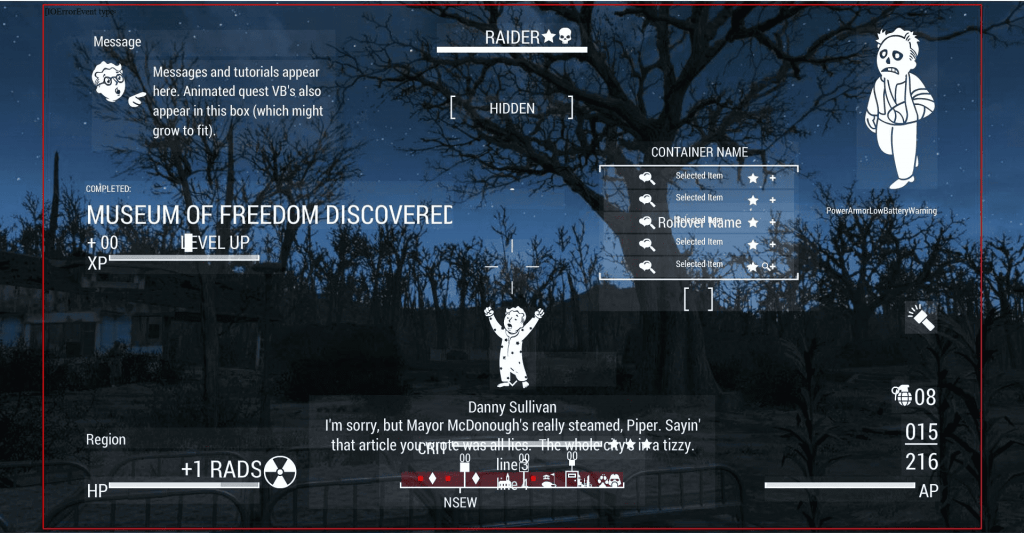 Last but not least on this list is a mod called DEF_UI. This mod contains the DEF_HUD and DEF_INV mods, and those are meant to overhaul the inventory and the game's HUD.
The DEF_HUD makes the HUD completely customizable. With it, you can move elements and remove them at will. The DEF_INV allows you to have some inventory improvements, like adding new tabs to organize your screen or replacing some sorting tags with icons.
The thing is, you will need an additional sorting mod to make the mod work. We recommend using Valdacil's Item Sorting for this. This mod helps to group your items in easy ways, you can even rename and put tags on items.
---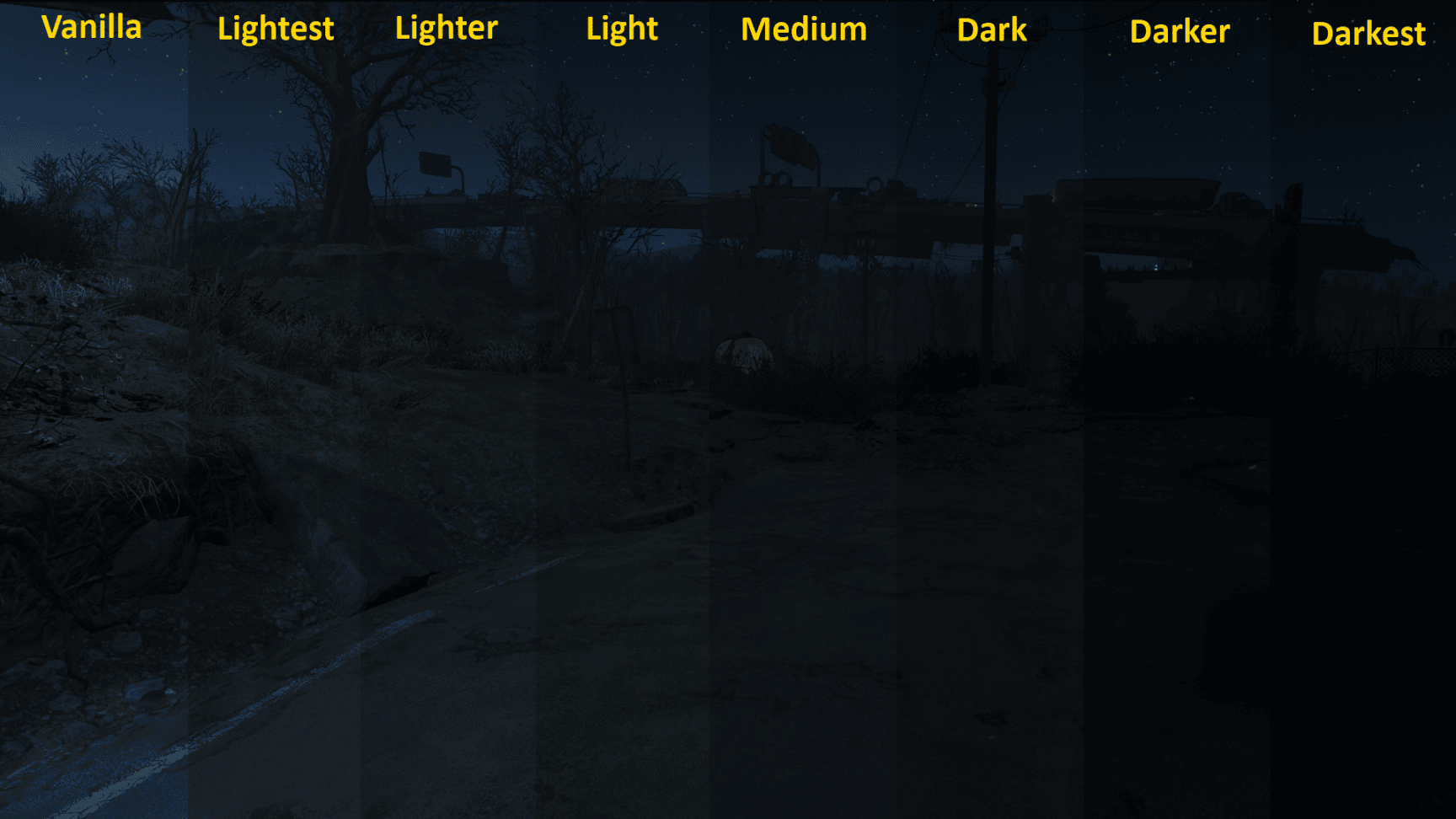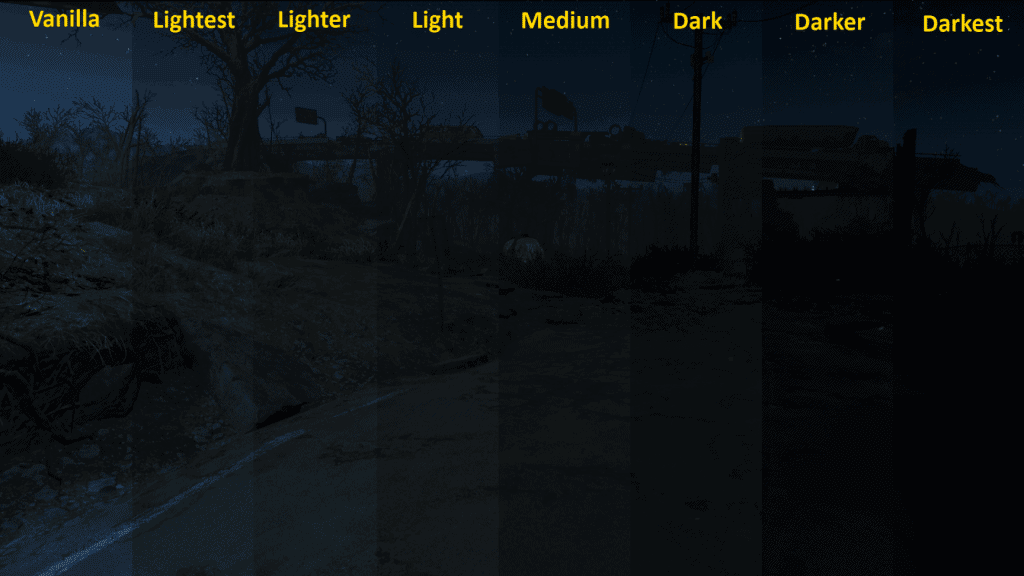 Do you need more game immersion? Great! With Darker Nights you can make your nights look as dark and scary as in real life. Made by a user called "unforbidable" we get an iconic and unforgettable mod that will make the Commonwealth a whole lot more realistic.
You'll get seven differet levels of darkness to choose from. Interiors will also be darker at night unless they're well lit. It's every night owl's dream.
---
24: Carry Weight Modifications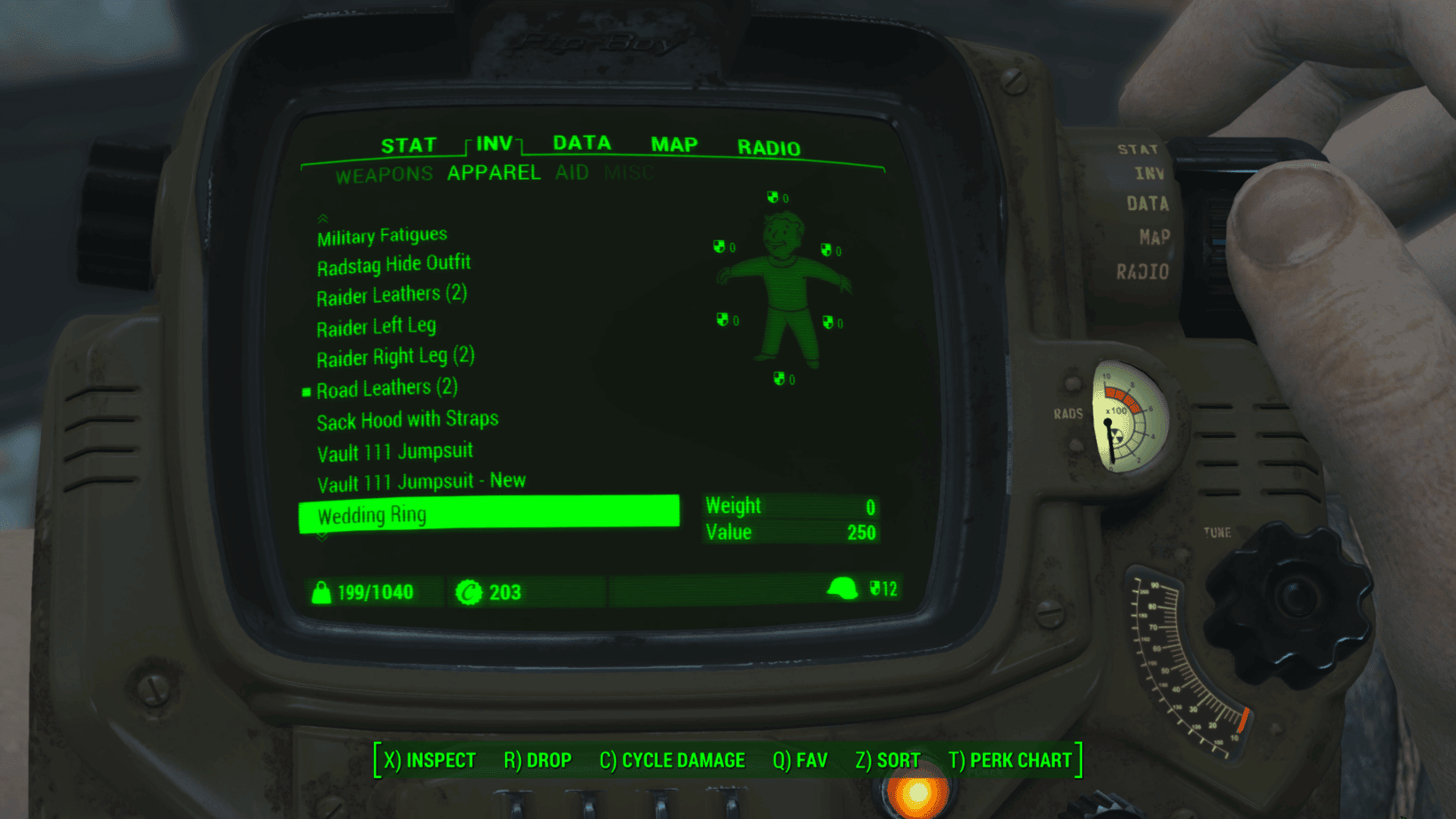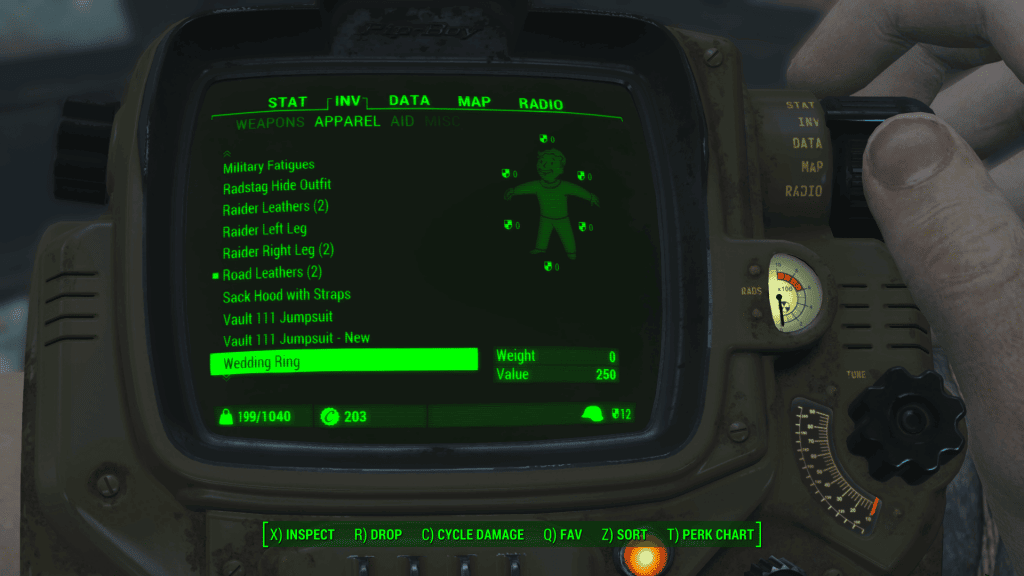 Who else loves to gather items without any kind of restriction? Because I do, and it's almost like an addiction. Sadly, the game has a limit at how much garbage you can carry around with you. But with Carry Weight Modifications, that is a problem from the past.
This mod allows you to twitch your default carry weight and increase it (or decrease it) how you feel like. You can also change how much weight you can carry according to your stregth level. Make your inventory feel more in control with one of the best mods for Fallout 4.
---
25: More Where That Came From – Diamond City Radio Edition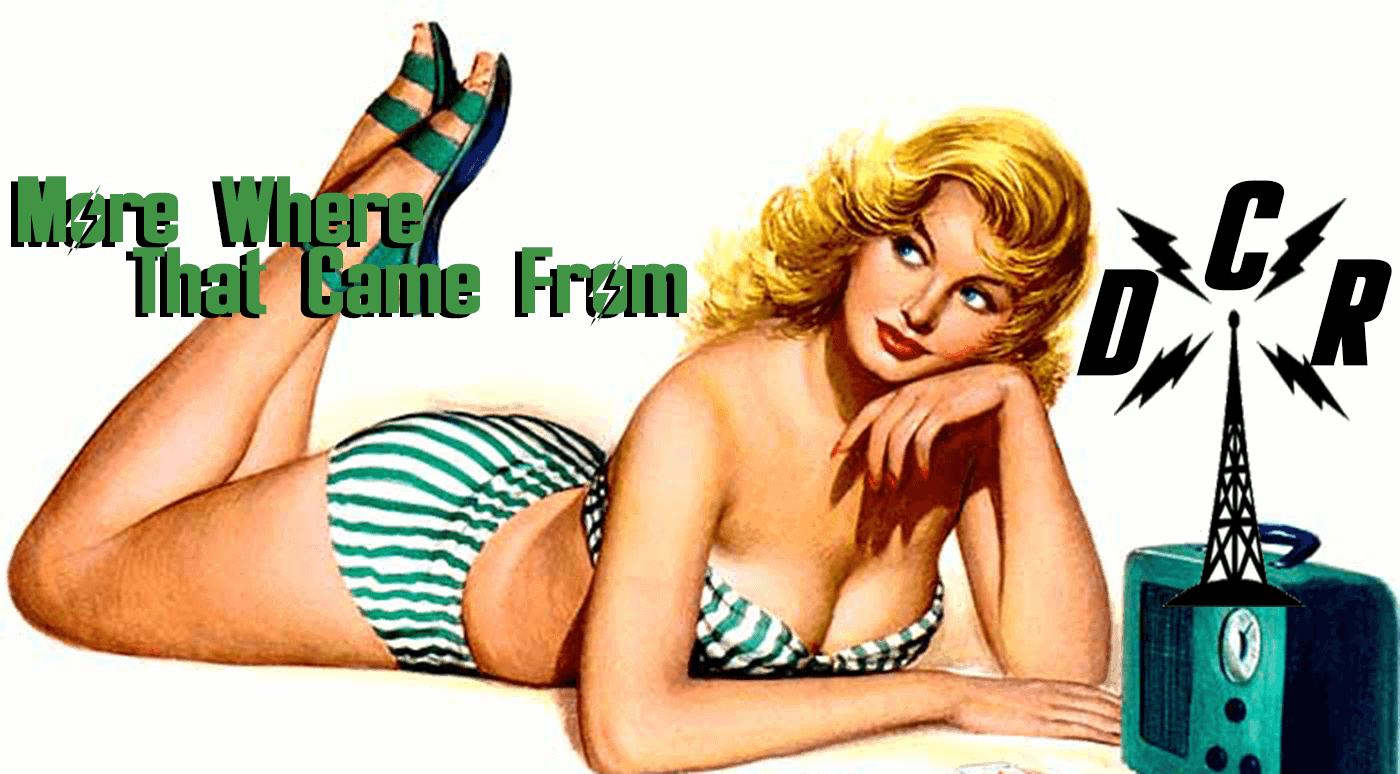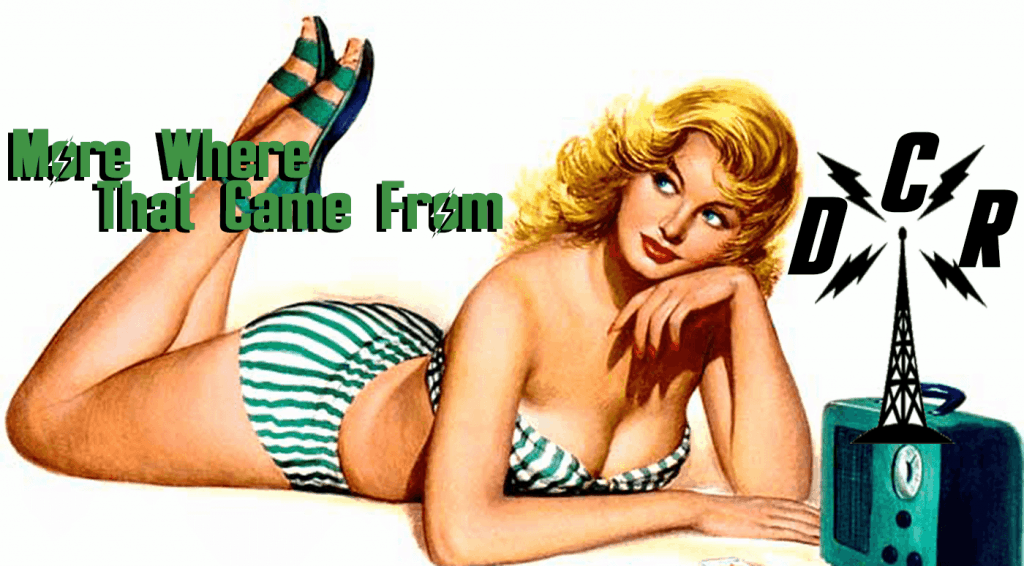 Don't you ever get tired of the same vanilla songs? It's not like they're bad or anything, it's just that after hearing them for too long it could get repetitive and a little boring. Well, for music lovers there is the More Where That Came From – Diamond City Radio Edition mod.
This mod adds 111 new songs to Diamond City Radi. These sons are lore-friendly, that means that they blend gracefully with the game's thematic. You'll get songs like ""I'm Gonna Dig Myself a Hole" and "Who Do You Know in Heaven?" to add flavour to your gameplay.
But that's not the best part. This mod also eliminates Travis's dialogues before the default songs for a smooth transition. We're sure you won't miss that. But if you really can't live without that, you can add Elvani's Track Pack for Diamond City Radio, which will add 36 extra songs and keep Travis's dialogues intact.
---
New & Trending Mods
Yes, even as of today, there are people devoting time to create more Fallout 4 mods to enhance the game's experience. The following mods have grown a considerable reputation over the last few months at NexusMods.
1: Private Military Company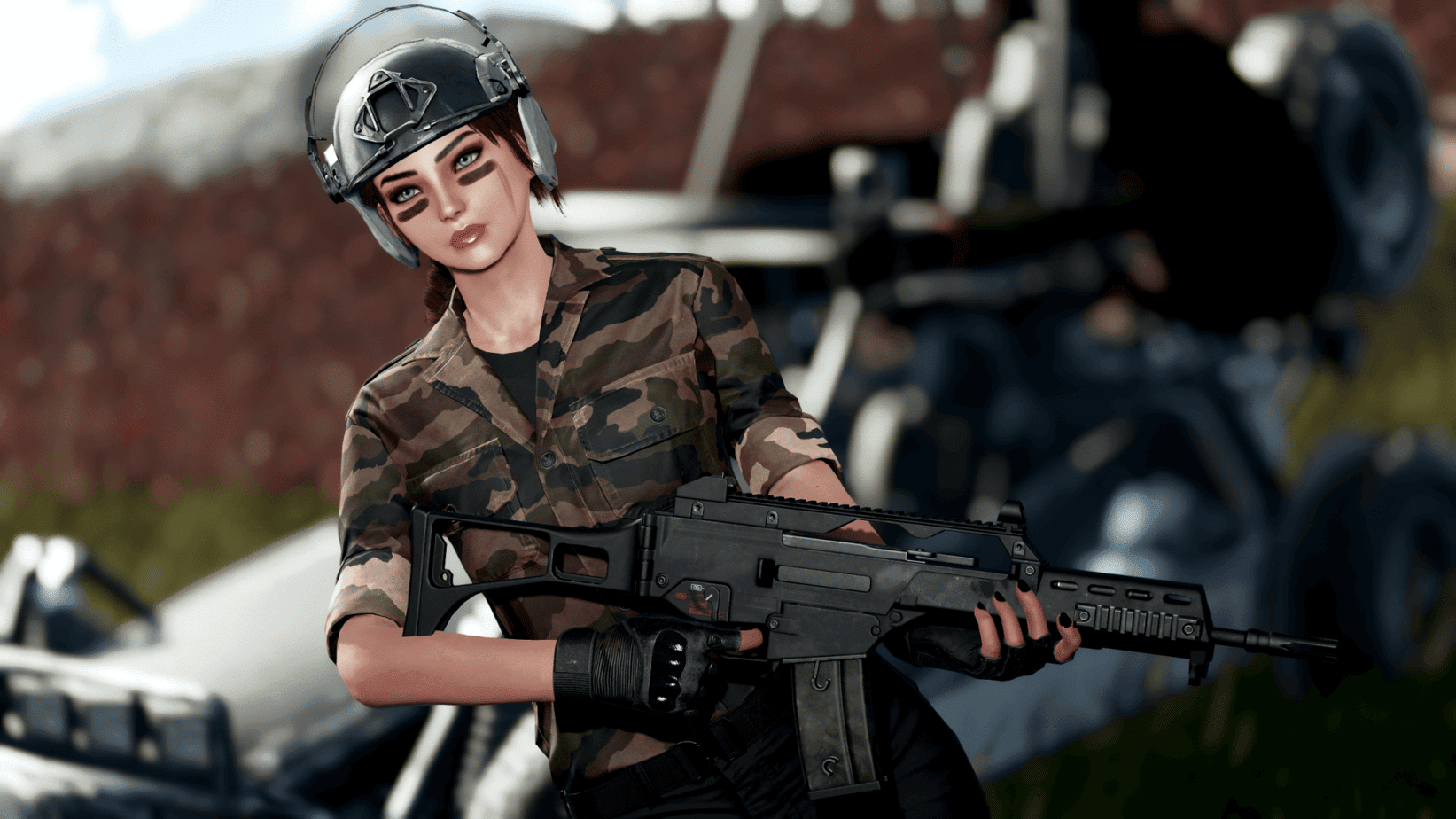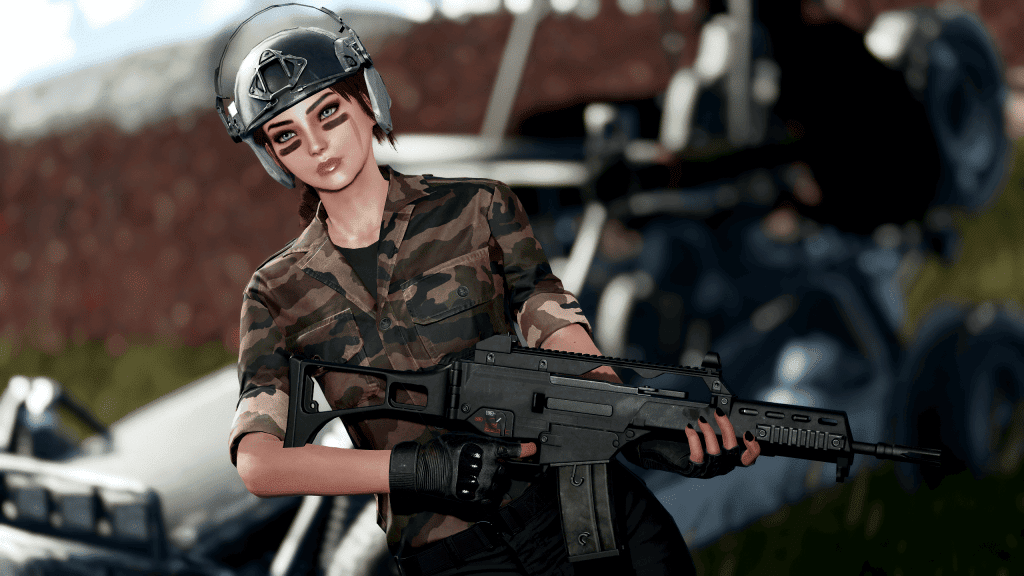 This mod called Private Military Company is the best Fallout 4 mod for military lovers. It adds new outfits with custom camouflages and gloves. This will make your experience in the Commonwealth a military adventure!
And if you feel that that isn't enough, here you have the Private Military Company Extended mod for you, which adds new patches and more retextures.
---
2: Settler and Companion Dialogue Overhaul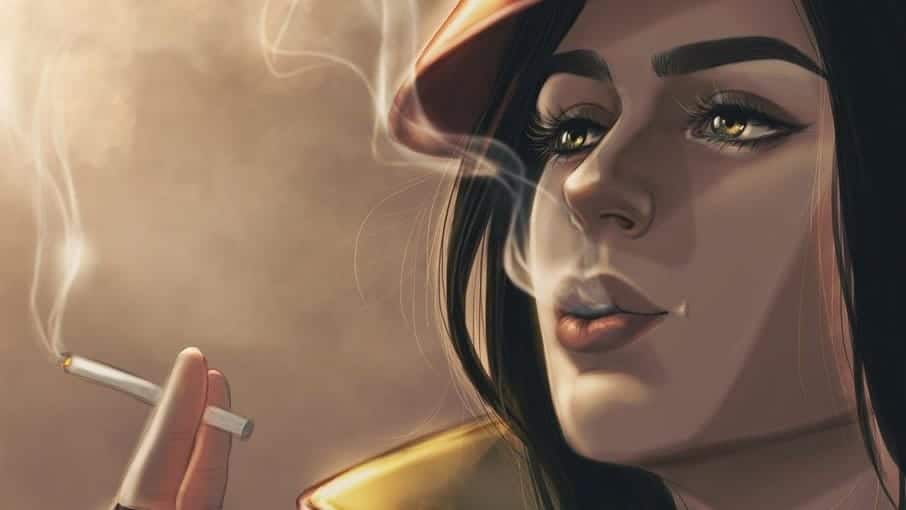 Wishing settlers could do more in your game? Wish no more, because Settler Companion Dialogue has come to the rescue.
This mod adds over 2,300 new voice line to your settlers, companions and enemies so you won't get tired of the same old lines. This mod also eliminates repetitive dialogue (thanks) so you won't hear the already overused dialogues. Settlers will now be more aware of the world around them, they'll show gratitude towards you and be informed of your quests. Truly an awesome mod to try out.
---
3: Better 3rd Person Animations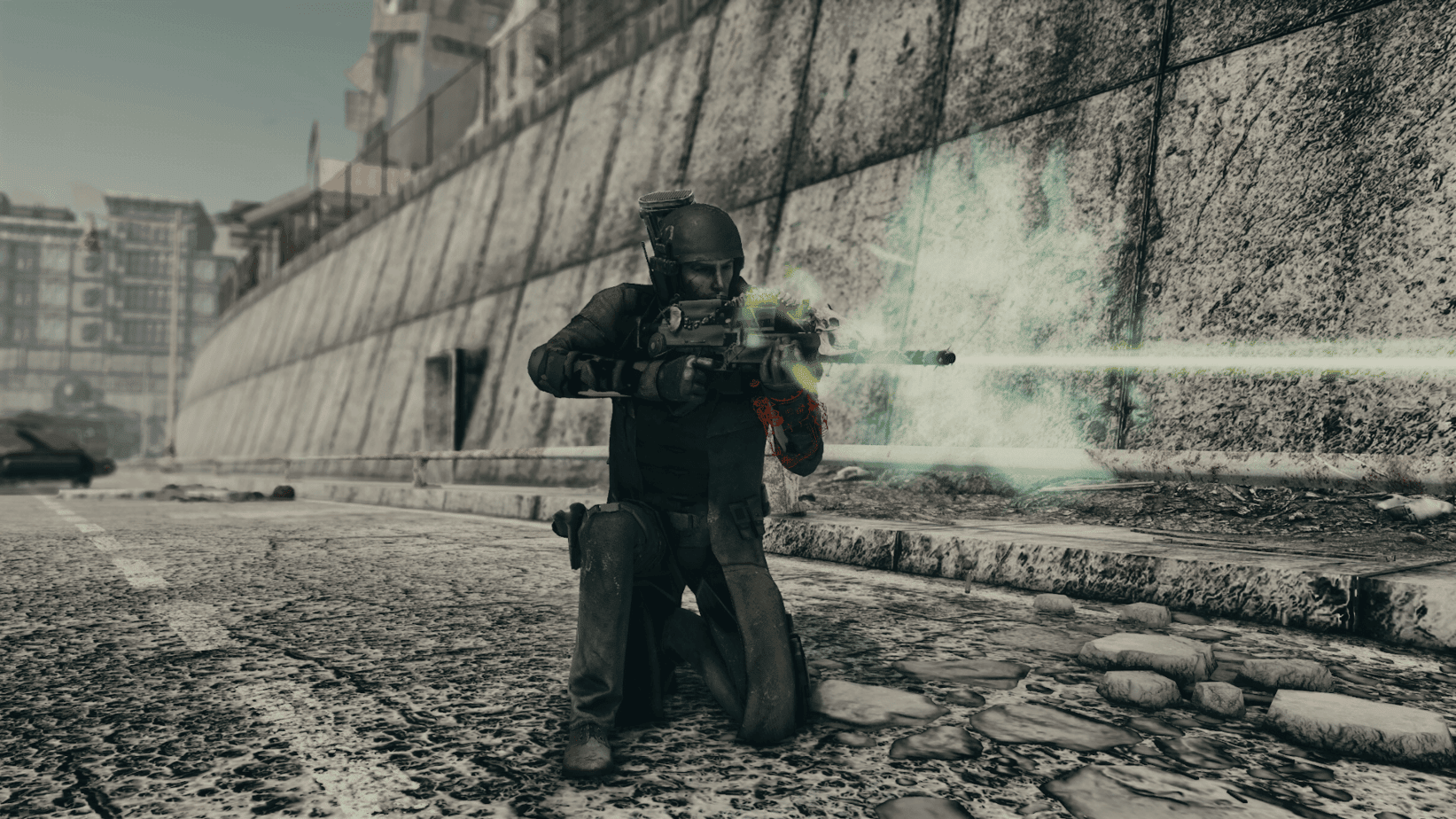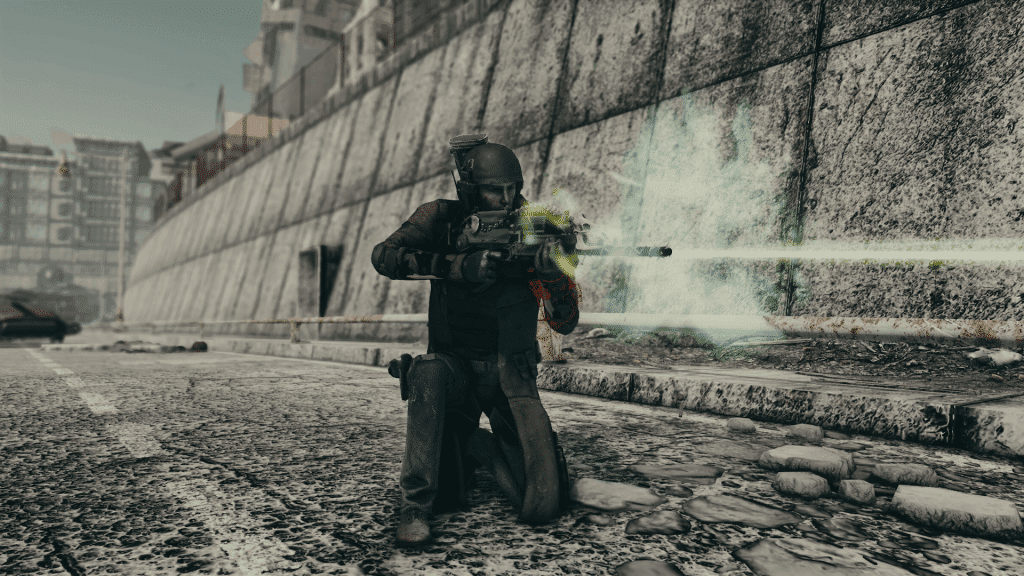 Well, the title of this mod is pretty self-explanatory. Better 3rd Person Animations does what it's suposed to do, which is improve aimations.
The aim of this mod was to make better animations than those from the vanilla version of the game. Check out this mod on NexusMods and see the gamepay videos to see the differnce in animations, which I find to be amazing.
---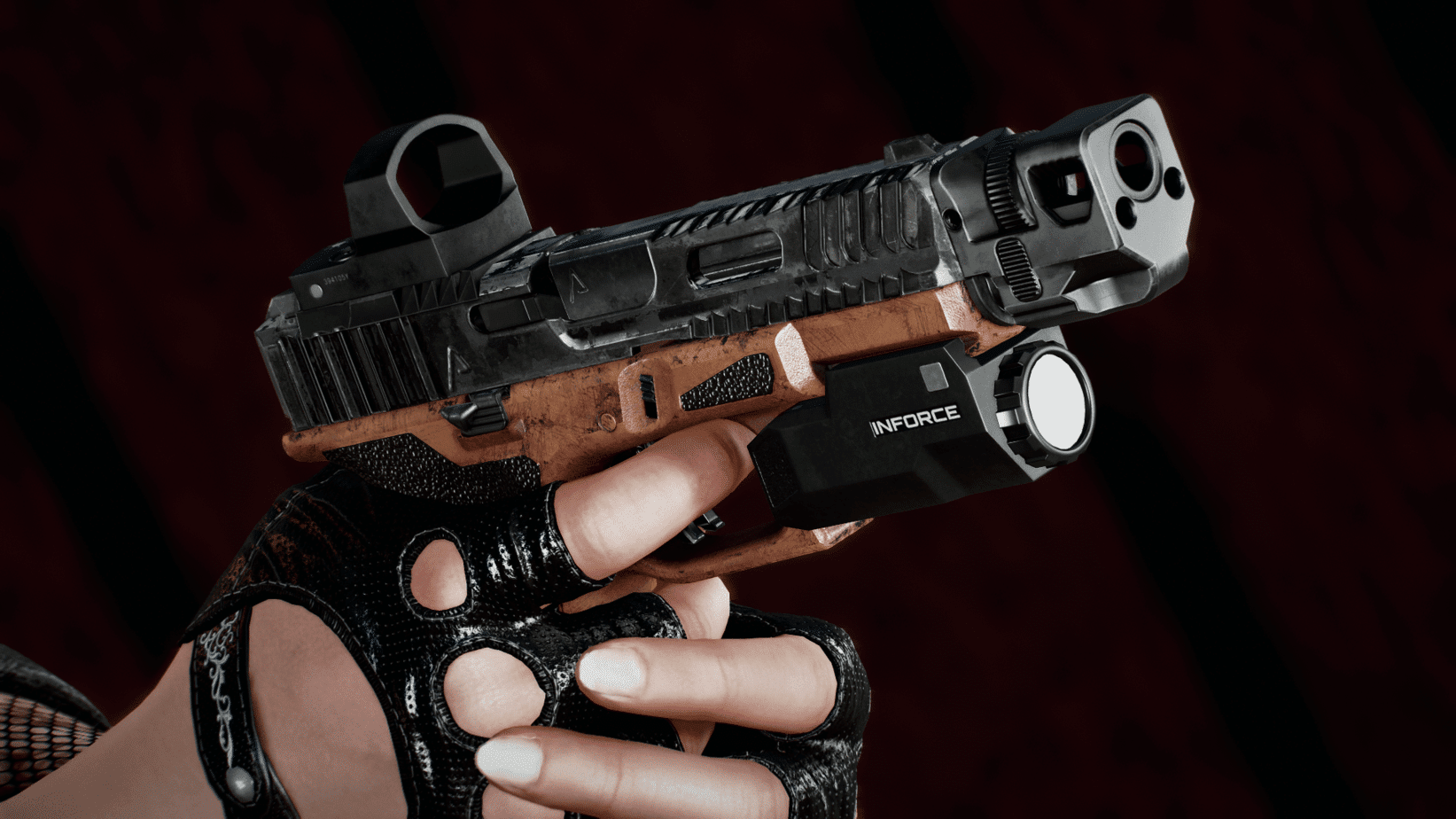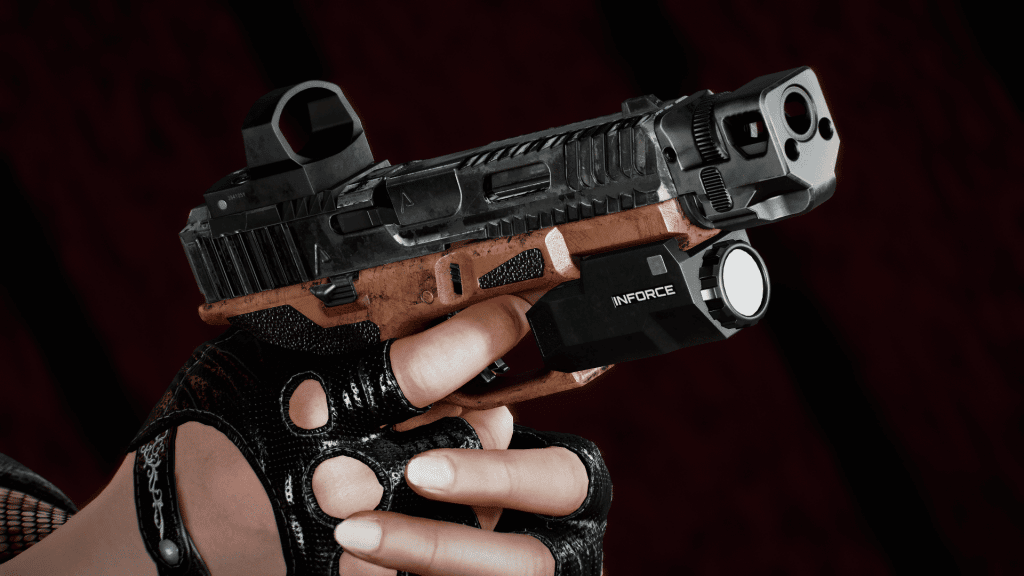 Because everybody needs a Glock 19x, even in their lives, even in their virtual lives.
This weapon became rapidy famous on NexusMods, counting with more than 65,000 downloads. And is it really something to be surprised at? Glocks are an all-time favorite weapon and now they can be used on Fallout 4.
---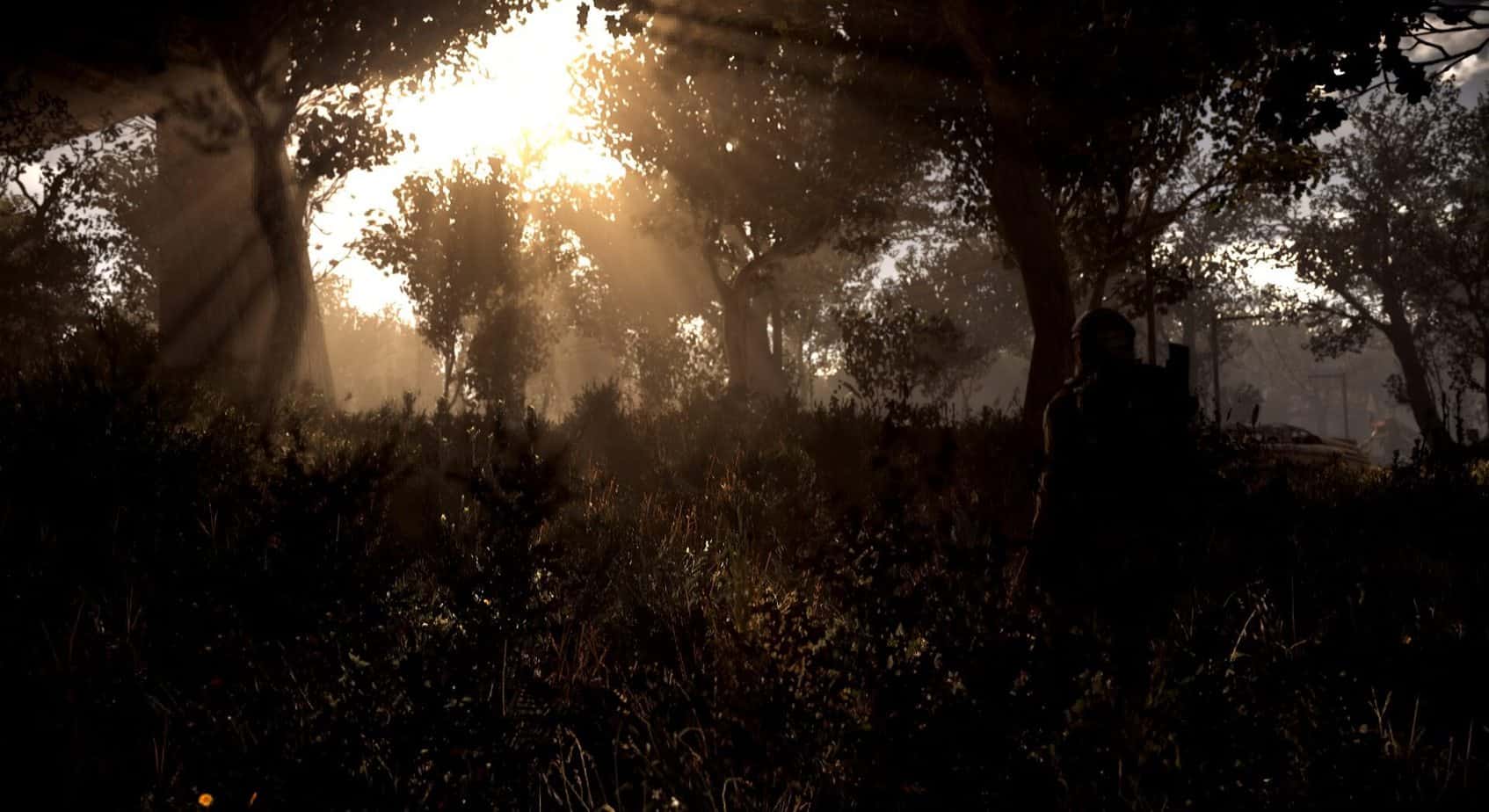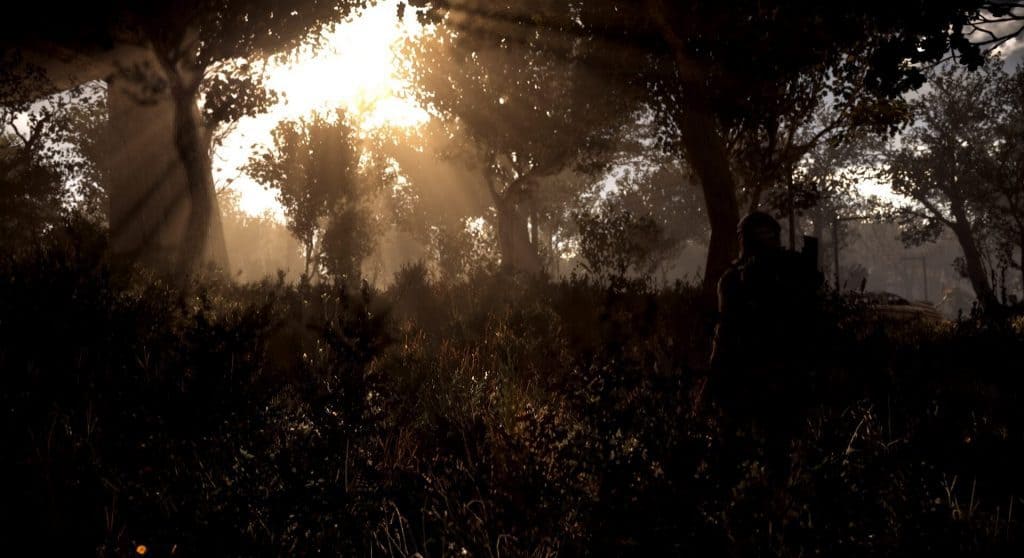 Do you love nature, plants and everything that is green and grows to give oxygen? Then you're going to love A Forest.
This mod will transform the Commonwealth into a dense and overgrown forest for you to explore. This mod aims at a more real-life approach, so no dense grass will be seen growing on roads or buildings, because you know, that's how it's like in real life. Definitively one of the best mods for people who'd prefer a more natural look on their game.
---
How to Install Fallout 4 mods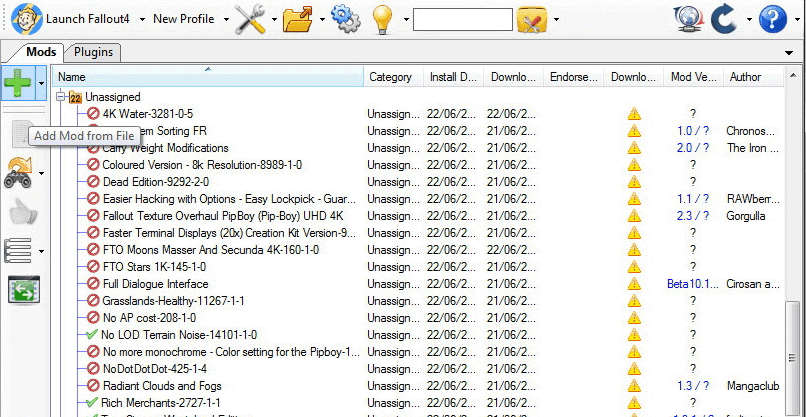 With the NMM interface, you can easily download, install, enable, and remove any Fallout 4 mods without much problem. Gopher, a YouTube creator who shares countless videos about gaming, explains in this YouTube video in less than 15 minutes the full process of installing mods with the NMM.
There's a newer mod installer called Vortex. It's supposed to be a better installer than NMM, but you have the option to choose the one you prefer. If you have the NMM already installed you can import all your files from the Vortex interface.
But many people still prefer the NMM over Vortex. So, now the NMM has become a community project supported by users since it's no longer being officially updated.
While it's possible to install mods manually, it's highly recommended to use a mod installer. If you make a mistake while you try to manually install any mod, there is a risk of damaging your game installation.
Installing Mods Manually
But if you want/have to install a mod manually, you can find everything there is to know about manually installing any mod in another video made by Gopher.
Keep in mind that you need to read the mod descriptions in NexusMods. Because some mods will require you to have specific DLC or other mods to be installed. Reading the requirements is essential before you download a mod.
Consider installing the Fallout 4 Script Extender (F4SE) before getting into modding. With F4SE you can increase the game's capacity for alteration. This mod allows modders create more complex code for the game to process. Some mods will require you to have this mod installed in order to run properly.
If you want extra help with that, you can download the Load Order Optimization Tool (LOOT) to help you out. This tool checks for load errors like incompatibilities and missing requirements, and it notifies you about them. A tool like no other if you want to start modding.
FAQs
Is NexusMods Safe?
Yes, this website is safe and doesn't represent a threat to your system. It's a website used to mod most Bethesda games and most gamers see it as a trustworthy web. But if you're still worried you can always scan any file with an antivirus before instlling it.
What Is The Best Mod Manager for Fallout 4?
The Nexus Mod Manager (NMM) still holds the crown for the favorite mod manager to download Fallout 4 mods. Although there are newer unofficial and official mod managers, the NMM has quite a reputation and it works perfectly.
Is Fallout 4 Better With Mods?
While Fallout 4 can stand alone without the use of mods, mods add more improvements to an already great game. Using mods is up to the person, but it will undoubtedly add a better and more personalized experience.
Are Mods Free For Fallout 4?
Yes, they can be downloaded from the NexusMods website or any other official page at no cost. Though some creators ask for voluntary donations for their work, but no one is really obligated to pay for mods.
Do Mods Disable Achievements in Fallout 4?
Yes, enabling mods will disable all achievements. If you want to earn achievements you'll need to disable all mods. But you can still use mods and unlock achievements with the Achievement Mod Enabler.
Does Fallout 4 Need A Script Extender?
Many mods do not need a script extender. However, if you encounter a mod that won't work without a script extender, you will have to download it to play it.
What Is The Latest Fallout 4 Version?
Currently, the latest version is the Fallout 4 patch 1.10 – current, which was released on August 29, 2017.
---
Summary
Mods have the incredible ability to completely change a game and improve it. Some games, like Minecraft, turned relevant thanks to their modding communities. The best Minecraft mods are proof of that.
When we look at the best Fallout 4 mods, we can appreciate the immense network of creative modders ready to help gamers enjoy Fallout 4 in new and diverse ways.
Let us know what you think about this list and leave a comment below. Are there any other mods that we may have missed? Share your experiences with us and don't forget to follow GadgetGang to stay informed about the best tech news and reviews.