Crush the competition with the best TKL mechanical keyboard you can find. Or save space on your desk and make everyone jealous of your workspace bling. Sounds like a big deal, eh? Upgrade your keyboard to give you an edge over the chumps stuck with their factory board or some cheap option.
In case you're wondering, a TKL keyboard is a tenkeyless design that doesn't have a number pad. Mechanical keyboards have switches underneath every key. The switches are one of four options:
Optical switches use a laser to register the keystroke.
Linear switches have no specific actuation point and can be super quick.
Tactile, or bump switches have an actuation point that makes a little bump when you press the key.
Clicky switches make a click when you pass the actuation point.
Serious gamers often prefer linear or optical switches. Typists seem to prefer bump or clicky switches. You'll have to try a few and make your own choice.
Top Seven TKL Mechanical Keyboards
Are TKL keyboards better?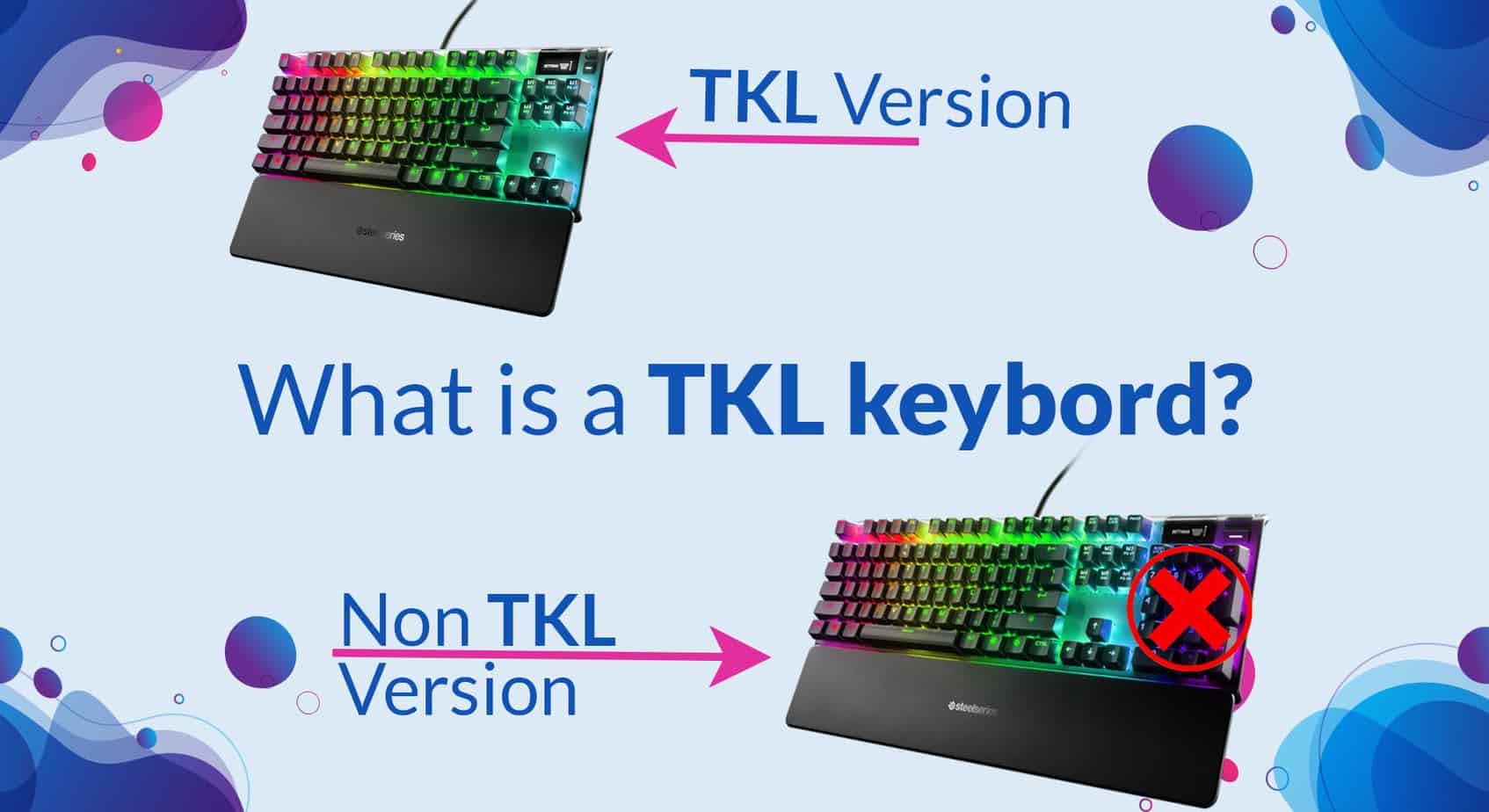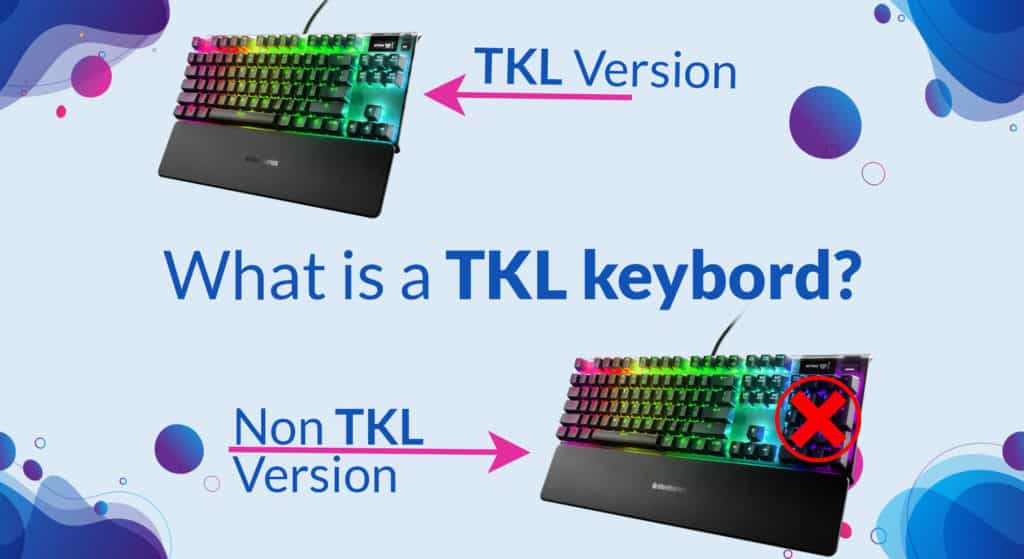 TKL keyboards are better if you don't use the number pad very often. They save space on your desk because they are 85% of the size of a full keyboard. The smaller size also moves your hands closer together. This change will increase comfort and reduce the subtle strain caused by having your mouse hand very far off to the side of your body. TKL keyboards are usually more customizable, so they work well for jobs or applications where specific key combinations can be programmed into the keyboard.
TKL keyboards are most often used for gaming and have these advantages:
Faster keystrokes because a mechanical keyboard has a defined actuation point, which means you don't have to press the key all the way down. Less travel means faster keystrokes.
Less mistakes because the feedback is more tactile. Most mechanical keyboards use a click or a bump to help you feel when you have pressed the key.
Customization options because some models allow you to use software to set up macros for important key combinations.
These are just the first three advantages that come to mind. As you read our reviews, you'll see even more reasons to choose a TKL mechanical keyboard.
Here are the main keyboard features of the top gaming keyboards on the market.
Now that you've seen the overview, let's get into a review of each one.
1. Razer Huntsman Tournament Edition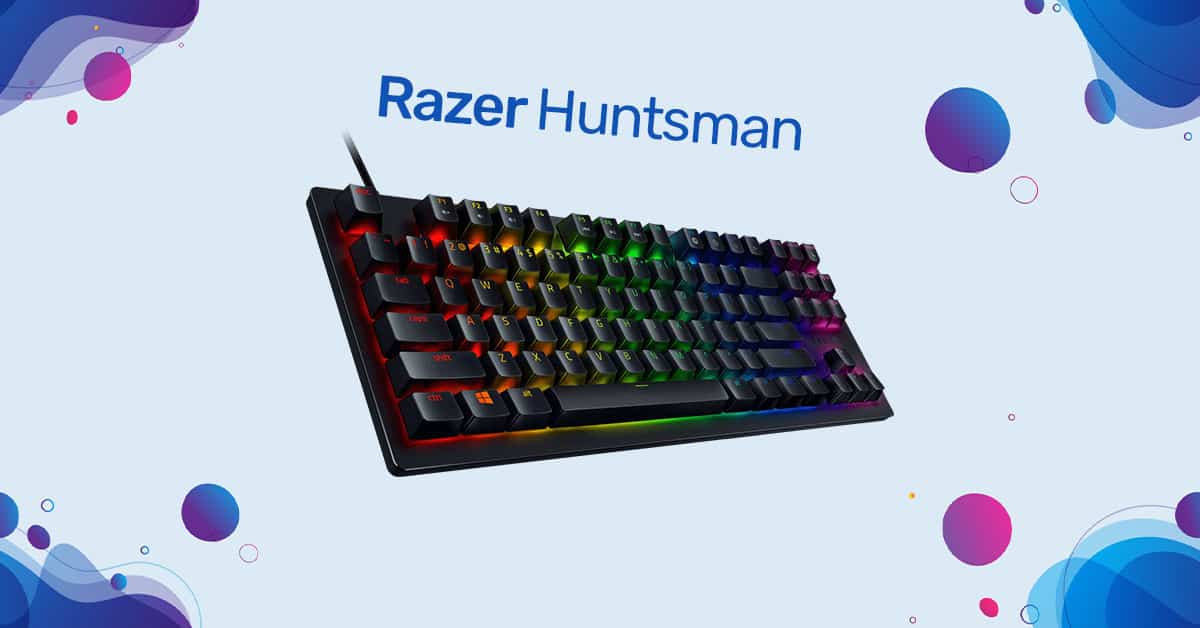 Amazon product
Okay, we're cheaters. The Razer Huntsman isn't a typical TKL mechanical keyboard. Razer Linear Optical switch technology isn't fully mechanical like some of the other keyboards on our list. Instead, the optical, beam-based actuation registers key presses at light speed. The 15-30% shorter actuation speed is a nice little buff for your next gaming victory session.
The Razer Huntsman mechanical gaming keyboard is targeted solely at the tournament gamer crowd. There isn't a numpad, a wrist rest, or anything else that would take up extra space. At the edge of the keys, there is only a small bit of keyboard left because Razer wanted this beast to be mobile.
Keyboard Features
The Razer Huntsman gaming keyboard comes loaded with some serious gaming features such as RGB individual key lighting, customizable options saved to specific profiles, and macros you can program to every key using the Razer Synapse software.
Here's look at the top features of this serious gaming keyboard:
Personalize this to the max. You can program every key with a customizable macro, light each one in any of 16.8 million colors, and set up profiles for specific games or users.
Switches at light speed. The switch is the bit beneath your keypad. Razer's mechanical keyboard uses optical switches, which is where we cheated a bit. The switches are nearly frictionless, require just 40g of actuation force, have a 1mm actuation point, and feature no debounce delay to make every keystroke just that much faster.
Tough Enough for Tournaments. A solid aluminum frame covers the top of the keyboard to give it extra stiffness and strength. The detachable USB-C cable makes it easy to pack up when you're on the go. High-quality Double Shot PBT keycaps will not fade or wear out like cheaper printed options.
What We Love
The build quality is superb.
Everything can be customized.
Key speed is insanely fast.
What We'd Change
A passthrough for phone charging would be amazing.
Lack of a wrist rest is disappointing.
---
2. Logitech G915 Lightspeed Wireless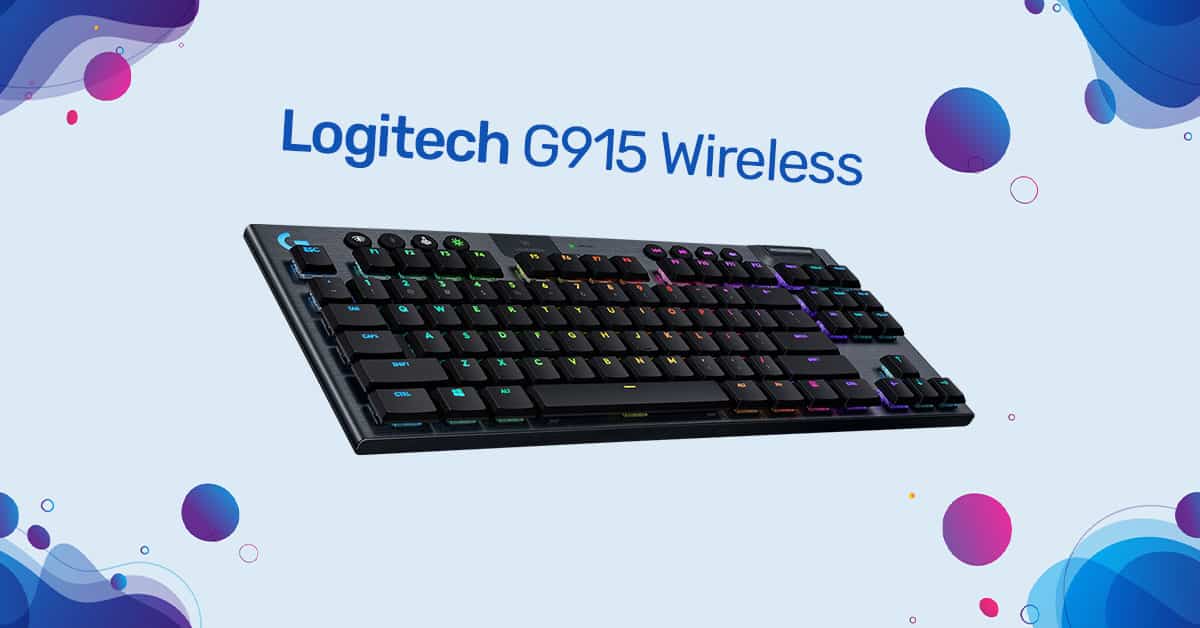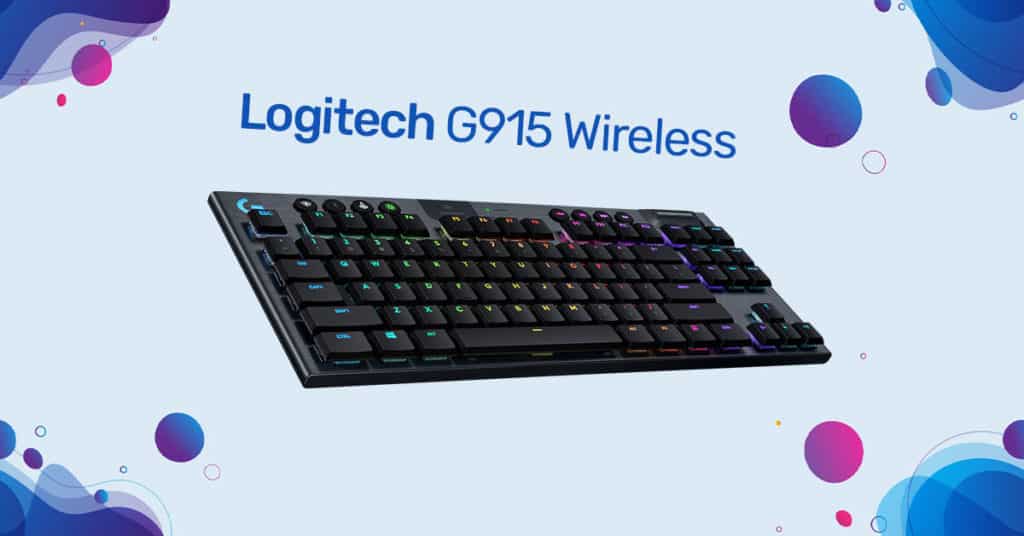 Amazon product
Logitech is the world's leading seller of gaming peripherals because they sell quality products at great prices. Their gear ranges from low-cost wireless keyboard and mouse options right up to this beautiful mechanical gaming keyboard. With the G915, Logitech has produced a gaming keyboard that can boost anyone's gaming skills.
Logitech's G915 is built around mechanical switches. There are three choices here:
GL Tactile switches provide a small bump to the user to indicate a key press.
GL Clicky switches produce a nice, audible click when activated.
GL Linear switches push easier than any other for even faster keystrokes.
Every switch is engineered with Logitech's low-profile design so the keyboard is flat and very compact.
Installing Logitech's G Hub software opens a world of options. The backlighting can be changed for each key. Macros can be programmed for the Fn keys. You can connect to third-party apps like Discord and OBS. The G Hub software is the brains behind this TKL gaming keyboard.
Keyboard Features
The Logitech G915 comes with some super cool features you can exploit during your gaming sessions. The TKL keyboard makes extra room for your mouse because the numpad is gone. The dedicated media keys help you get the volume just right or even mute everything quickly when something interrupts your gamer groove.
Here are a few more features of this mechanical gaming keyboard:
Built for your preference. At the very beginning of your Logitech life, you get to choose your switch. Linear switches are smooth and fast, clicky switches give you a nice sound, and tactile switches let you feel every stroke through your fingertips.
Wireless and fast. The bluetooth and Lightspeed pro-grade wireless connections are super fast and offer reliable connections every time. When it's time to charge, everything works perfectly even when the keyboard is plugged in via the micro USB cable.
Delicious form factor. This is a slim, modern mechanical keyboard with nice looks. An aluminum top plate keeps everything stable. Small borders at the sides and bottom mean no space is wasted. The volume wheel is a nice addition.
What We Love
Super slim, compact design.
Wireless connections keep life tidy.
Choice of switches is great.
Battery life is solid.
What We'd Change
A USB passthrough would be welcome.
Why customise only the Fn keys?
---
3. SteelSeries Apex 7 TKL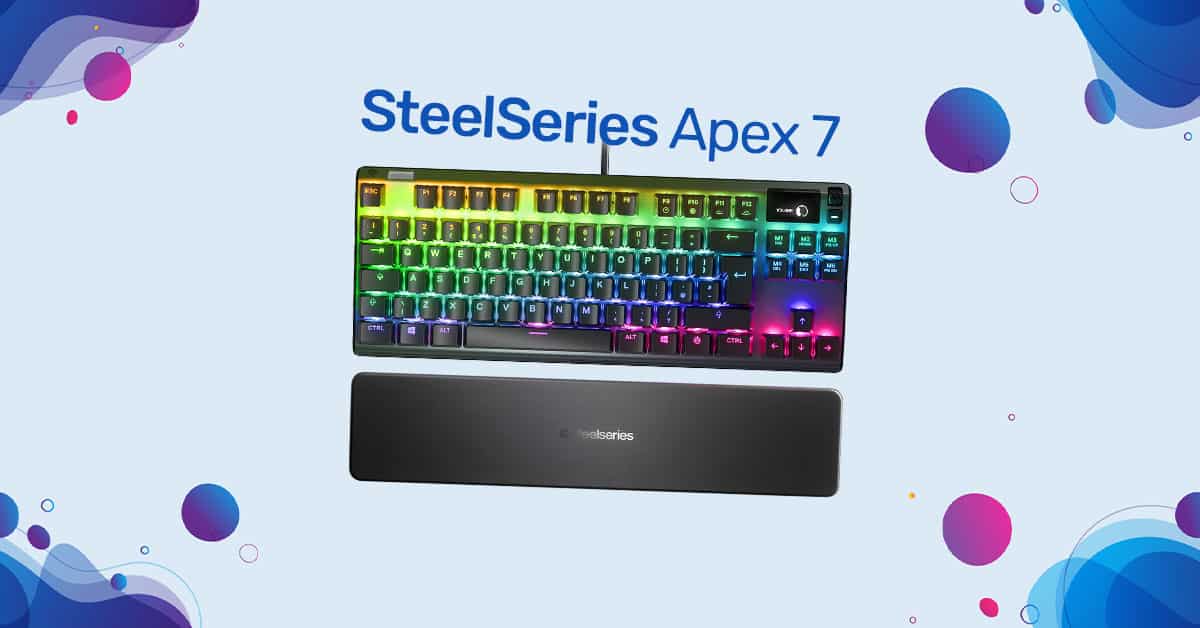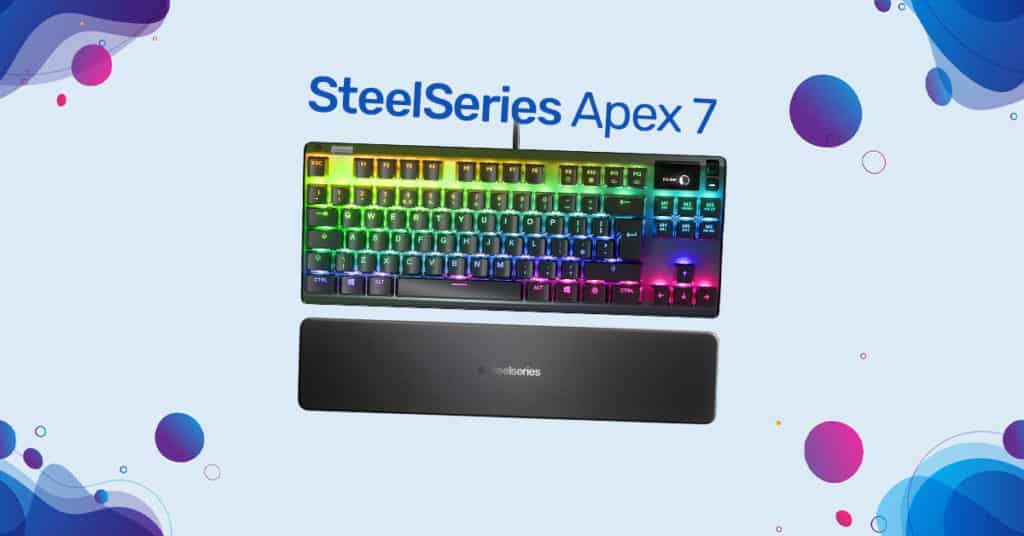 Amazon product
The SteelSeries TKL gaming keyboard is meant to be seen. Everything about this Apex 7 TKL keyboard – the individual RGB lights, the OLED mini display, and the premium magnetic wrist rest – all demand attention. Thankfully, the performance backs up the pictures.
Right away, one of the cooler features of this keyboard is the OLED screen. You can customize this with different GIFs, access Discord, or change your Spotify tunes without disengaging from your game.
The SteelSeries Engine software is easy to use and gives you a huge array of customization options. You can control the RGB lighting, set up macros for any key, and save user profiles to help different gamers or even different games.
The SteelSeries Apex 7 TKL lets you choose your switch type. You can choose mechanical switches in red (linear), blue (clicky), or brown (tactile) varieties. Upgrading to the Apex Pro does even more, with the ultra-customizable OmniPoint switches.
Keyboard Features
The SteelSeries Apex 7 TKL gaming keyboard is an impressive achievement. We've already covered some of its best features. Here are a few more:
Build quality is top-notch. The frame is made from aircraft-grade aluminum because quality matters. Strong frames mean greater durability and less keyboard flex, which increase accuracy.
Media keys and options. Dedicated media keys, an OLED screen, and a volume roller are all part of this cool package. These nice additions will help gamers focus on their game like the pros.
Nice cable routing feature. One of the cool extra features of this keyboard is the three-way cable routing underneath the chassis. Who wants a cable to get in the way of their gaming experience? Run yours where you want it.
What We Love
SteelSeries build quality is superb.
Wrist rest improves gaming experience.
Full Size keys without the number pad.
Extra bright RGB backlighting.
What We'd Change
More options on the OLED screen, like a clock, system usage, or current song.
Customization options for the volume wheel.
---
4. Corsair K63 Wireless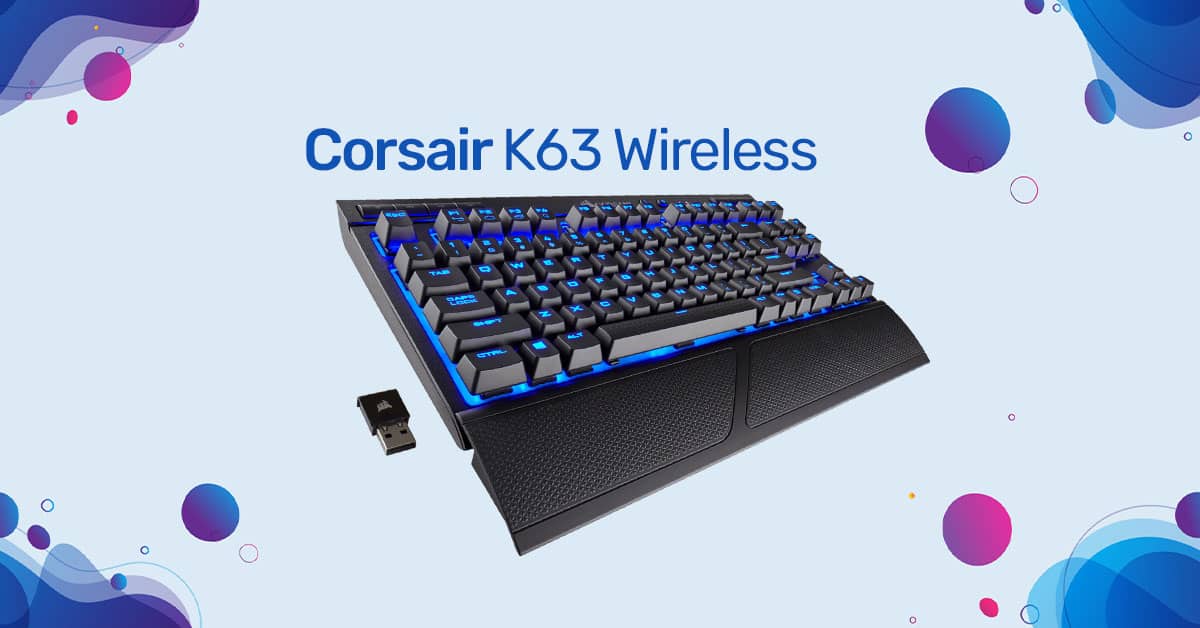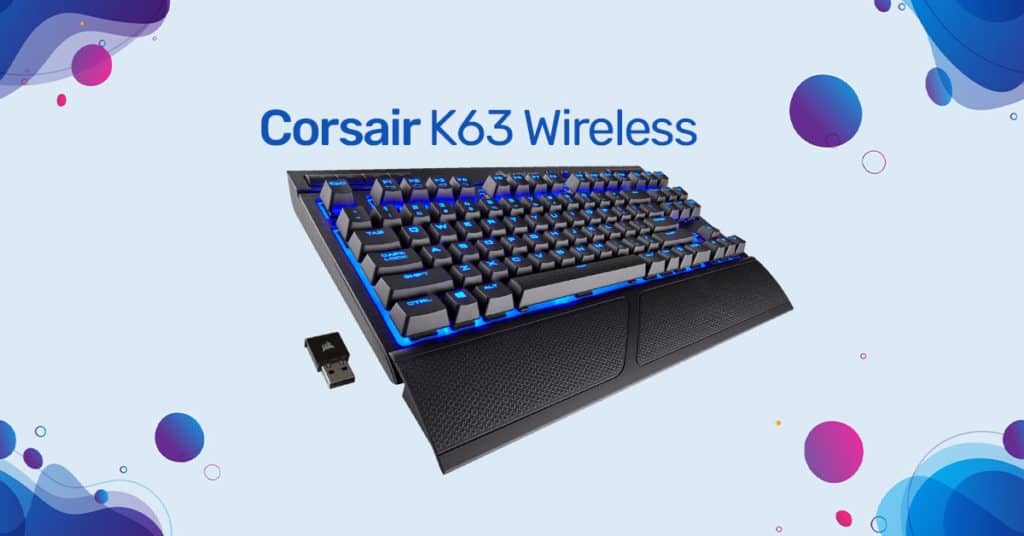 Amazon product
Corsair's K63 is a brilliant TKL mechanical keyboard for those who don't have hundreds of dollars to spend. Its Cherry MX Red switches, powerful backlighting, and wireless connectivity are great features in a mechanical keyboard you can find for under $100.
Let's start with the switches. Cherry MX Red switches are the top mechanical switches in the world. More than 6 billion switches have been sold and they feature on more than 60 million keyboards. The German precision of the Cherry MX Red switches makes them reliable, accurate, and sensitive for top gaming performance.
The Corsair K63 is also a wireless TKL keyboard. Mechanical keyboards aren't always wireless because the RGB backlighting can eat through a battery charge really quickly. The Corsair packs a powerful battery into its unit and you should get through a long gaming sesh without needing to recharge, though. The connection is an ultra-fast 1ms 2.4 GHz hookup and shouldn't drop your speed at all.
Keyboard Features
The K63 has some other great features as well as its Cherry MX Red switches and wireless connection. At the top of the list is the lapboard hookup.
Here are some nice bonus features:
The K63 lapboard is simply amazing. The memory foam cushion makes it super comfy on your lap. The K63 mechanical keyboard slots in easily and very securely. The dedicated mouse pad feels great and improves mouse function. If gaming from across the room is your thing, you need this lapboard.
The RGB lighting is also a nice feature for this TKL mechanical keyboard. There is only one color option, but it can be controlled easily by the Corsair CUE software. It's brighter and easier to read than some other products on the market.
What We Love
This is the best budget keyboard on our list.
Cherry MX Red mechanical switches are amazing.
Dedicated media controls are super useful.
Fast wireless connection and strong battery.
What We'd Change
RGB backlighting could include every color.
Connection sometimes drops if cable is unplugged while the computer is off.
---
5. Logitech G PRO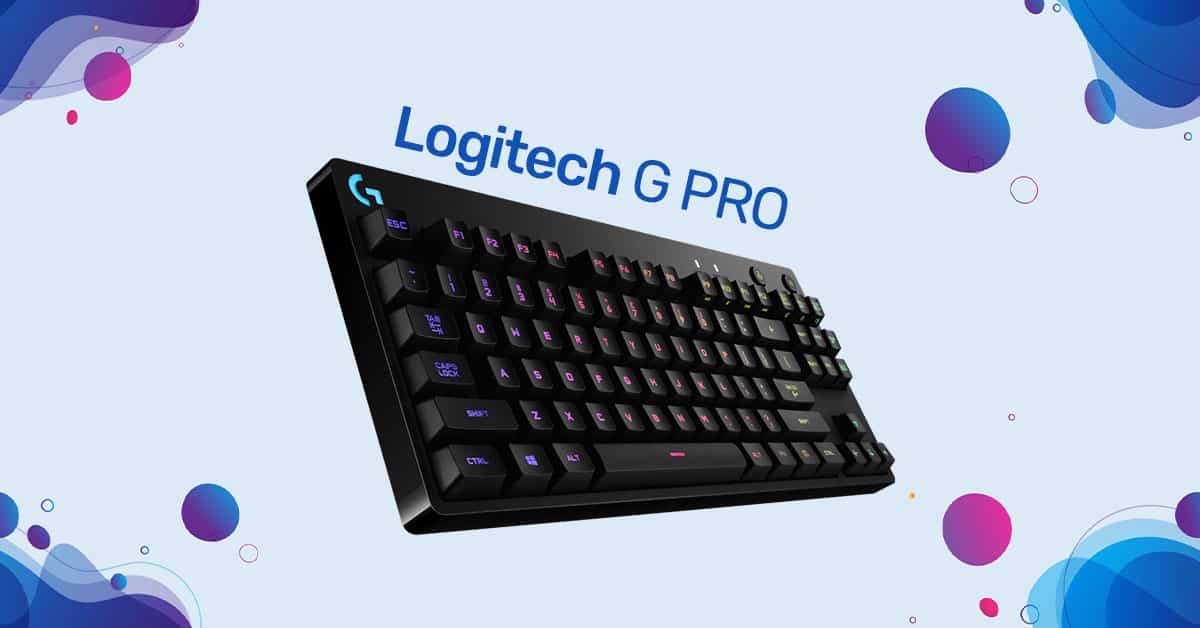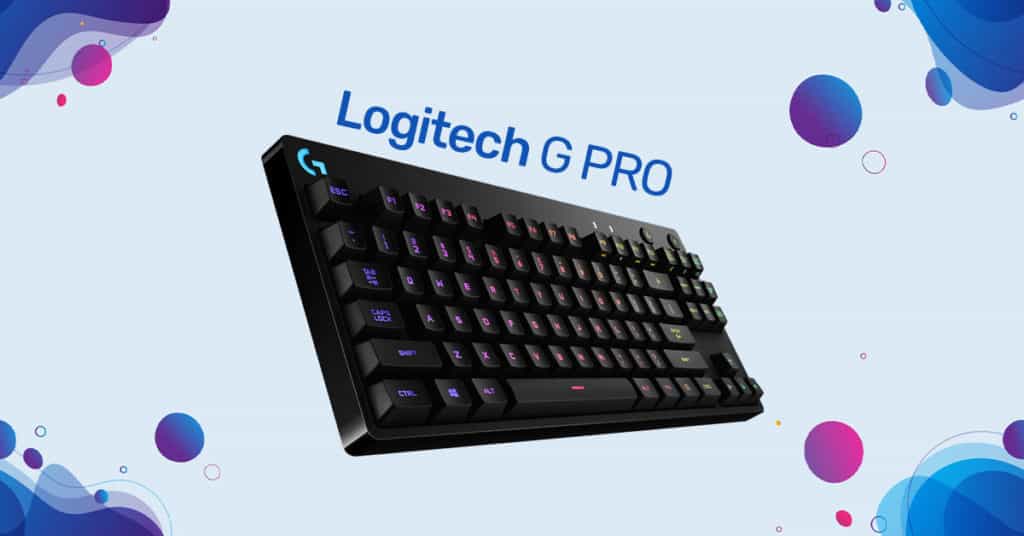 Amazon product
If you like the reliability of a trusted brand but can't shell out the $200+ for the Logitech G915, then the Logitech G PRO TKL Mechanical Keyboard could be your next best friend. At half the price, this TKL keyboard is still packed with enough features to boost your gaming performance.
At the top of the list of features on the Logitech G Pro is the Logitech G HUB software. Assign macros to specific F keys, customize your RGB backlighting, and use the Lightsync tech to do some awesome things. By awesome, we mean you can assign specific colors to each key, set up a team color profile, or add key backlighting animations. When you're done, save your setups to the board so you can recall them instantly.
What about the switches? These are GX Blue clicky switches. Gamers like switches with clear actuation points and solid feedback. These switches deliver both in spades. They are super fast but shouldn't be so crazy sensitive that typing is a pain in the fingers.
Keyboard Features
The Logitech G Pro is a good balance between typing and gaming because of the feedback each switch gives you when you're typing. Every switch is fast enough to be competitive but also definitive enough to allow for accurate typing.
This isn't a wireless keyboard, but the plug is a little different, in a good way. The micro USB plug comes with a 3-point attachment to make it more secure. One of the big knocks on micro USB cables is the way the connection becomes loose quickly. The secure attachment should resolve this issue for you.
Here are a few more great features of this mechanical keyboard:
Top features at a budget price. A quick side-by-side comparison of this keyboard to the high-end models reveals very little difference. The clicky switches are a downgrade from a laser optical switch, but that's about it.
Onboard user profiles. If your tournaments or sessions don't let you keep keyboard control software open, then this is your jam because you can set up your profile and save it to the board for use later.
Tenkeyless design but not small. This is a full-sized keyboard with the number pad left off. The keys are full-sized and comfortable to type on. Onboard arrow keys are useful for those gamers who need them.
What We Love
High quality like the pros at a budget price.
RGB lighting options are amazing.
Multimedia keys are super convenient.
Sturdy micro USB plug should stand up to use.
What We'd Change
RGB backlight doesn't light up the whole keycap.
Macros should be assignable to every key.
6. Redragon K552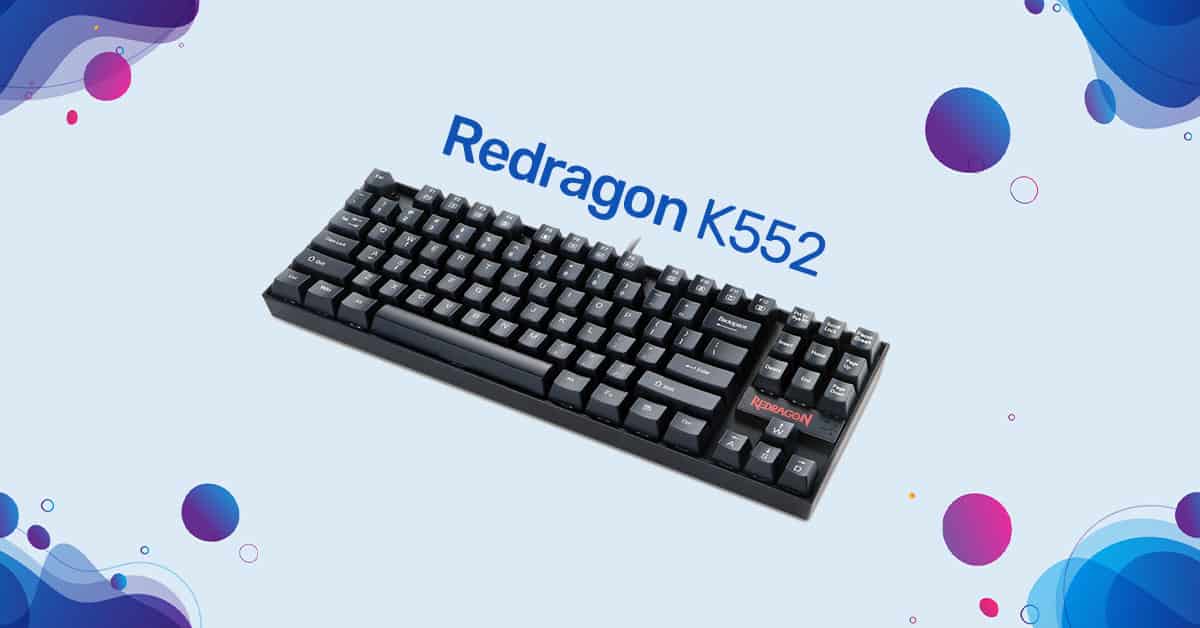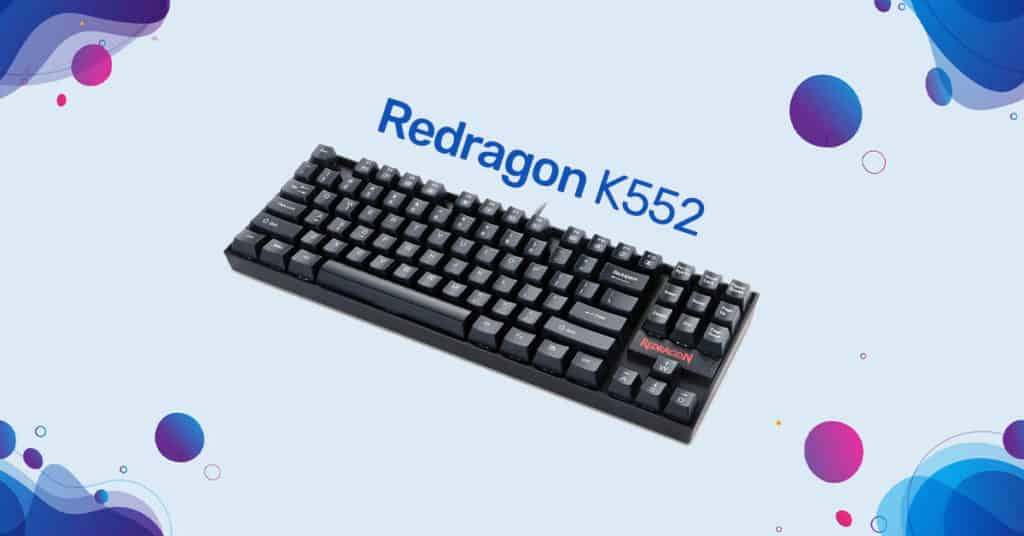 Amazon product
The Redragon K552 TKL keyboard is a great starter mechanical keyboard. It's not going to be one of the best TKL mechanical keyboards on the market – ever – but it has some great points anyone should consider.
To begin with, there are no cheaper mechanical keyboards available. The price is simply stunning considering all the parts that go into a keyboard. Gaming keyboards come with all kinds of bells and whistles, and this one copies many of them without being innovative.
The form factor makes this one of the best budget keyboards around. The ABS keycaps are durable enough for most people. The tenkeyless design also features slightly smaller keypads to make this an even more compact design and travel-friendly.
Keyboard Features
The Redragon K552 isn't a fully-loaded, all singing and dancing keyboard. It can't afford to be, considering its price range. It is a great option for those who are just investigating mechanical keyboards.
The chassis features plate mounted keys for extra durability and stability. They boost keystroke accuracy because they don't wobble side to side. This is a little smaller than a standard keyboard, but the weight makes it feel more premium.
The USB connector is gold-plated to resist corrosion. Each key is curved to fit ergonomically into the right space in the keyboard.
Here are some more great features:
Typing experience is like a boss. If you're not worried about annoying your neighbors, this is your unit. The tactile feedback from the knockoff Cherry MX switches is great and the noise is definitive without being overwhelming.
Pre-programmed lighting modes. The keyboard comes with a set of programs you can use. There is also a memory slot for programming each key individually.
The build quality is surprisingly good. The ABS keys and lighting are good enough. What is genuinely impressive is the weight and strength of the chassis. This keyboard won't be sliding across the desk while you're gaming or typing.
What We Love
There are no other mechanical keyboards in this price range.
The typing experience is satisfying.
The design is low-profile and comfortable.
Build quality is very good at this price point.
What We'd Change
We're not sure about the longevity of knockoff Cherry MX switches.
There aren't very many gaming setup options.
7. Tecware Phantom 87 Key Mechanical Keyboard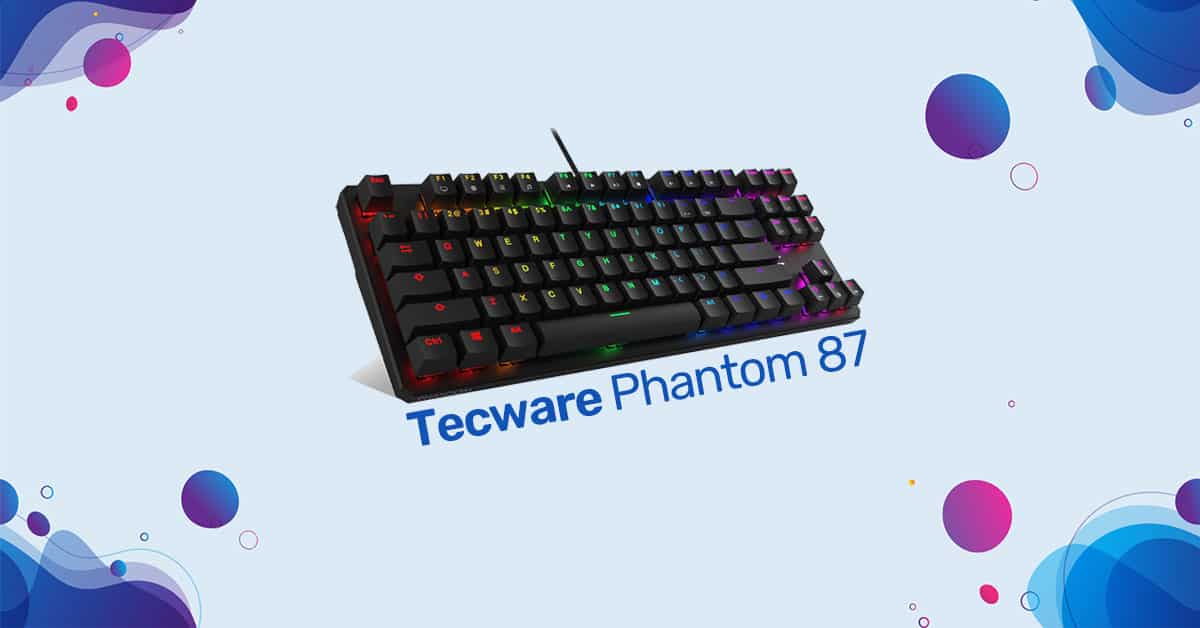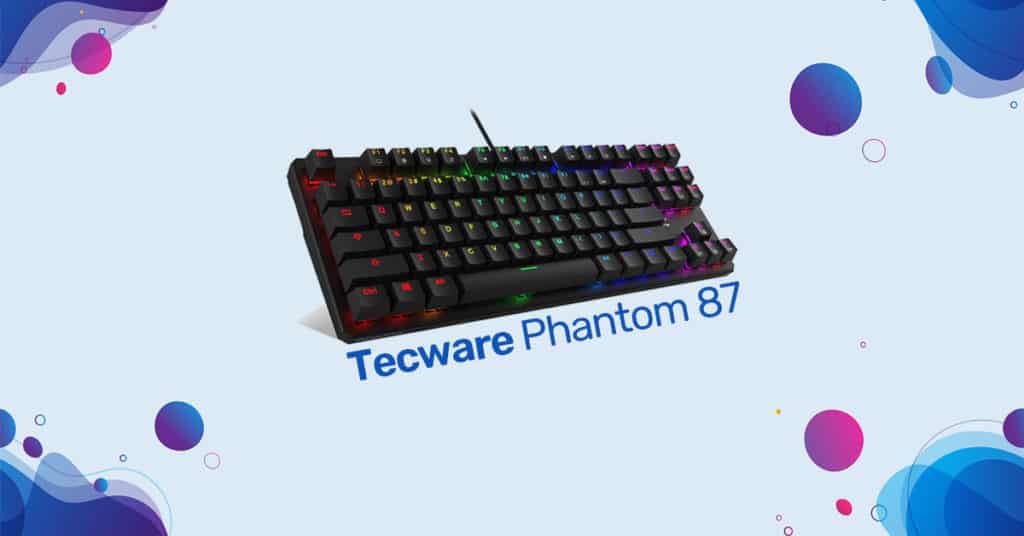 Amazon product
Tecware is a manufacturer of budget mechanical keyboards and gaming accessories. Their mantra is "affordable quality." With this keyboard, we believe them. It gets harder and harder to tell the best TKL mechanical keyboards apart when the price range is less than $100. Tecware does a great job with the Phantom because they include all the right features found in high-end keyboards without the price.
Here's an example: you can program every key with its own macro. The software supports individual key customization so you can design your own color options, set it up for your favorite gaming mode, and add shortcut keys where you want them.
The build quality is also great for the price. The design includes double-shot ABS keycaps, function keys, and a volume control wheel. There are three switch options. You get the Outemu versions of the Cherry MX Blue, Cherry MX Brown, and Cherry MX Red switches. The tactile feedback is great for all three options.
Keyboard Features
We love Tecware because it includes hot-swappable keycaps. No other manufacturer, including the really high-end brands, does this for us. Tecware sends four keycaps and a keycap puller in the box.
All three models of the Phantom, from the different switch types, come in at a great size to save you desk space. If you want a numpad, upgrade to the Spectre Pro. The Spectre Pro has a number pad. This makes it a full-size keyboard and that might not suit some people. However, this is a great example of a mechanical gaming keyboard that doesn't have to break the bank.
There are some more great features of the Phantom:
Little details mean a lot. The USB cable is a type-C connector, which is more durable and solid than a micro USB cable. The Windows key can be locked to prevent accidental task switching.
Great performance for serious players. If you're not Arteezy or N0Tail, you can still be one of the best players on the block with a keyboard with fast response times. With the Phantom under your hands, you can get top-level speed.
Good for typing, too. The tactile bump from the full-size keys makes typing an enjoyable experience when you must switch off the games and turn up for work.
What We Love
The price is amazing.
The PBT keycaps feel great when we type.
Nearly as fast as the pros.
Designed for gamers on a budget.
What We'd Change
The programming options on Tecware TKL keyboards could be better.
The space bar features two dummy switches that sometimes wear out prematurely.
---
What Is the Best TKL Keyboard?
If you've got to buy one, and you do, then we've got to choose the best tenkeyless mechanical keyboard for you. Here's our choice:
The Razer Huntsman Tournament Edition is the best TKL gaming keyboard on the market. It's not the cheapest option, but it will do everything you want your keyboard to do faster than the competition.
Why We Love This One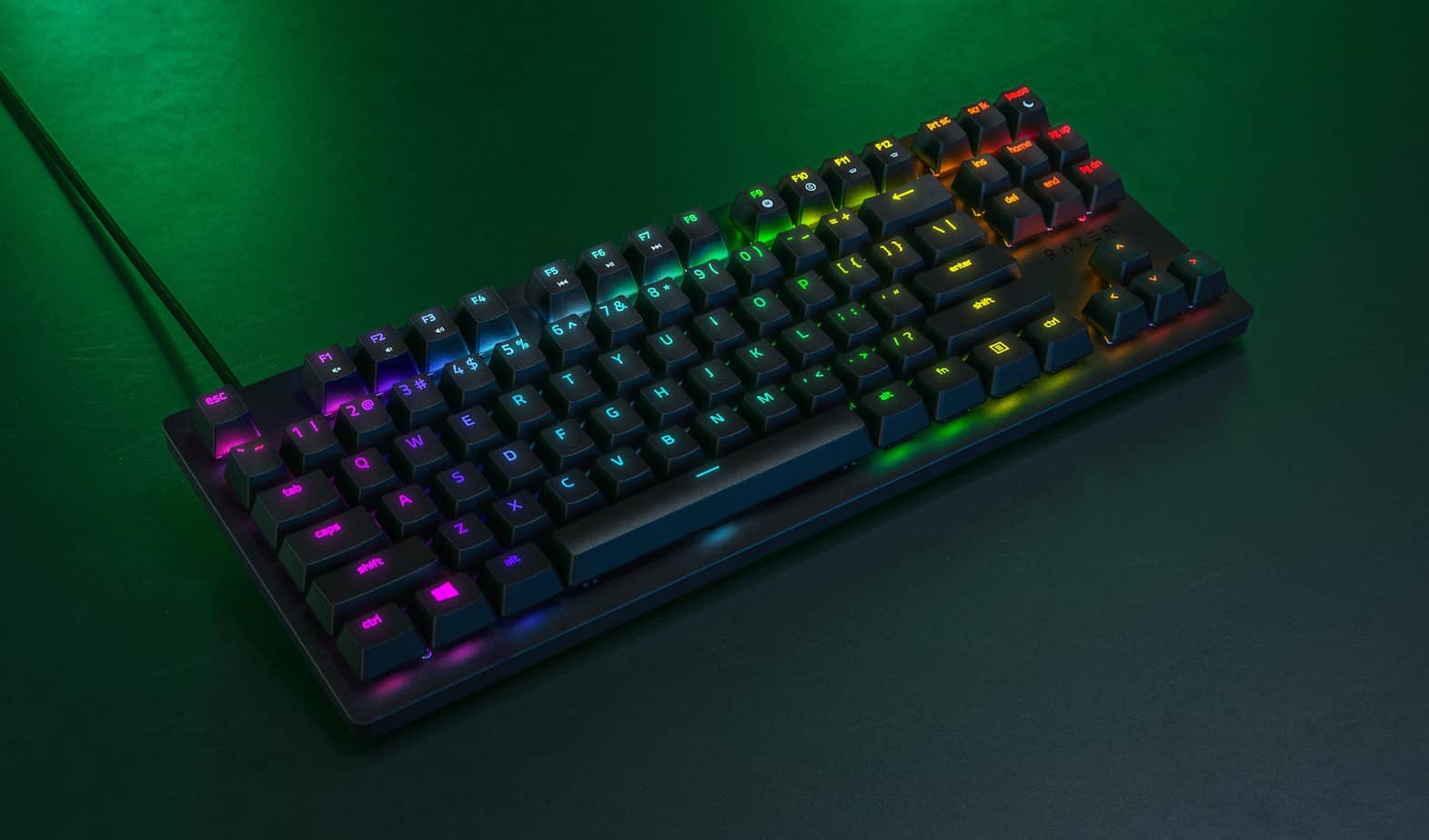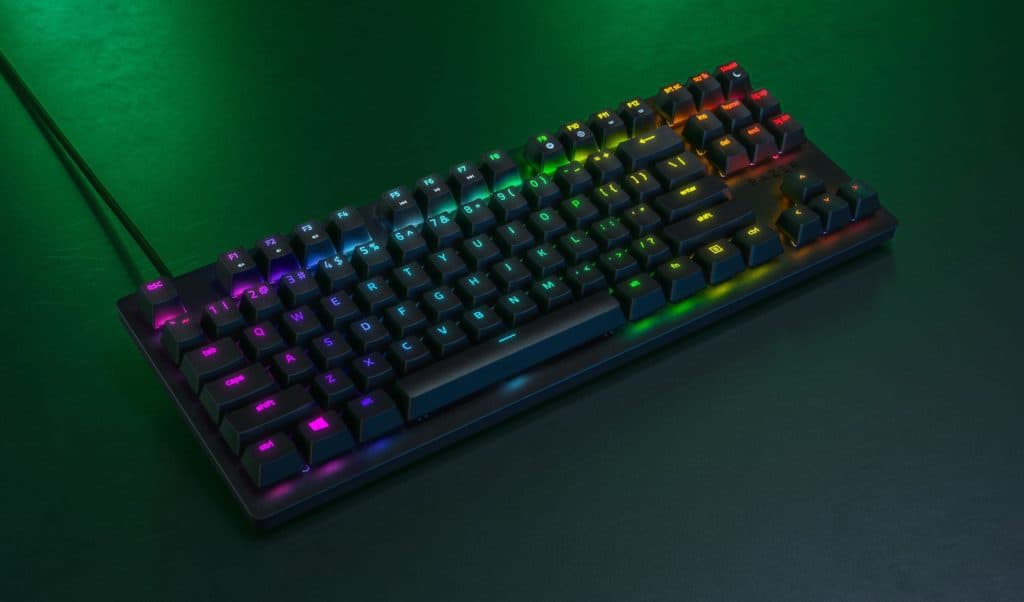 The Razer is fast – blazing fast. Its optical switches register key presses and pass the signal to the unit faster than any other keyboard available.
The keystroke response time is as fast as even the pros need.
The colors and programming options make this keyboard stand out in the crowd.
Sometimes life is about showing off. This keyboard tells everyone you're a serious beast.
Are Gaming Keyboards Worth It?

Gaming keyboards are worth it for a few reasons. First, they come in at a small size to make them portable. Second, they focus on response times, accuracy, and a bit of bling. Finally, they offer customization choices, such as macros and lighting, that gamers can take advantage of in tournaments.
Which Brand of Gaming Keyboard Is the Best?
Razer, Logitech, SteelSeries, and Tecware are our top choices. The best is probably Razer, because Razer focuses on top quality, uses amazing optical switches, and makes the best tenkeyless keyboard on the planet, at a price.
What to Look for in a Gaming Keyboard?
Every gaming keyboard has a few features everyone should look for when they're checking out boards. First, they should have the right switch options for your style. Optical, linear, clicky, and tactile are the choices. Second, they should use wireless connectivity if you're a mobile gamer or want to sit on the other side of the room. Finally, you should look for the options to customize your board in the way you want. These will include using macro definitions, key bindings, and backlights in the way you want.