January was a busy month for the messaging app. It saw the largest amount of users buzz around the app in the longest period and for all the wrong reasons. WhatsApp stated that they are going to make changes to the app that no one liked, and thus made alternatives like Telegram the most downloaded app of the month.
Ready or not, WhatsApp changes ARE happening.
WhatsApp put out a tweet that reminded users about the upcoming changes to the policy on May 15th. Particularly with how the chat app will gather and share your data with others.

In their latest tweet, they remind you again, that this is a mandatory update and if you wish to use the app after May 15th, it could be a problem for you if you don't agree to the terms.
According to their new page, WhatsApp has told about what will be shared and what will not be shared. While the company has insisted that user privacy and security are paramount to the company, we all know how quick the company is to turn on its promises.
It comes as no secret that WhatsApp is the oldest if not the most widely used messaging app. It has existed since the inception of Android as an OS and was one of the first messaging apps at a time when such apps were scarce. This led to many people trusting and using the app blindly until Facebook acquired them in 2014.
If the new changes are not to your liking, you do have the option of not agreeing to the terms on May 15th. Unfortunately, this does not come without consequence.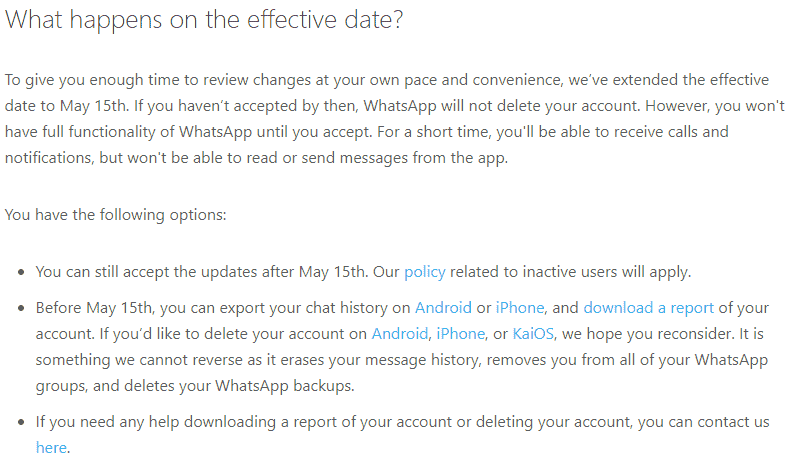 The first paragraph makes it clear that failure to accept the terms means the app becomes one-sided communication. You can still receive calls and notifications, but won't be able to send or read messages in the app. Your account will not be deleted, which is something positive.
While many users have shifted to Telegram and other similar apps, WhatsApp has too large of a userbase for it to be dethroned this late in its existence.
While many people are making a hue and cry over the new changes, all will be forgotten in a few months when a majority of their friends and family are still on WhatsApp and they're forced to come back to the Facebook owned app.