Microsoft owns and operates Skype among many of its services. Skype is a VoIP and messaging service that many businesses and corporates find useful for quick communication among their teams. But as an individual, you can use Skype or decide to stay away from it. And many people have been asking how to completely delete their Skype account.
Whether you signed up for Skype by mistake or you are through with the purpose for which you created the account, you can decide to delete it. This guide will help you with the simple steps you should follow in deleting your account permanently.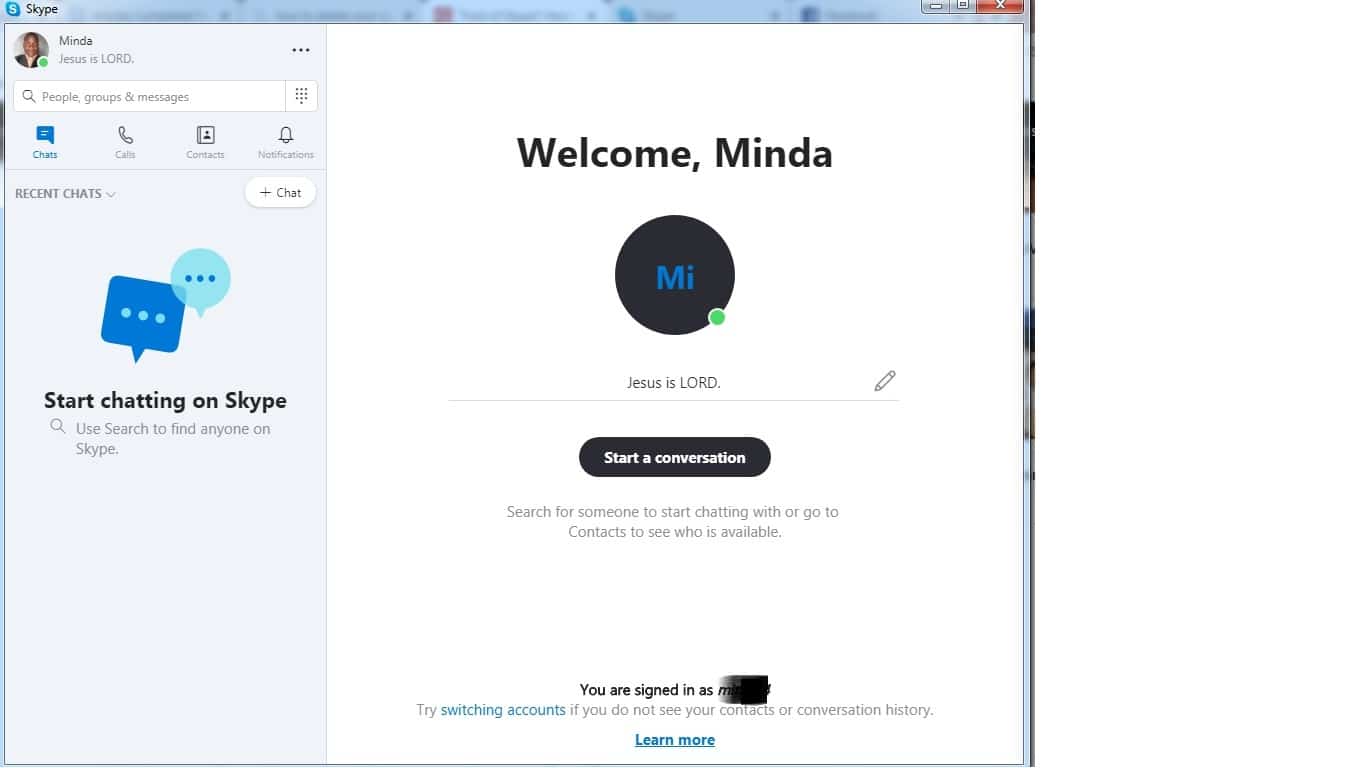 Before we go far, I would like you to know that Microsoft operates all its services in a more central way. Your one Microsoft account gives you access to all their products including Outlook email, Onedrive, Office, Xbox Live, Skype, and all other services managed by Microsoft.
Before you proceed to delete your Skype account, ensure that you do not wish to use other Microsoft services linked to your email address. If your issue is about billing, you need to sort it out before knowing how to delete Skype account. Make sure you cancel all subscriptions from your Microsoft account prior to deleting your account.
It is also possible to have a Skype account without a Microsoft account that is connected to other services. It happens when you sign up on Skype using an email account other than Outlook – for example, Gmail.
Deleting Your Skype Account Permanently
While some folks talk about removing your account and personal data from your computer, it is not efficient to stop there when you want to know how to delete Skype account. Permanent deletion of your Skype account means destroying its existence on the Microsoft server.
You can delete your Skype account from your Skype for the desktop app or the web version of Skype.
To begin the account deletion process, you need to sign in on your app. If you do not have the Skype application on your desktop or mobile, use the web version of Skype to delete your account.
How to Delete Skype Account on Desktop
Many people prefer using Skype client on the desktop because it is easier to conduct video interviews. If you have the Skype application on your Windows, Mac, or Ubuntu Linux laptop, you can easily delete your account by following a simple procedure.
First of all, open your Skype client. When it has loaded, click on your profile picture at the top left corner of the Skype window.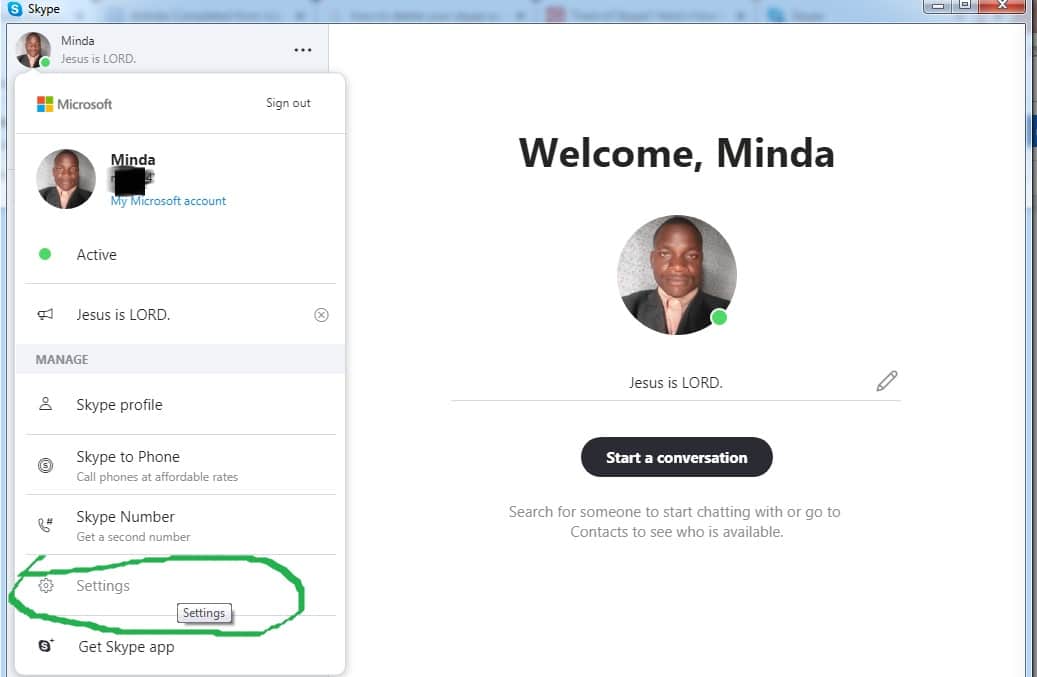 On the pop-up menu, click on the "Settings" option. Under "Account and Profile" tab, find the link saying "Close Your Account" at the bottom of the options at the right side of the panel. Click on it.
The client will now ask you to sign in to your Microsoft account on Skype. Enter your Skype username and hit the "Enter" or "Return" key. You can as well click on the "next" button. The next step is to enter your password. Then click on the button labeled "Sign in". You can as well request for a password reset if you do not remember it.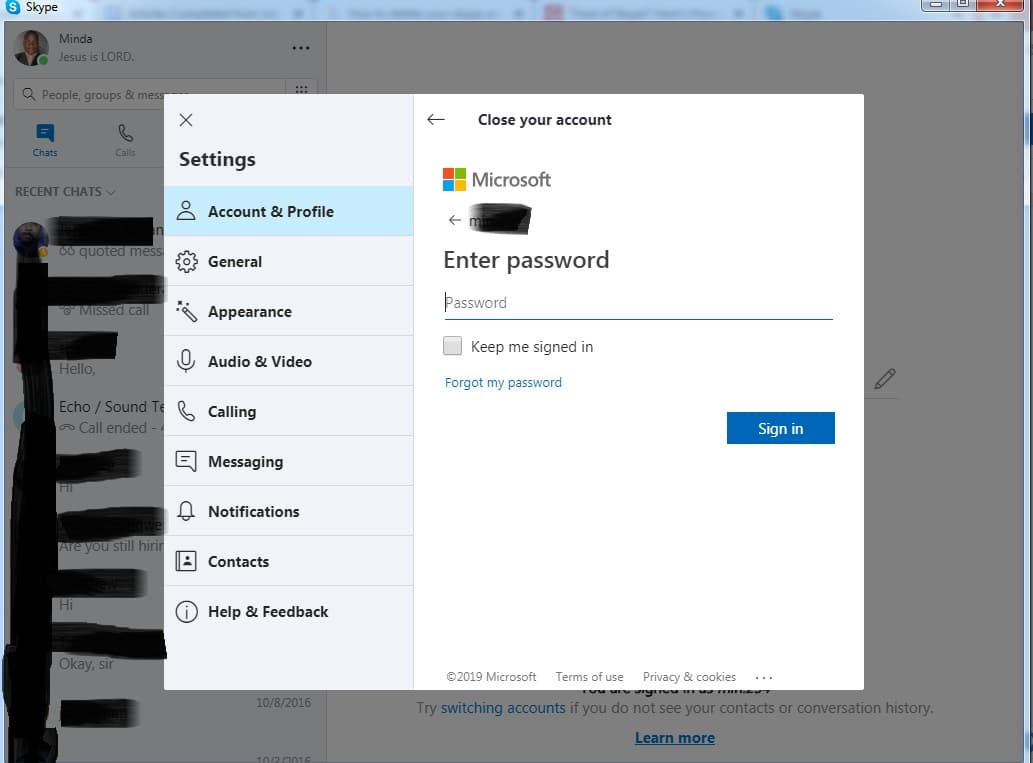 After successfully logging in, Skype will ask you to verify your identity with a one-time code on your phone or email. Select the appropriate method to verify it is you before you proceed. You need your phone to receive a text message. If you lost the phone on your account, send a verification code to your email address.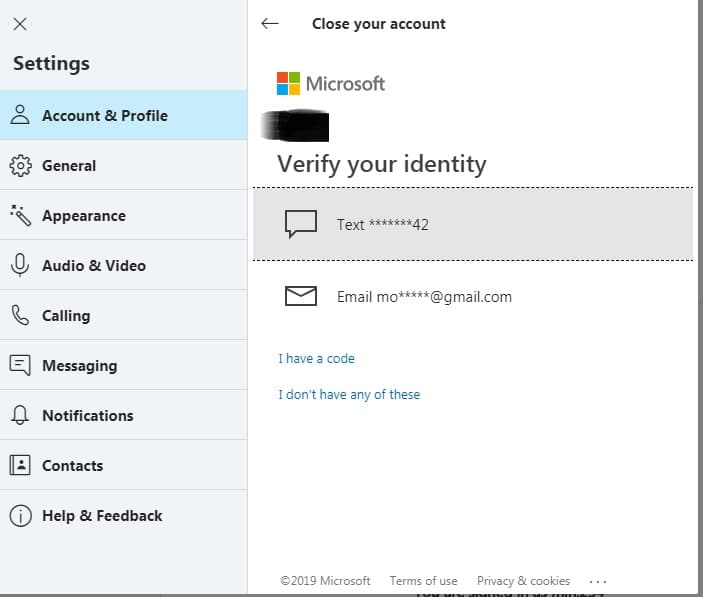 But you will also have to prove that the email or phone number belongs to you. Once you click on the option you want for receiving the verification code, you will get the prompt to complete the number or email address. If you enter a wrong number, Skype will not inform you that it is a wrong number. It is only obvious that you will not receive the code you wanted.
Enter the verification code you receive via email or text message on your listed mobile number. The next step is to confirm that you want to delete your account permanently from Microsoft servers. On the instructions, they state that you can restore the account within 60 days if you choose to cancel the deletion.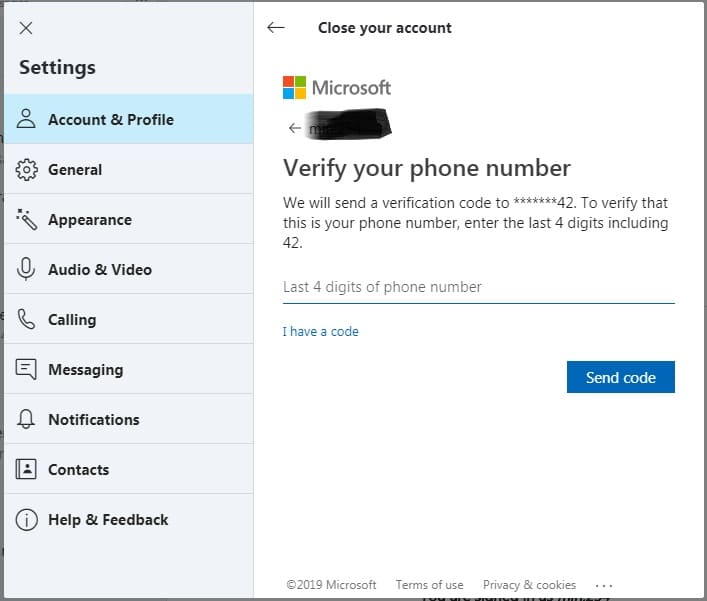 Going to the next page, there are several checkboxes that ask you to confirm your consent that you will lose access to all Microsoft services including Xbox Live, Azure, Onedrive, Outlook, etc.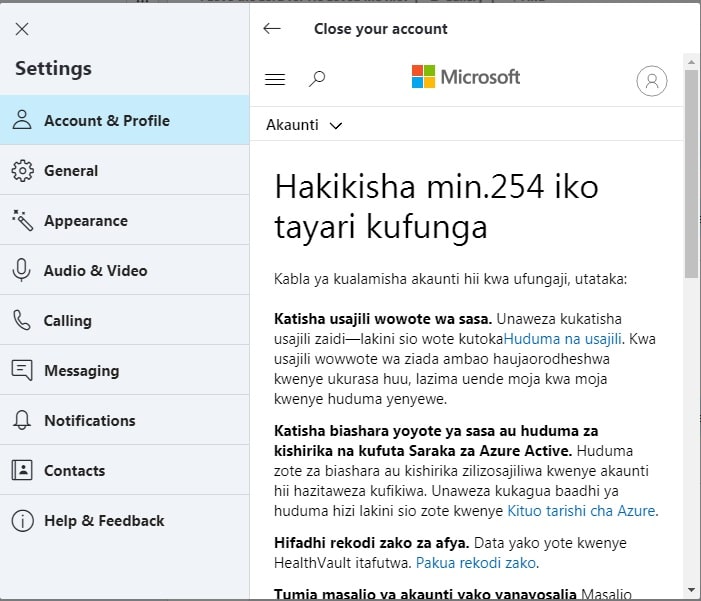 The last option is a dropdown where you select the reason for leaving Microsoft. Click on the confirmation button to delete your account.
Delete Skype Account on Mobile Apps
Apart from the desktop client, Skype also runs mobile apps on various platforms. I have tried my android app, but it does not have an account deletion option. So, for Skype users on the mobile app need to use the web version. You can open it on Google Chrome on your handset or on the desktop or laptop.
Delete Skype on Web
To delete your account, visit web.skype.com on any browser. You can either use your laptop or mobile smartphone to log in. Once you are logged in, click the Skype account closure link. You will go through the account verification process as the one on the Skype client.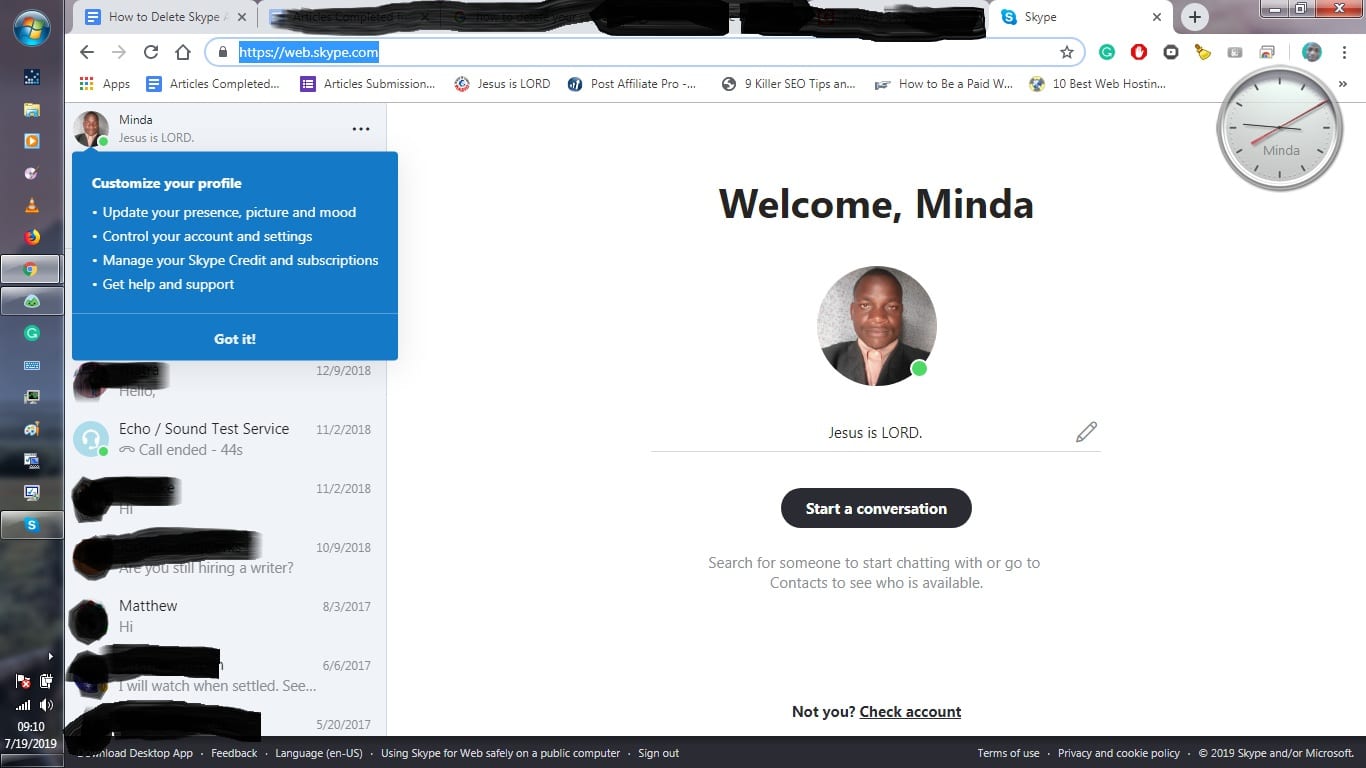 Once you verify your email address or phone number, you will be presented with the closure confirmation. You will see the steps to take to close your account correctly. After you are sure that everything is correct, click on the "next" button.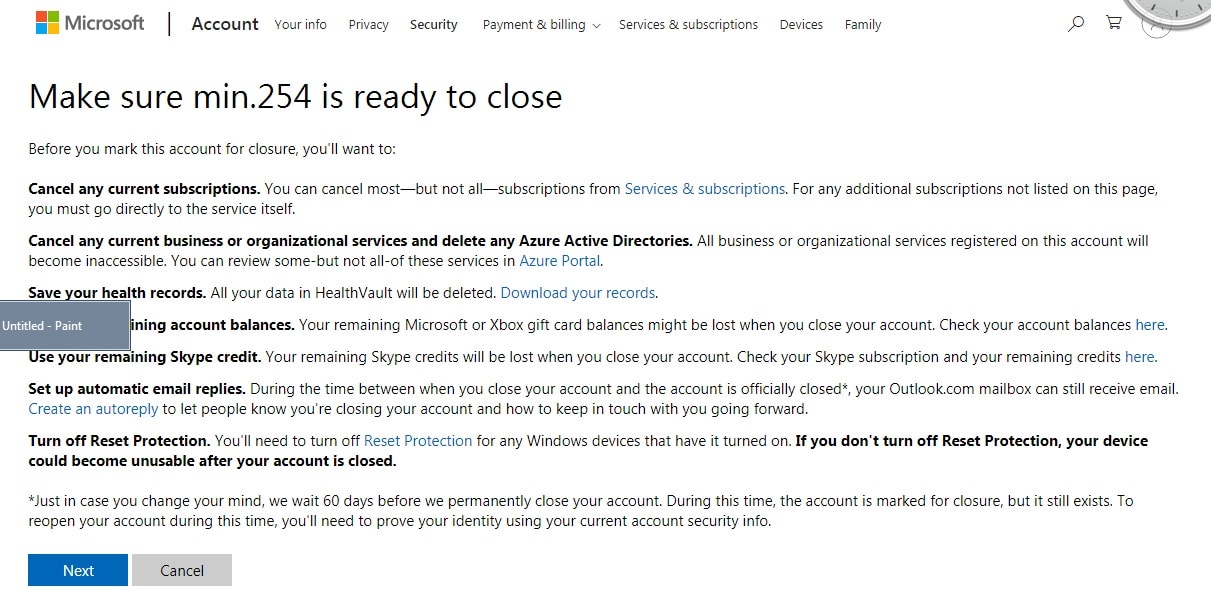 Check all the boxes and choose the reason for closing your account. Then click the "Mark account for closure" button. The account will start the 60-day closure process.
Summary
Remember that your Skype account exists on your Microsoft account where you use all the other services. You should use up all your Skype, Xbox, and other service credits before you shut down the account. On computers running Windows 8, 8.1, 10, and other systems that you have to log in with Microsoft account, you need to disable or disconnect the service to avoid locking yourself out.