Connectivity is a metric best defined by the amount of information one can share with his/her significant other. While Apple has been a major supporter of this notion, its programs and features can break, thereby resulting in a loss of connectivity. This trend has been noticed in the Message app, where Share My Location is seemingly unable to connect to the server.
Luckily, such issues are quite native to the Apple ecosystem and can be fixed with the help of a few workarounds.
Types of Share My Location Errors
Despite being recurrent, there can be multiple reasons for this error regardless of where you purchase it from. The location can simply be unavailable at times, or it can just be a connection issue. Depending on the source and nature of the error, the solution and diagnosis can differ.
Having said that, here are the most basic kinds of Share My Location errors:
Type #1: Share My Location – Unable to Connect to Server
This error generally surfaces due to an unstable or shaky internet connection. The service is supposed to send a connection request to the relevant server to establish a connection through which you can monitor the location.
This kind of request is sent in data packets and requires you to have a stable mode of communication. Shaky or overcrowded connections can often result in altered data packets; in fact, there are many instances where the packets aren't sent at all.
This can either be the server's fault or it can be your internet connection. In the preceding instance, the service will be back in a couple of hours. However, the latter can set you back indefinitely – unless you fix your internet connection.
Our Recommendation: In such cases, you should check out Apple's Status Page in order to gauge whether the issue is on their end or yours.
Type #2: Share My Location Unavailable
This is a more aggressive form of the same error indicating that your device has given up on connecting to the server for the time being. The Share My Location Unavailable error can occur due to the following reasons:
Reason #1: There is an informed maintenance scheduled for that specific timeframe. Therefore, the device has been informed in advance.
Reason #2: The Share My Location service has no means of connecting or accessing the server.
In either scenario, your top priority is to dig for information. Check your notifications to find any hints of scheduled maintenance, or scurry your way through the internet to search for any relevant outages in that specific time frame.
Needless to say, we recommend you try the mentioned type 1 solutions beforehand. It can just be an internet connection issue. Therefore, digging in this deep isn't really worth your time.
In most cases, the issue can stem due to a backend fault, so in the meantime, try the upcoming methods.
Resolving: Share My Location – Unable to Connect to Server
While checking your signal integrity is one of the simpler solutions, niche solutions also cater to a singular issue source. Most of these errors can be fixed, so trying everything is almost always worthwhile.
With that said, here are a bunch of solutions for the Share My Location – Unable To Connect To Server error:
Solution #1: Switch Between Wi-Fi and Mobile Data
Head to Settings, and head to the Cellular submenu.
From there, tap on the Cellular Data switch and head back to the Settings menu.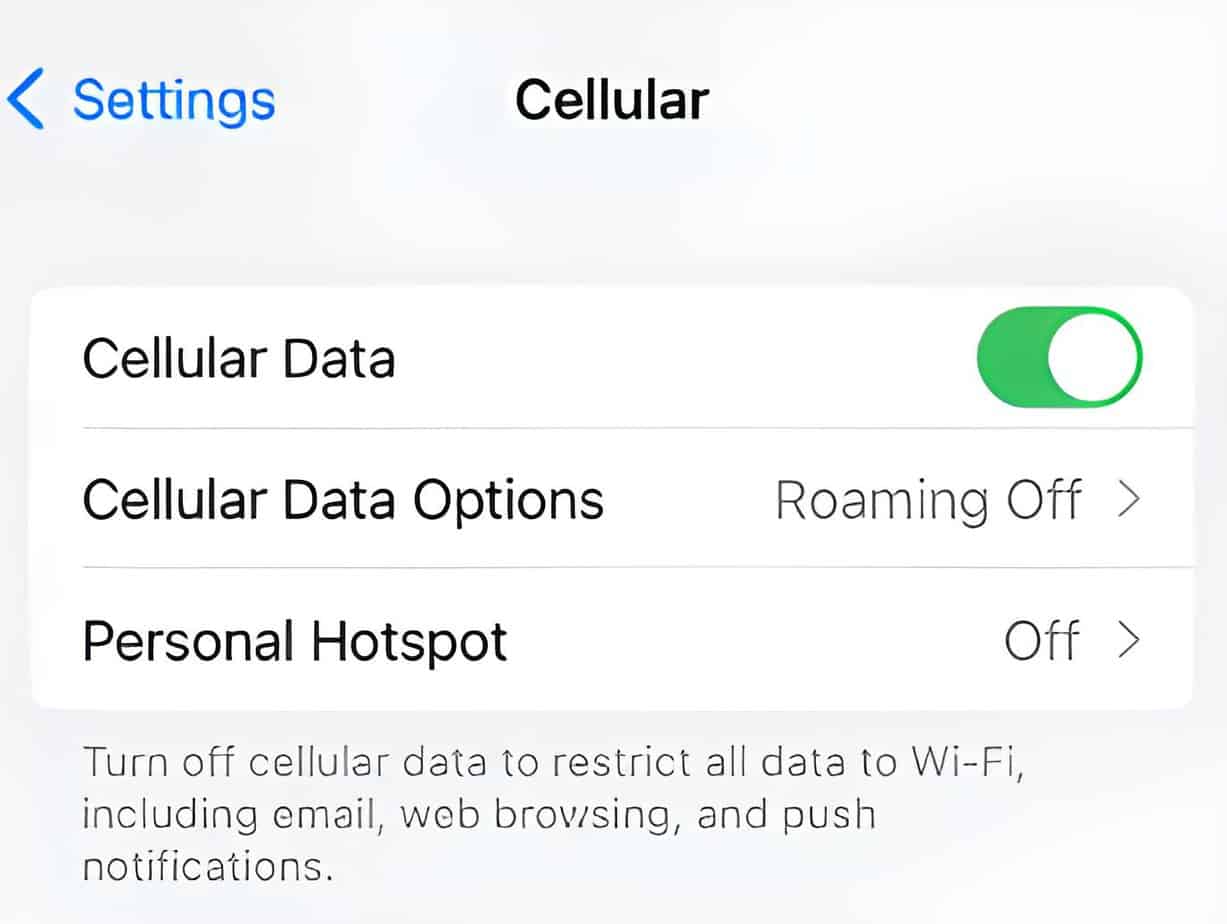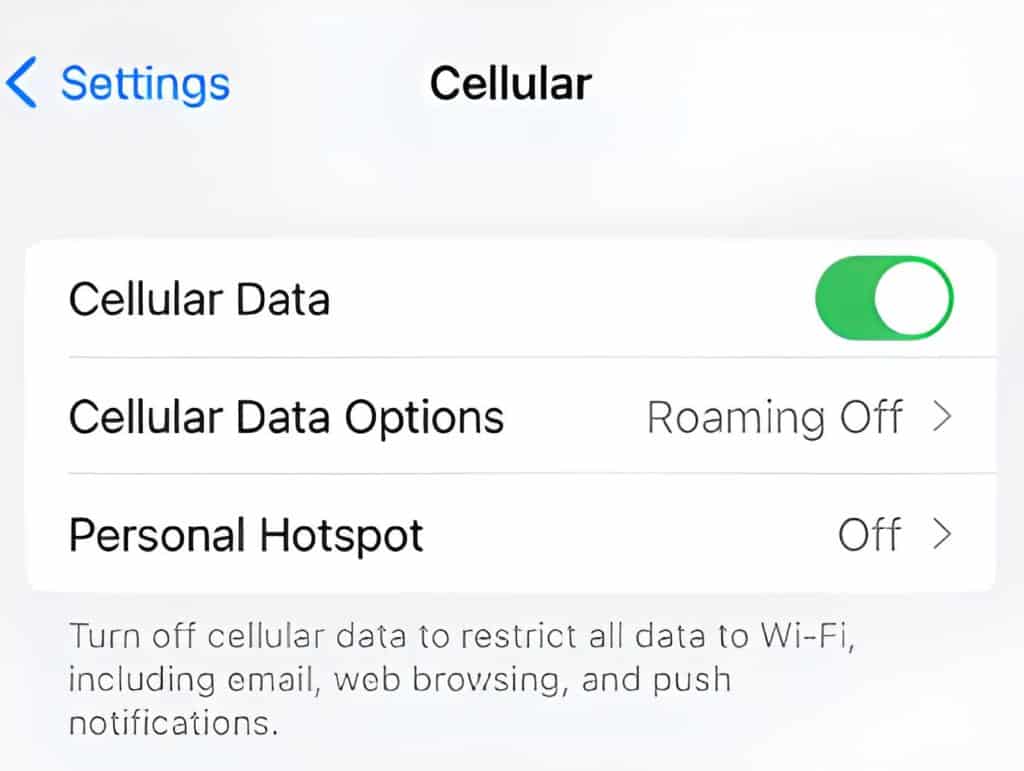 In the Settings, tap on Wi-Fi, and press the green switch to turn it off.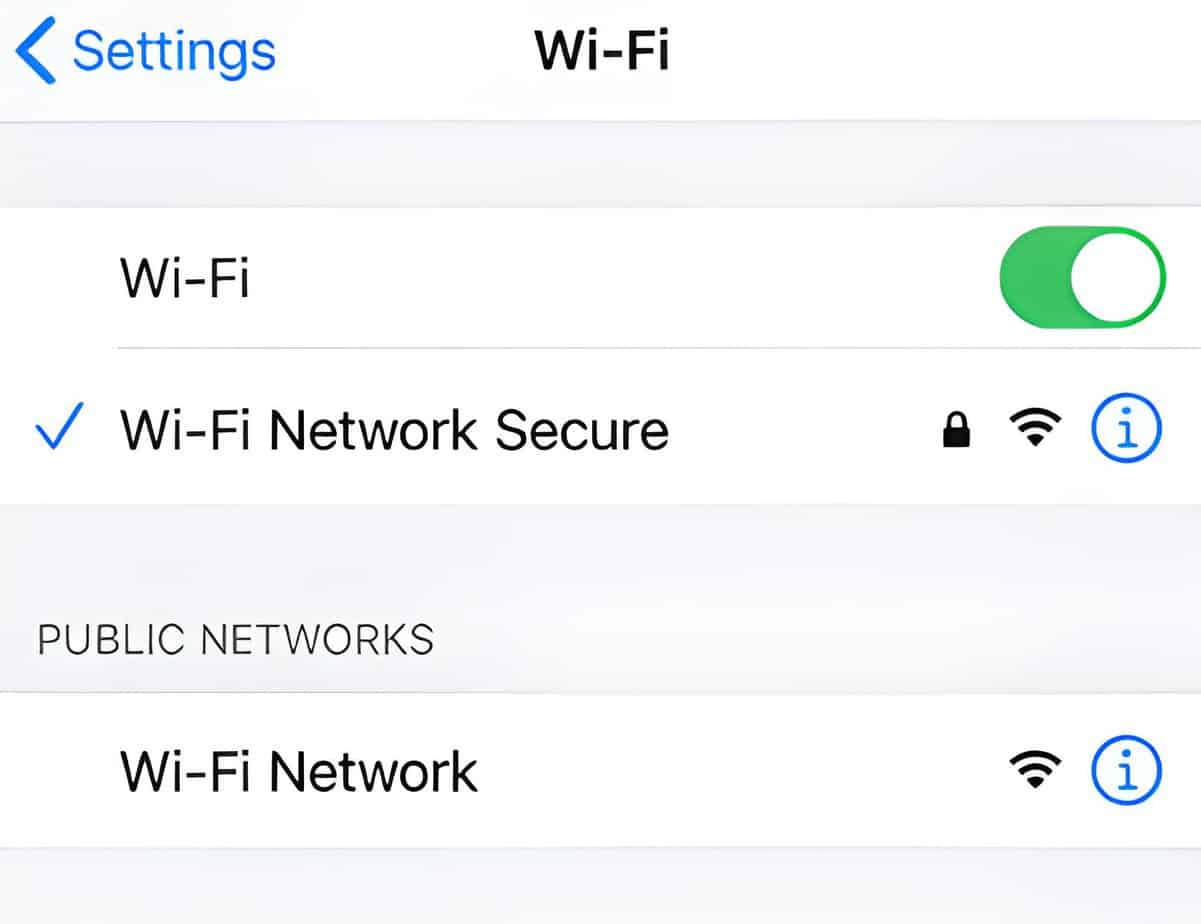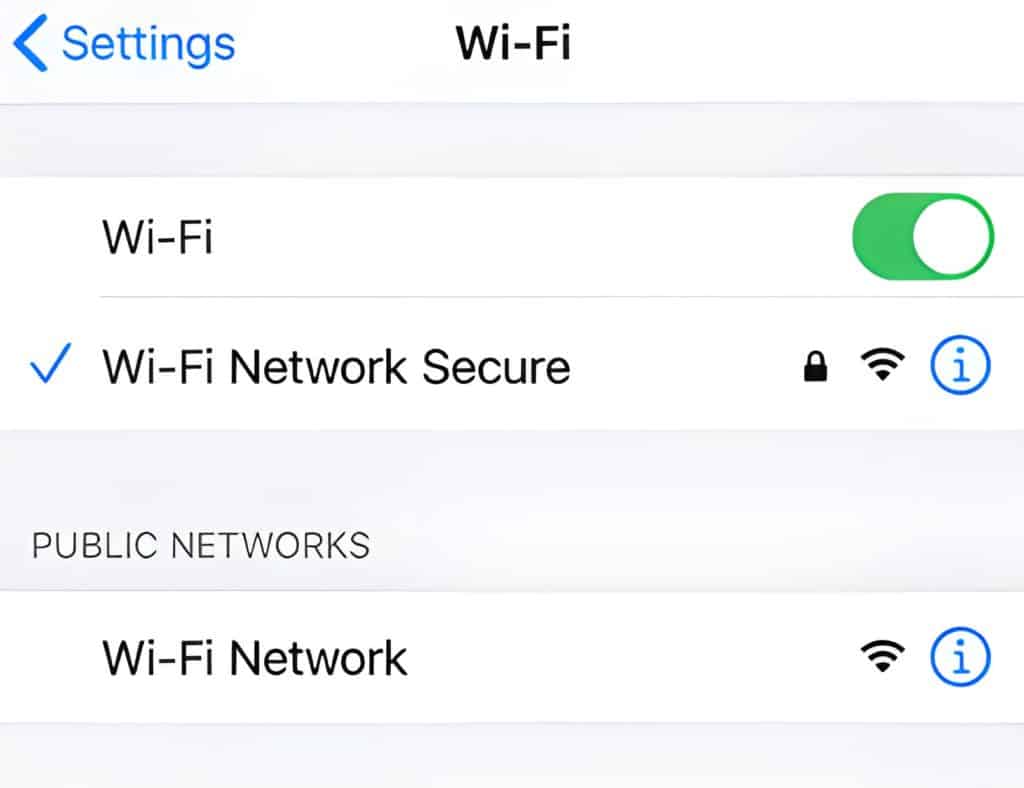 Solution #2: Re-Sharing Location
At times, the best way to fix something is to try doing the same action again. Having said that, you will need to disable the location share and re-initiate it with the same person in order to make this work.
Here's how you can do that:
Once disabled, head to Find My app, and choose the People tab.
In there, scroll until you find Start Sharing Location.
Tap on it, and enter the name or number of the person you want to initiate the location with.
Once you've chosen a timeframe for the location share, just press Ok.
Solution #3: Turn on Location Services
Open Settings and scroll your way down to the Privacy tap.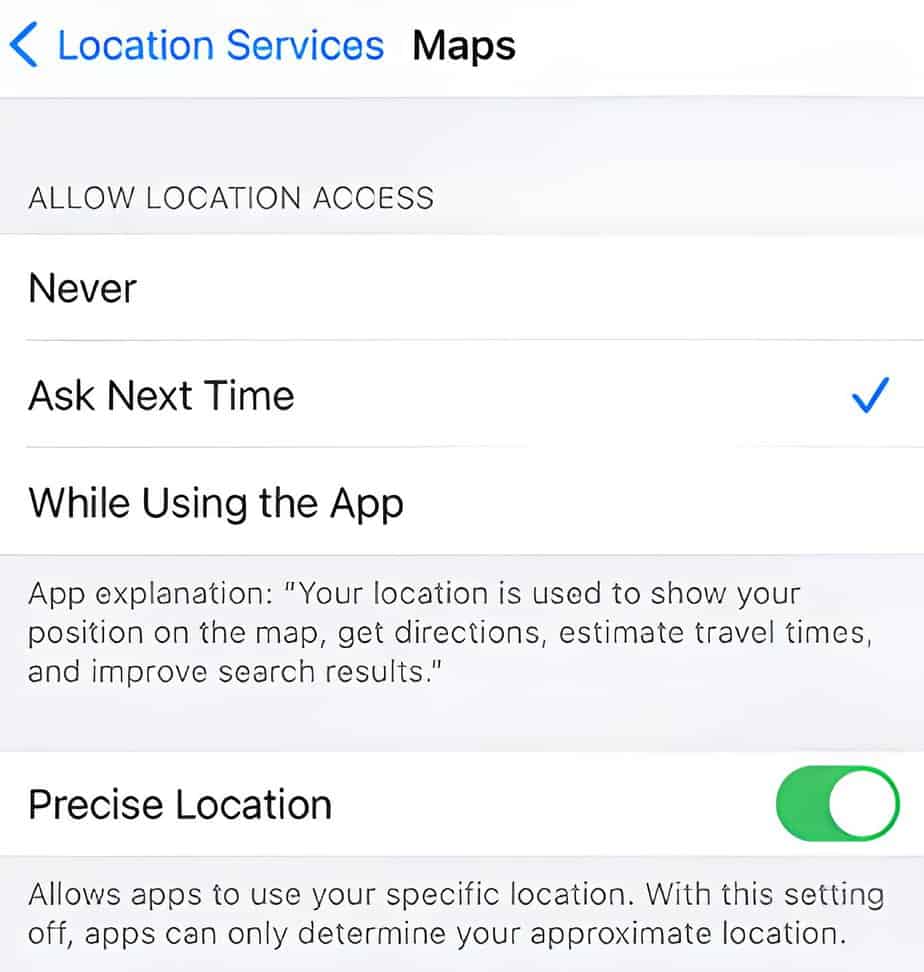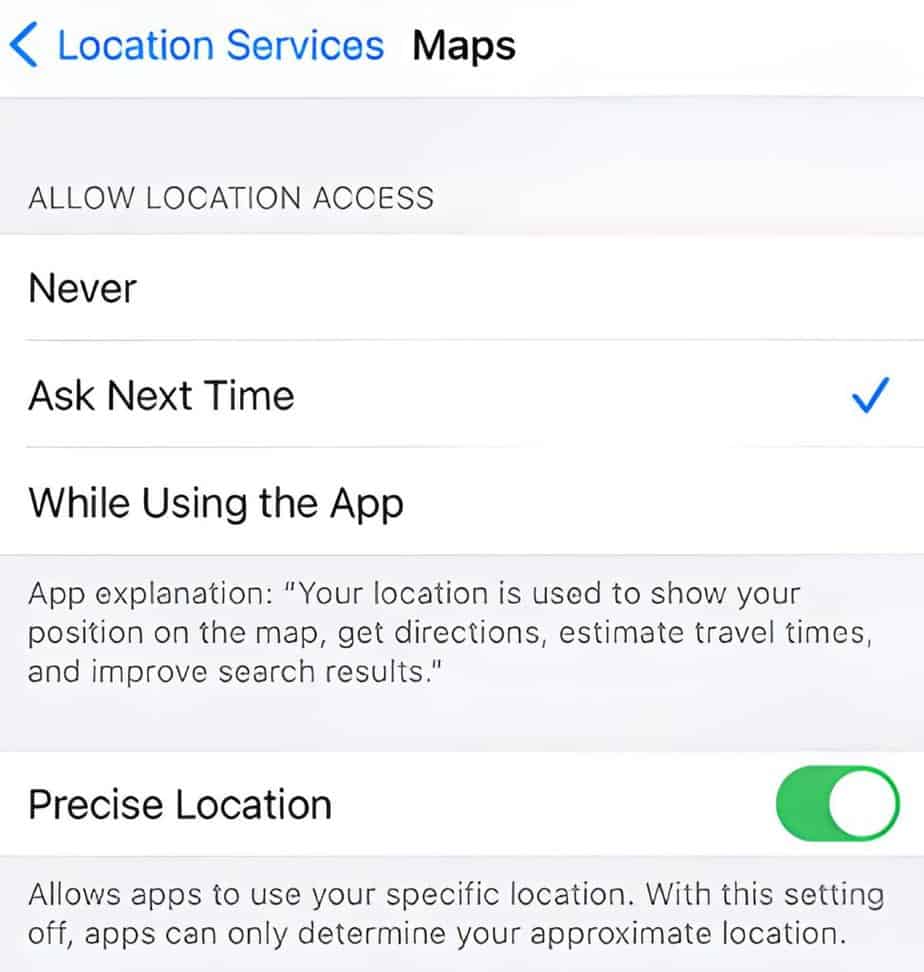 In there, find and open Locations Services and turn it on by pressing the toggle switch.
Solution #4: Perform a Hard Restart
In such cases, just hold the power button for a couple of seconds until the screen abruptly turns off. Once the device has finished restarting, give it a shot again.
If it doesn't work out, then we recommend you seek professional help. Apple, as an ecosystem, is pretty strict when it comes to the quality of Apple-manufactured services.
However, anomalies can arise, and consequently, they can be fixed – albeit at a later date. Till then, we recommend you ask around the community to discuss the mutuality of the problem.
Solution #5: Updating Your Apple Device
Before getting started, ensure a reliable power source and Wi-Fi connectivity. Once your device is connected and backed up (optional but recommended), follow the steps mentioned below:
From your device, head to Settings and choose the General menu.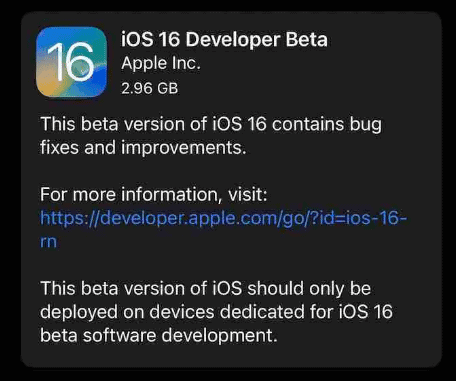 In there, tap on Software Update and let the device run its course.
Once your device has validated a pending update from Apple's servers, it'll automatically prompt for a download. Just press Install Now or Download and Install at the time, and you're basically good to go.
If you don't get an update prompt, then that means your device is already on the latest version.
Solution #6: Turn On Share My Location Under System Services
The System Services are a culmination of resources that help Apple provide many unique services – including location-based features.
With that said, Perform the following steps to make this solution work:
From your device, head to Settings and scroll down until you reach the Privacy section.
Within there, find Location Services and tap on System Services.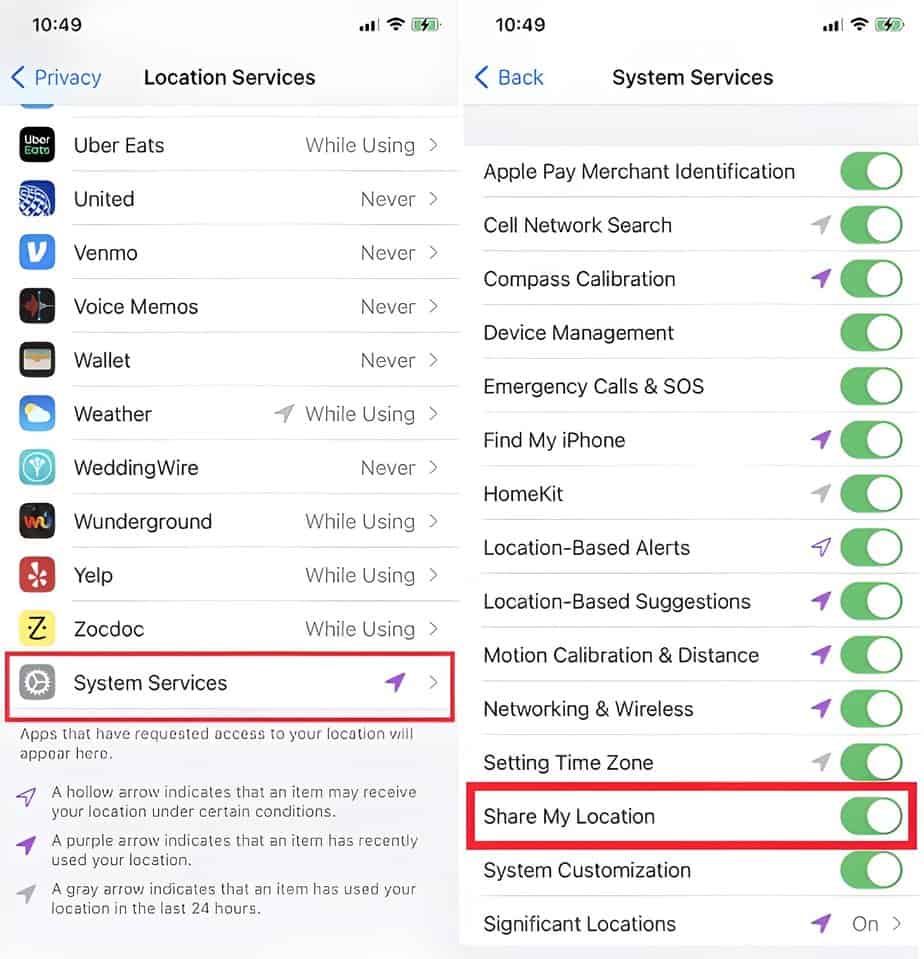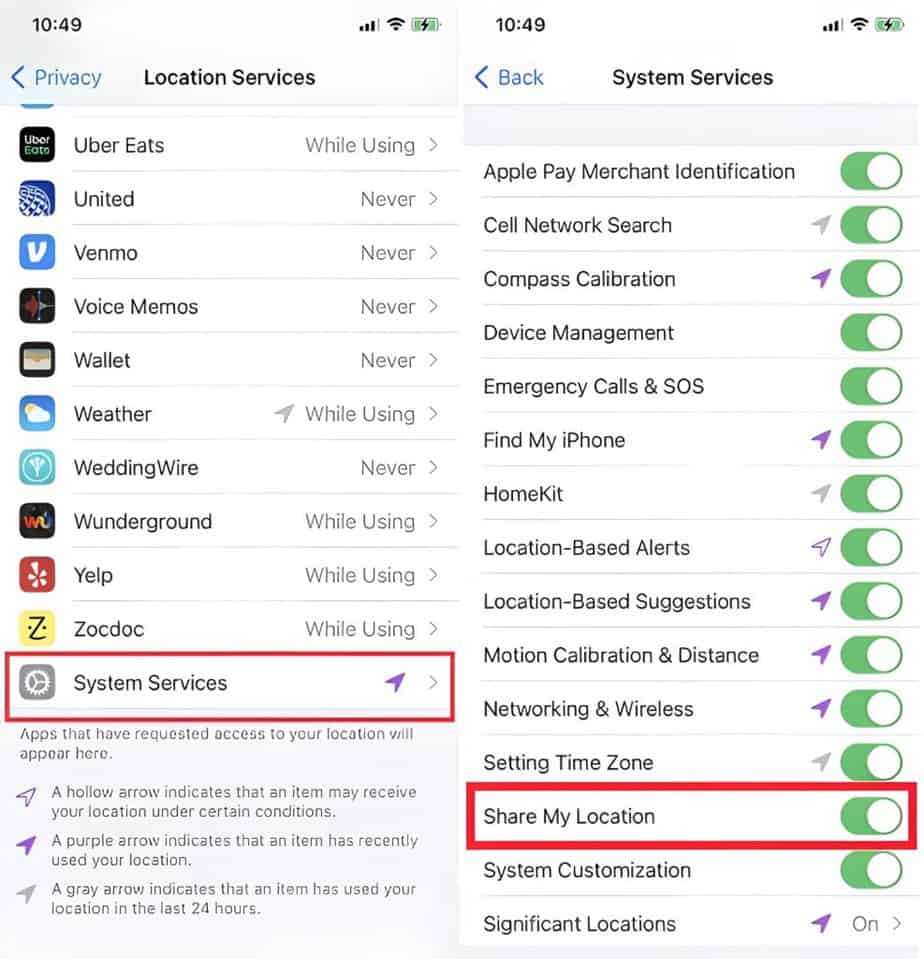 Navigate your way down to find the toggle switch for Share My Location, and enable it.
Once done, your device should work as intended. If the toggle is already enabled, then it's time to apply strict solutions.
Solution #7: Re-Configure Your Apple ID
In extreme cases, your current account can have an underlying issue. Apple accounts use Apple ID for almost everything; it essentially acts as a key. Therefore, any restrictions placed on your Apple ID will directly affect the quality and workability of the Apple services you're receiving.
The best way to counter this is to create a new Apple ID and test your Location Services. Luckily, the steps are quite simple, so follow along!
On your iPhone, head to Settings, and locate your ID Banner.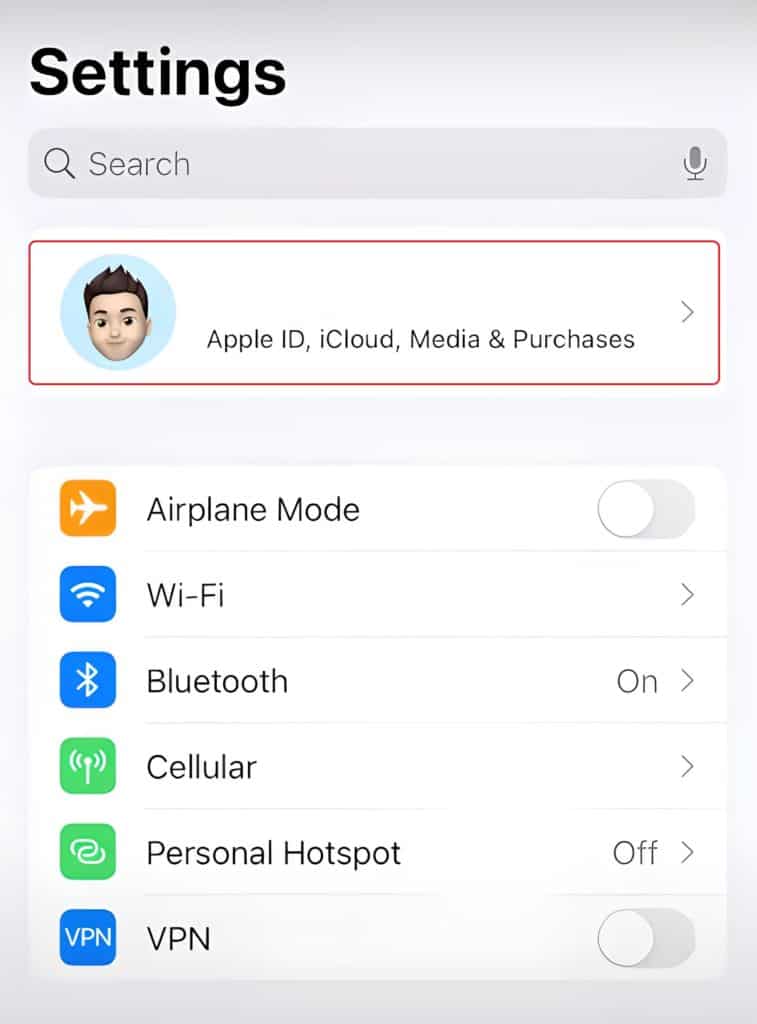 From there, it's only a matter of clicking your Apple ID and pressing the Sign Out button.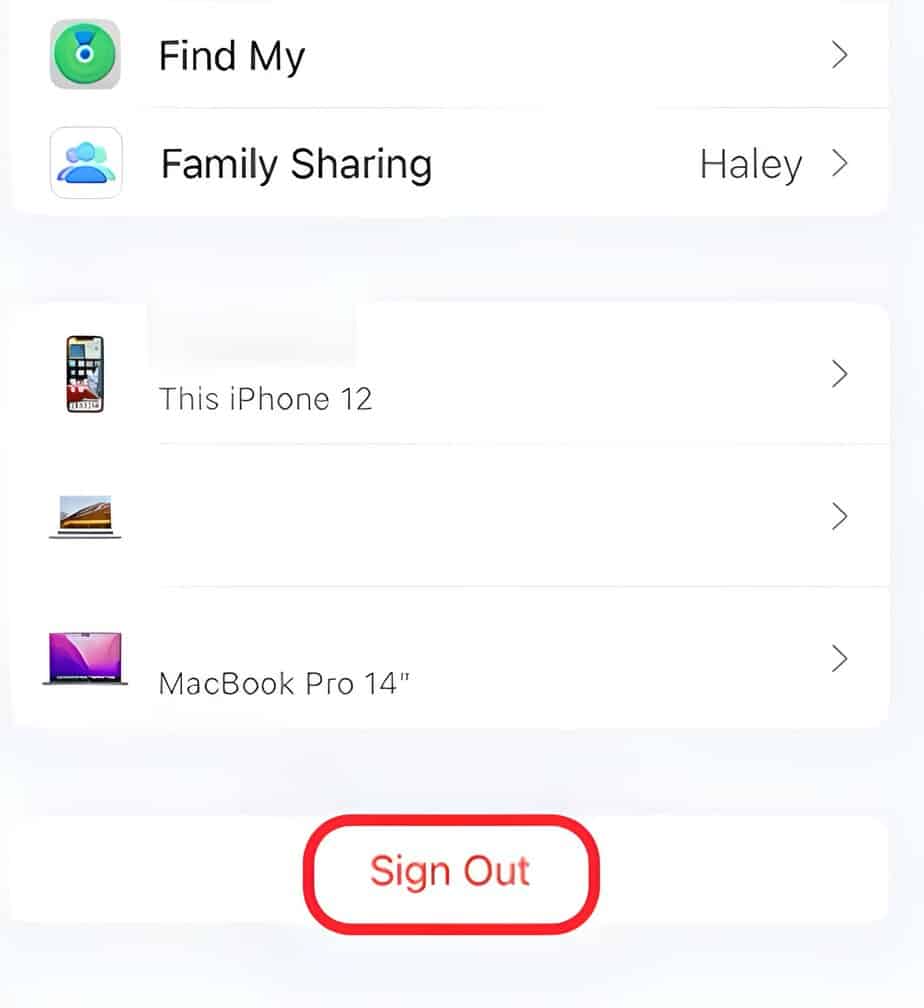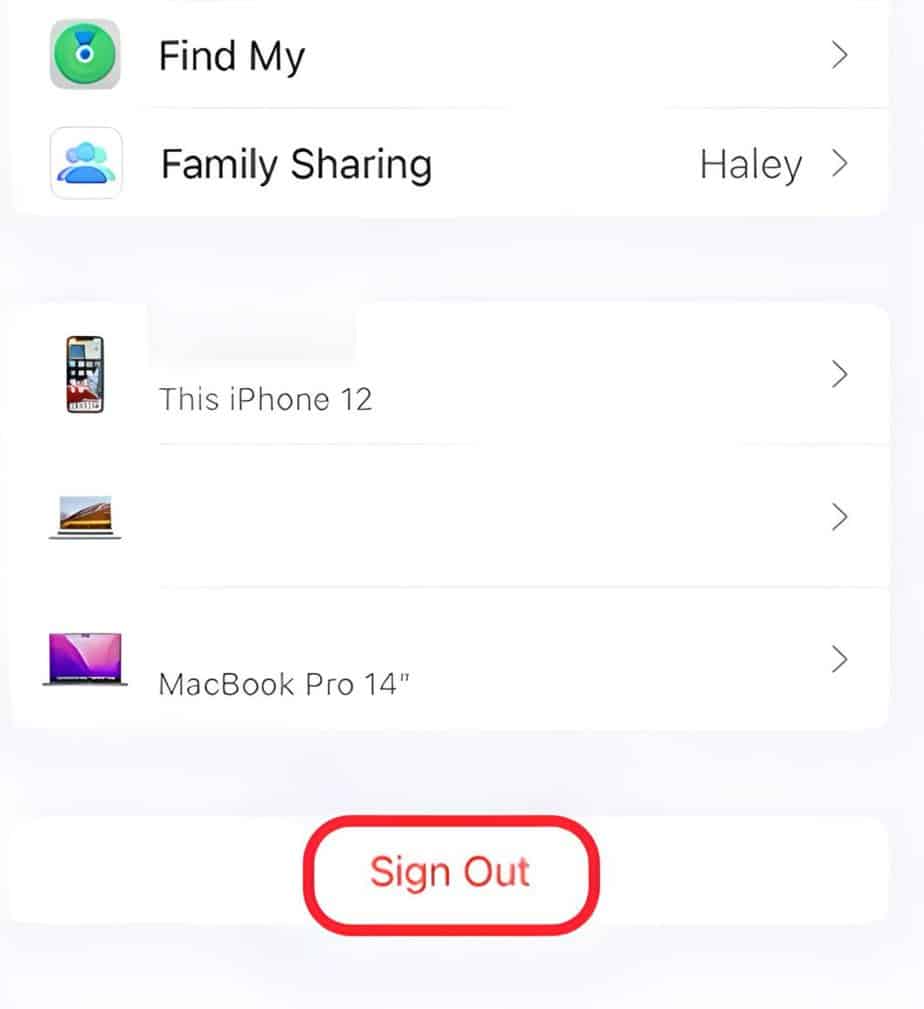 If you have a new Apple ID, add those details in the same area. However, if you're looking to make a new account, there's a Create New Apple ID button right below. Just push it and enter the required details.
Be sure to log out of this new account for the old one in case you have important information on it. This move is only for checking purposes and should only be considered as a temporary remedy.
Takeaway
In essence, the Share My Location – Unable To Connect To Server error generally does not surface unless and until there's an issue between the connection of your device and the server. There are many reasons for this, but the most common one is a lack of stable internet.
Luckily, the problems resulting in this error aren't usually very severe and can come and go independently, depending on the situation and context.