If you are planning to build/upgrade a PC with a Ryzen 9 5900X, or have already acquired it, you are probably also considering upgrading other components to make the best out of it, this means finding the best RAM for Ryzen 9 5900X.
As most gamers and tech-savvy people know, RAM is one of the most important components for an efficient machine, as not being able to access information fast enough could cause a bottleneck on your new shiny CPU.
If you are not entirely sure of which RAM to buy or want to consider other options, this post is for you. We will be looking at the best compatible RAM that you can use to squeeze every drop of performance from your Ryzen 9 5900X.
Probably the most most popular of all of these new CPUs are the Ryzen 9 5900X, a monster that offers gamers 12 cores, 24 threads support, 64MB of L3 cache,  and a base clock of 3.7 GHz that can be overclocked to 4.8 GHz.
Why is the AMD Ryzen™ 5000 Series Such a Big Deal?
2020 was a year of surprises, and it was no different for the PC gaming industry, as the long reign of Intel as king of the CPU market finally reached its end.
The history of AMD VS Intel has been the story of the tortoise VS the hare with Intel leading in most categories of benchmark testing and gamers around the world seeing AMD as the best option in terms of budget.
However, the gaming community has been witness to a progressive shift as AMD was able to start providing better performance at cheaper prices in their low and mid-end products in the last years, especially with the introduction of its Zen architecture back in 2016.
Now, with the introduction of the Zen 3 architecture with the AMD Ryzen™ 5000 Series, the red team has been able to surpass Intel when it comes to single and multi-thread processing, with all of its new CPUs providing better performance thank Intel's flagship in most benchmark testing.
While the PC community will still need to see some more production cycles before definitely giving the crown to AMD, the red team is in the lead right now and it doesn't seem like Intel's upcoming Rocket Lake CPUs will be able to recover it just yet. Long live the new king!
The Best RAM for Ryzen 9 5900X
The list below shows the best available RAM for the Ryzen 9 5900X, we have tried and tested each product so we are able to provide you with an honest and unbiased list
1: Thermaltake TOUGHRAM RGB DDR4 4600MHz
Amazon product
Thermaltake is one of the best well-known names in the computer businesses due to its high-quality PC cases, cooling hardware, power supplies, and accessories,  but not everyone seems to know it has also jumped into the RAM business.
The Thermaltake TOUGHRAM RGB DDR4 4600MHz not only offers an incredible design with 16.8M RGB that offers an incredible illumination for your build, but it also offers incredible performance with a limited lifetime warranty.
With an impressive clock speed of 4600MHz, this DDR4 RAM will allow you to upgrade your build in the future without having to worry about RAM performance.
The 15GB comes in the form of 2 sticks of 8GB each, which means you can jump straight into the action with your favorite games and programs while taking advantage of a dual-channel RAM setup.
Thermaltake took a page from its own book and featured an aluminum heat spreader to improve the performance by facilitating heat dissipation, while also adding pretty neat features like the possibility of controlling the RGB using Alexa voice commands.
Another feature users can take advantage of is the real-time temperature, frequency, and performance monitoring it offers, which will prove to be useful for those taking advantage of the enhanced overclocking stability provided by the 10-layer PCB construction.
The RGB light is provided by 10 different addressable LEDs that can be customized to an incredible extent using the NeonMaker Light Editing Software, letting you make your own style part of your PC experience.
If you are looking for the best RAM for Ryzen 9 5900X then this may well be the ultimate choice.
2: Corsair VENGEANCE RGB PRO 32GB 3600MHz
Amazon product
Just like Thermaltake, Corsair is one of the most popular names out there when it comes to PC builds, with over 25 years of experience in the gaming market.
While not as high as Thermaltake's TOUGHRAM clock speed, the Corsair VENGEANCE RGB PRO offers blazing speed with 3600MHZ.
32 GB of RAM capacity means that you won't need to worry about upgrading your RAM anytime soon even if you do intensive use of system memory, while also using a dual-channel setup using the 2 sticks of 16GB each.
Corsair is also aware of the interest of gamers in customizing the design of their setup and as such, it offers fully customizable RGB LEDs that can be individually addressed.
Heat dissipation shouldn't be an issue either, as the Anodized Aluminum heat spreader ensures that your RAM won't be throttled by heat.
The Corsair VENGEANCE RGB PRO 32GB is an excellent option for those looking for extra storage with excellent performance.
3: Patriot Viper Steel Series DDR4 4400MHz
Amazon product
Is RGB not your thing and you only worry about getting the best performance at a lower price? Then the Patriot Viper Steel Series DDR4 16GB is the right RAM for you as it offers incredible performance without the flashy RGB lighting, but keeping an excellent design.
Viper is Patriot's RAM flagship, specially designed for those looking for high performance and quality, with a quality assurance that relies on hand testing.
With 2 sticks of 8GB each, 16GB with a clock speed of 4400 MHZ is sure to be a great option for any PC user.
Its heat custom-designed high-performance aluminum heat shield ensures that you will get great stability when overclocking your system, all without sacrificing style or compatibility with the latest Intel and AMD platforms.
Just as Thermaltake and Corsair, Patriot is so confident in its product's quality as to offer a limited lifetime warranty.
4: G.Skill Trident Z Neo Series 3600MHz
Amazon product
While not as well known as our previous entries in this list, G.Skill has managed to create a product that is sure to help you get the best out of your setup. And yes, it offers RGB illumination.
G.Skill Trident Z Neo Series was engineered and optimized to use with the Ryzen 300 series, but don't let that fool you. This RAM is still a force to be reckoned with its 3600 MHz and overclocking performance powered by its strong signal integrity.
The design of the G.Skill Trident Z won't go unnoticed in your computer as it has a dual-tone design with bright illumination and a sleek beveled edge inspired by racing cars, as well as customization capabilities and integration with the most popular chipsets.
With 2 sticks of 16 GB each, you should consider this alternative if you are looking for a dual-channel set up and require a lot of capacity.
The black brushed aluminum and powder-coated silver in the Trident Z Neo heat spreader also does a great job in further increasing performance and preventing throttling.
5: TEAMGROUP T-Force Xtreem ARGB 3600MHz
Amazon product
Teamgroup is one of the less well-known brands in this list despite having its own fan club in the gaming circles, but it is in this list for a reason.
If you want RAM with excellent performance and a unique design, look no further than the TEAMGROUP T-Force Xtreem ARGB 3600MHz gaming memory's "full mirror light finish".
This reflection design concept produces a unique lighting effect that catches the eye as soon as you see it straight from the box, getting just better once the RGB lighting is on.
While Teamgroup doesn't have proprietary software for the customization of its RGB, it is compatible with major brands to provide a synchronized lighting experience with any other RGB components you have.
With low power consumption, high clock speed, dual-channel support, 28,800 MB/s bandwidth, and good storage capacity, the T-Force Xtreem is a RAM worth looking at for its performance but especially for its design.
6: OLOy DDR4 RAM 3200 MHz
Amazon product
OLOy is not one of the most popular brands out there but is known for providing great quality at a reasonable price. Its WarHawk RAM is its most popular model with those looking for a striking and uncommon design.
These eagle-winged RAM sticks come on a pack of 2, which has been a pattern in this list for obvious reasons, with 8GB of capacity each as well as RGB lighting that can be synced with major motherboards.
With an 8-layer PCB, the Warhawk offers good overclocking stability and performance, without complicating the installation or requiring setting changes.
The clock speed and popularity of this RAM may be lower than our other entries, but it offers enough power for your build to truly shine, as 3200MHz is the limit of the Ryzen 9 5900x, while providing a considerably cut in costs.
7: TEAMGROUP T-Force Delta RGB DDR4 3000MHz RAM
Amazon product
Last but not least, we have another Teamgroup model that offers slightly lower speed clocks than our other entries but at a better price.
The DELTA RGB memory has a nice and simple design with a 120° angle RGB lighting and an aluminum alloy heat spreader with an asymmetric minimalist design that offers great heat dissipation.
This model offers excellent transmitting performance that can be further increased by using a JEDEC RC 2.0 circuit board, increasing the transmission signal by 25% when overclocking.
Just as with the T-Force Xtreem, the Delta RGB RAM can be easily synchronized with most motherboards quickly and easily, with its angle providing a distinct aspect from most memories.
The Delta RGB is a wonderful option for a low price for anyone looking for a more minimalistic, albeit gorgeous, design that still provides you with RGB effects without sacrificing a lot of performance.
Why is RAM Memory Important?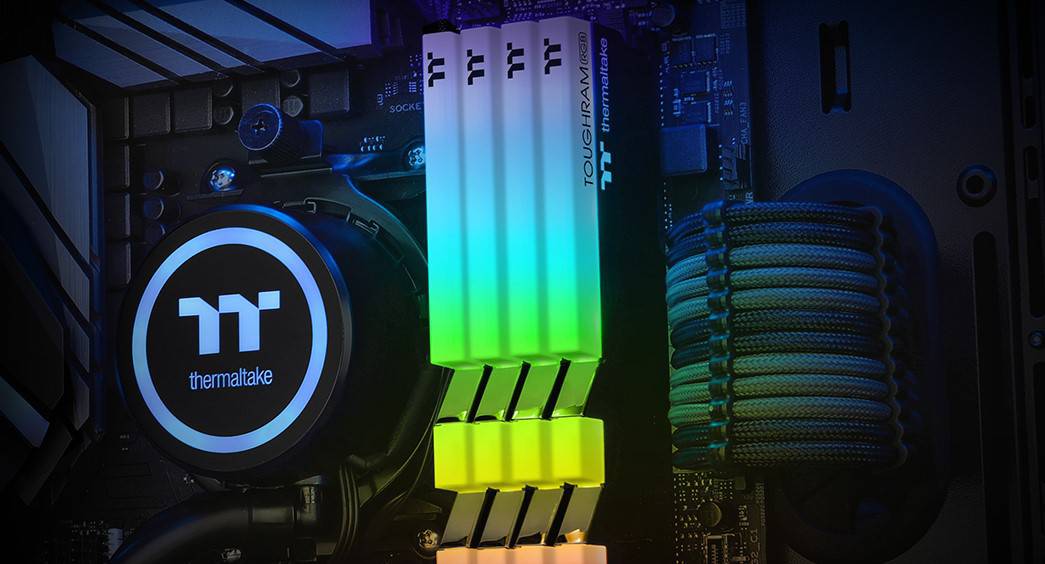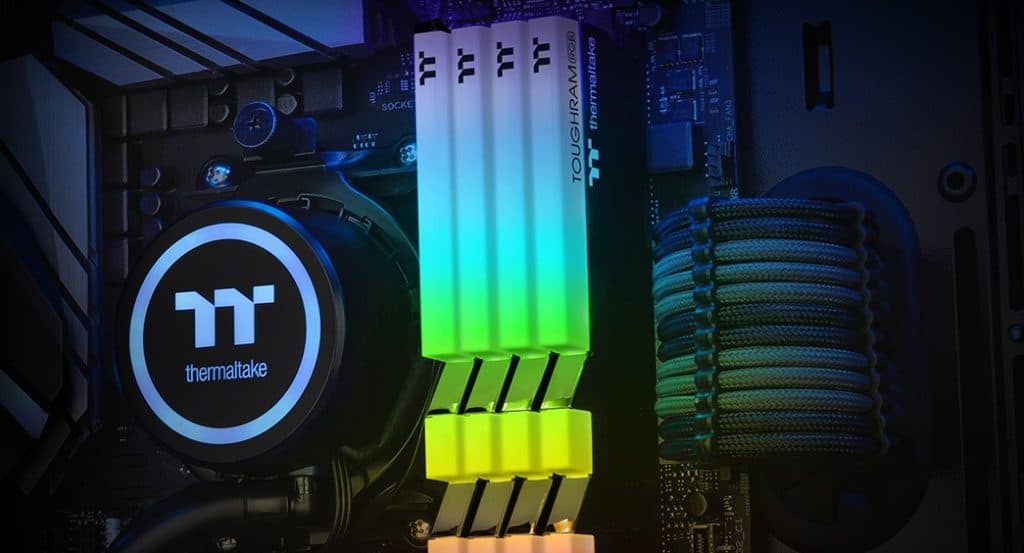 While it is widely known that RAM is an essential component for any computer, few people know anything about it beyond "more is better". While this can be true in some cases, is far from absolute in most cases, with that line of thought being disastrous for power users.
If you are one of these users who just look for "DDR4 [insert number here] GB RAM", look for your favorite or a familiar brand, buy it, and stick it in your motherboard, you will want to continue reading this section.
While there are different types of RAM, the one we will be talking about here is DIMM SDRAM, the type of RAM you are likely to install in modern desktop computers and most people are familiar with.
Not all RAM sticks are created equal in terms of specifications, but they serve the same purpose: Acting as an intermediary between your CPU's small but fast cache and the slow but big storage drive (HDD or SDD), storing information temporarily and allowing you to run several programs at the same time by providing fast access to it.
You can think of your computer memory management as a Kitchen: the storage drive is the fridge, the CPU is your chef and cooking utensils, and the RAM is your kitchen counter.
Sure, you can store a lot of food in the fridge, but most of the time you won't be able to immediately consume or use what you take out of it, you will need to wash it, cut it, or prepare it in some way.
Now, whoever is cooking might be able to store some food in the pots while working with it, but have you tried peeling an onion directly on the pan? Let's not even talk about doing it in the fridge.
Here is where the kitchen counter (RAM in our analogy) comes into place, it provides temporary extra space that you can use to temporarily keep your food while providing you with a convenient place to work with it by cutting, peeling, etc.
By ensuring that you have more space, ease of access to the elements on it so you don't have to reach far or turn around, it is clean, etc, you are sure to improve the performance of your cooking… Or in the case of your computer, processing.
Random Access Memory 101
So, you understand what RAM is and why it is important for your computer. But do you know what makes good RAM and how to choose the best option for your computer?
Terms like latency, clock speed, bandwidth, and timing are some terms that you will see when shopping for RAM, so let's start by defining and discussing the truly relevant ones. Let's get right into it!
Which DDR Should You Choose?
DDR stands for "Double Data Rate", a type of RAM that gained popularity and became the default option for PC enthusiasts and manufacturers around the world.
There are different standards of DDR memories ranging from DDR1 to DDR5, which is still not mainstream as it is not fully supported/tested and manufacturers haven't moved to it yet.
In this case, you will need to choose DDR4 as it is the only DDR supported by the Ryzen 9 5900x.
You will also need to make sure that DDR4 RAM is supported by your motherboard, so take advantage of it and also check the maximum amount of RAM it can support both in terms of slots and capacity.
Is Clock Speed Relevant?
Of course, it is! Just as most components of your computer, RAM performance is also affected by how fast it can process data.
Higher clock speeds are better but as with most things in life, you can't just consider a single factor. If you are choosing between higher storage capacity and higher clock speed, you will want to go for higher capacity if you are planning to use your PC for gaming or memory-intensive programs such as visual design. You should go with higher clock speeds otherwise.
You need to keep in mind that the Ryzen 9 5900x supports RAM clock speeds up to 3200MHz.
Bandwidth is Not Only Relevant to Internet Connectivity
Just like with your internet connection, RAM can benefit from having more data bandwidth that allows it to transfer more data at a given time. If clock speed is increasing the maximum speed a car can drive at on a highway, bandwidth is how many cars can drive at a given time.
The AMD Ryzen 9 5900x supports up to 2 memory channels with a max bandwidth of 47.68 GB/s, which is superb for any high-end most of the time.
An example of this is the "Latency", which is something most unfamiliar users would look into as it sounds to be an important indicator of performance. The truth is that it is not.
The impact that latency can have on the performance of your machine can be ignored as it is practically non-existent and will always be behind capacity, bandwidth, and clock speed.
How Much Storage do You Need?
While the Ryzen 9 5900x offers support for a maximum of 128GB of RAM, this is just overkilling as most power users like gamers will be fine with just 16GB.
You can think of 16GB as the magical number for RAM, as it will allow you to run any program or game without having to worry about running out, allowing you to invest that money on other components.
However, if you are someone who is using the PC for really memory intensive purposes such as video editing, you might want to get 32 GB. This is also the case if you are thinking about building a PC that stands the pass of time without having to upgrade the RAM any time soon.
The beauty of RAM is that is one of the easiest components to replace or upgrade as time passes, letting you easily adapt if your needs change. One thing is sure, though: going over 32GB is overkill 99% of the time.
Conclusion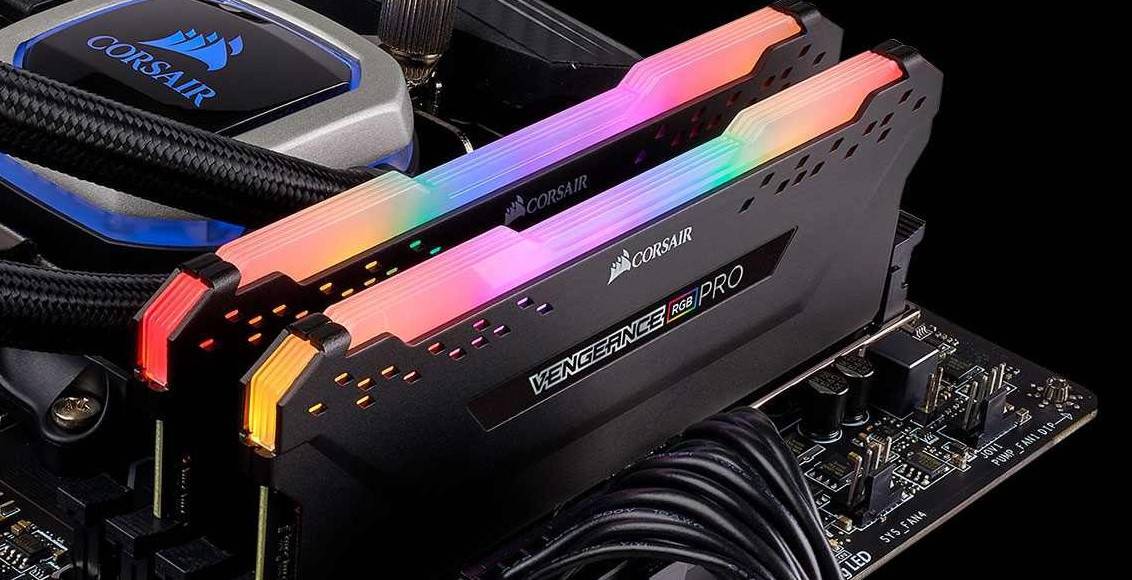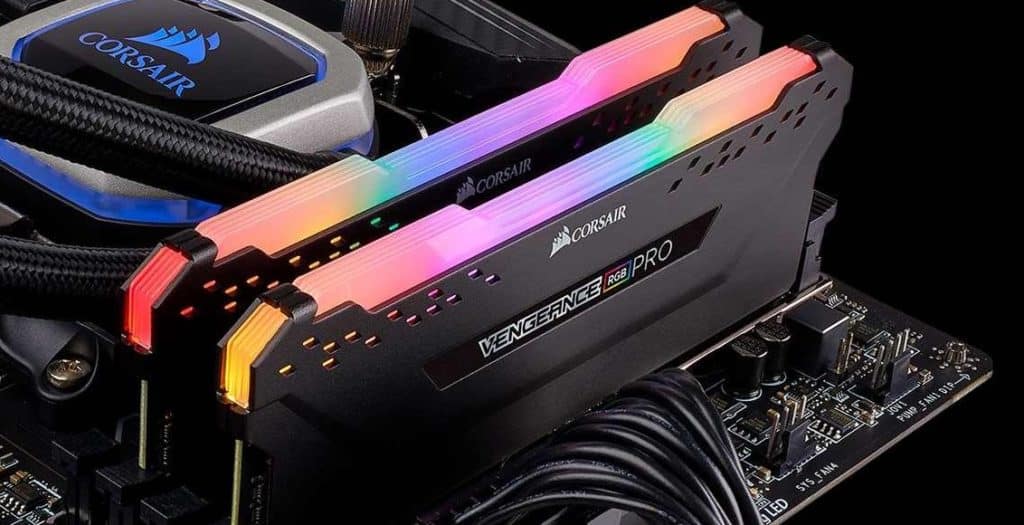 As you can see, there are a lot of different options when it comes to choosing the right RAM for you. It is not only a matter of capacity or performance but also of choosing the right design and price range.
One important thing to remember is that while clock speed and other factors can truly affect the performance of the RAM, the impact will be minimal in most use cases. You should make the capacity your priority over other indicators if you find yourself undecided.
Now that you know the importance of RAM and some of the things you should be looking for, decide between 16 or 23GB before taking a look at your build and imagine which of these RAMs would look better on it.
The truth is that you can't go wrong with any of these as all of them will allow you to get every drop of performance the Ryzen 9 5900X has to offer with its new architecture and superb specifications.
Good luck and have fun!