One of the best AirPods features is its quick integration with your iPhone, Mac computer, and iPad. The AirPods solidify its connection to the Apple Ecosystem. Plus, it is one of the best wireless earphones if you are an Apple device user because it goes with everything you probably already have, like wireless chargers and other Apple accessories and devices.
However, in some cases when the AirPods are connected but the sound is still coming from the phone can be a little annoying, considering that they are already connected, and you paid a premium price just to ensure you have the most integrated hardware and software for your work ecosystem.
Lucky for you, your search for the solution ends here. We have already come up with fixes for this problem that we can guarantee to work for you– whether you are using an iOS or Android device.
AirPods Connected But Sound Coming From Phone: The Best Solutions for the Issue
After trying out different solutions, we concluded that there is more than one way to solve this AirPods issue. Unlike connecting USB C Headphones to your iPhone, having a wireless connection is the best– and as avid Apple users here at Gadget Gang, we do our best to find the issues and devise the most common fixes that anyone can do at home. Here are some of the best ways to fix AirPods connected but sound coming from phone issue:
1. Turn Bluetooth Off and Turn it Back On
Sometimes the solution is simple: turning your phone's Bluetooth off and turning it back on again.
To do this, go into your iPhone's control center (Swipe down from the top for iPhone 8 and lower, swipe down from the top right for iPhone X and higher) if you are using an iOS device.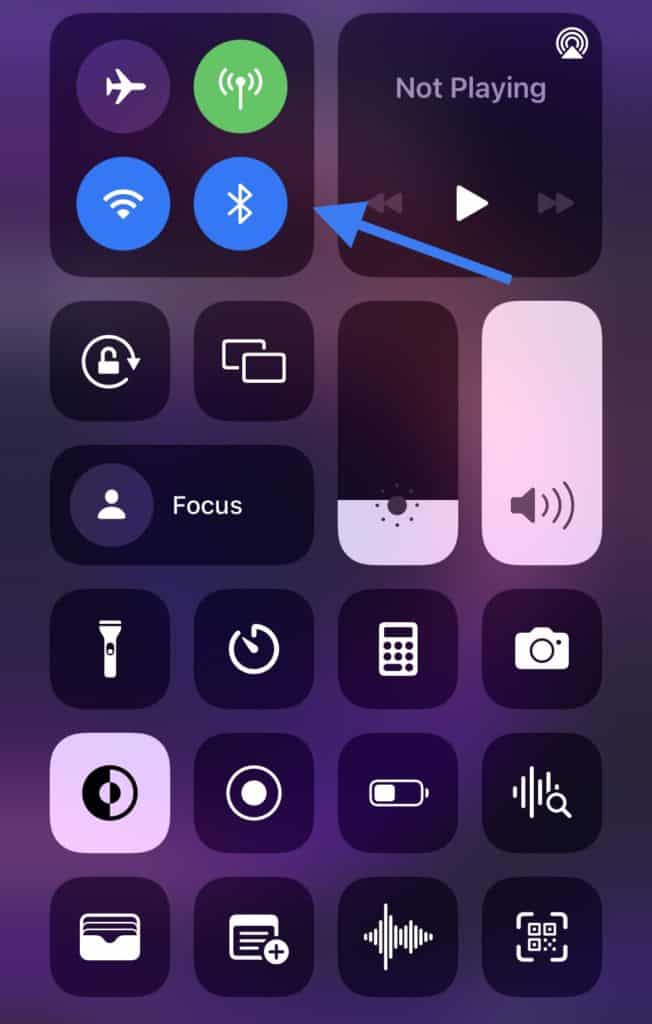 Then tap on the Bluetooth icon to gray out the icon, then tap it one more time to highlight it, which indicates that it is back on. When your AirPods automatically reconnect to your iPhone, it should fix the problem and you will be able to listen to music and watch videos with sound coming out of your AirPods instead of your phone.
Alternatively, you can reset the Bluetooth by going into your settings and opening the Bluetooth page, then toggle the on and off switch to reset the Bluetooth.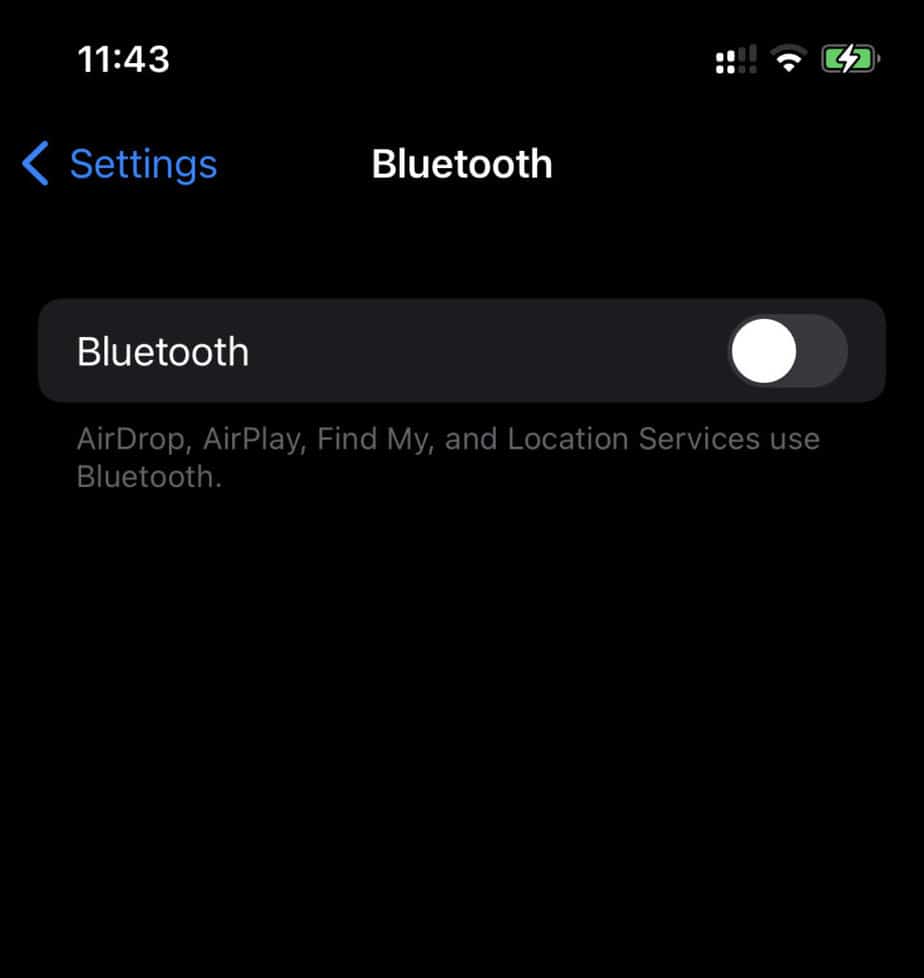 This solution works for most people experiencing this issue, but if it does not work for you, move on to solution number 2.
2. Forget the Device
Instead of turning off your Bluetooth in your phone's control center, you need to go into Bluetooth settings to forget the device and pair it with your phone again.
To enter Bluetooth settings on your iPhone or iPad, you can hold down the Bluetooth icon in your control center to open a drop-down menu and choose Bluetooth Settings. Another way is to manually go into the settings, then tap Bluetooth, then tap on the Info icon to enter device settings to forget the device.
Once you are in the Bluetooth Settings, choose and tap on the device you want to forget to enter the next menu, then tap on "Forget Device."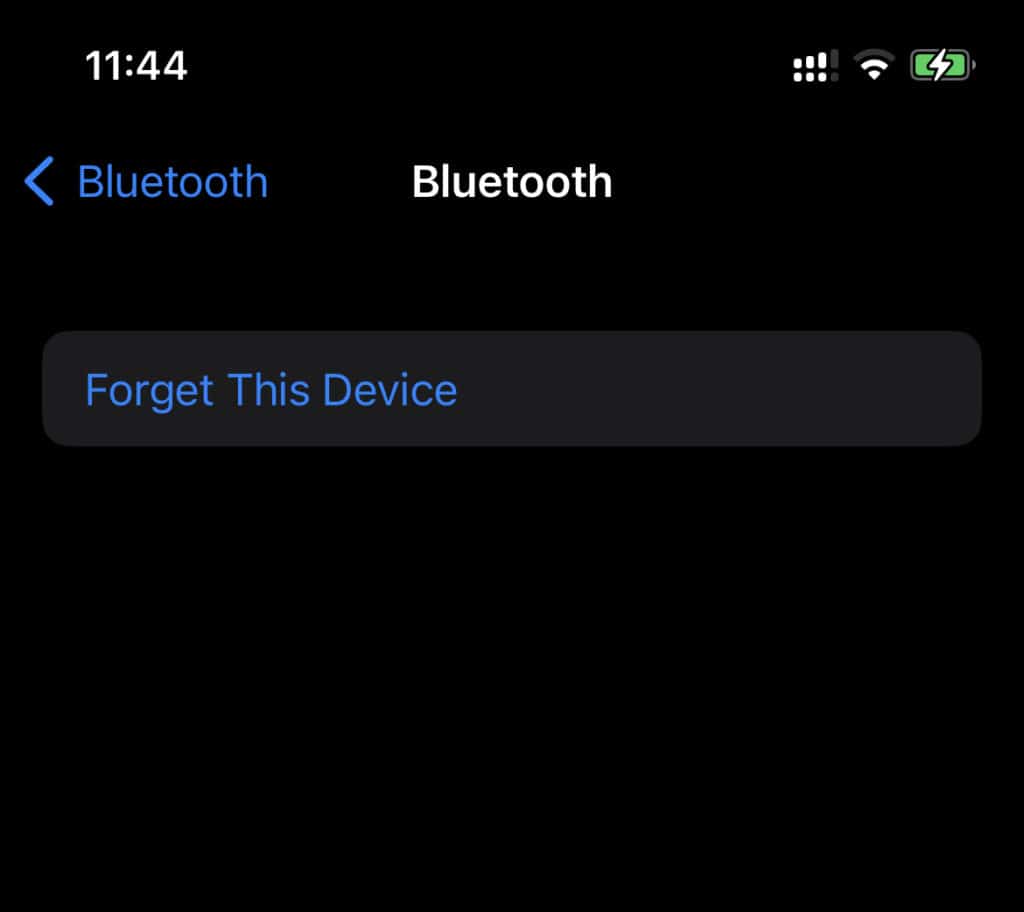 To reconnect the device, simply open the lid of your AirPod's charging case and your iPhone will automatically detect them. If it does not automatically pair, just hold the button on the back of the charging case for more or less than 10 seconds. Once connected, try them out to check if this solution fixed the issue. If this solution still doesn't work for you, don't worry because we have more!
3. Reboot Your iPhone or iPad
Whether you are using an iPhone or Android device, another simple solution is to reboot your device, especially if the problem is caused by the phone and not the AirPods. For Apple iPhone or iPad users, you can reset your device by powering down your device and turning it back on. Here are 3 ways to reboot your iPhone or iPad, depending on the model.
Simply hold the lock button until the power slide appears, then slide it to shut down the phone. Then hold the lock button until the Apple Logo appears to turn the system back on.
If your Apple device has buttons that are not working, you can reboot your iPhone by going into Settings, General Settings, then at the bottom, tap on "Shutdown" to power off your device.
To reset iPhone, press volume up, volume down, then hold the lock button until iPhone reboots.
Once the device is back on, re-pair or connect the AirPods and check if this solution fixes the issue. This solution works most of the time for any software and connection issue, such as one AirPod is louder than the other and other issues. If this solution doesn't work, make sure have tried all the solutions above before trying the next options.
4. Turn off Automatic Ear Detection
One of the best features of the AirPods is automatic ear detection, meaning if the device senses that you are wearing the AirPods, it will automatically connect if they are previously paired. However, this feature might act up and cause connection issues. Try turning the feature off to see if it fixes the issue. To turn it off:
Go to settings
Select Bluetooth
Tap on the info icon next to your AirPods and toggle off Automatic Ear Detection
If it fixes the issue, you can try turning it on again to enjoy the cool feature.
5. Reset Network Settings
Note that resetting network settings will erase all previous connections, including wifi passwords and other paired Bluetooth devices. If you have previously connected to wifi connections in your home, office, or a friend's house– note that your device will no longer automatically connect and you will have to re-enter the security password (if any) to reconnect.
Follow these steps to reset network settings:
Go to Settings on your iPhone and then tap on General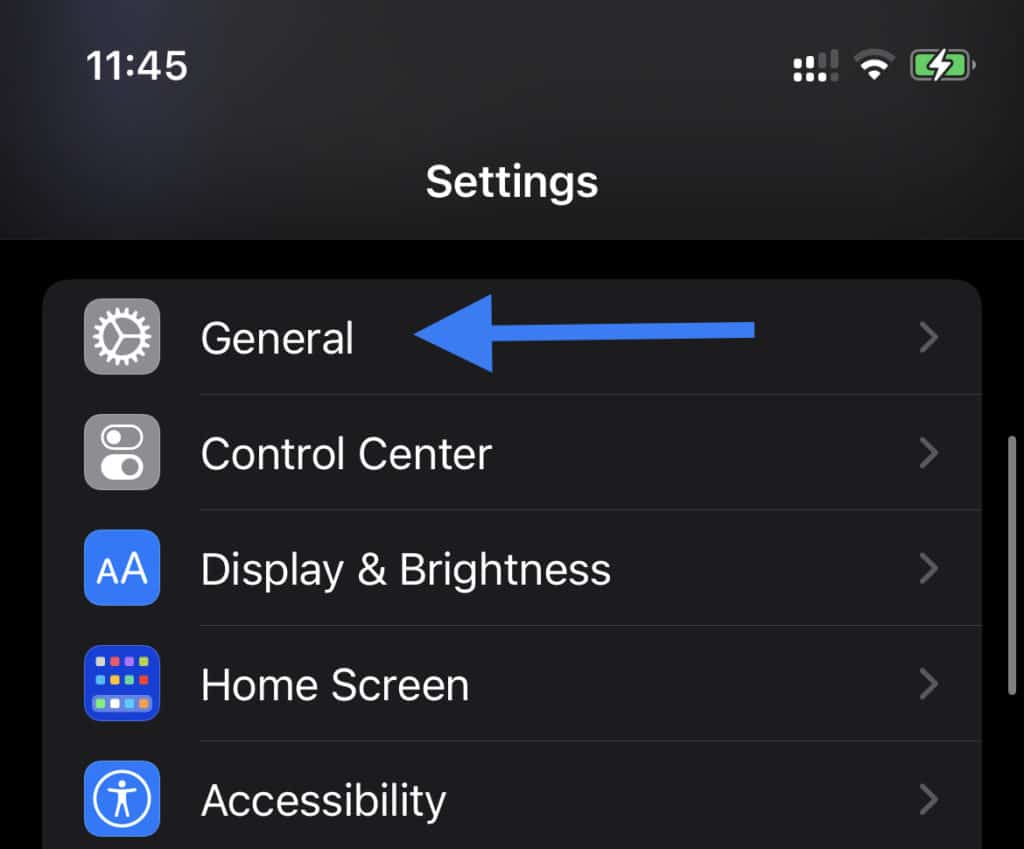 Tap on Transfer or Reset iPhone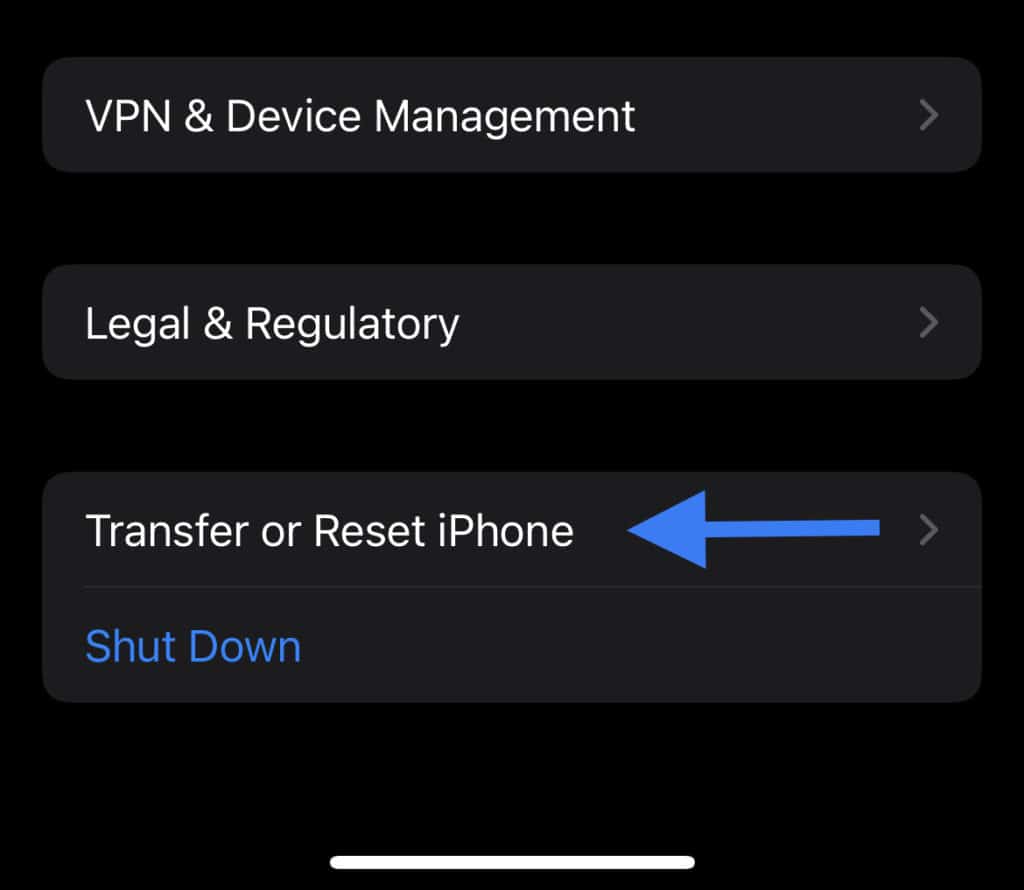 Tap on Reset Network Settings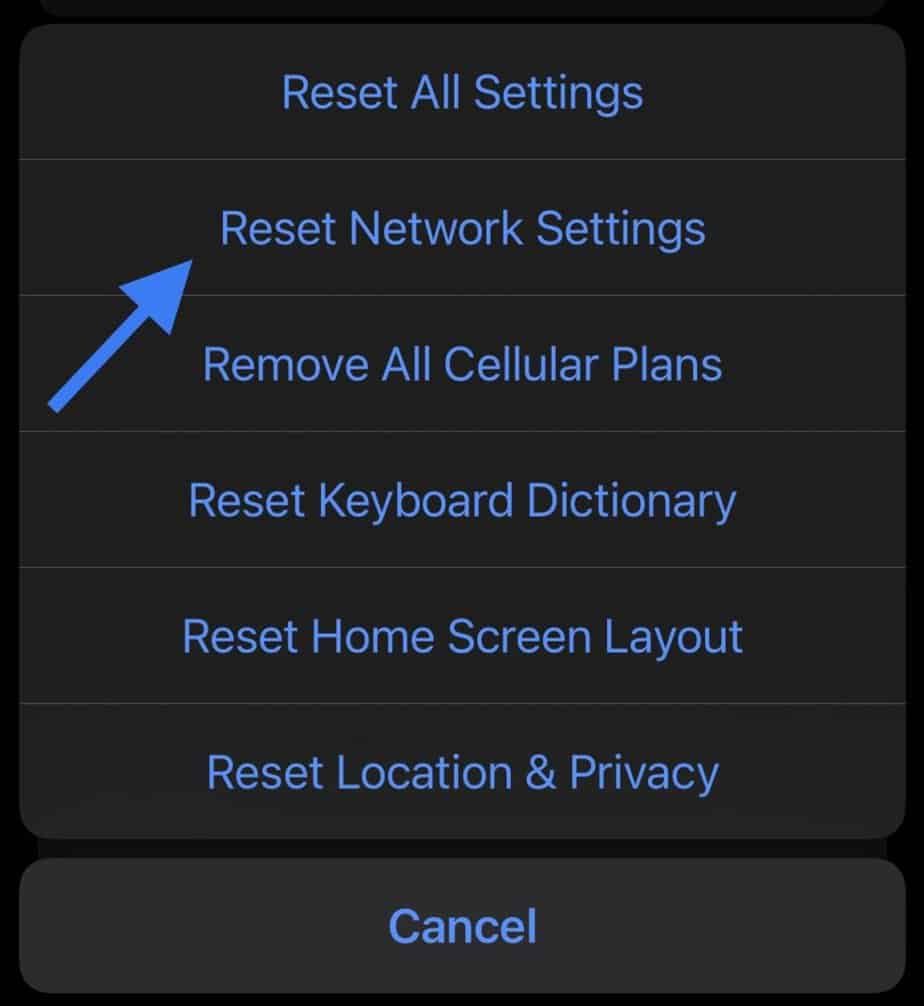 Your iPhone will automatically reboot to apply the reset. Once your iPhone is back up, re-pair your AirPods to see if the issue is fixed. If not, do not panic, we still have a few more solutions up our sleeve that might do the trick!
6. Update iPhone or iPad Software
Try updating your iPhone or iPad to the latest iOS or iPadOS to fix the connection issue. In most cases, many people tend to not update their devices. However, most of the time these updates address common issues to improve the user's experience.
To update your Apple Device:
Go to Settings
Go to General
Then tap on Update
7. Check for Nearby Devices
After trying all the solutions above and nothing seems to work for you, it all boils down to one of the simplest solutions– which is checking to see if there are any other devices nearby that your AirPods or phone might be connected to. It could be your MacBook, iPad, or other mobile devices. It could also be previous earbuds or Bluetooth headphones to which your phone is connected to. Disregard the latter if you already reset your network settings since previous connections would have already been erased at this point.
If there are any other devices your AirPods could be connected to, make sure you forget your AirPods on those devices, so you can establish a clear connection from your AirPods to the device you want to connect it to.
Last Resort: Go to the Nearest Apple Store
We take pride in our iPhone and Apple Device solutions, which is why we never want you to visit an Apple Store for simple fixes like this one. However, there are cases where it can be a hardware issue, and reconfiguring your iPhone doesn't do the trick. If that is the case, make sure you visit the nearest Apple Store or licensed retailer to see if they can hook you up with a new pair of AirPods that actually work!