Discord is a popular chatting and socializing platform. It is comprised of 350+ million users. On Discord, you can create and manage servers for your friends and communities. We've all known and seen people banned from these servers for various reasons. Banning someone in a Discord server is only a matter of three clicks, having made it easy to conveniently get rid of people from your chats.
But what if you wanted to do the opposite of that? What if you wanted to know how to unban someone on Discord? Although this is not conveniently done as banning someone, removing someone from the ban list of a Discord server is pretty easy too! Let us have a look.
Unbanning Someone on Discord
Let's say you banned someone in the past for acting a certain way. You have now accepted their apology but don't know if you can get them back on your server. If you want to unban them but aren't sure how exactly to do so, this guide is for you! When you ban someone, it not only kicks them from the server but also prevents them from joining back. If you want to unban them, follow these short steps, and they'll be able to join right back in!
Wanna learn how to turn off the Discord overlay? Click here!
To unban someone from a Discord server, you must first either be the owner or have moderator/admin permissions. If you are trying to unban someone from your server or from a server where you have permissions, then follow the steps given below:
How to Unban Someone on Discord on Your Phone
First of all, open the Discord app on your phone.
Next, tap on the icon of the server in which you want to unban someone.
After that, press the three dots and tap Settings.
Now scroll down in the settings and find Bans. This will contain the list of all the people that have been banned from the server.
Tap the name of the user that you would like to unban.
Lastly, tap Unban. This will have the other person unbanned from your Discord server until you decide to ban them again.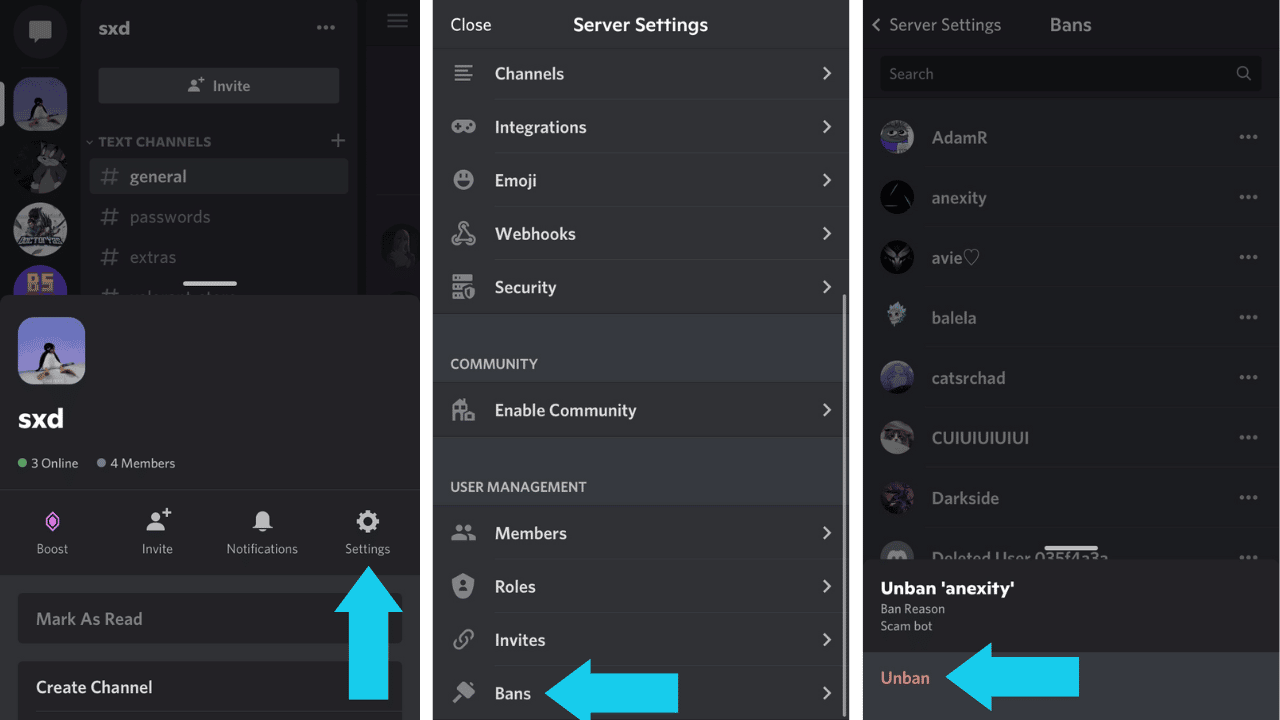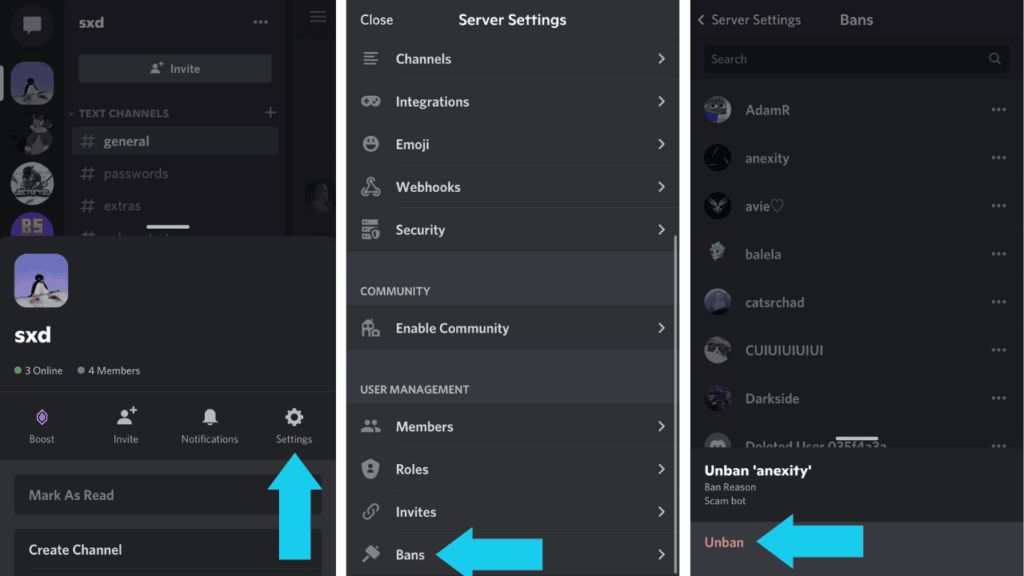 How to Unban Someone on Discord on PC
Firstly, open the Discord client on your computer.
After that, locate the server where you want to unban the person and right-click on its icon from the list.
Now click on Server Settings.
Next, you need to go to Bans.
Lastly, click on the name of the banned member and select Revoke Ban.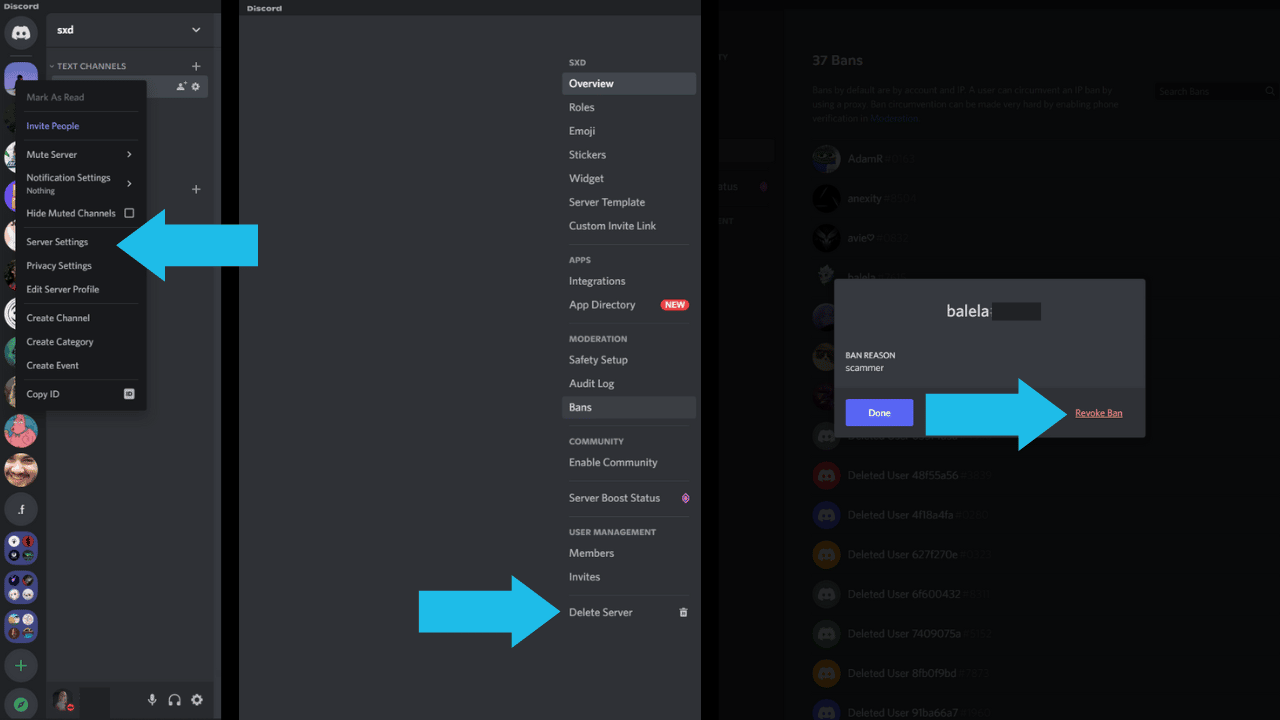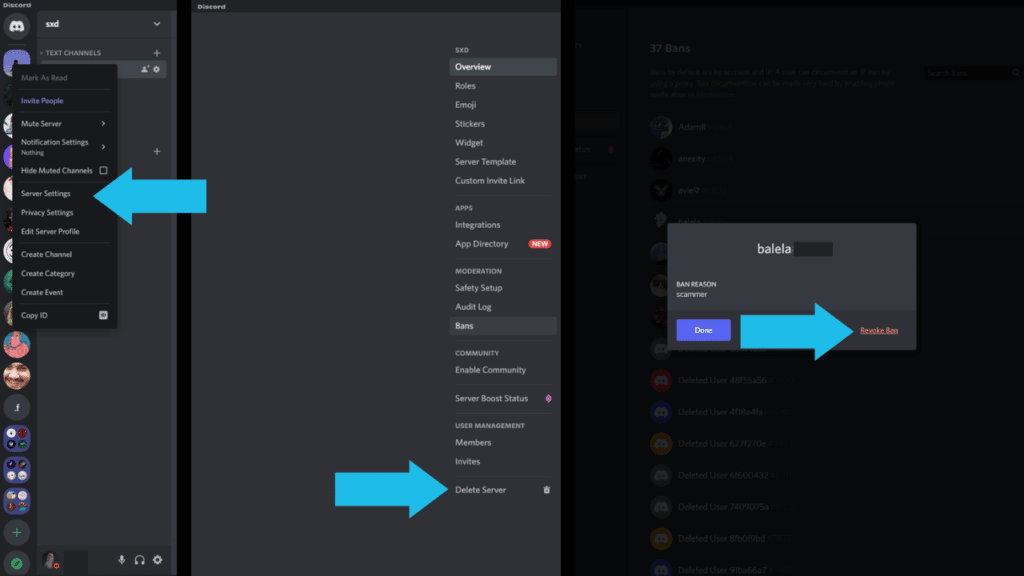 Conclusion
Discord makes it easy for you to control who gets to be a part of your community and who doesn't. If you want to let someone come back into your Discord server, you can learn how to unban them in this article. Let us know what you think about the article in the comment below! And while you're at it, react with one of the given emojis!