The ability to produce 360-degree images and video puts a new twist on recording long-lasting memories. Ordinary cameras offer only one perspective, forcing you to find a good angle and potentially miss out on the action on the periphery. Switching to an all-encompassing view means you just have to be at the right place at the right time and can edit the perfect scene later. Which 360° action cam should you get? We're pitting the Insta360 One X2 vs GoPro Max to settle the score once and for all.
Insta360 One X2 Vs GoPro Max at a Glance
| | | |
| --- | --- | --- |
| | | |
| | | |
| | | |
| Max 360° video resolution | | |
| Max single-lens video resolution | | |
| | | |
| | | |
| | | |
| | | |
| | | |
| | | |
| | | |
| | | |
| | | |
The tech spec chart already reveals this comparison's prevailing theme – minor differences and close calls. That's excellent news for the end-user since it indicates that both cameras are at the forefront of what's currently possible in the 360° world. We'll have to dig deeper to tell the whole tale, so read on to discover how each camera does in a multitude of categories.
Appearance & Build quality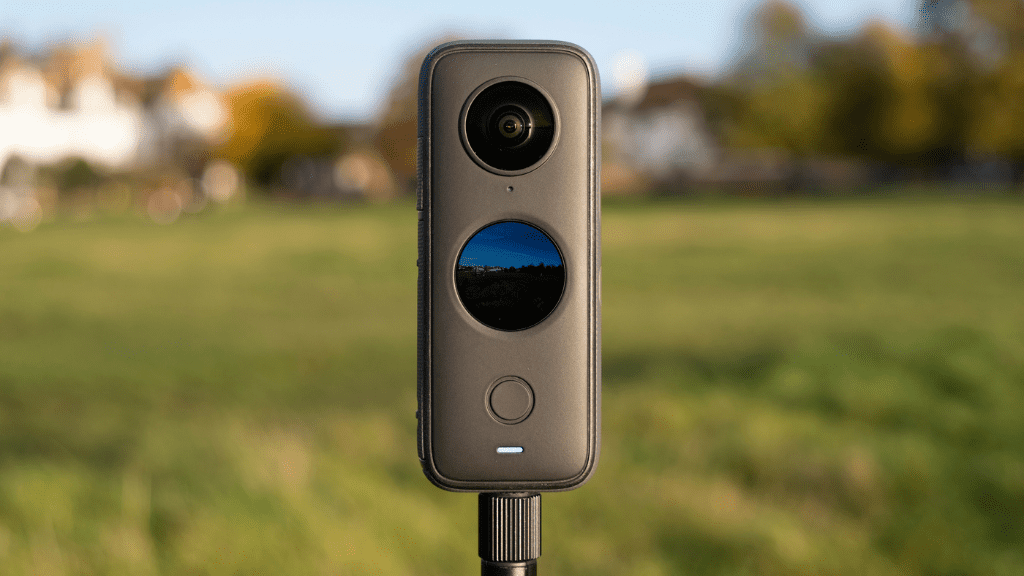 Even though they're both 360° action cameras, the Max and One X2 embody different design philosophies.
The Max will be familiar to anyone who's used a GoPro Hero before. It's a little bigger to accommodate a lens on either side. Still, all the GoPro fundamentals – like accessible buttons and rounded corners – are there. Rubberized edges protect the camera from fall damage, and it's even waterproof enough to venture into 5m of water or less. The Max uses the same ingenious flip-out feet introduced with the Hero 8, letting you attach tripods and other mounts without having to invest in a separate housing.
Insta360 designed the One X2 with pockets rather than helmets in mind. Their actin camera conforms itself better to being held, meaning you can walk around with one in hand for longer without feeling discomfort. The first One camera wasn't waterproof, so Insta360 doubled down and made it so this one can withstand depths of 10m. It's tied with the Max for durability, but the One X2 wins in the handling department.
It's important to note that both cameras have sensitive bulging lenses that can scratch easily. Handling with care is a given and a bit easier for Max users since they get protective rubber caps as part of the package. You can purchase such caps for the One X2 separately, though. Keep in mind that using said protection will slightly negatively impact overall visual quality.
Winner: Insta360 One X2 1 – 0
Screen & Controls
A good screen and onboard interface are essential for an enjoyable user experience on the go. GoPro has been designing touchscreens for several generations and knows how to implement one properly. The Max's 1.7-inch display has a traditional rectangular shape. It's bright enough to be used outside in the sun. The menus are intuitive and easy to access. The format allows you to view several menu items at once and navigate them quickly.
While it didn't exactly miss the mark, Insta360 could have done better with the screen. It has a round shape, which is aesthetically pleasing but limits the already small viewing area. Touch sensitivity is adequate, and you'll come to grips with the menu layout soon after you start using the camera. It's harder to make out what's on the screen, while its shape limits the menu structure and amount of displayed data at a given time.
Winner: GoPro Max 1 – 1
Stabilization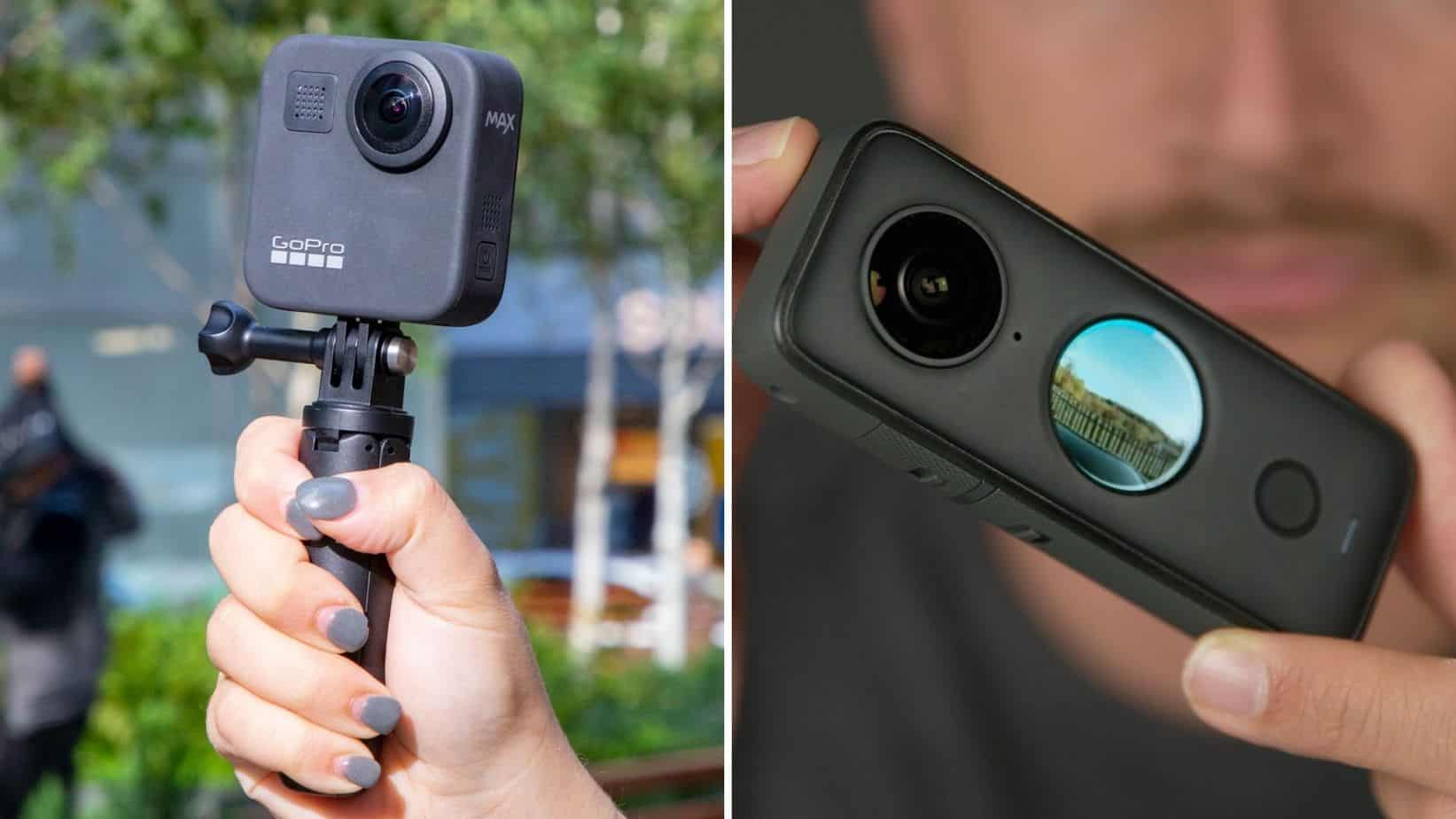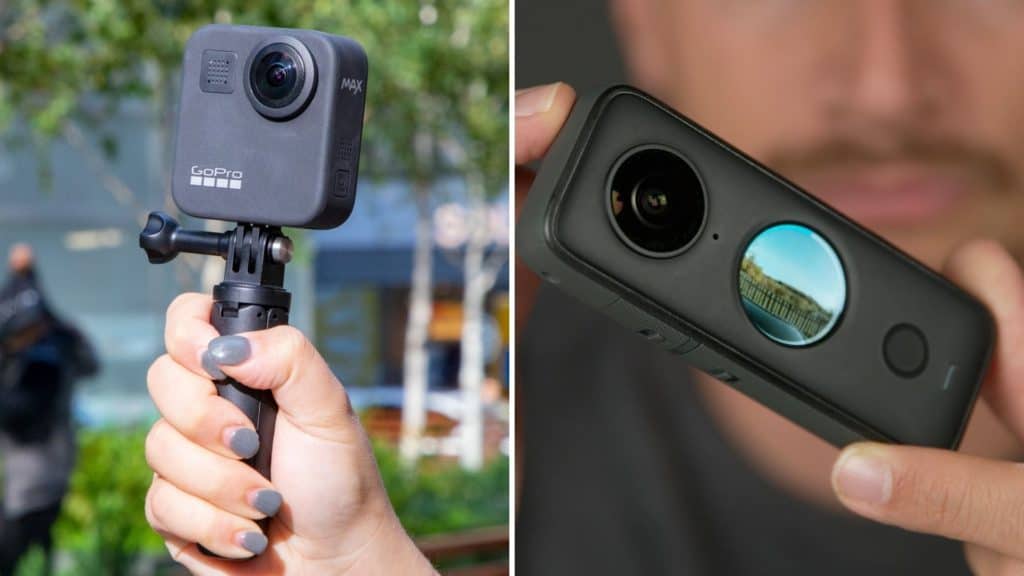 Buttery smooth footage is a must for enjoyable 360° videos, and we're glad that this particular Insta360 One X2 vs GoPro Max faceoff ends in a draw. One could argue that the feat is a bit more impressive on the Max since its stabilization is software-based through HyperSmooth. The One X2 has a built-in gyroscope that handles stabilization on a physical level. It occasionally needs calibration, but the process is quick and easy.
Expect to be able to run, go down stairs, or do anything else with either camera in hand and still end up with more than usable footage. Keep in mind that the Max needs a good light source to determine horizon levels and avoid judder, so using it in broad daylight will yield the best results.
Draw
Stitching
Seamless stitching adds a great deal to the illusion of a 360° recording. The One X2 has a physical advantage here since it is thinner, so the two lenses have greater overlap. GoPro's algorithms compensate for the greater divide admirably in most cases. Still, the One X2 is more reliable for consistently producing stitch-free photos and videos.
Winner: Insta360 One X2 2 – 1
Photo Quality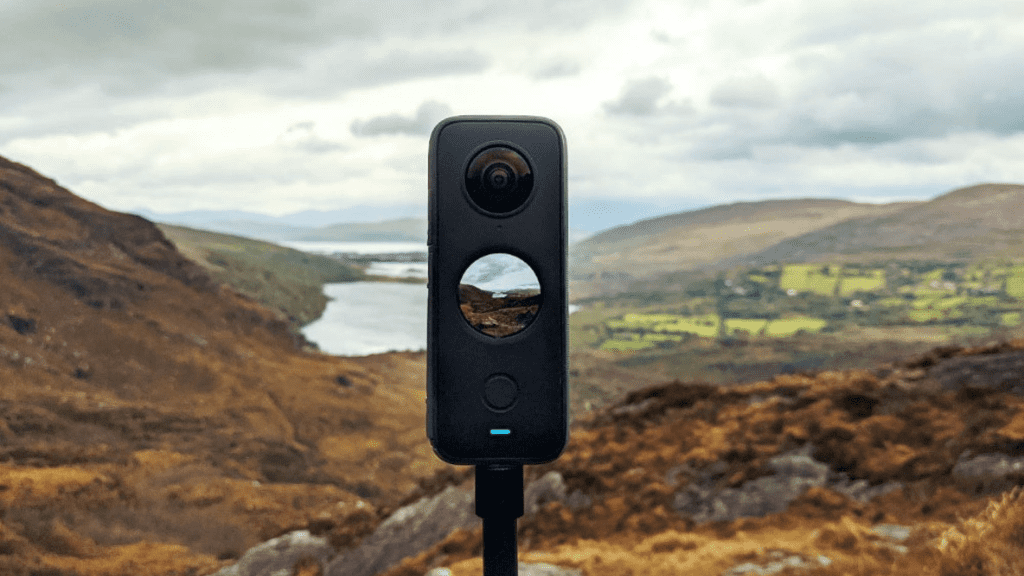 Snapping photos with action cameras is certainly possible, but the feature isn't high on the priorities list. At least for GoPro, making this one of the most lopsided categories in the Insta360 One X2 vs GoPro Max showdown.
Compared to the One X2, the Max's photo implementation seems like an afterthought. You get to take 18MP JPEGs covering either the entire 360 degrees or in panorama mode using one lens. The One X2 offers considerably more options. It has a burst mode, can use HDRI or PureShot to enhance contrast, and there's even a nighttime mode for better low-light pics. More importantly, it puts out 18.4MP RAW photos you may recover more details from in post.
Winner: Insta360 One X2 3 – 1
Video Quality – Resolution & Framerates
Now we're getting to the meat of our Insta360 One X2 vs GoPro Max discussion. Video quality is a multifaceted category, so we're breaking it down into more manageable chunks just like we did in our recent DJI vs GoPro article.
The highest resolution our contenders are capable of is practically identical since the 100-pixel difference doesn't matter. Setting the cameras to 5.6 / 5.7K caps the framerate to 30fps. That's also the only setting present on the GoPro Max.
Insta360's camera is capable of reproducing a cinematic feel with framerates of 24 and 25fps. Alternatively, you can drop the resolution down to 3K to bump the framerate up to 100fps. This makes for cool-looking if blurry 360° slow-motion videos.
Winner: Insta360 One X2 4 – 1
Video Quality – Colors, Look, & Use under Good Conditions
The differences between the two cameras in day-to-day operation are slight. Which one to choose will depend on your personal preferences and the type of content you'll produce the most. Expect both cameras to create vivid footage when used out in the open with plenty of light.
That being said, several factors could sway you to choose one camera over another. For example, the GoPro Max has a slightly warmer color palette representing actual colors more closely. Videos also look sharper and retain details better in twilight.
The One X2 has an HDR mode that retains more visual information in light and dark areas alike. Expect fewer blown-out skies and more discernible details in shadowy areas as a result. Advanced users will appreciate the presence of LOG mode. Switching to it produces video with seemingly muted colors. However, LOG makes it possible to bring out more color information in post-processing, letting you achieve a more specific tone.
Draw
Video Quality – Low-light Performance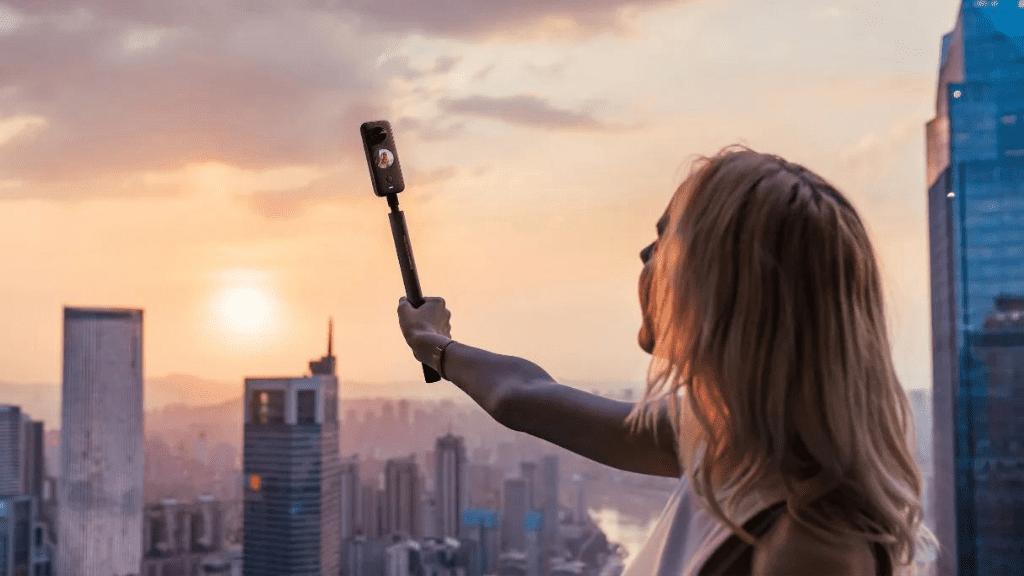 Small lenses and even tinier sensors mean 360° action cams are ill-suited for low-light work. Pitch-black conditions will be too much for either of our contenders to handle. Still, it's possible to get usable indoor and nighttime cityscape footage if you need some for B-roll.
This aspect of the Insta360 One X2 vs GoPro Max comparison presents yet another dilemma. Insta360's camera takes better advantage of low light. Videos shot in challenging conditions are brighter, and it's possible to make out more details. However, low light has a negative impact on overall quality and sharpness.
The Max has darker blacks by default and is susceptible to loss of color nuance even when there's still light to work with, like during golden hour. Lowering light levels further doesn't reduce quality in the visible areas. It does introduce more uniformly dark areas, though. The choice is between clarity & fidelity, and it is a difficult one.
Draw
Video Quality – Single-lens Mode
Sometimes you'll want to drop out of 360° mode and use your device as an old-fashioned action cam. Old-fashioned is the word to focus on since both cameras have limited resolutions in their respective single-lens modes. You'll have to go all the way down to 1080p if you want to retain a 16:9 ratio. Doing so raises the framerate to 60fps, though. Either camera may also record in 1440p. The drawback is that this switches them to 4:3 and introduces black bars on the sides.
The One X2 has a slight advantage since it includes a picture-in-picture mode. Turning PiP on will cover a small part of the screen with an overlay showing a feed from the opposite lens. It's a feature some vloggers might find useful but situational enough not to sway our verdict.
Draw
Audio Quality
Sound quality isn't a top priority for 360° cameras, but it may matter for vloggers without other recording sources. The GoPro Max has six microphones positioned all around its body, while the One X2 makes do with four.
The One X2's microphones are louder and better able to pick out speech when there are lots of sounds around you. They're also tinny and prone to wind noise. More microphones mean the Max can record sound coming from different directions with added precision. Their sound is clearer, and a dedicated wind reduction mode cuts down on unnecessary background noise.
Winner: GoPro Max 4 – 2
App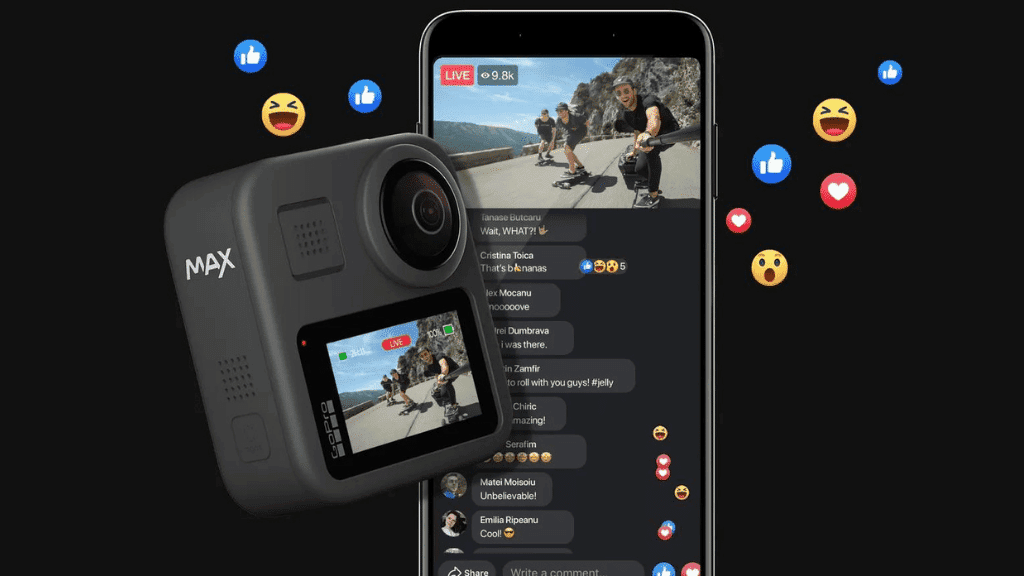 Surprisingly, app design and usability is the Insta360 One X2 vs GoPro Max category that showcases the most significant difference between the two. Other than their appearance and handling, that is. Each app caters to a different kind of user, so you can choose between no fuss, quick editing with GoPro, and much more creative freedom allotted by Insta360. We're calling it a draw, but both cameras deserve a point for this category due to their different approaches.
Simplicity is the GoPro app's main draw. It starts you off with an annoying step, though, as you're asked to download each clip you want to edit onto the app. That can take a while for long videos, so focusing on highlights might be better to save time. You can edit downloaded footage into engaging videos by setting up keyframes for the camera to focus on at a given time. You may also add intros or text and create a story from key moments to share online.
The Insta360 app allows you to work with files without transferring them. It's more complex to get into than GoPro's app. On the other hand, it offers much more in the way of editing possibilities. Shot Lab is a stand-out feature that provides a dozen effects and helps you pull them off with precision. For example, Clone Trail shoots a clip where the camera follows you around & creates clones every few steps. Fly Lapse speeds the video up and shifts the focus from one side to the other, offering an illusion of flight.
There's even an automatic tracking function. It has you designate an area around a person or object you wish to keep in focus, and the video editor will do its best to oblige. Most features present in the app are involved and require you to take specific measures for the videos to work out as intended. You may need to extend the selfie stick a certain amount or be asked to record for a fixed time. That, and the powerful mobile hardware required for the app to run correctly, might be a turn-off for some.
Draw 5 – 3 (due to different use cases)
Battery Life
The differences in battery power and longevity are minimal. You'll get close to an hour and a half out of the One X2's 1,640mAh cell, while the Max's marginally smaller battery manages ten minutes less. The difference shouldn't matter much if you mainly shoot clips lasting a few minutes each. A full day of filming with either camera calls for spares.
Replacing the batteries is straightforward, or you can charge either on the fly via a powerbank. Keep in mind that neither camera will work while charging as that would cause overheating. Plan recharge times accordingly because of this.
Draw
Accessories
The availability and diversity of accessories show how much a company cares for its product's long-term support. GoPro has a more established accessory line that overlaps with its other action cameras. On the other hand, Insta360 focuses solely on providing enhancements that expand the One X2's capabilities. Because of that, it deserves this point more.
GoPro's Max-specific offerings are meager. You may purchase single extra batteries or a handy two-battery charger. Lens caps and protective guards are also on offer. The Max's pop-out feet are compatible with GoPro's diverse range of tripods and mounts as well.
Insta360 offers most of these and then some, though. We were particularly impressed by three useful extras.
The Mic Adapter corrects one of the camera's shortcomings by introducing a 3.5mm jack for external microphone input. Quick Reader adds an easily removable SD card input that connects to the One X2 via USB-C. It also has a Lightning port, so transferring data to an iPhone is equally straightforward. Finally, the Dive Case enhances the camera's underwater capabilities. Equipping the case increases the One X2 's waterproofing level to a respectable 45 meters.
Winner: Insta360 One X2 6 – 3
Pricing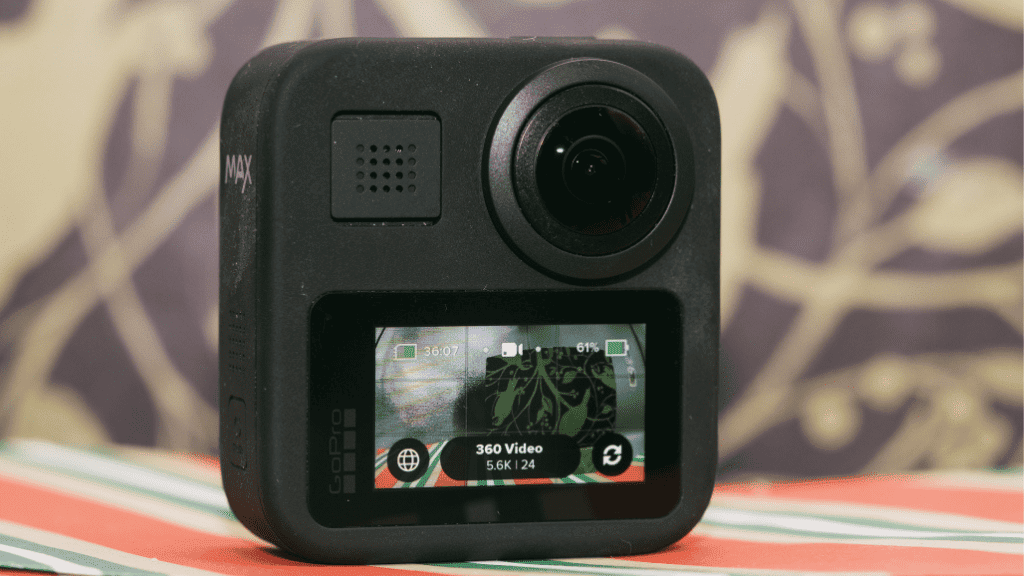 How much are you willing to pay, or even continue to pay, for a 360° action camera? That's the final question, and an important one when considering every aspect of the Insta360 One X2 vs GoPro Max debate. Things seem straightforward on the surface. You can get the One X2 for around $400 when discounted, while the Max costs $100 more.
However, GoPro offers subscription benefits that are hard to ignore. Becoming a subscriber has several advantages, $100 off the Max's price being the most immediate. The subscription costs half that, bringing your actual savings to $50. Each year, you get a 50% discount on several accessories for any GoPro on top of that. Taking advantage of this may amount to another $50 – $100 saved if you need more batteries, mounts, etc. You also gain unlimited storage space on GoPro's cloud servers, which is useful for having global access to all of your cherished memories.
Winner: GoPro Max 6 – 4
Conclusion
Here's a helpful summary of each camera's strengths. It's also worth noting that five out of fourteen categories resulted in a draw, signifying a considerable overlap and a high standard both manufacturers realized.
Insta360 One X2 (6 points)
GoPro Max (4 points)
– Better ergonomics & handling
– Seamless stitching
– Excellent photo quality
– More resolution & framerate options
– App has outstanding depth and breadth of editing options
– More meaningful accessories
– Larger screen & better onboard navigation
– Superior sound quality
– User-friendly app that produces quick results
– Better value for the money if you become a subscriber
The Insta360 One X2 wins in the end. However, the Max's lower score shouldn't dissuade you from choosing it instead. Do you care about photo quality on an action camera? How about the audio quality if all you plan to do is record yourself barreling down mountainsides on a snowboard? Most bouts in the video quality categories ended up in a draw, so going with the underdog is just as viable.
Let's not sell our winner short, though! Achieving a draw in several key areas is beneficial for Insta360's camera too. It means that the raw video footage will likely turn out great, leaving you to edit to your heart's content using the sophisticated app. Let's not forget the superior photo quality or an abundance of video modes & options either. There are no wrong choices in the Insta360 One X2 vs GoPro Max debate. We're glad that most of the differences boil down to user preference since you can choose the camera that fits your needs better without fear of missing out