Do you like to document your journey through life's wonders? Are you constantly on the move, looking for the next jaw-dropping discovery to share with the world at large? If so, it seems you need a camera that can keep up! DJI and GoPro each have strong contenders, and they don't cater to the same audience even if they chronicle one's wanderlust beautifully. We've put together this detailed DJI Pocket 2 Vs GoPro Hero 10 comparison to help you choose more wisely.
DJI Pocket 2 Vs GoPro Hero 10 at a Glance
The stats point to two capable cameras with the latest in vlogging & action cam innovation. They tell only a tiny part of the story, so dive deeper into their performance by exploring each of our many categories.
Design & Handling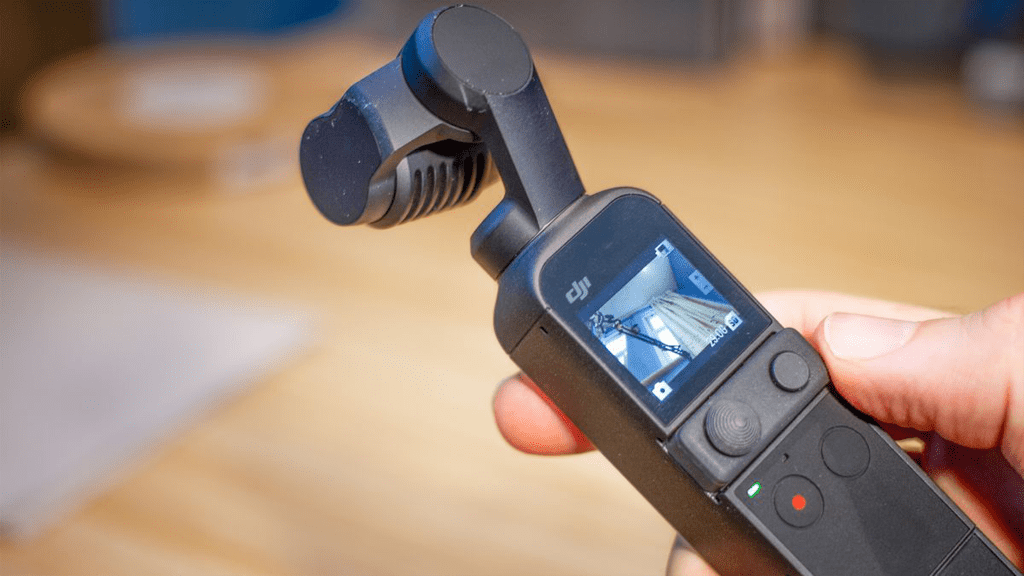 Even though their use cases overlap, it's clear that the two cameras differ as soon as you look at them side by side. The Pocket 2 has a wand-like shape perfect for holding in the hand and walking around without getting uncomfortable quickly. It has easy to reach buttons on the front and side, and you can conveniently set the gimbal to point either forward or backward at startup.
There's also an area in the middle that accepts interchangeable parts. Here you can attach the joystick controller or hook up your smartphone for a better overview and more in-depth controls. The Pocket 2 isn't a conventional action camera, and as such, it doesn't have a rugged body or waterproofing. An exposed SD card slot is our biggest gripe with the design as it forces you to be extra careful in avoiding moisture.
The Hero 10 has no such problems. It looks the same as the Hero 9, with a blue logo on the bottom as the main difference. It's made from rugged plastic built to resist scratches and survive tumbles. The camera is waterproof without a housing down to 10m. The lens now has a hydrophobic coating that wicks away droplets and lets you get clean footage as soon as the GoPro surfaces.
A secure latch protects the Hero 10's innards. Opening it exposes the SD card slot and a USB-C port. You can now use the latter not only for charging but also for wired file transfers.
Winner GoPro Hero 10 0 – 1
Screen & User Interface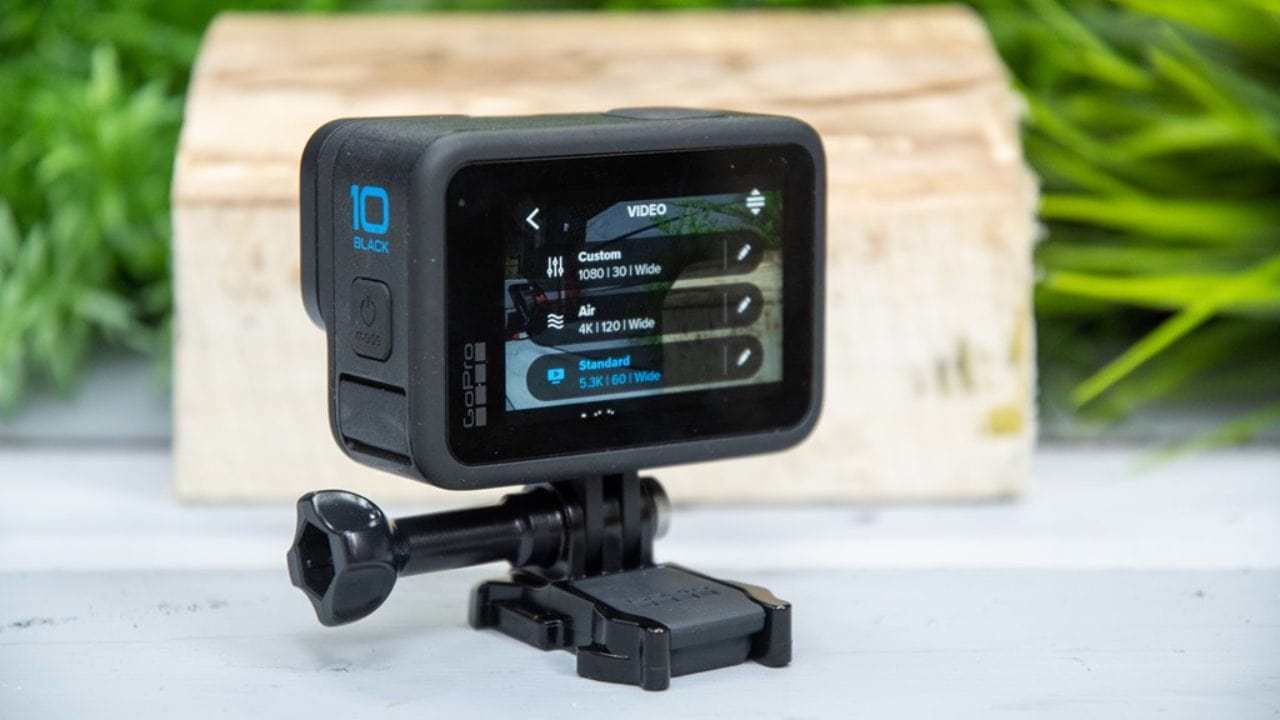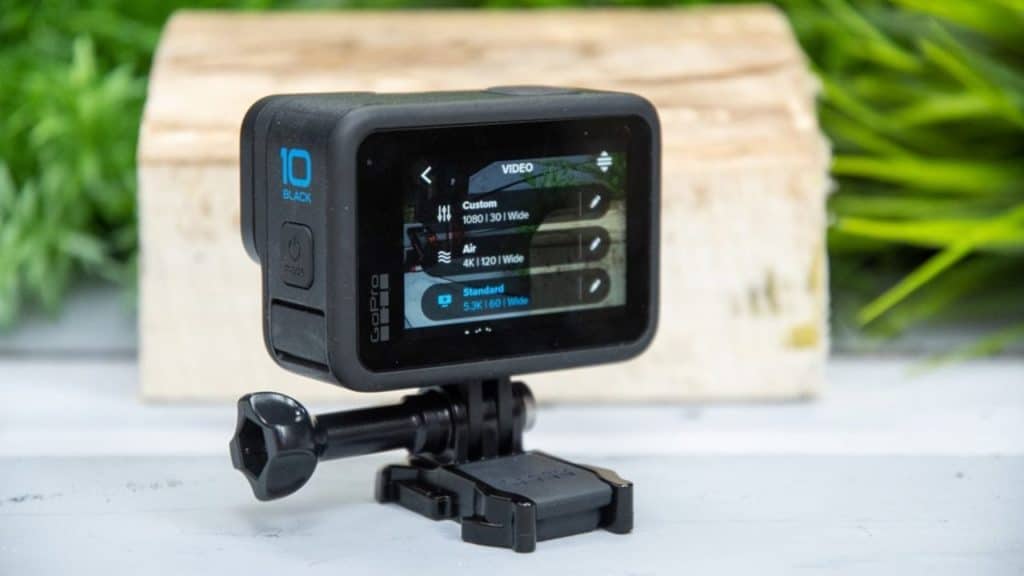 Both cameras allow you to see what you're filming, but the Hero 10 does it significantly better. It comes with two screens, a 1.4-inch one in the front and the main 2.27-inch one in the back. It's possible to have them on at the same time. They're bright enough to be used in direct sunlight without issue, and viewing angles are also excellent.
Sluggishness in menu navigation was one of the Hero 9's few serious flaws. Thankfully, the new CR2 chip fixes this and makes for buttery smooth navigation. The menus spring into action & navigating them feels natural. Voice commands make a comeback to the delight of everyone who can't be bothered to fiddle with touch commands while surfing or kayaking.
The Pocket 2 is at an inherent disadvantage in this category due to its single small screen. A diagonal of just 1.08 inches means you'll have to squint to see even mid-sized objects. On the other hand, the screen is bright enough, and touch responsiveness is great whether you're choosing focus points or navigating the menus.
We have no complaints about the menu system other than it's another aspect of use hindered by screen size. You'll have to navigate menus one item at a time and have to rely on basic info when not using the Mimo app.
Winner GoPro Hero 10 0 – 2
Stabilization
No DJI Pocket 2 Vs GoPro Hero 10 showdown would be complete without an overview of the image stabilization options at your disposal. We're happy to report that it's a close call as both devices perform splendidly for their intended purpose.
The Hero 10 is still software-based and uses the fourth version of HyperSmooth. It's an iterative upgrade over HyperSmooth 3.0, but we're OK with that since there was barely anything left to improve. Its main strength is providing noticeable stabilization without compromising the camera's physical integrity. Turning HyperSmooth on eliminates annoying bobbing movements and leads to a much smoother picture in dynamically changing circumstances with a negligible impact on image quality.
Expanded horizon leveling is the most significant improvement the Hero 10 received in stabilization. The angle went up from 27° to 45°, allowing you to keep the horizon straight with less attention needed to steady the camera. Low light is still a limiting factor as it has a negative impact on HyperSmooth's responsiveness.
Nothing beats the Pocket's physical 3-axis gimbal, though. Unlike action cameras that usually have only one tracking mode, the Pocket 2 has four. You may choose to follow a subject by keeping the horizon level while panning & tilting or just panning. A firmware update added the option to lock the camera in its current position, effectively turning the gimbal into a gyroscope.
The gimbal system is fantastic for smoothly tracking a subject's face. Vloggers holding the Pocket 2 at arm's length will always be the center of attention. The tracking capabilities get less reliable while controlling the Pocket 2 remotely, but that's not its primary use anyway.
Winner: DJI Pocket 2 1 – 2
Photo quality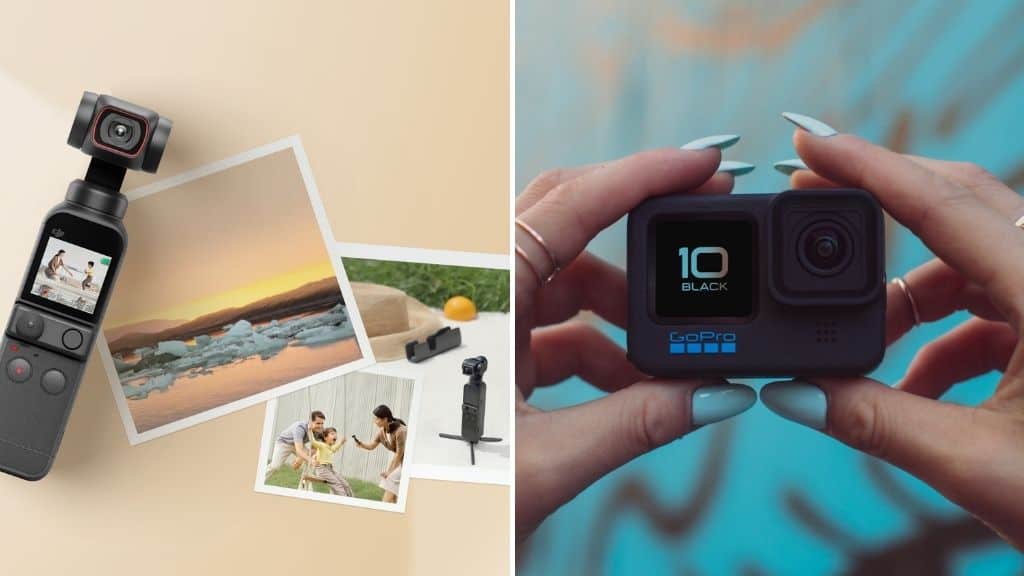 The ability to shoot stills became an afterthought once action cameras switched to recording video. Luckily, this is no longer the case, so we're happy to include photo quality as a legitimate category in a DJI Pocket 2 Vs GoPro Hero 10 debate.
DJI's camera has a 1/1.7-inch sensor, which is considerably larger than the 1/2.3-inch sensor the Hero 10 inherited from its predecessor. The Pocket 2 has a maximum image size of 64MP if you use the dedicated photo mode and shoot in RAW DNG. Regular screen grabs are binned to 16MP but retain accurate colors and a good amount of detail.
Both cameras have a panorama mode, but the Pocket 2 also has a mode where it stitches nine photos together in a 3×3 grid.
The Hero 10's smaller sensor poses limitations both on output and quality. It's possible to grab 5.3K and 4K stills with resolutions of 19.6MP and 15.8MP, respectively. GoPro added a photo mode of its own that bumps the max resolution to 23MP.
Winner: DJI Pocket 2 2 – 2
Video quality – Resolution & Framerates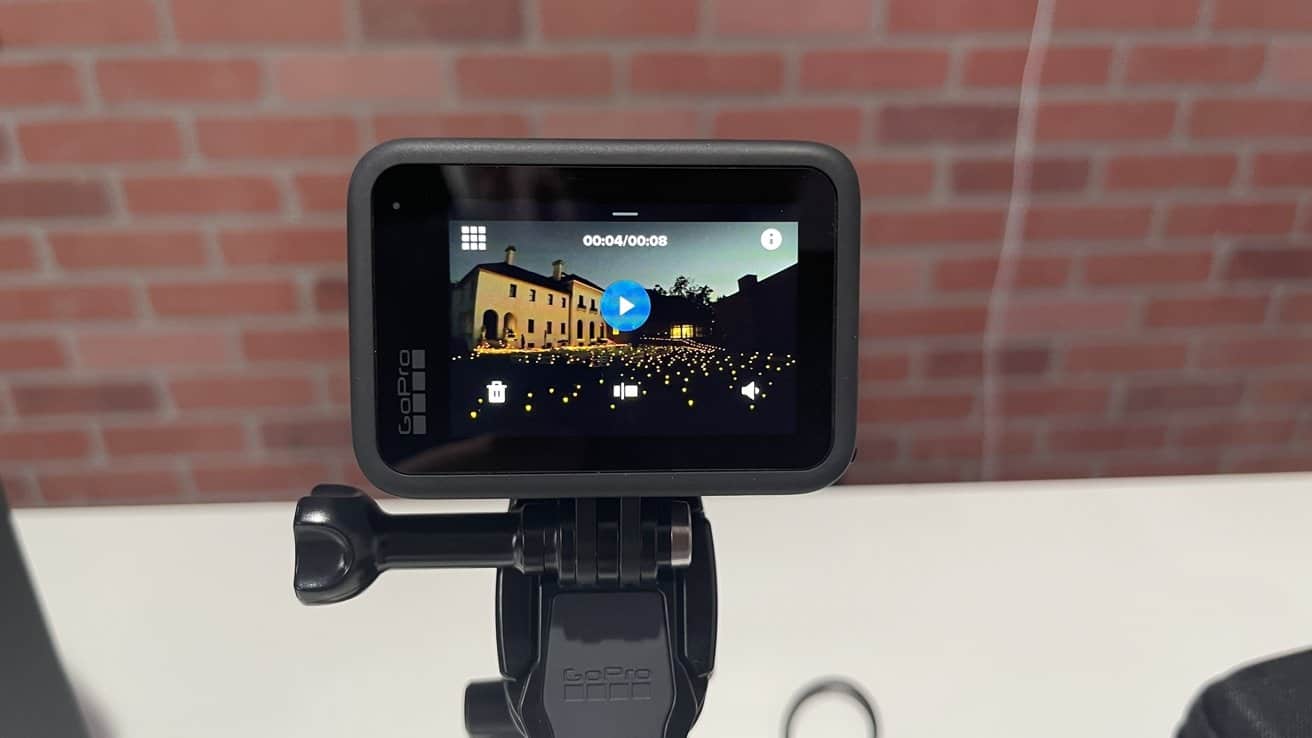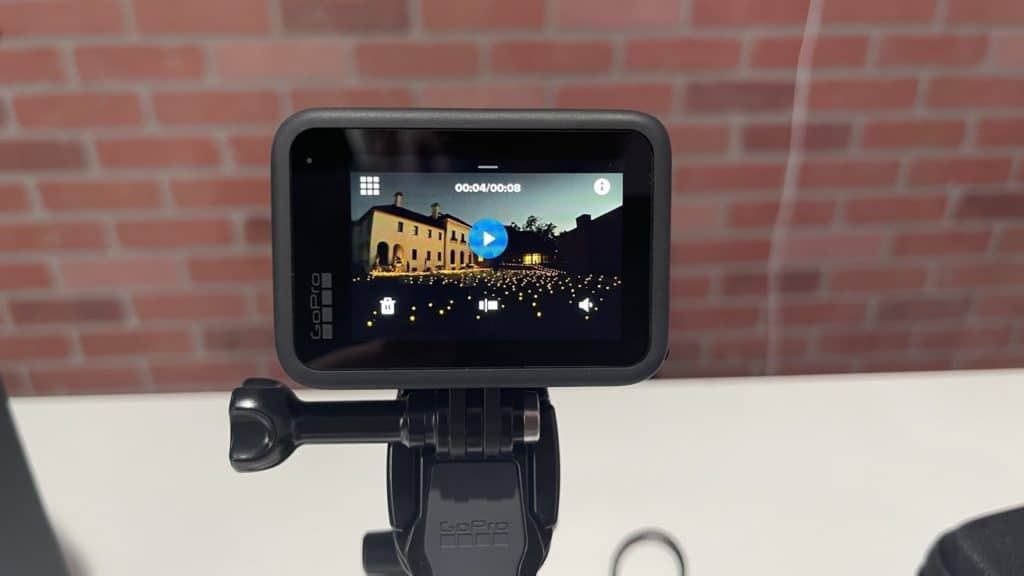 Video quality is the main event in any DJI Pocket 2 Vs GoPro Hero 10 bout, so we're breaking it down into several segments.
To no one's surprise, the Hero 10 wins the resolution & framerates sub-category. It's all thanks to CR2, the second version of the impressive chip that allowed the Hero 6 to reach the then-unprecedented 4K at 60fps. You may now capture videos at the same framerate but in 5.3K while also benefitting from considerable operation speedups. Moreover, the Hero 10 can put out 4K footage at 120fps as well as 2.7k at 240fps, making for some of the sharpest slow-motion video around.
The Pocket's 4K 60fps seems dated by comparison, but raw numbers won't hold equal weight for everyone.
Winner GoPro Hero 102 – 3
Video Quality – Colors & Overall Look
Here's another category that showcases the cameras' different use cases despite the overall quality being great on both.
The Hero 10 is an action camera that compensates for a small sensor size with added sharpness afforded by its greater resolution. GoPro nailed the tone as footage looks vibrant without being garish. Equal attention has been given to maintaining color balance and presenting the entire color spectrum in a tastefully enhanced manner. Expect everything from lush forests to windswept dunes to look just a bit better than in real life while maintaining credibility.
Conversely, the Pocket 2's default profile is all about casting you in a favorable light. On the one hand, the surroundings are a bit more muted and have a natural tone. On the other, skin tones get a slight boost for a more flattering image. This persists whatever the lighting conditions, so no need to worry that blown-out skies or dim lighting will ruin our complexion.
Both cameras have useful cinematic presets that let you shoot videos that retain more info on color & shadows. The raw results look dull, but you can use them as a basis for color grading, making the processed video look better than the default.
Draw
Video Quality – Low-light performance & Dynamic Range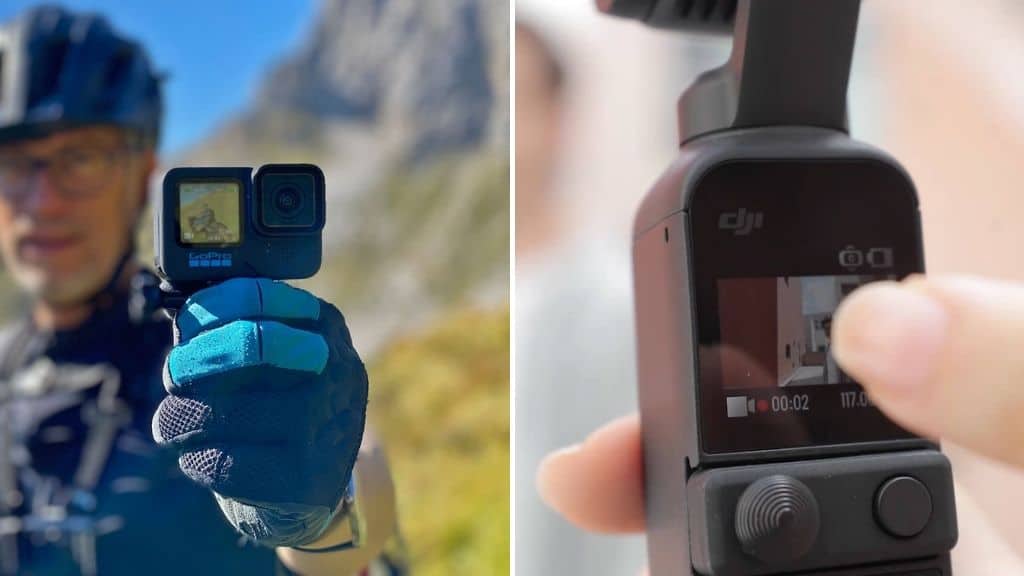 Compact cameras struggle with challenging lighting conditions more than others. Not even several generations of updates have eliminated this. Both companies have made great strides towards improvement, but the Pocket 2 remains the best in class.
Kudos to GoPro for addressing another of the Hero 9's faults – poor low-light performance. The struggle was particularly evident during sunset scenes, where both the captured light level and colors were poor. Its successor fares much better, producing brighter and more saturated video under the same conditions.
That's still not enough to match the Pocket 2's low-light chops, though. It retains much more nuanced color detail in cloudy or sunset conditions. The wider f/1.8 aperture and larger sensor help immensely, resulting in much lighter footage that's easier and more pleasant to look at.
All that being said, don't expect miracles from either camera. Vlogging with a strong backlight will wash the sky out considerably, especially on the Pocket 2. High-contrast scenarios lead to detail loss in blacks and whites alike, and you'll need to accept some noise if you wish to brighten the video by upping the ISO. A slightly wider dynamic range gives the Hero 10 the upper hand, resulting in another draw. The Pocket 2 received an update that added HDRI shortly after release, but it did little to improve picture quality.
Draw
Video Quality – Autofocus
Hands down, DJI wins this part of the DJI Pocket 2 Vs GoPro Hero 10 match. The Hero 10's small sensor and narrow max aperture bring the entire scene into focus equally. There's no chance of your face or the surroundings being out of focus, but your artistic expression is curtailed as well.
An aperture of f/1.8 is still wide enough on a lens like the Pocket's to allow for some depth of field effects. Don't hope for creamy bokeh, but you can achieve a pleasant blur that puts the subject into focus even more. Speaking of focus, the Pocket's autofocus tracking is excellent.
Winner: DJI Pocket 2 3 – 3
Audio Quality
GoPro cameras have received incremental audio updates over the past several versions, and the trend continues for the Hero 10. It has three internal microphones and can successfully reduce wind or background noise if you enable the appropriate setting.
The first Pocket's audio was tinny and mediocre. DJI recognized the fault and drastically improved the quality. There are now four microphones at your disposal, and the sound clarity you can achieve even under difficult conditions is excellent. Investing in the Creator Combo kit nets you a wireless mic with a deadcat and a stand with a 3.5mm jack for external microphones, further improving the camera's audio potential.
Winner: DJI Pocket 2 4 – 3
App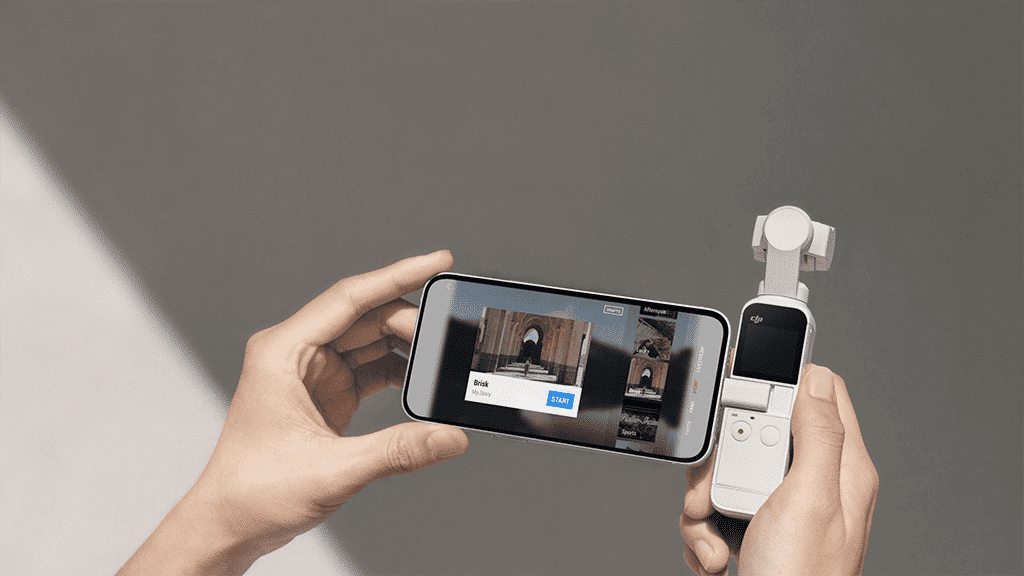 There's no need to transfer your photos & videos to PC or Mac since both cameras come with comprehensive mobile apps. The DJI Mimo app offers more sophisticated editing & a community aspect. Still, Quik feels more intuitive and makes it easier to live stream to sites like YouTube. One might be more important than the other to you, so both cameras deserve equal recognition.
The Mimo app works best when you pair your smartphone through the adapter. It will automatically enter an enlarged screen with options tucked away on either side to change framerates, screen modes, and other recording options. The larger screen significantly improves the experience since you can use the virtual joystick to precisely designate focus points.
There's also a community aspect to the app, letting you share and critique videos as well as take inspiration from others' creations.
As the name suggests, Quik is all about organizing, editing, and sharing your adventures with little effort. The interface is simple to use and makes basic operations like trimming or on-the-fly playback speed changes as easy as they should be. You also have access to intros, music tracks, and lots of effects that help each of your videos become more memorable.
Draw
Battery
Battery life for cameras like these was always a sore spot, and the new generation doesn't do much to address it. The Hero 10 has the same 1,720mAh removable battery as its predecessor. It's bound to run out sooner due to the improvements in the 10's capabilities and resolutions, though. Think around 65-75 minutes when shooting at maxed settings.
The Pocket 2's smaller screen and comparative resolution limitations place less stress on its smaller 875mAh battery. You can shoot for 90 minutes or more at 4K, provided you switch the framerate to 30 or 25fps. The battery isn't removable, which means you're stuck lugging around a power bank if you're going to film for an extended period.
Draw
Heat Generation
Asking such tiny cameras to crank out footage in 4K or more is bound to create heat in the process. The Pocket 2 handles it better, partly because of its larger surface area and partly due to being capped at 4K 60fps. Shooting at max settings causes the Hero 10 to get uncomfortably hot after about 20 minutes. While it's true that most users will limit themselves to much shorter bursts, it's still a potential issue to keep in mind.
Winner: DJI Pocket 2 5 – 3
Pricing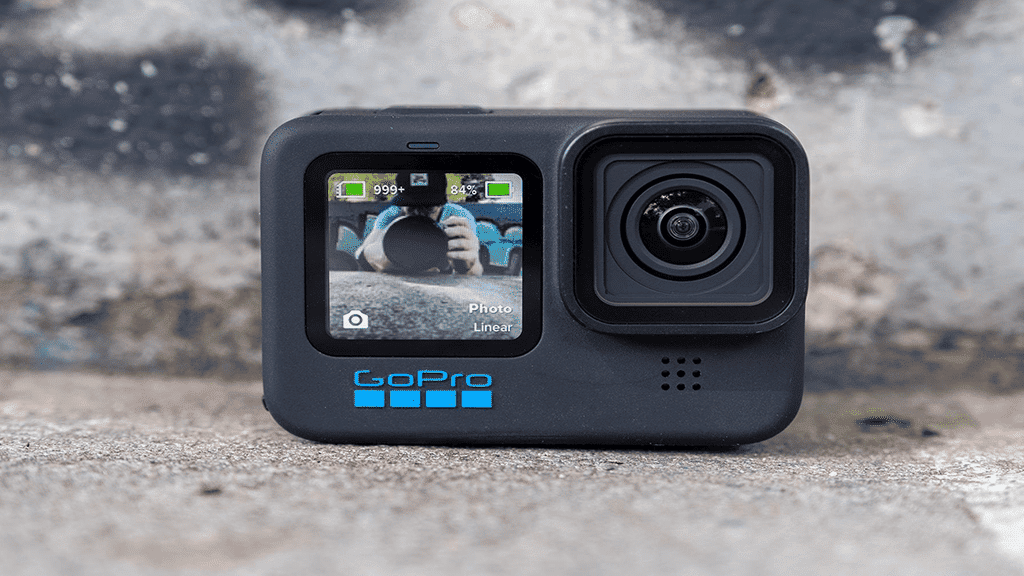 Like many previous aspects of our DJI Pocket 2 vs GoPro Hero 10 showdown, the pricing isn't as clear-cut as it might appear. You can get DJI's camera for a flat $349 if you don't opt for the Creator Combo kit. The Hero 10's street price is $100 more. You'd think that would settle the score in DJI's favor, but there's still GoPro's subscription plan to consider.
Becoming a subscriber costs $50/year and comes with considerable perks if you're willing to invest in the Hero ecosystem further. You can get the Hero 10 itself for $100 less, for starters. Additionally, you get hefty discounts on accessories. Some premium features inside the Quik app require a subscription, as does live streaming using GoPro's own services. Finally, a subscription entitles you to unlimited cloud storage. That can be extremely useful if you're obsessed with documenting every aspect of your life with your trusty action camera.
Draw
Accessories
You don't need accessories to comfortably and effectively use either camera. That being said, both companies made an effort to offer meaningful upgrades if you're willing to spend extra.
DJI has introduced a single yet comprehensive Creator Combo kit in keeping with the Pocket's run and gun application. It augments the already decent audio by including a wireless mic and deadcat so you can record voices even in windy conditions. A wide-angle lens increases the field of view at the cost of a bit of sharpness. You also get a lanyard, a handle complete with a mic jack, a tripod, and the corresponding mount. Expect to pay around $150 for the kit, but we feel it's well worth it.
GoPro has a more modular approach, offering kits or mods that cater to specific scenarios. The Media Mod focuses on improved vlogging quality by adding an external foam-protected microphone, HDMI output for real-time monitoring, and several cold shoe mounts for accessories. Other mods are less comprehensive but equally useful. One increases the lens's FOV to 155°, while others add a larger flip-up screen or powerful LED lighting. The mods range in price from $50 to $100.
Both options are excellent. However, GoPro impressed us slightly more since their approach allows you to customize your camera with greater precision for less money.
Winner GoPro Hero 10 5 – 4
Conclusion
Here's how our two contenders stack up at a glance. Keep in mind that this is just an overview of what each does better and that they're tied in several categories:
DJI Pocket 2 (5 points)
GoPro Hero 10 (4 points)
– Superior hardware stabilization
– Excellent photo quality
– Best-in-class low-light performance and autofocus
– Outstanding audio quality
– Runs cool even after prolonged use
– Rugged design & waterproofing
– Easy to use without a smartphone
– Sharp and vibrant video
– Modular approach to accessories
Vloggers will adore the Pocket 2 since it's tailor-made with them in mind. Taking to the streets & basking in the sights while engaging with your audience has never been this easy or looked this good. The device makes it easy to focus on your brand & story without worrying that you won't be heard because of a gust of wind or that people will get motion sickness by watching your content.
You can technically do all of that with the Hero 10, but it's much more at home strapped to a helmet or snowboard. The GoPro makes your point of view an integral part of the action, delivering a vibrant personal experience your audience can immerse themselves in. Ten generations later, it's still the go-to camera for recording unique, thrilling experiences you'd have a hard time capturing with conventional devices.
The cameras we pitted against each other have many similarities and are bound to attract overlapping sets of people. Even so, a DJI Pocket 2 Vs GoPro Hero 10 faceoff isn't exactly fair. It's like comparing apples to pears. The cameras are outwardly similar yet have enough unique features to cater to different niches. That's why you should take the Pocket 2's photo-finish lead with a grain of salt & can pick the Hero 10 over it without hesitation if it jives better with your personality & use case.