Specs:

Max Resolution: 6k @ 30fps
Battery life: 75 Min
Photo: 21 MP

Specs:

Max Resolution: 5.7k @ 30fps
Battery life: 80 Min
Photo: 72 MP

Specs:

Max Resolution: 5.7k @ 30fps
Battery life: 75 Min
Photo: 18 MP

Specs:

Max Resolution: 5.6k @ 30fps
Battery life: 70 Min
Photo: 18 MP

Specs:

Max Resolution: 8k @ 30fps
Battery life: 40 Min
Photo: 29 MP

Specs:

Max Resolution: 4k @ 30fps
Battery life: 60 Min
Photo: 26 MP

Specs:

Max Resolution: N/A
Battery life: 200 Min
Photo: 32 MP
Are you tired of the same ol' flat perspective in all your photos & videos? Then you're sure to get a kick out of 360 cameras! They use footage from multiple sources to produce a seamless 3D environment you can move around in real-time and not miss a single thing. Quite a few have shown up in recent years, so finding the best 360 camera might not be straightforward.
Have no fear, as our in-depth 360 degree camera guide goes over the best new picks and offers practical advice on choosing one you'll benefit from the most. We cover everything from entry-level models made for creating virtual tours to four-digit prosumer powerhouses. Find your perfect match & start putting a whole new perspective on your favorite memories.
Insta360 One RS 1-inch 360 Edition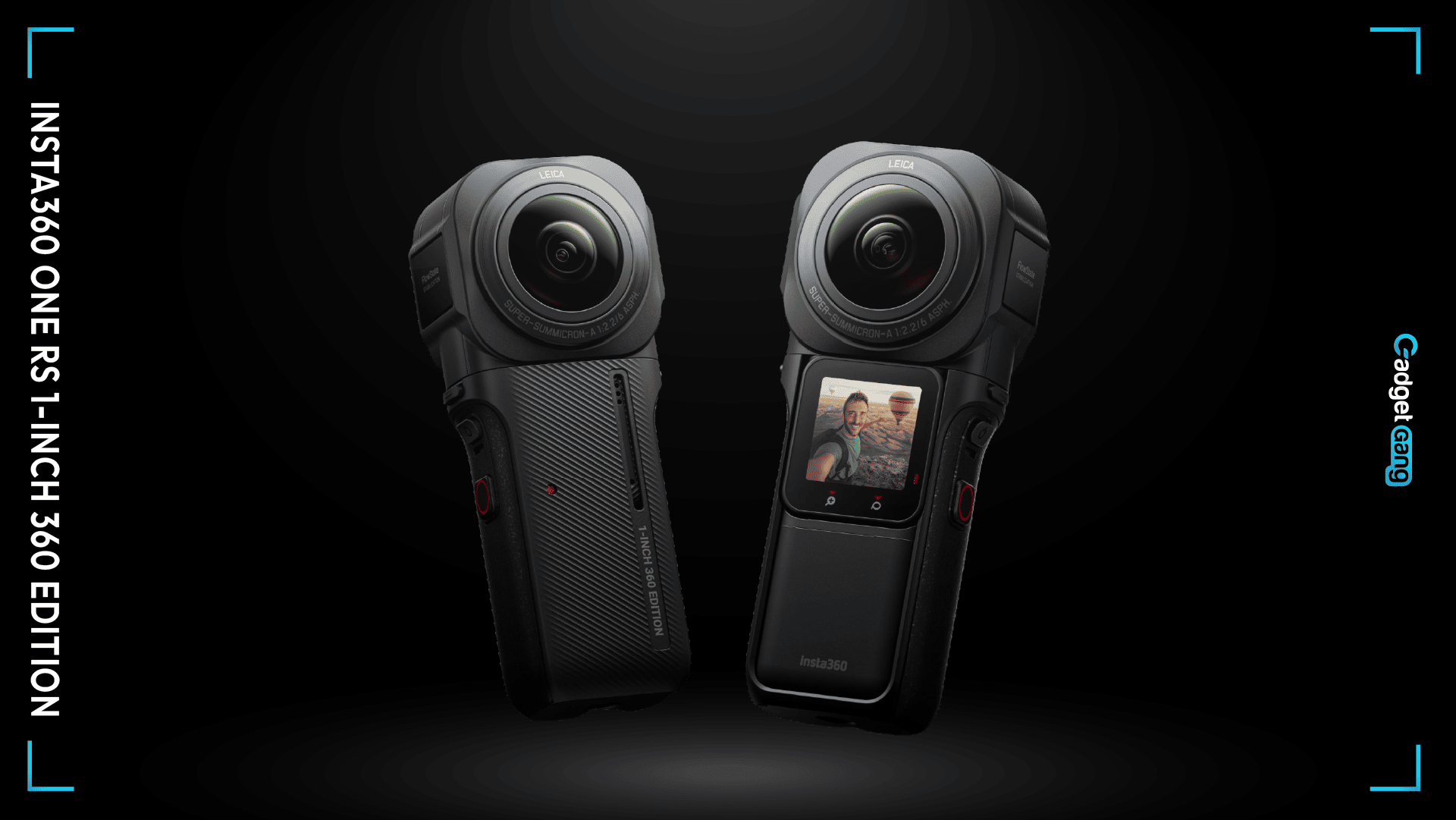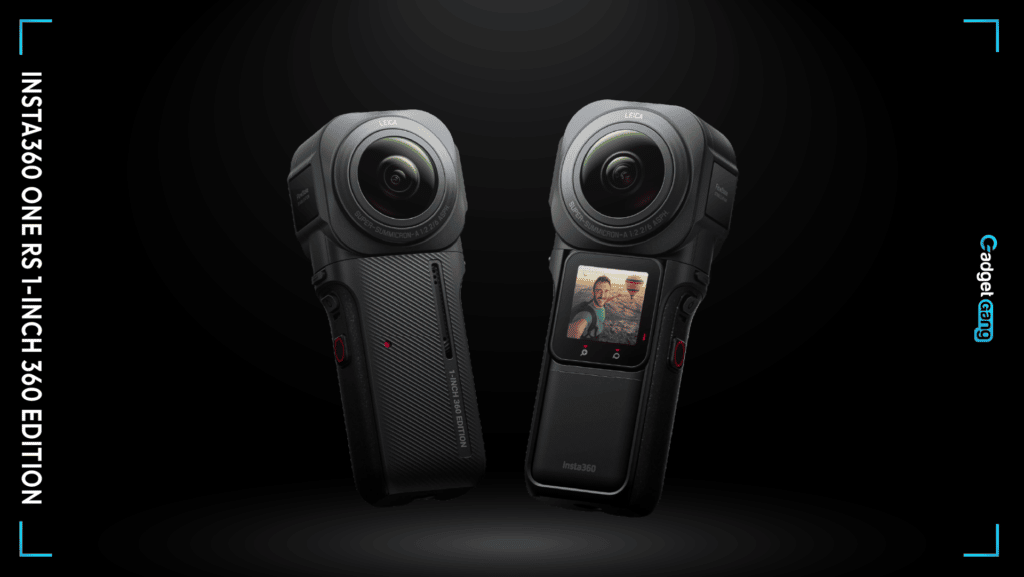 Insta360 ONE RS
Max video resolution & framerate: 6K, 30fps | Stills resolution: 21MP | Storage: SD card | Battery life: 75 min | Waterproof: No, water resistant
Pros:
Bigger sensors noticeably improve picture quality

Modular design with lots of useful accessories

Comprehensive companion app
Cons:
Not suitable for slow-motion video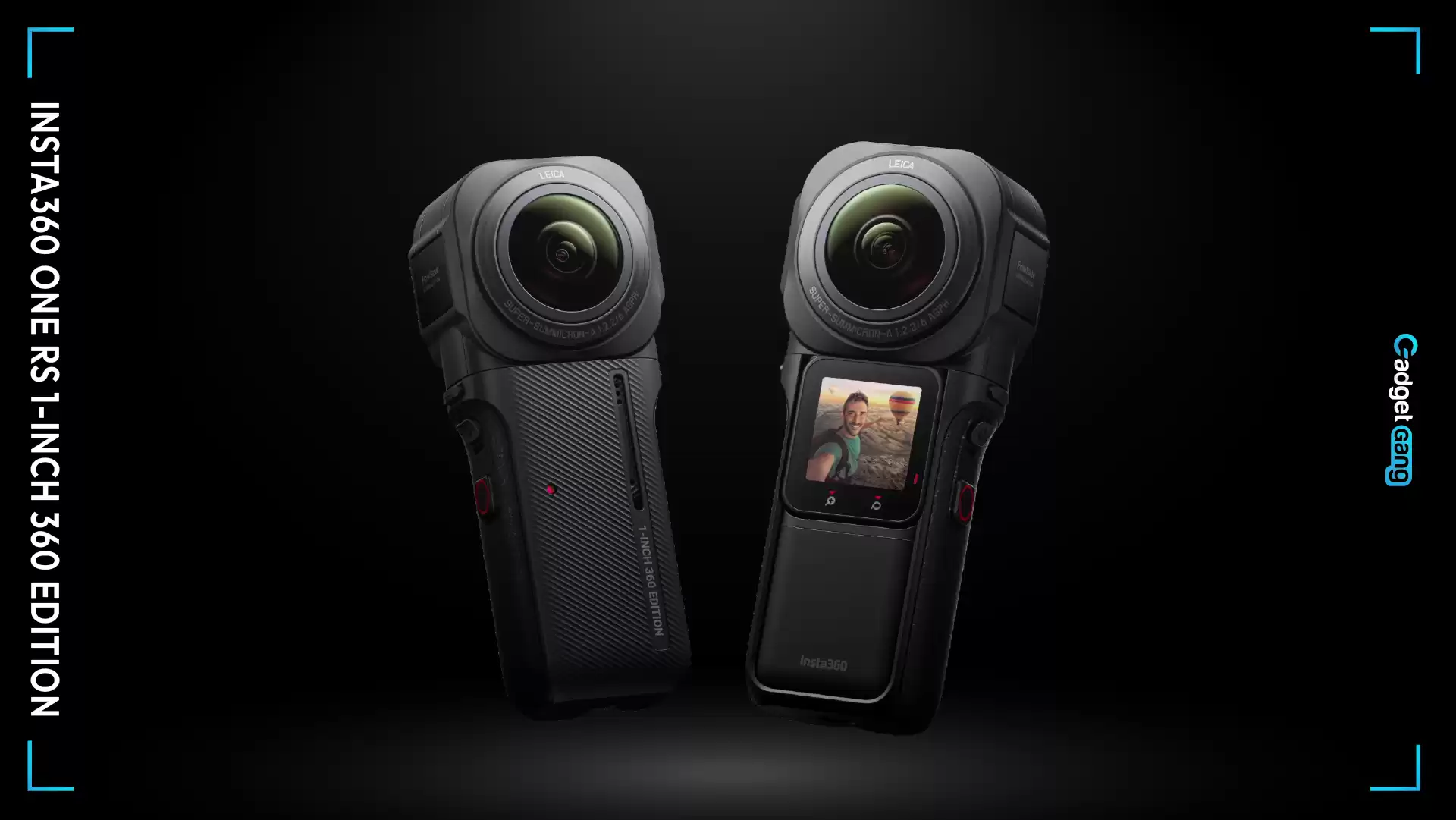 Insta360's original One RS was an intriguing camera in that it was the first in the 360 camera space that introduced modularity. The 1-inch edition builds upon that, adding a much-appreciated lens upgrade over the One X2. It's a noticeable step up in quality, has excellent low-light performance, and even costs less than the prosumer competition.
Owners of the One RS will spot a familiar sight at the 1-inch's center – the Core module. That is where the on/off and quick record controls are, along with a responsive and bright 1.3″ touchscreen. The core is just one part of this four-piece modular setup. A bracket holds everything in place, while the lens assembly and a long-lasting battery complete the ensemble.
Unlike the One X2, this camera is only resistant to water. It's also heavier, so using it with the extended stick for a while can make your arm tired. True to its modular nature, you can also buy accessories like protective lens caps, a quick-access reader, a stand for external mics, and more. Sound on the 1-inch Edition is decent, if muffled, so that mic stand is probably the first upgrade many users will invest in.
Switching from the X2's 1/2.2″ sensor to a 1″ variant is by far the most significant innovation here. The newer sensor has four times the surface area yet doesn't carry much of a resolution increase. Even so, the difference in overall picture quality is noticeable, especially towards the two stitching points.
Bigger sensors mean better light capture, so the camera also excels at creating low-light footage. Couple that with its fixed f/2.2 aperture, and you've got a camera that captures brighter shots by default and can produce better results at high shutter speeds.
The Peak of 360 Fidelity
The max resolution you can film in is 6K at 30fps. Photos got a bump from 18 to 21MP. Snapping a pic takes a while, but you can save them to RAW and even use HDR mode to take multiple successive shots at different EV ratings and combine them in your software of choice.
There's no need to turn your desktop on to do this either since Insta360's app remains the most feature-rich and powerful mobile editing tool for 360 footage. There's a more pronounced learning curve than with other alternatives. Still, the effects you can pull off and the tweaks to a video's appearance you can make are worth the time investment.
Keep in mind that this is not an action camera. It does have excellent stabilization and time-lapse features, but its slow-motion capabilities are limited. You'll have to drop the resolution down to 3K to activate it, and even then, it's impossible to go beyond 50fps.
Insta 360 X3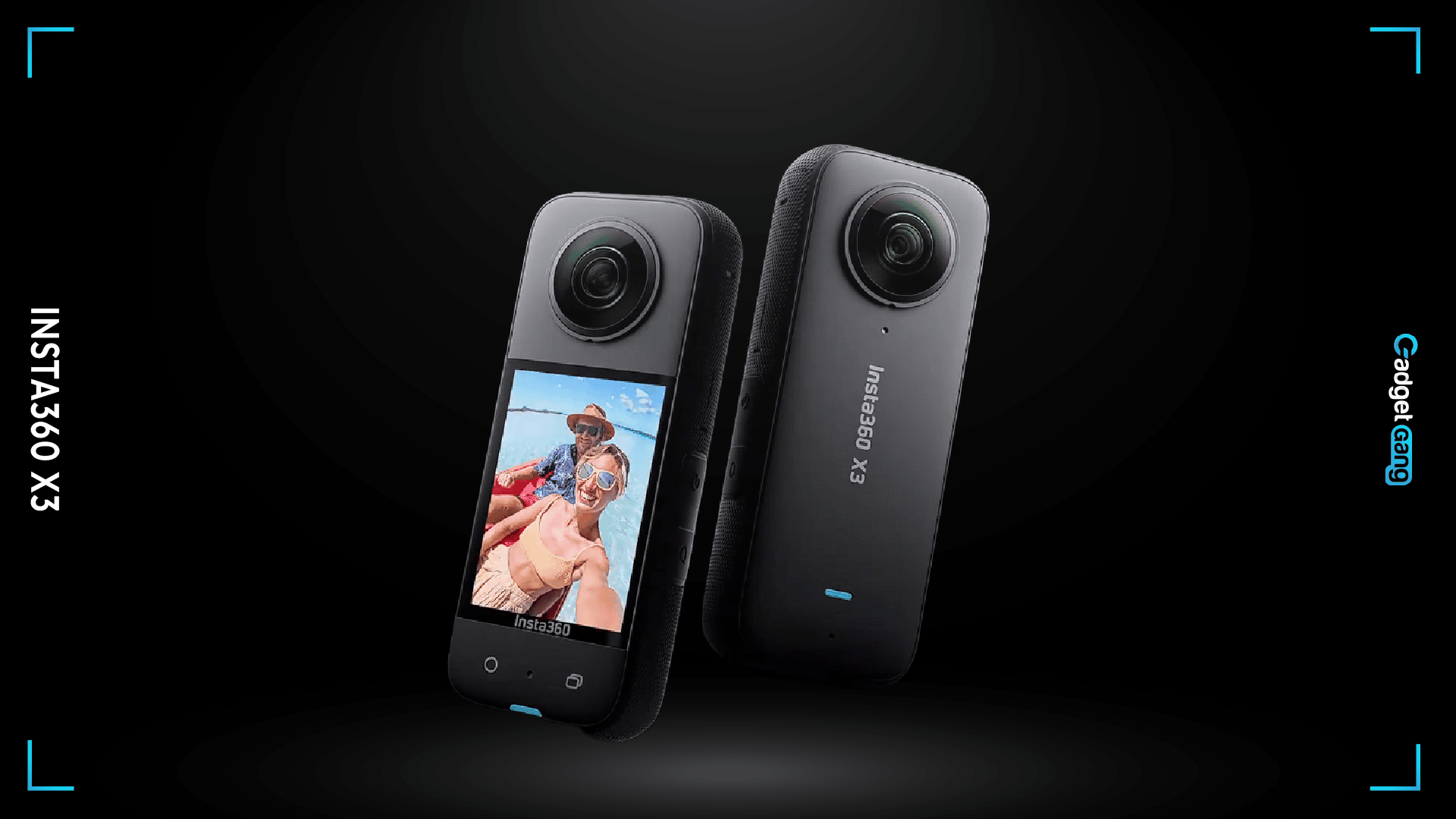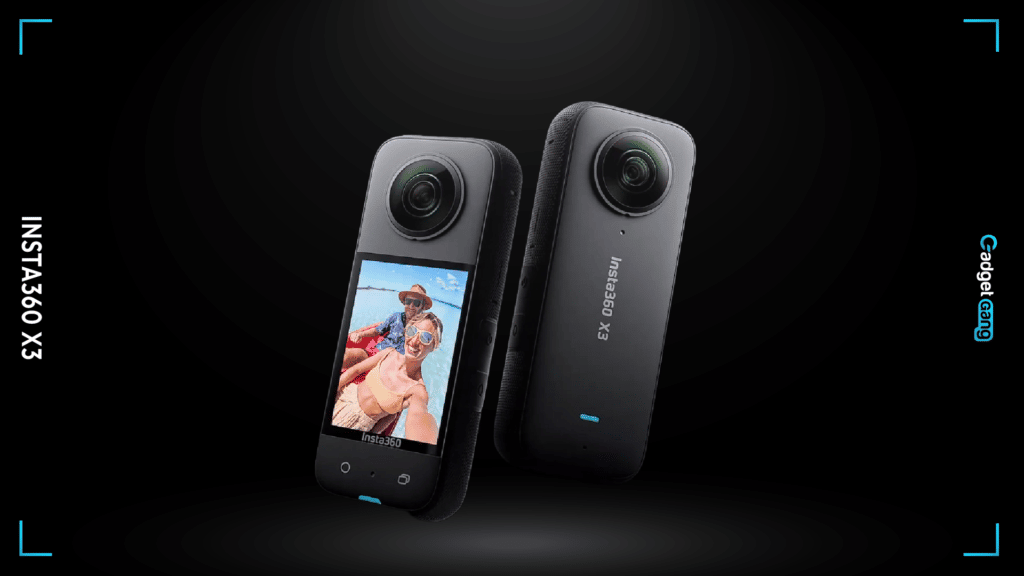 Insta 360 X3
Max video resolution & framerate: 5.7K, 30fps | Stills resolution: 72MP | Storage: SD card | Battery life: 80 min | Waterproof: Yes, up to 10m
Pros:
Improved touchscreen and build quality

Larger sensors & stills than the X2's

Useful new video modes
Cons:
Max video resolution same as the X2's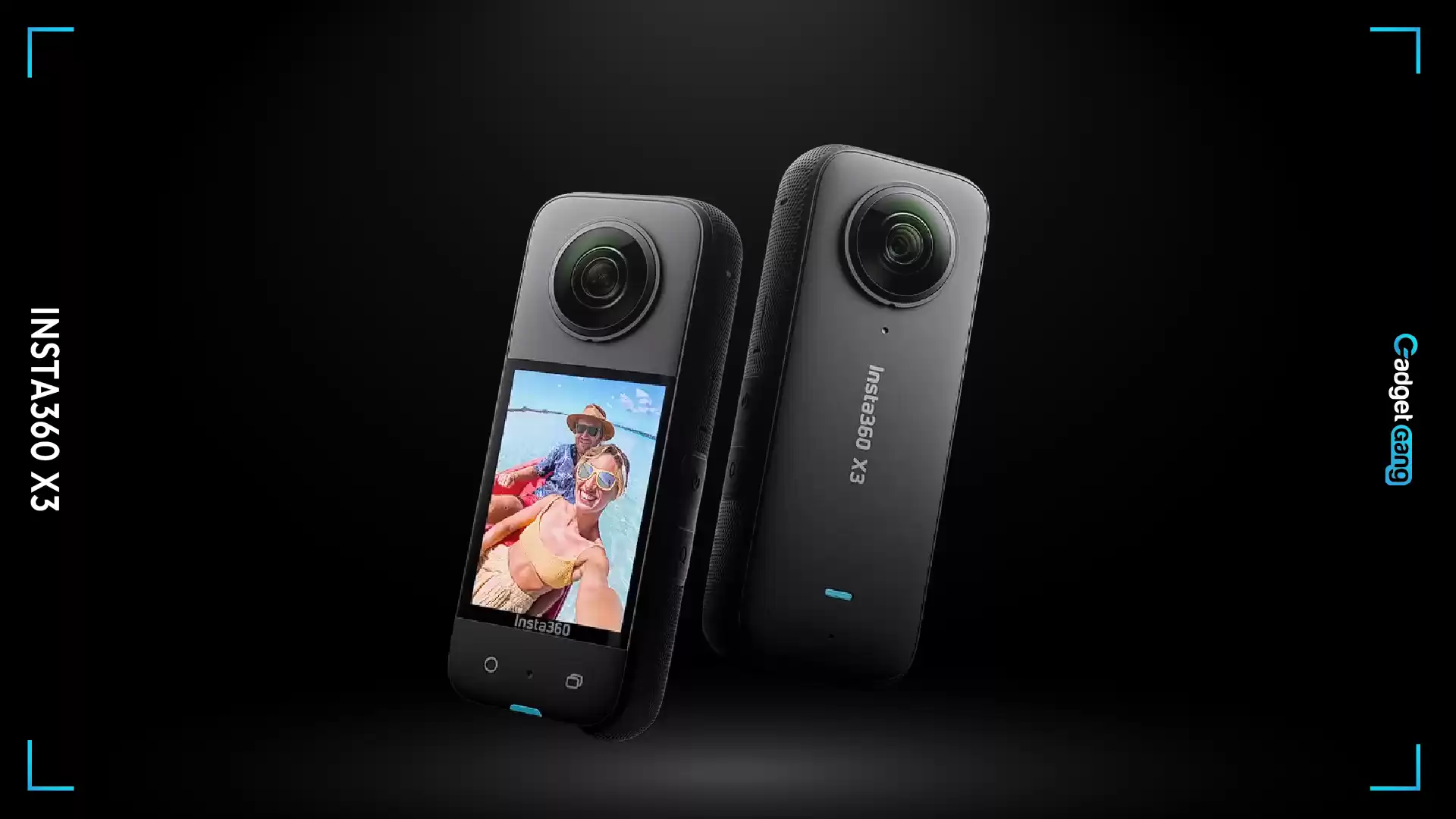 The 1-inch RS might be the best 360 camera overall, but it wouldn't be our first choice when going on an adventure. Action cams are much more suitable for this, and what better choice than Insta360's own X3? It's more rugged, comes with outstanding stabilization, and takes advantage of the same app that makes our winner so versatile.
The X3 adopts the same remote-like shape that makes the X2 so ergonomic and improves upon it. The newer camera is equally easy to hold securely despite being weightier and slightly taller. Every part of it except the lenses can handle a beating. It has the same waterproofing as the X2 on paper but boasts an improved battery compartment design that makes it much easier to close securely.
The awkward round screen was our chief complaint about the X2, so we're glad that Insta 360 addressed it so thoroughly. Gone are the cramped menus and illegible items, replaced by a bright & colorful 2.3" touchscreen. Using it might draw more attention, but handling the X3 in the wild is much more convenient.
A Refined Outlook
Hardware-wise, larger sensors are the X3's most significant upgrade. They doubled in size from the X2's, resulting in sharper footage and a clarity boost in low-light situations. There's also a new HDR mode that lets you move around while filming & offers effective compensation when contrast would threaten to blow out parts of the image.
The X3 ups the 360 photo ante too, quadrupling its predecessor's resolution to an impressive 72MP. Megapixels might not be everything, but the combination of 2x the sensor area and 4x the canvas makes hunting for small details more pleasant.
Time lapses are now available in 4K, and the single-lens resolution went up from a measly 2.7K to 4K! You can even increase the framerate in this mode to 60fps by dropping the resolution to 3.6K. Insta 360 introduced two additional video modes. Me Mode instructs the camera to always follow the user, which makes vloggers' jobs easier. There's also FOV+, a different take on the single-lens mode that expands the field of view to 170°.
We've covered the app in depth in our two other Insta 360 recommendations, and it works the same with the X3. The newest camera did come with general polish and some additions to Shot Lab. The X2 can use all of the new features, although whether exclusive ones for the X3 are on the way or not remains unknown.
If there's anything to complain about, it's the X3's unchanged resolution. Making the sensors larger can only go so far, and the quality differences demonstrated here might not be enough for X2 owners to make the plunge. Anyone else interested in a 360 action camera should, though.
Insta360 One X2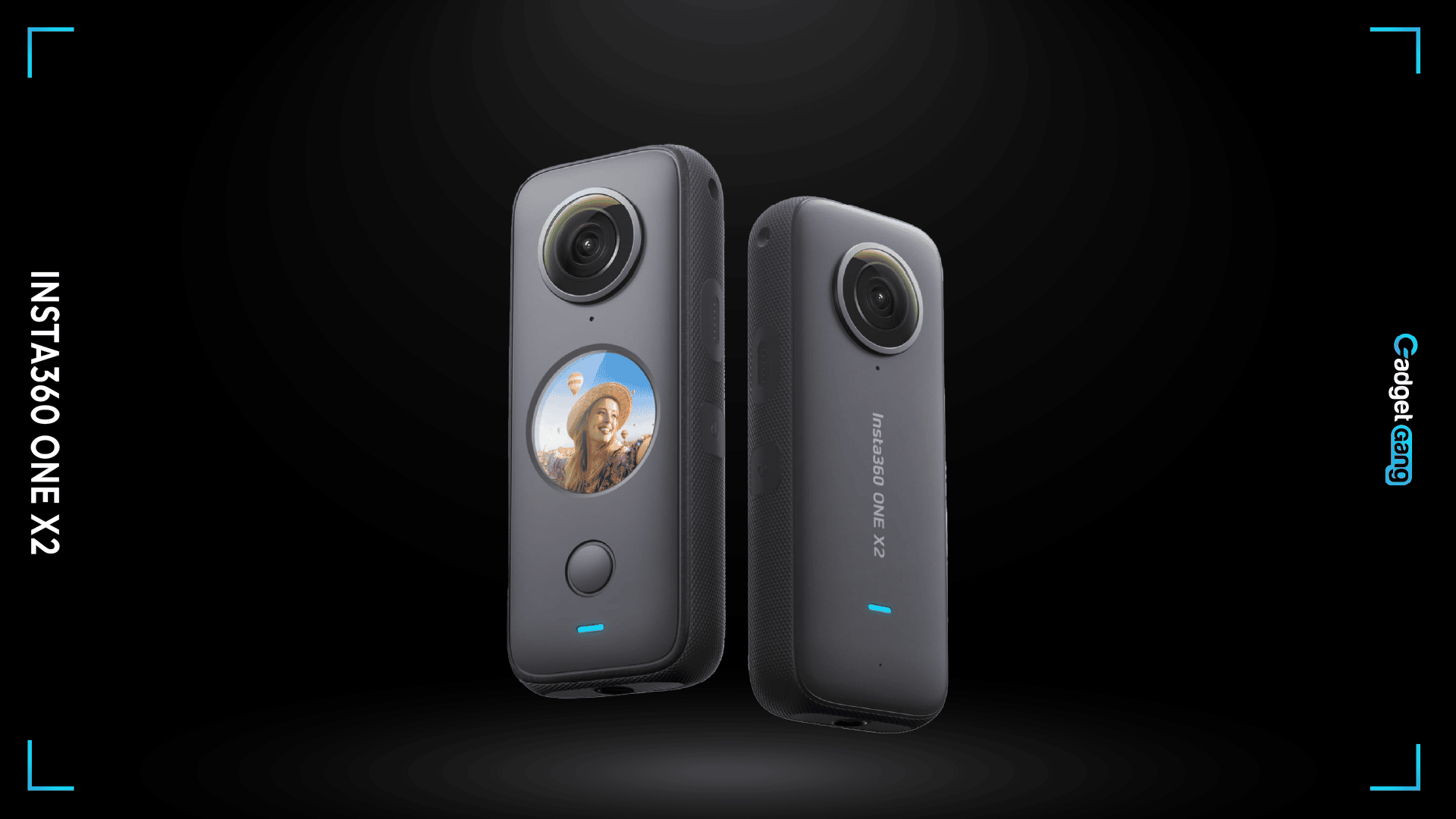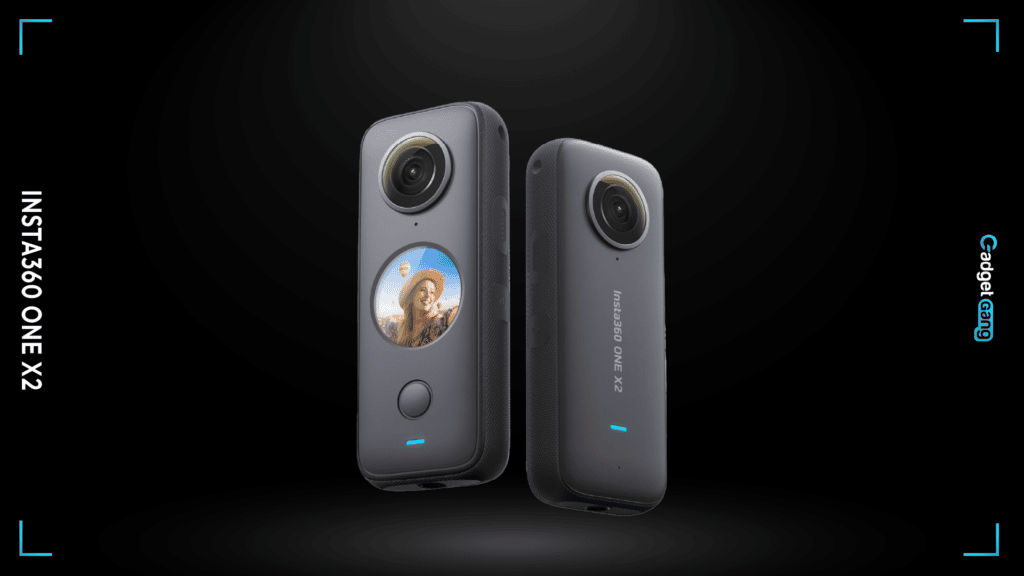 Insta360 One X2
Max video resolution & framerate: 5.7K, 30fps | Stills resolution: 18MP | Storage: SD card | Battery life: 80 min | Waterproof: Yes, up to 10m
Pros:
Excellent stabilization

Superb build quality and waterproofing

Same great app as the One RS
Cons:
Mediocre audio, weirdly-shaped touchscreen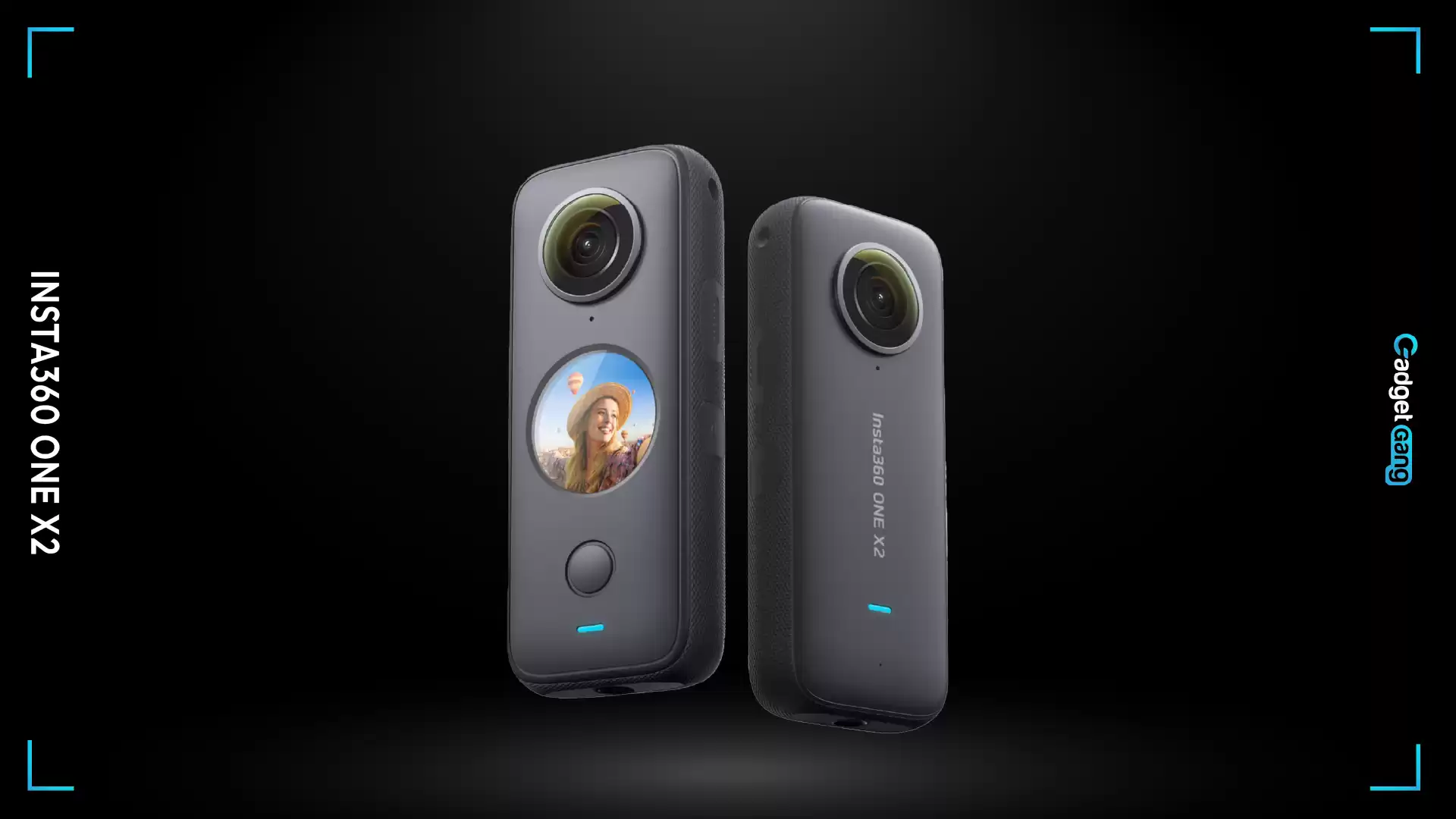 The 1-inch RS might be the best 360 camera overall, but it wouldn't be our first choice when going on an adventure. Action cams are much more suitable for this, and what better choice than Insta360's own One X2? It's more rugged, comes with outstanding stabilization, and takes advantage of the same app that makes our winner so versatile.
The One X2 doesn't have the traditional square action cam shape. Rather, it looks like a comfortable remote with two bulbous lenses on top and a funky round touchscreen in the middle. Its SD card is easier to reach than our winner's, yet it has noticeably better waterproofing. You can submerge the X2 in 33 feet of water and use it for some incredible aquatic shots.
The X2's sensor is of the 1/2.3" variety commonly used in action cameras and can't produce footage as crisp as the 1" version's. However, it makes up for this with an excellent out-of-the-box color profile with vivid saturation and temperatures shifted slightly towards the cool end. The X2 is also much better suited for slow-mo work since it can shoot at 50fps in 4K or 100fps in 3K modes. The video quality naturally takes a hit, but that's inevitable.
The X2 is a true 360 / action camera hybrid since it performs well in both modes, rivaling the GoPro Max. You can turn one of the lenses off and record in 150-degree mode for a more traditional action cam experience. The stabilization feature is called Steady Shot & into its own in this mode, smoothing out everything from bumpy cycling to running.
The Perfect Fusion of Action & Space
It's worth dwelling on the Insta360 app a bit more due to the creative freedom it provides regardless of your chosen camera. It can stitch 360 videos together competently or let you create conventional ones with perspective switching, but that's just scratching the surface. The Shot Lab feature will appeal to creatives looking for a quick & easy way of producing unusual-looking shots.
Shot Lab offers several effects and instructions to pull them off. Some, like Flyby, don't require any input since the app handles all the editing. Others have you move in a certain way or direct you where to shoot, which ends up in amusing clips of multiple clones doing different things, etc.
The battery has more than 1,100mAh of juice and is good for 75-80 minutes of recording. Be sure to top it up before heading out since the X2 can't record while charging. Luckily, the RS 1-inch Edition doesn't have that problem.
Two things give us pause when talking about the X2. Audio is present but muffled and not as good as on the Max. That's not going to be important to many users, so we can let it slide. The screen is another matter. The fact that it's round makes the screen take up less space than more conventional designs. The touch controls are small and harder to make out in a hurry, so you might have a tough time finding the right setting while outdoors.
GoPro Max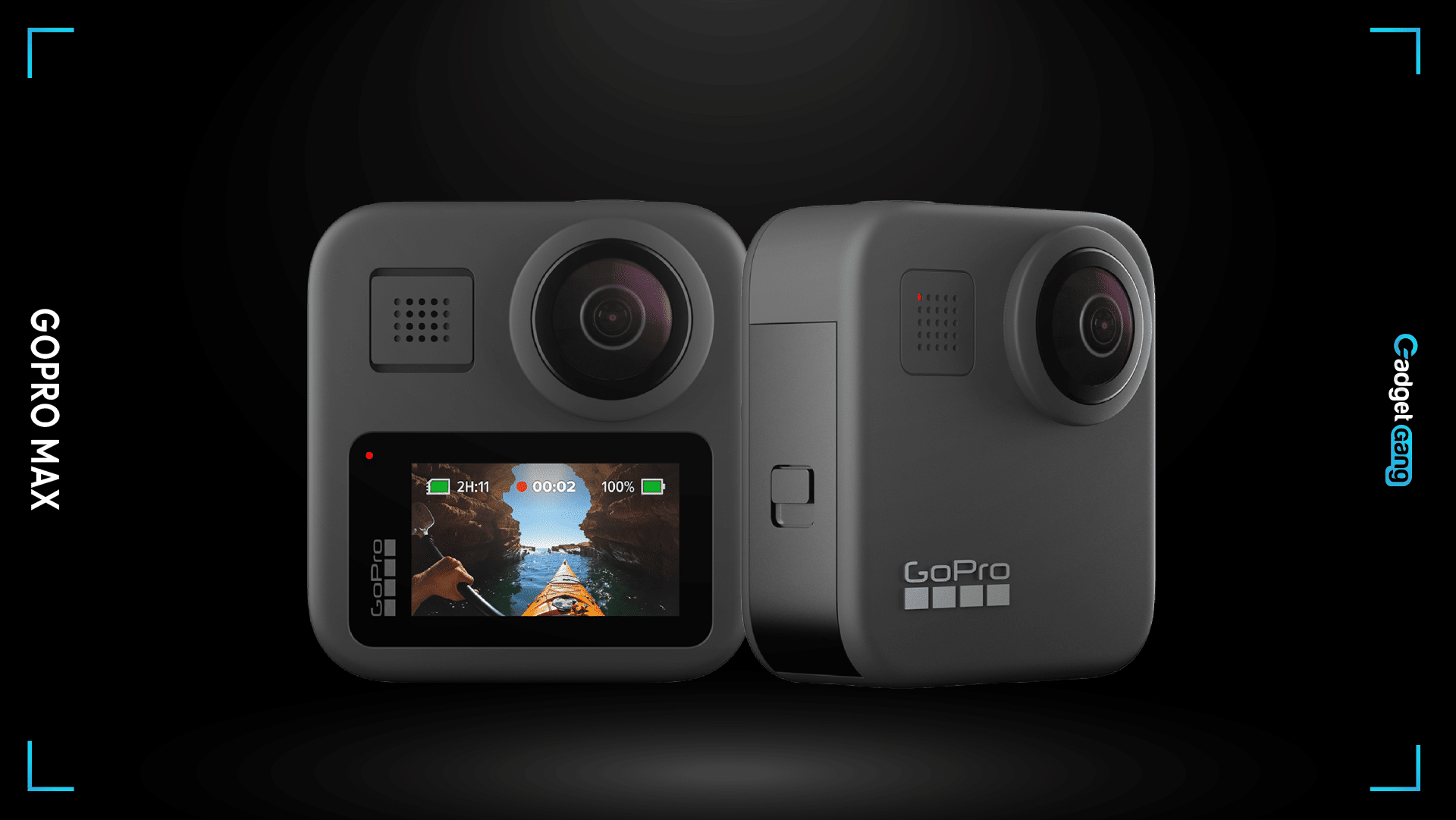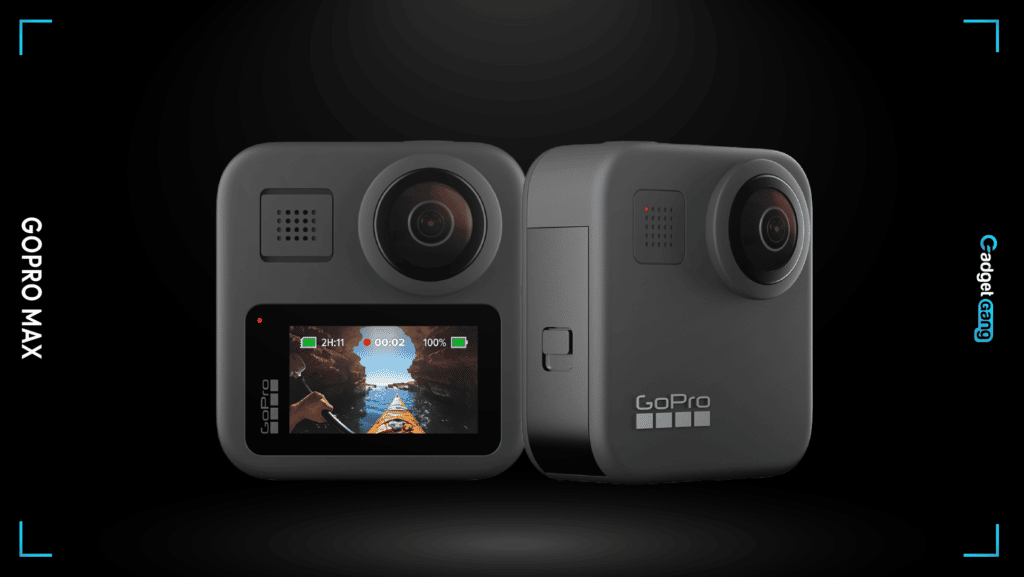 GoPro Max
Max video resolution & framerate: 5.6K, 30fps | Stills resolution: 18MP | Storage: SD card | Battery life: 70 min | Waterproof: Yes, up to 5m
Pros:
Intuitive controls and app

Excellent build and audio quality

Great stabilization
Cons:
The X2 has a better stitching algorithm
Specs:
Max Resolution: 5.6k @ 30fps
Battery life: 70 Min
Photo: 18 MP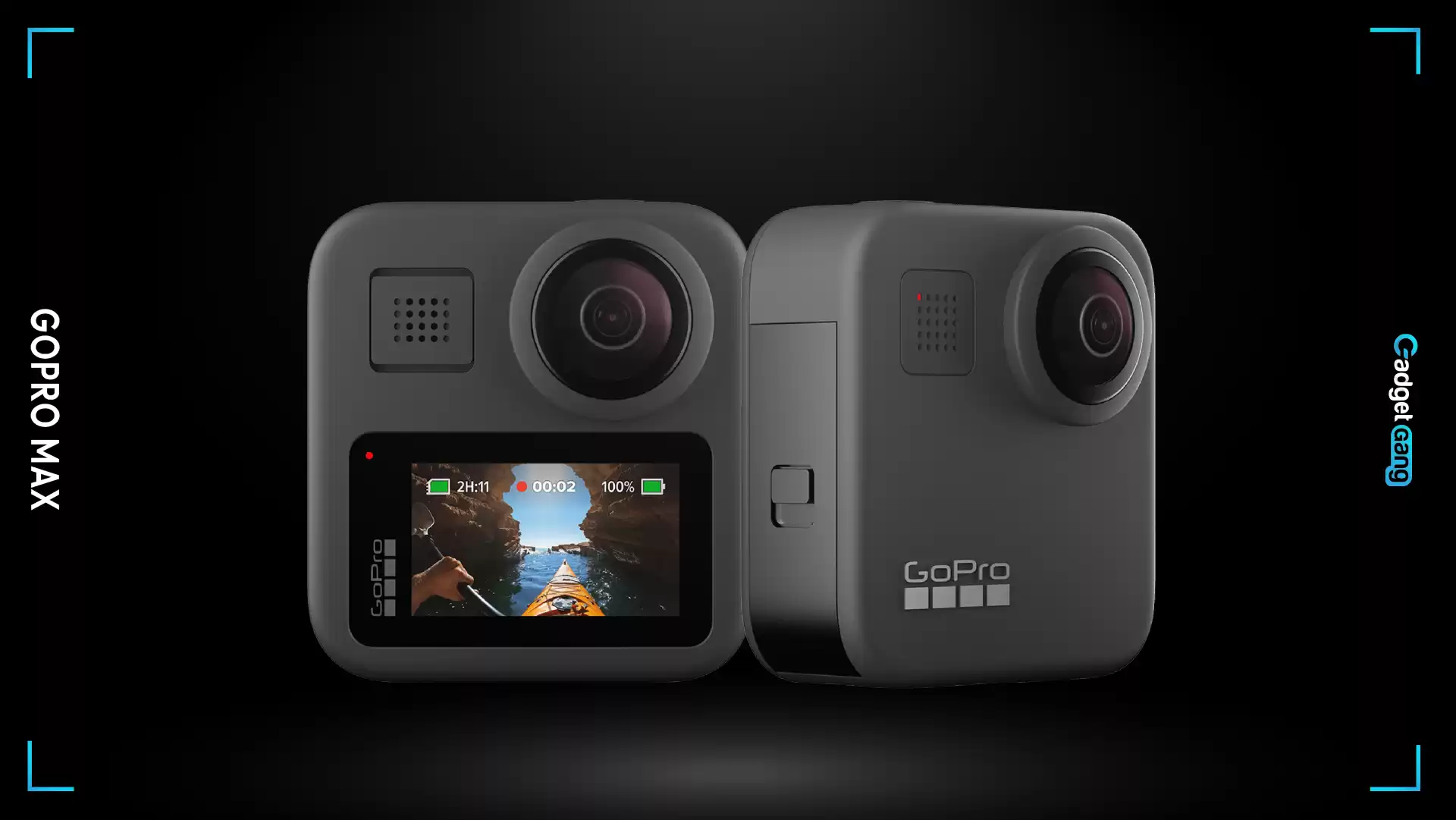 GoPro is practically synonymous with action cams, so we're glad to see that one of their creations is also in the running for the best 360 video camera. The Max shows its heritage yet comes with excellent 360 features like a spherical microphone array and simple yet effective editing. It's the 360 camera to get if you don't like fiddling with settings or diving deep into new programs since everything is exceptionally user-friendly.
The Max looks like an oversized HERO action cam with the same iconic gray finish. The lenses protruding from each side are easier to scratch than on regular GoPros, so the transparent and opaque protectors that arrive with the camera are an excellent addition. You also get some adhesive mounts and straps, while two flip-out feet make for easy tripod mounting.
It wouldn't be a GoPro product without a rugged exterior and waterproofing. The depth to which you can bring the Max is 16 feet, just enough for some underwater fun without venturing in too deep.
There's a significant overlap between the Max and X2 in terms of video quality even though their shapes are different. The slight reduction in the Max's resolution is negligible, and both cameras produce sharp images in the middle while the edges are softer. GoPro went with a warmer color palette by default. Enabling ProTune allows you to change the color temperature along with shutter speed, ISO, and other advanced settings without consulting the app.
Max 360 Enjoyment
The touchscreen is as bright and responsive as on Hero models, so controlling the camera even in bright sunlight is more enjoyable than with the X2. Voice commands work like a charm, thanks to the excellent microphone array. External microphones aren't supported, but that's fine since the six-mic array is exceptionally good at isolating voices and cutting down on wind noise. This will make the Max doubly interesting for vloggers.
Like the X2, the Max is a competent traditional action cam with a wide field of view and signature stabilization. It has several time-lapse modes, and slow motion works to the tune of 60fps in single lens mode.
We're glad to see that GoPro ditched the cumbersome dual memory card approach present on the Fusion, their first attempt at a 360-degree camera. The single memory card slot now shares a compartment with a USB-C port responsible for charging the battery and file transfer. The battery's durability is comparable to the X2's – enough for more than an hour of constant recording or an afternoon's worth of short clips.
GoPro took a different yet equally valid approach to designing its app. Here it's all about simplicity and getting good-looking clips out into the world ASAP. All the controls are intuitive. Moreover, the keyframe-based editing system is adept at helping you put together presentable content, whether it's for friends & family or a global audience.
Stitching inconsistencies are the main reason the Max is only in fourth place. It's thicker than the X2, so there's more space between the lenses. The algorithm does its best to compensate but isn't as successful as insta360's implementation. Luckily, this is rarely problematic.
Kandao QooCam 8K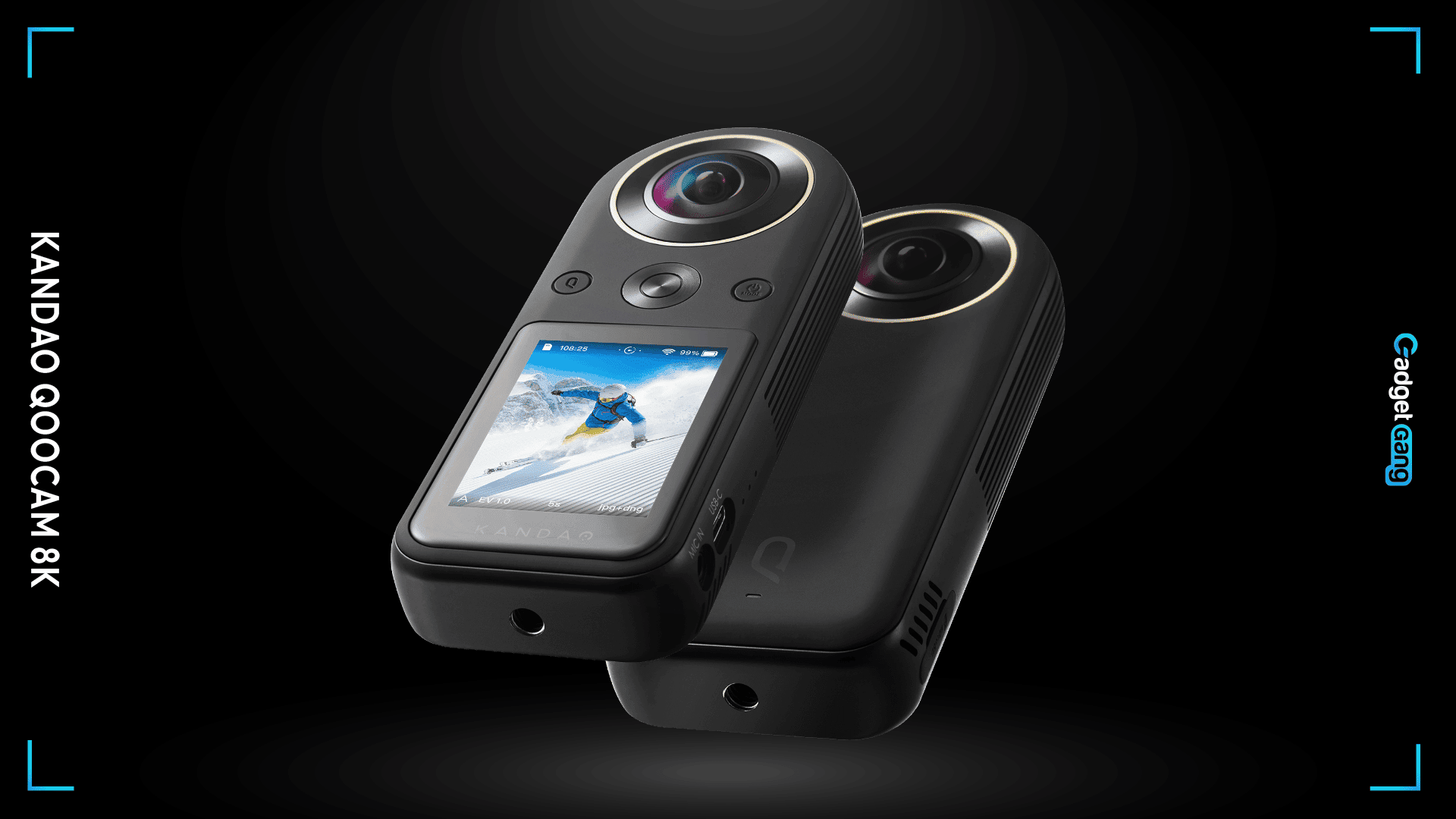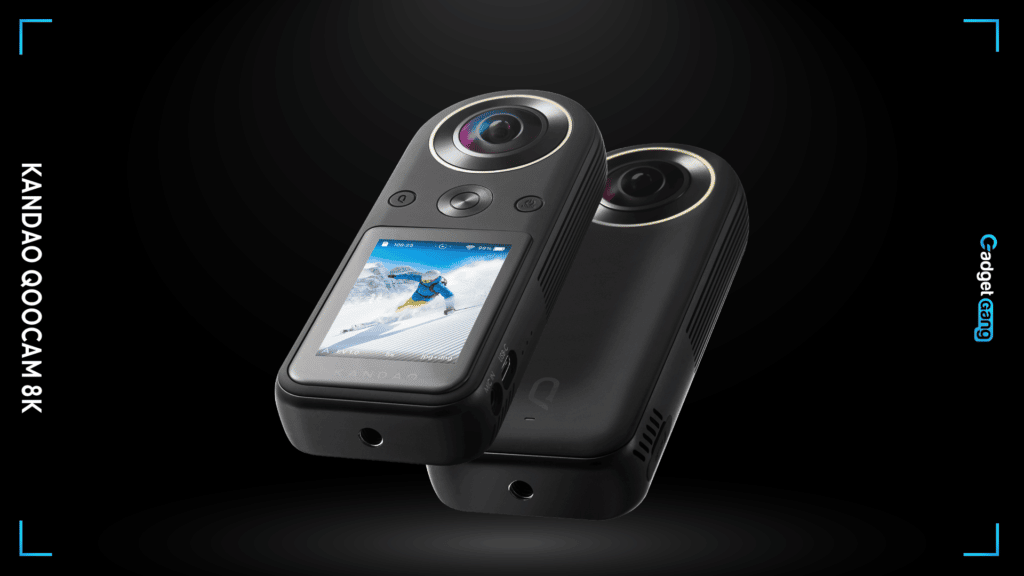 Kandao QooCam 8K
Max video resolution & framerate: 8K, 30fps | Stills resolution: 29MP | Storage: 64GB onboard + SD card | Battery life: 40 min | Waterproof: No
Pros:
High resolution and color depth

Effortless live streaming

Produces vibrant HDR images
Cons:
Heat buildup causes a considerable quality drop-off
While figures like 6K sound impressive to people used to TVs and modern monitors, it's still not much for 360 videos. Enter the QooCam 8K, the first consumer-grade camera that can record 8K videos. It's a model boasting a lot of firsts, including 10-bit color and live streaming in either 8K or 4K. Does that make it the best 360 camera, though? It might, were it not for a major issue we'll discuss shortly.
The QooCam 8K is large as non-professional 360 cameras go. It's as thick as the Max but doesn't feel too bulky since its elongated form fits well in broader pockets. We were instantly hooked on the comparatively huge 2.4" screen, even more so since it lets you swipe around a scene to get the full view without accessing an app. The device isn't waterproof, but you can get a diving case for your aquatic adventures.
Unlike all the cameras discussed above, the QooCam 8K comes with 64GB of built-in memory. You may augment this with another 256GB via SD card, which you'll likely need to do given 8K's large file sizes. Apart from the SD card slot, you'll also find USB-C for charging & file transfer and a dedicated 3.1mm external mic jack.
True to its name, the QooCam 8K shoots 7680 x 3840 video at 30fps. Downgrading it to 4K increases the framerate to 120fps, making for smooth slow-motion video. You can even use interpolation to slow the video by another factor of four, making this the most effective 360 camera for slow-motion work.
Three Steps Forward, Two Steps Back
The sensors are 1/1.7″ in size. While not as formidable as those on the RS, they're still more than 50% bigger than the 1/2.3″ sensors most 360 cameras employ. The sensors do well in low light if a source of artificial lighting is present.
The introduction of 10-bit color depth improves footage vibrancy since the camera puts out more than a million colors. Its photo mode lets you take eight DNG-format pictures at the full 29MP resolution and combine them in the app or desktop program. Their broad EV range makes for compelling photos since shadows are deeper and retain more detail.
QooCam also introduced the Enterprise version of the 8K meant for prosumers. This version is slightly longer and supports 8K streaming.
The desktop and mobile apps aren't as feature-rich as others, but they're serviceable. Creating videos or 360 HDR images is reasonably simple, and the independent wireless connection ensures you can stream to a live audience without tethering the camera to your phone.
Everything about the QooCam 8K sounds fantastic on paper, so why is it so far down? The ordinary version is hard to find for one, forcing you to go with the much more expensive Enterprise. More importantly, the picture quality isn't on par with newer models despite the resolution differences. Shooting in 8K causes the camera to heat up and distort the lenses, leading to noticeably softer edges that can even become blurry. Central sharpness remains impeccable, though.
Ricoh Theta Z1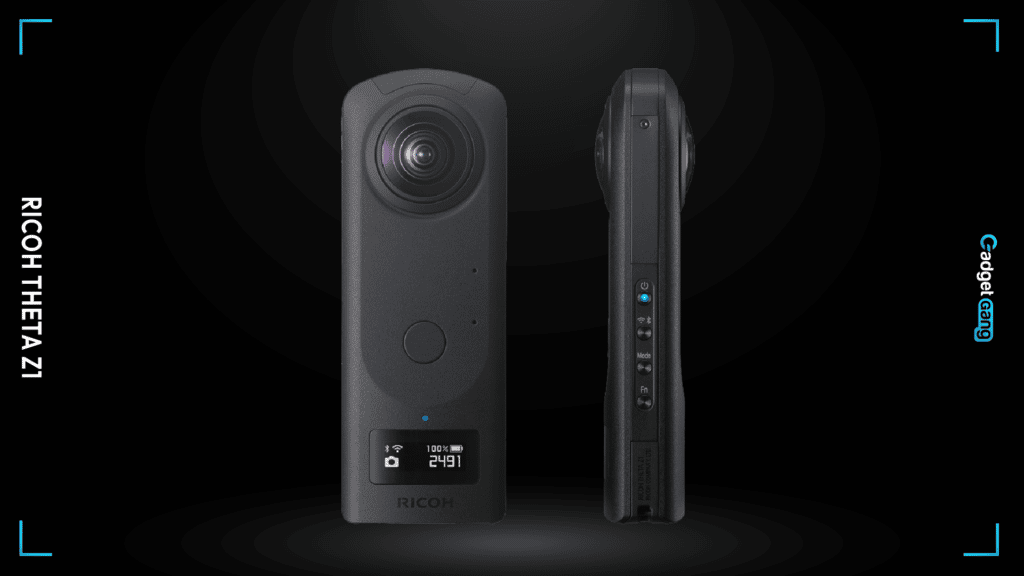 Ricoh Theta Z1
Max video resolution & framerate: 4K, 30fps | Stills resolution: 26.6MP | Storage: 19GB internal | Battery life: 60 min | Waterproof: No
Pros:
Outstanding dynamic range

Excellent photo quality

Plugins drastically improve versatility
Cons:
Expensive, mediocre video quality, fixed internal storage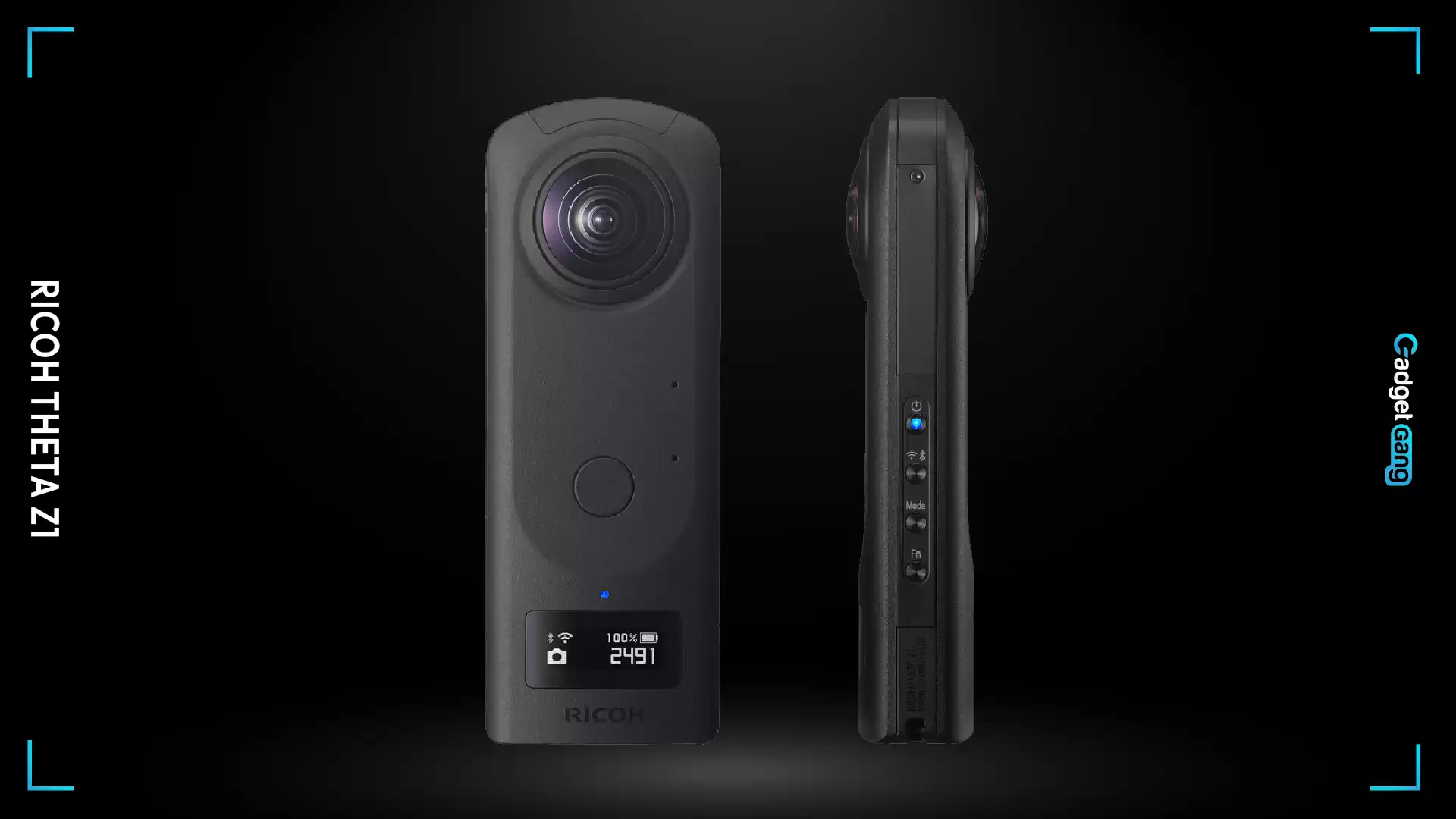 Insta360 isn't the first company to introduce 1-inch sensors to their consumer-grade cameras. That honor goes to Ricoh and the Theta Z1. It's the best 360 camera for shooting virtual tours and only occupies such a low spot because of lackluster video performance. If you need pro-grade 360 photos to make properties you're advertising shine, there's no better option out there.
The Theta Z1 is relatively small yet light and durable since its body is made from magnesium alloy. Ricoh spent a lot of effort on outfitting it with sets of three prisms that reflect light from the lenses onto two 1-inch sensors. That allows the lenses to stand closer together and minimizes stitching errors. You'll still want to stay at least three feet away from the camera for the best results.
Rather than coming with a small preview screen, the Theta Z1 uses an OLED display. It crisply shows pertinent status info like remaining battery life and the current shooting mode. The accompanying Fn button switches on a self-timer, conveniently letting you exit the shot before making one.
We've already touched on the benefits of 1-inch sensors, and they're expertly implemented on the Theta Z1. Photos shot with it are brimming with detail and sharper than on the RS. A true variable aperture helps with the latter, letting you increase exposure times while also upping sharpness across the board.
The Theta Z1 has by far the best dynamic range out of all our picks. Part of it has to do with the large sensors, but there's also the sheer nuance of customization during photo creation.
You can shoot 19 consecutive DNG images in one go and set their exposures individually beforehand. The image that results from combining them boasts outstanding shadow recovery and clarity, so it's possible to use the camera in less-than-ideal circumstances and still end up with attractive shots.
The Discerning Eye
While Ricoh provides you with serviceable desktop & mobile apps, the unique plugin feature is a game changer. Plugins are small programs that add specific features like single-lens shooting or streaming directly to VR. Users have even created popular custom plugins like fish-eye view. You can load three of them onto the camera, and they'll work without an app.
We have no complaints about the battery as it will last long enough to record an hour of footage or snap more than 300 photos. Audio is alright for a 360 camera since four arrayed microphones do the recording. They're susceptible to wind noise, though.
For all its brilliant innovations, the Theta Z1 also suffers from several noteworthy downsides. Video quality is the most obvious since not even 1-inch sensors can remedy the softness imposed by 4K limitations.
There's also the matter of storage. Our other picks take SD cards, and the QooCam has onboard storage on top of that. The Theta Z1 only has 19GB of internal storage, which might be enough for thousands of photos but is sorely lacking for video.
Trisio Lite 2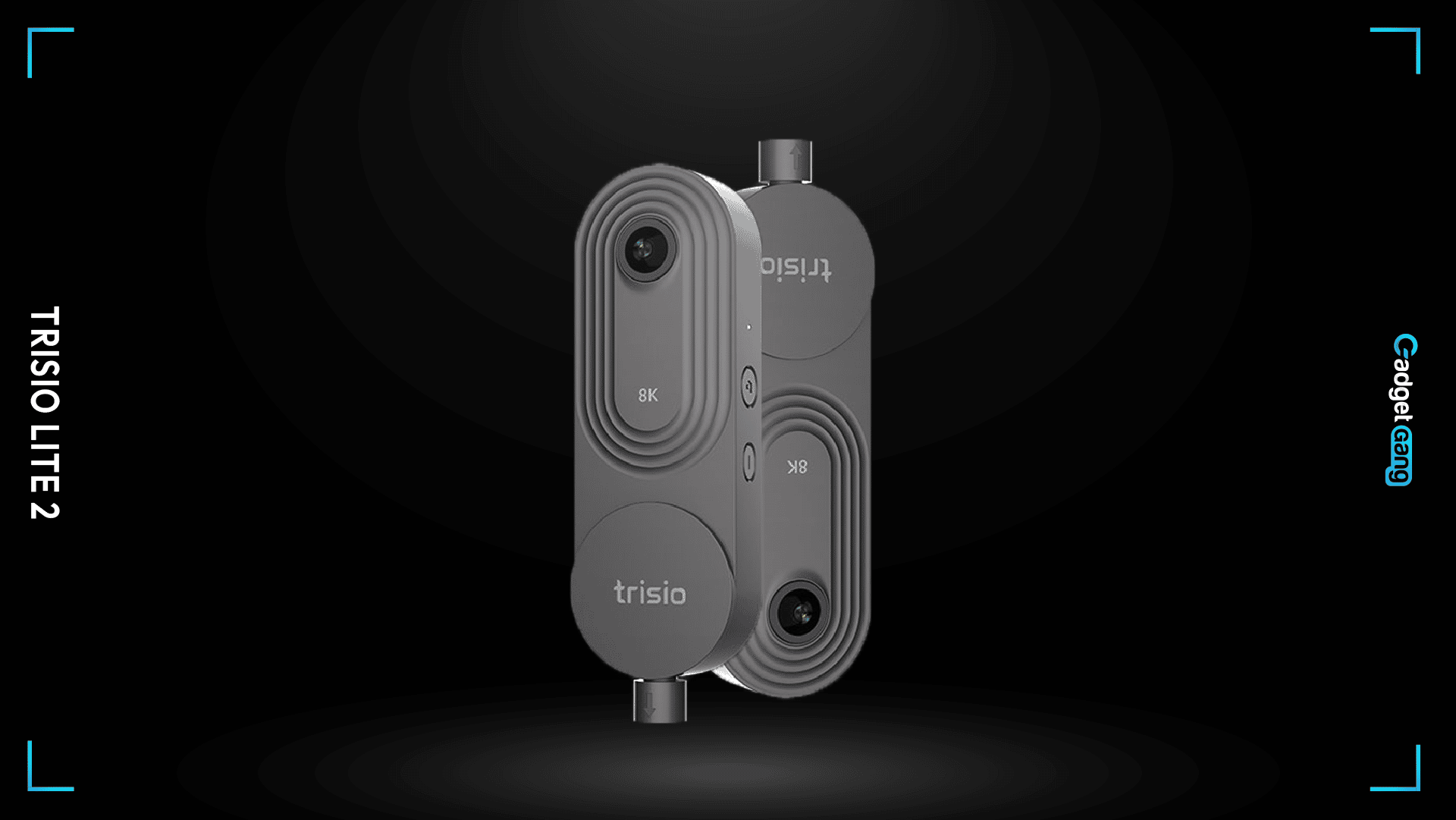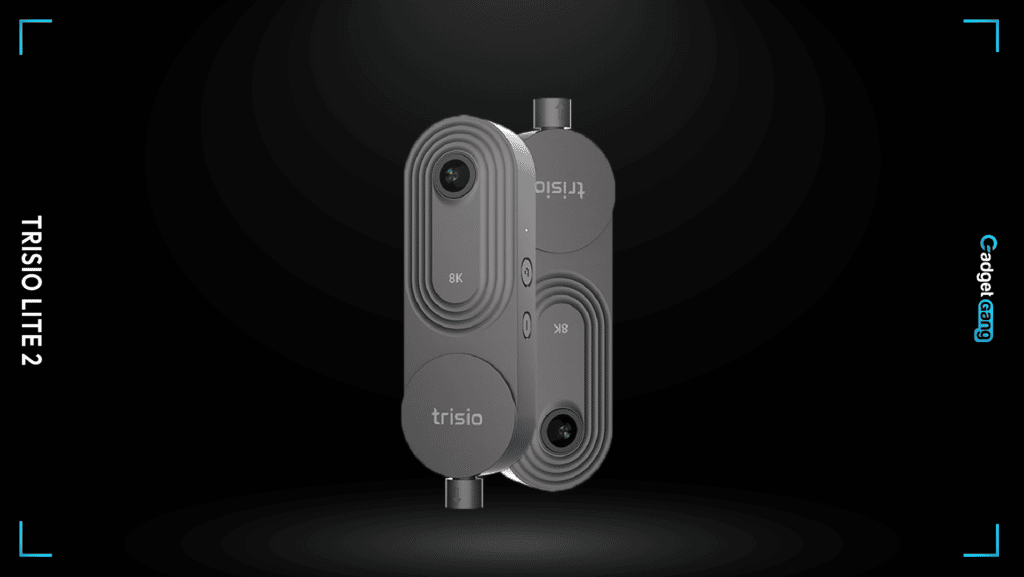 Trisio Lite 2
Max video resolution & framerate: N/A| Stills resolution: 32MP | Storage: 8GB internal | Battery life: 200 min | Waterproof: No
Pros:
Excellent photo quality

Light metering tech helps greatly with dynamic range

Long-lasting battery
Cons:
Only snaps photos, limited internal storage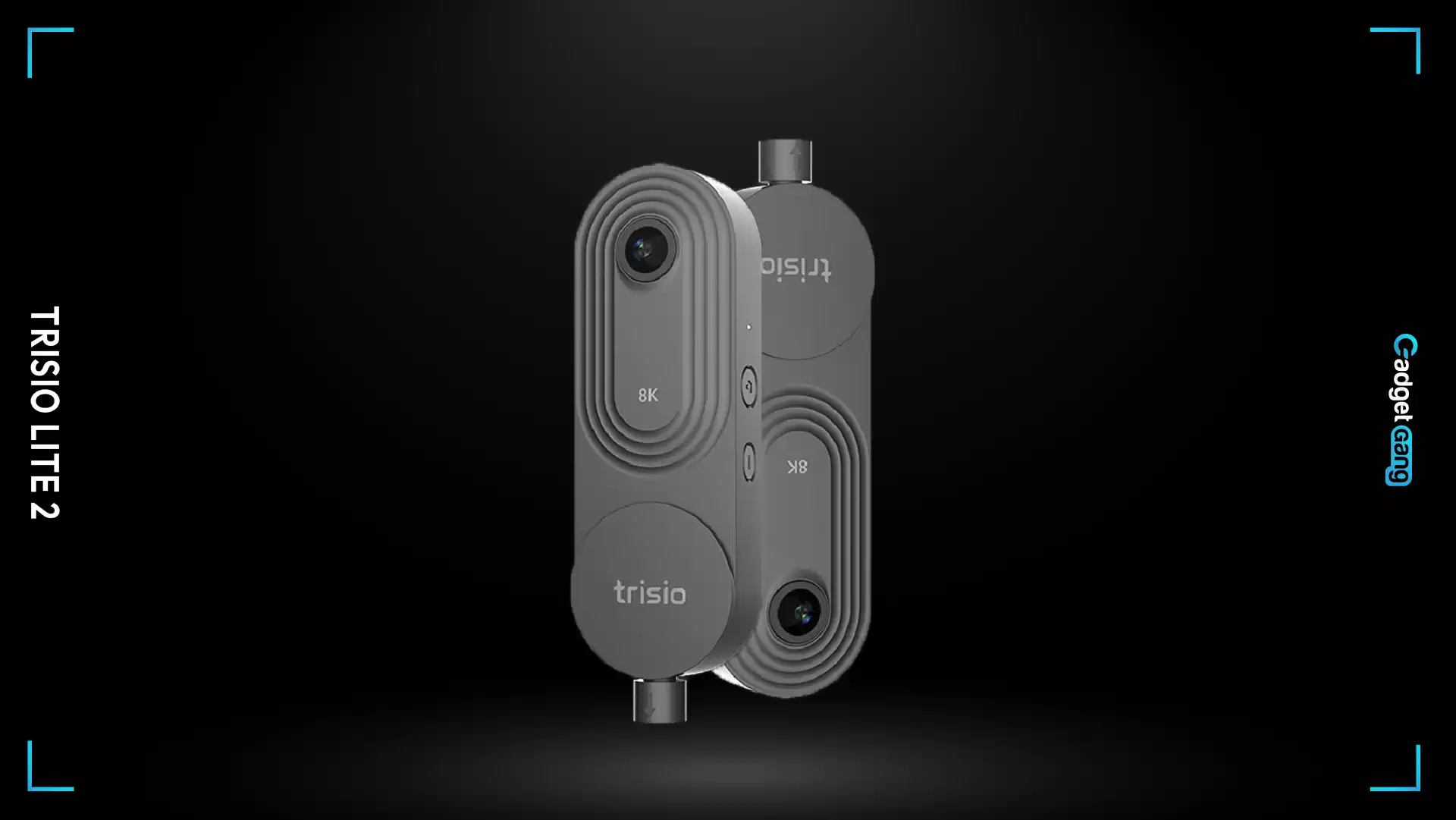 Do you like the Theta Z1's picture-taking abilities but want something less expensive? You'll love the Trisio Lite 2 in that case since it trades video recording in for exceptional photo quality at a more palatable price. It's got a limited feature set and a hands-off approach to 360 image creation, but the ease of use and great results make it a compelling choice.
The lack of a second noise is the first thing that stands out about this camera. How does it take 360 photos, then? A small motor attaches to the camera from the bottom on one end and to a tripod on the other Engaging it causes the Lite 2 to rotate in 90-degree increments and take four pictures. The resulting image has a resolution of 8MP and no visible stitching.
The controls are simple as there's no screen. You can engage the camera or set a shutter delay of up to 10 seconds to get out of the way in time. It takes half a minute to complete a 360 photo. While our other picks don't take as long, there's a reason behind it that makes the wait worthwhile.
The Lite 2 has a built-in light meter and uses the first half of the photo process to take stock of the light in its surroundings. The technology is called AnyScene and automatically adjusts the camera to compensate for overexposure or detail loss in the shadows without a need for ND filters.
One Lens, Unbridled Freedom
Even though it uses a 1/2.3" sensor, the Lite 2 is able to produce photos rich in detail. That's because it stitches four of them together rather than two, so the effective resolution is bigger than the competition's. The smart metering additionally improves its dynamic range and lets you work inside interiors during varying weather conditions without necessarily having to turn on the lights.
The Trisio app is among the simplest and most basic on our list. You can only shoot JPEGs in regular or HDR mode, so there's nothing to tweak without professional software. Still, you get access to a gallery and can export previous photos to external sources.
Our "problem" with the Lite 2 is that it's hard to recommend outside of the virtual tour niche. It needs a tripod to function and takes a while to produce images. Video recording isn't available, which makes sense as there's only one lens. Finally, this is another camera with limited built-in storage. It's not as big of an issue as on the Theta Z1, as you'll only be storing pictures. Still, an effective 7GB free space you get from its 8GB internal memory is too little nowadays.
A lack of video has its bright sides, too. The Lite 2 doesn't have or need microphones, while a single lens & sensor make it cheaper to produce. The battery lasts longer as well. Trisio claims that it lasts 200 minutes. Expect the actual runtime to clock in at 15-20 minutes less, which is still respectable.
How to Buy the Best 360 Camera for Your Needs
As you could gather from our list, not all 360 cameras serve the same purpose. Consider the following factors to ensure you're getting the optimum camera for your use case.
Types of 360 footage generation
Readers unfamiliar with 360 cameras might be asking themselves how they work. The vast majority use two pairs of sensors and lenses. Each of these lenses has a wide angle and a pronounced curved surface. The light that reaches the sensor through a lens gets curved, and the result resembles a half-sphere. Each lens encompasses a bit more than 180 degrees, and the overlapping parts get stitched together to create the 360 effect.
Exceptions like the Trisio Lite 2 use a single sensor & lens to create multiple images at different rotation points. Their stitching is seamless, but you can't use such cameras to record video.
Picture quality
As we've seen with the QooCam 8K, a 360 camera can have trailblazing features and still not produce the best footage possible. That's because several factors contribute to the overall result.
Sensors are the most important component of picture quality. A camera sensor is a photo-sensitive piece of hardware that captures and interprets light information. The larger a sensor is, the more light it can gather. A larger sensor area helps the camera distinguish between nuanced changes in light properties, resulting in more details.
While important, the resolution is a less clear predictor of image quality. A camera with a larger sensor that produces 5K video can still outshine an 8K model with a smaller sensor size.
Lens curvature and aperture size also play a role. Almost all 360 cameras deliver sharp results in the center of their frames but exhibit a noticeable drop-off as you approach the stitching areas. Good lens curvature can help mitigate this, as can stepping down the aperture since images tend to be the sharpest at mid-range f-stop values.
Camera types
We've included three 360 camera types, each with advantages and drawbacks.
Action cameras are the most versatile since they come with excellent image stabilization and are rugged enough to be used in demanding environments. Their battery life is just OK, and the visual quality is good but not the best it can be.
More conventional cameras like the One RS aren't as rugged but make up for that with the best 360 video technology, sensors, and available resolutions. They have the best-looking results but can be expensive even at the mainstream or prosumer tiers.
The last type of 360 degree camera only takes photos. They're ideal for creating virtual tours of homes, hotels, venues, etc. Video takes a backseat or is absent, but the picture quality is stellar in return. Models like the Trisio Lite 2 are priced reasonably yet produce photos that rival professional models in quality and clarity.
Stitching & software support
All 360 cameras need to stitch at least two photos or video sources together to complete the 360 illusion. Some can do this in-camera, while others require you to install apps on your computer or phone. How well the stitching turns out depends on the closeness of the lenses, the manufacturer's algorithms, and whether or not you've followed the minimal distance instructions.
How much control you have over the 360 content creation process can make or break your camera purchasing decision. Companies like GoPro and Trisio streamline the process so that you can put out great-looking footage easily and efficiently. Insta360 takes a more involved approach, letting you perform extensive edits or create sophisticated montages if you're willing to learn how to use its more sophisticated app.
Both are valid approaches that can yield impressive results, so think about what kind of creator you want to be before committing.