Customizing your desktop has been a feature since the first edition of Windows that I can remember. With each newer version of the operating system more and more customization features have been added. In this article, we will talk about the best Rainmeter skins for your desktop in 2021.
The list will consist of some of the most popular choices, my favorites, and solid picks overall. Each of them will be tested and screenshotted properly so that you know exactly what you are going to get out of these skins. Let's continue with the rest of this article without wasting any more time.
What is the Rainmeter? How Does it Work?
Rainmeter is a free, open-source application that allows you to create custom widgets on your Windows 7,8, or 10 desktops. It can be used as an alternative to traditional taskbar icons. The app has been around since 2008 but it's still one of the most popular ways to customize your desktop with customizable widgets.
It works by allowing users to create their own widgets which they then place onto their desktop using drag-and-drop functionality. You can use Rainmeter to add weather forecasts, clock faces, battery life indicators, music controls, system information, calendar, RSS Feeds, game scores, and more.
One of the many reasons why you should use rainmeter is to help with the customization of your desktop. That's why there are a lot of different skins to help you change the appearance to your liking. There are various options available such as changing the background color, font size, text style, etc.
30 Best Rainmeter Skins
1. Omnimo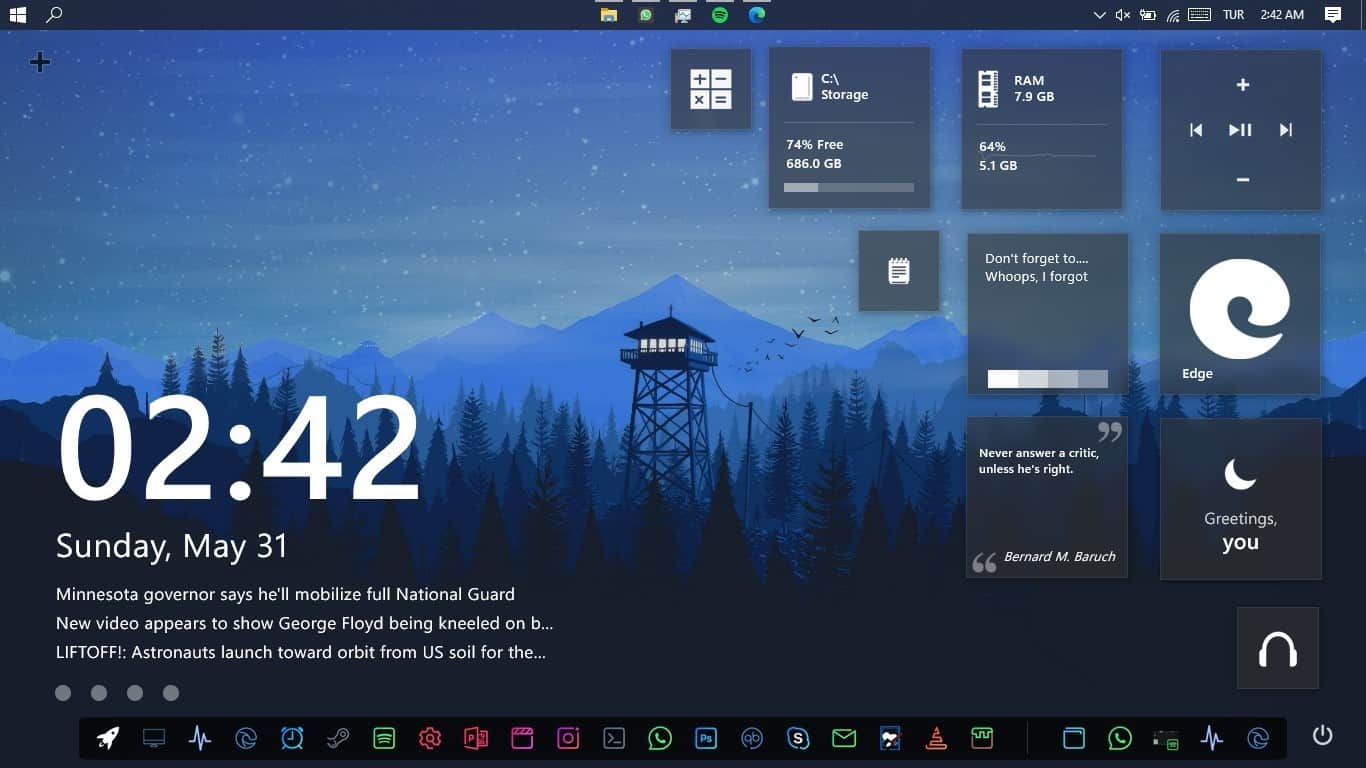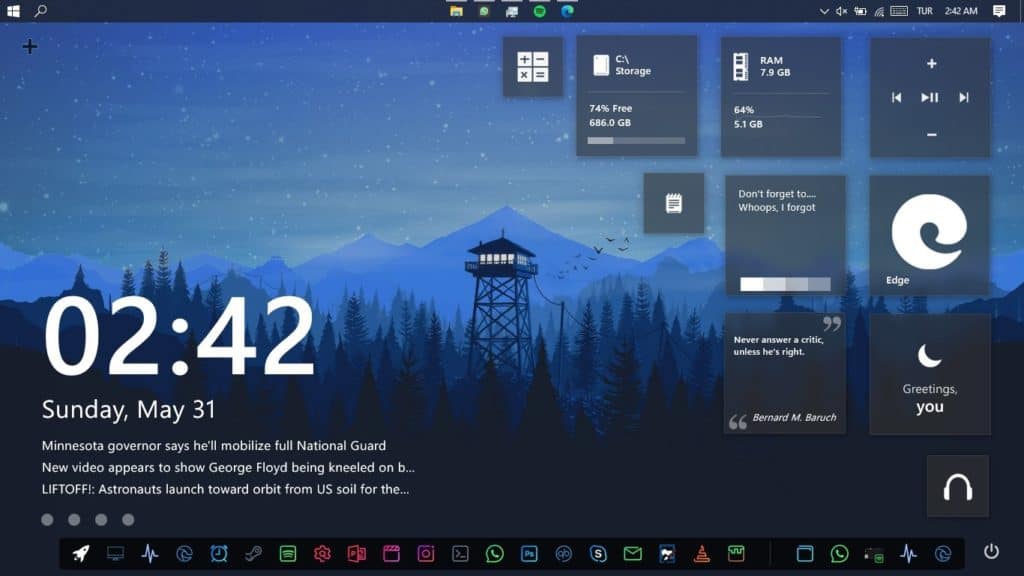 Starting off the list is Omnimo, one of the most popular and the best rainmeter skins up to date. The graphic side of things is going to help you create a dynamic and colorful desktop experience. On the other side, there are a lot of widget skins that it has to offer. It shows the widgets in some cool circles around your desktop that are not too distracting.
The Omnimo skin is going to help you show, the typical system information, date and time, custom circles with your preferred location, media player, media visualizer, the recycle bin, and many more. I believe this skin deserves the top place and that's by no accident but truly deserved because it's fantastic.
2. Ageo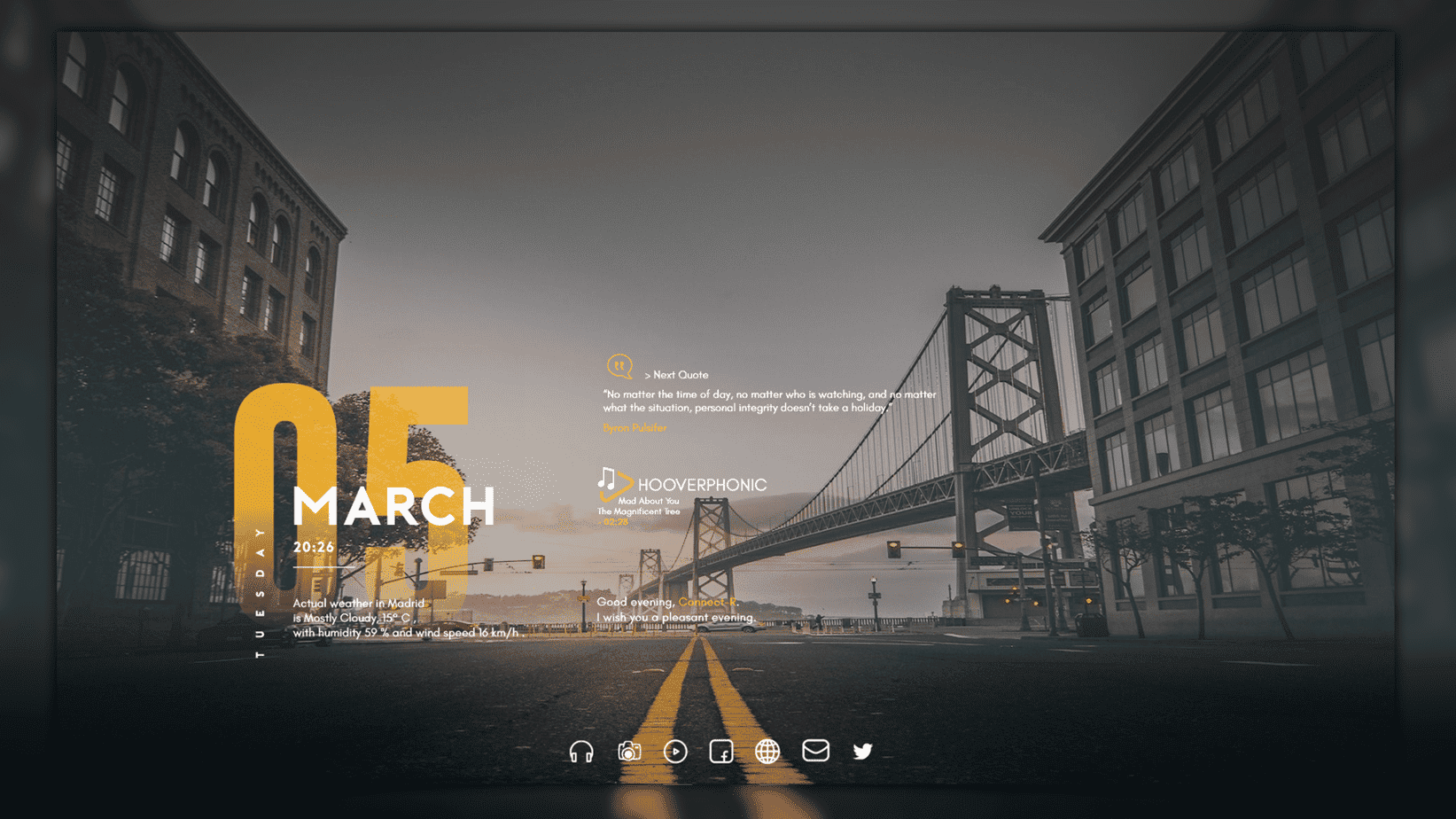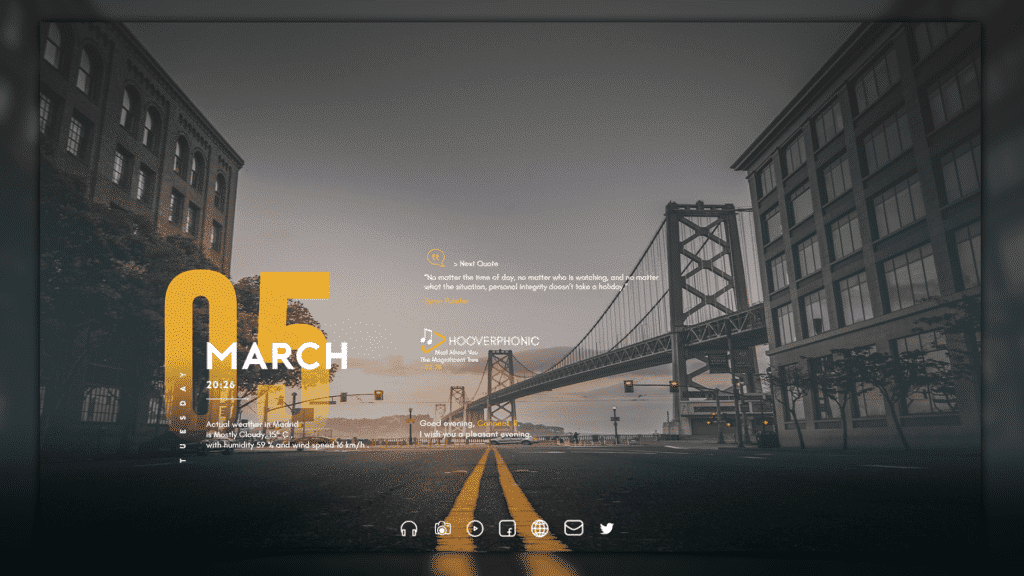 This skin has a lot to offer and does it in an elegant way so it's not too intrusive. The first thing you might notice is the date and time display which I think is fantastic. On the right side, there's a unique feature of this skin which is the daily motivational quotes that it shows you.
You will also find shortcuts to your Twitter, Mail, Web Browser, Music Player, Pictures, Media Player, and Facebook. Each of them has a customized design that works really well with the rest of the skin.
3. Big Sur RC1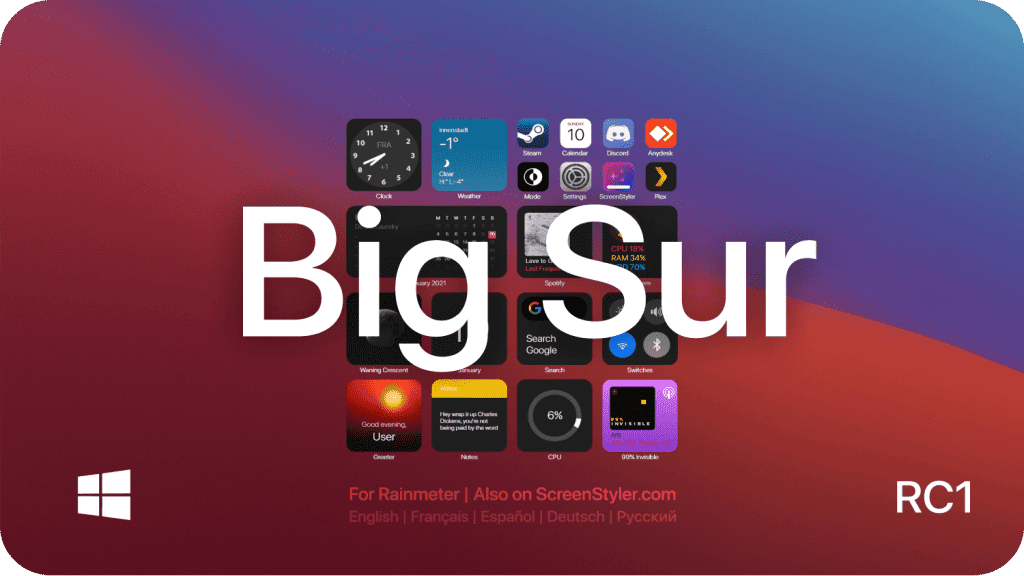 If you're on a Windows device and want to have the look and feel of a Mac then this skin is going to help you with that. It's an amazing design that going to skin the widgets to match those of the Mac OS. It comes with a lot of features like selecting the background, the ability to pick a background, configuring the settings of the sidebar, and many more.
I think the developers have made a great job with this one because it's so smooth and it perfectly gives the iPhone or Mac feel to your desktop. You can expect this skin to show these widgets in a new way; the usual system information like HDD, CPU & RAM usage, date and time, countdown, calendar, and many more. All the while displaying some great graphics to make it look even better.
4. Mond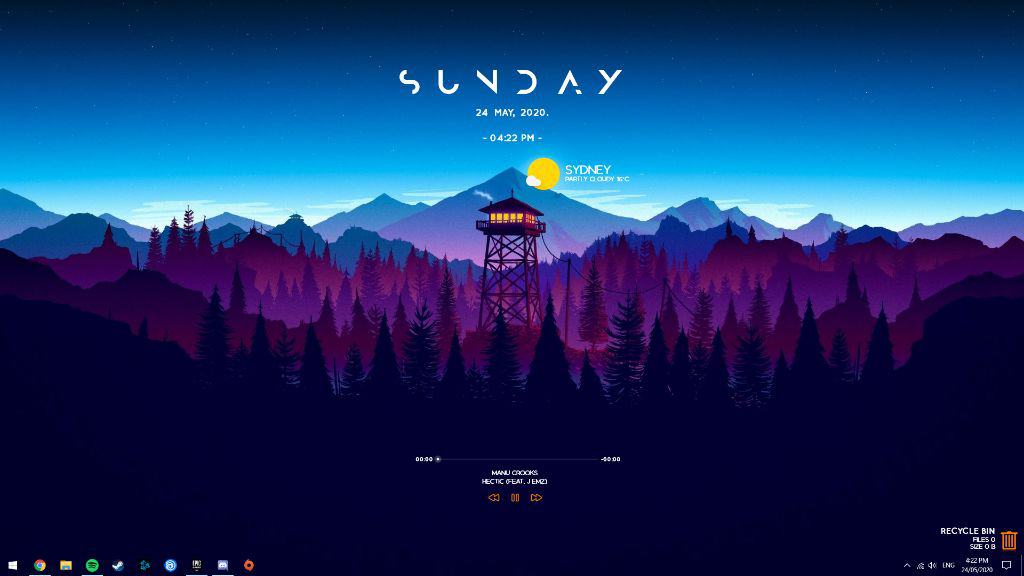 This is skin is definitively one of my favorites from the whole list, it has everything that I ever need to make my desktop experience more enjoyable. It displays the date and time in a really cool way and the font it uses looks amazing. You can also customize recycle bin and it looks fantastic in my opinion.
Not to leave without mentioning that it also has a nice UI for the media player. These make it one of my favorites since it's not too complicated and not too simplistic, it's just the right amount of both.
5. Glass Shards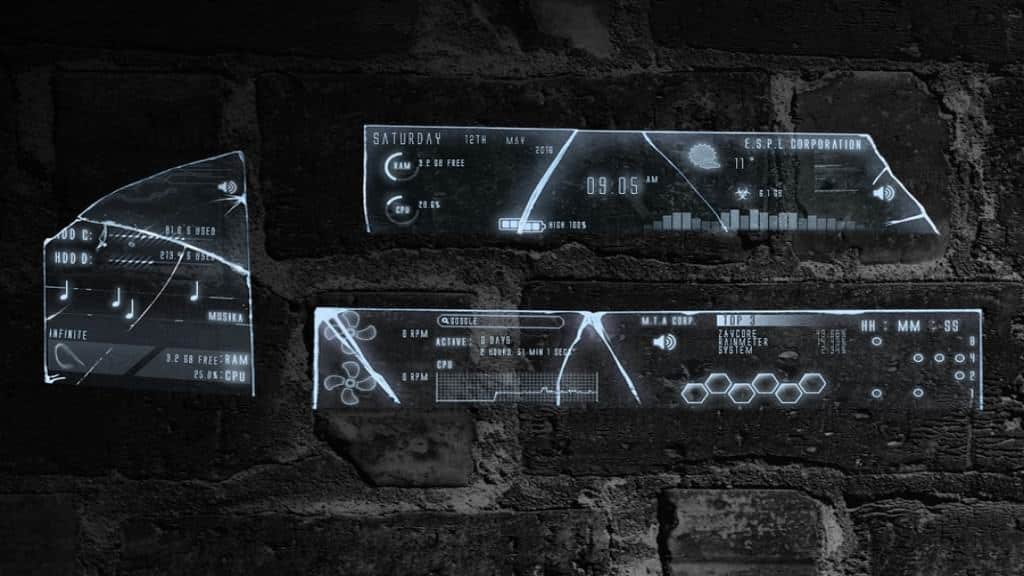 This skin is one of the better-looking ones on this list and I was seriously impressed when I first saw it. The broken glass shard can go over anything and still look great. You can clearly see the information that it's being displayed there with no issues at all. I had to look at the resources that this skin was using and to my surprise nothing out of the ordinary.
Inside the broken glass, you're going to see the system information, weather, a music visualizer, and many more. Compared with a good wallpaper this can really transform your desktop experience.
6. FLHUD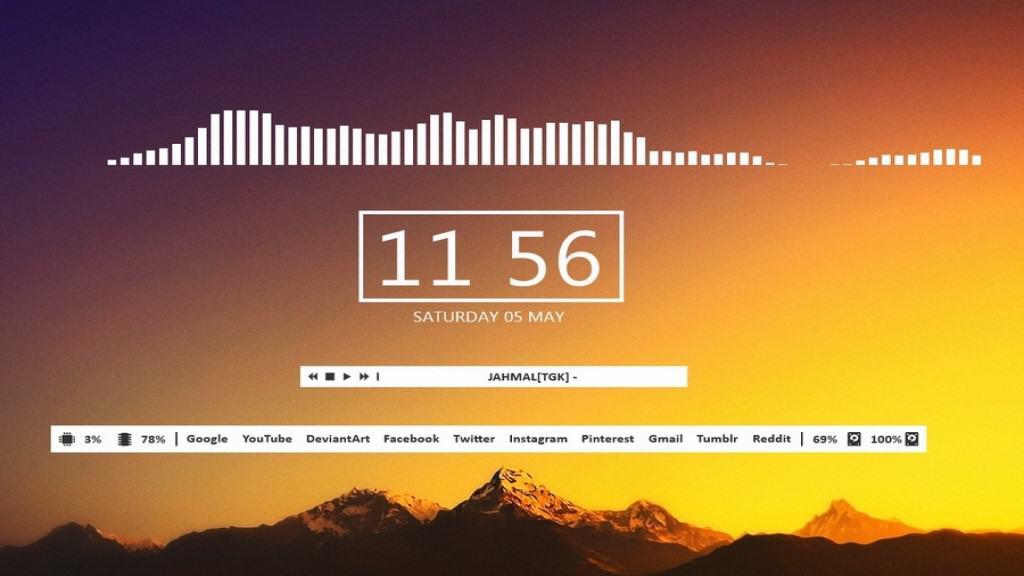 The FLHUD skin amazed me with its simplicity, clean-looking design, and the widgets that it offered. The main bar of the widget is completely customizable with hyperlinks so that you can check Reddit or whatever website you want with a simple click from your desktop. The visualizer had a great feel to it, was connected with Spotify, and looked amazing as you can see.
There weren't a lot of variations for the widgets other than having two choices for the clock but still, it was enough and it did the job.
7. Aliens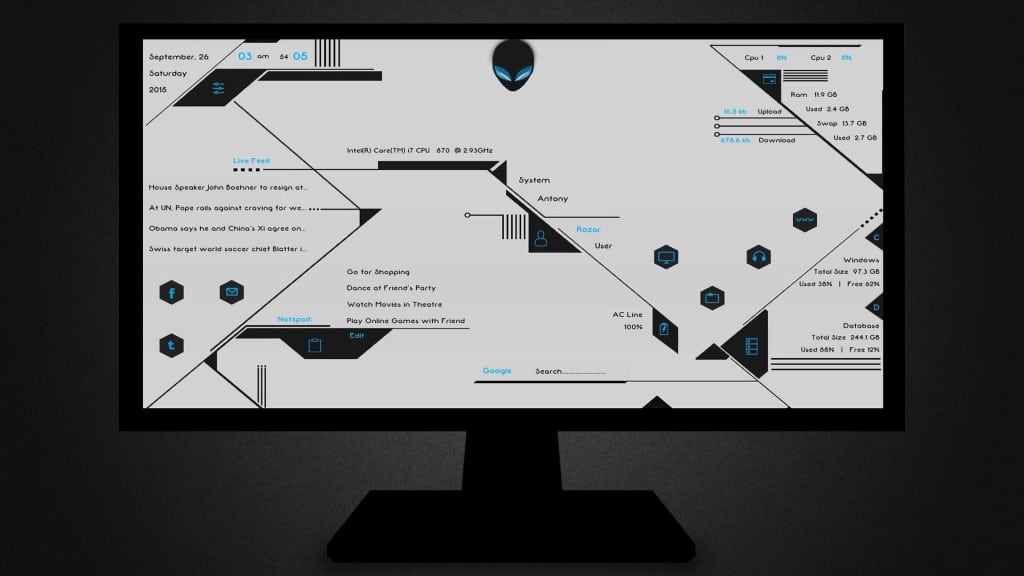 The Aliens skin is good however it would be great if you have the right setup. It has some great design choices that are more likely to shine in conjunction with a background image specifically made for it. Aliens has a lot to offer, from displaying the usual system information, CPU usage, RAM usage, Hard Disk capacity, date, time, a live news feed, upload & download speed, power button shortcuts, and many more.
If you want to fully enjoy this skin then I suggest you use the Aliens wallpaper that it's recommended by the developer.
8. The Gemini Suite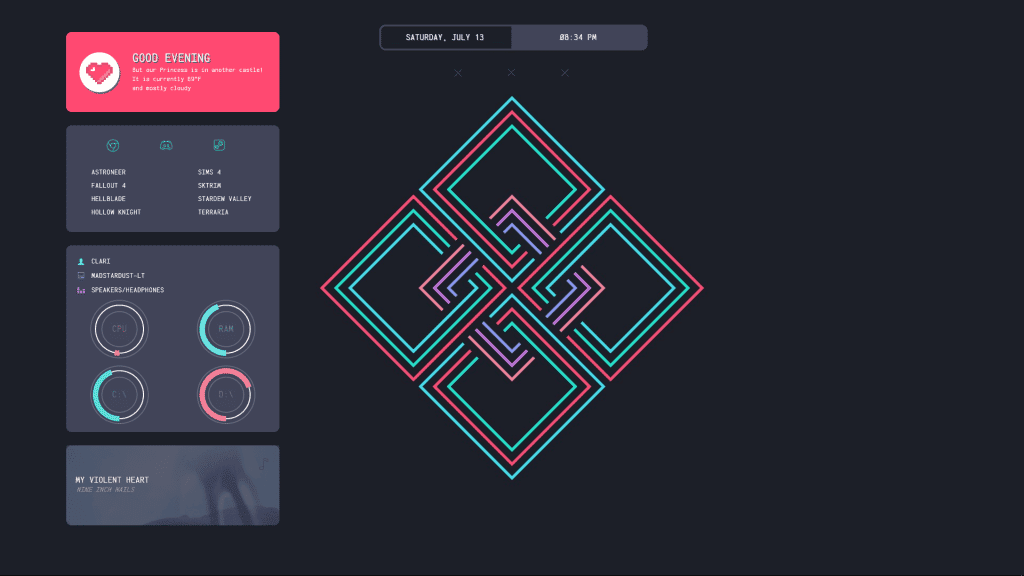 The Gemini Suite is an interesting rainmeter skin that offers a sidebar too, in fact, it has two variants for it. I'm impressed by the cleanness of the design and the efficiency that I have with it. This skin helps you display the clock, the date, system information such as the hard disk usage, CPU, RAM, open chrome, launch steam, and much more.
You can actually connect your steam account and look at the games that you have from the sidebar which is a really cool addition, especially for gamers.
9. Sonder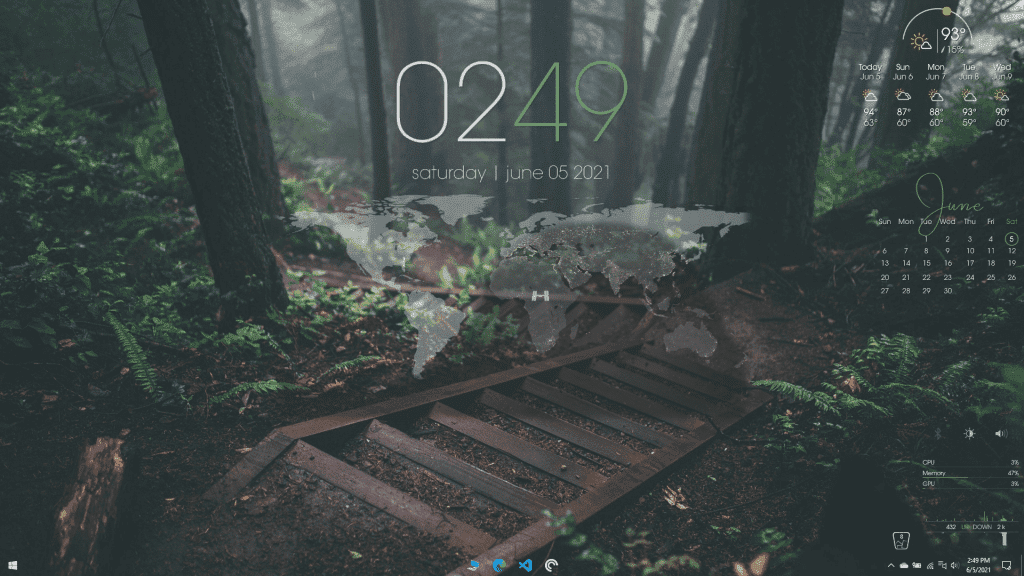 Sonder is subtle and minimalistic but it has some unique things that make it different from the others. That's the big world map widget that it has to offer, which also features satellite information. Along with that, you will get the usual system information, date, time, recycle bin, and more.
This theme is not going to interfere with your work whatsoever since it has a mild opacity and generally the design allows it to be smooth and hidden.
10. Modern Clean Desktop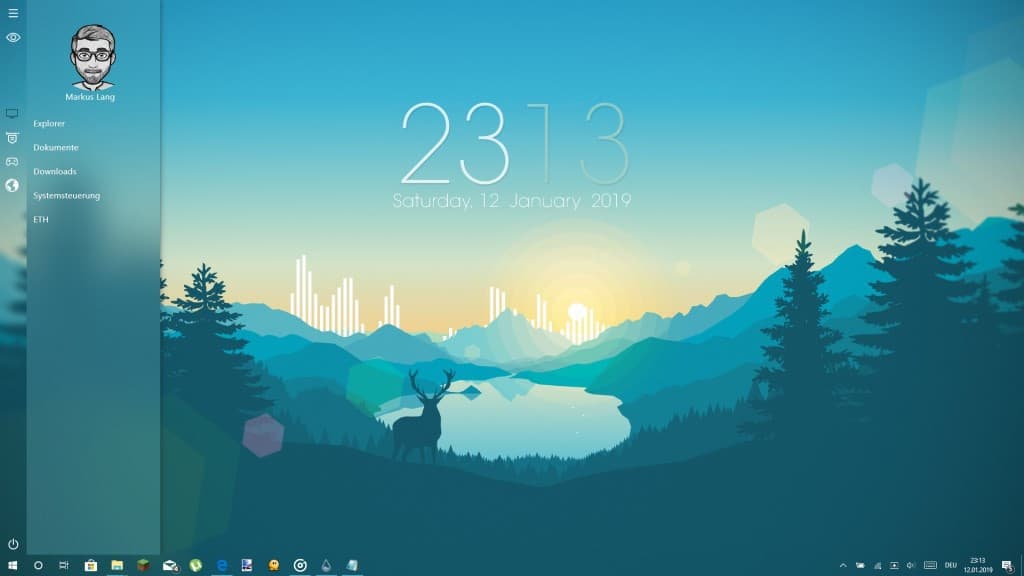 This is one of those skins that can completely change the way you use your computer and the look of your desktop. Modern Clean Desktop is a highly wanted skin among the users of the rainmeter application because it's modern and offers a clean look, just as the name itself suggests.
The date and time are displayed in a cool minimalistic way that don't gain attention. The sidebar is the biggest feature and there you can find everything you would need.
11. Eker Lina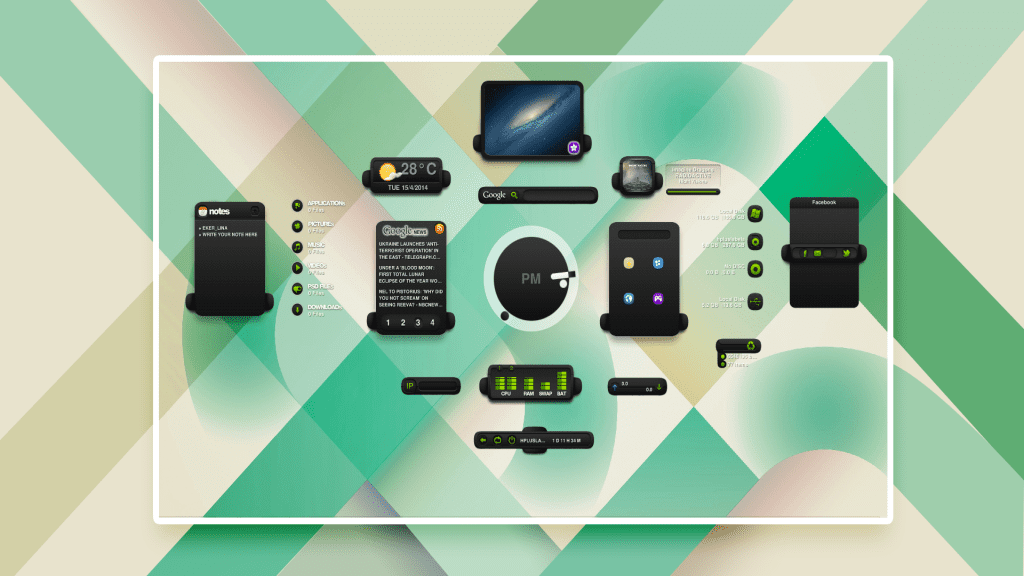 This is the number one popular choice for rainmeter skins and I understand why after installing it and giving it a try myself. Eker Lina offers two different skin colors. You can go with the dark version which I did as shown in the picture above, or with the white one. That depends on the background image that you have.
This skin offers a lot of layout possibilities since it can help you display a plethora of things, from the system folder, clock, temperature, date, system information, and many more.
12. Elegance 2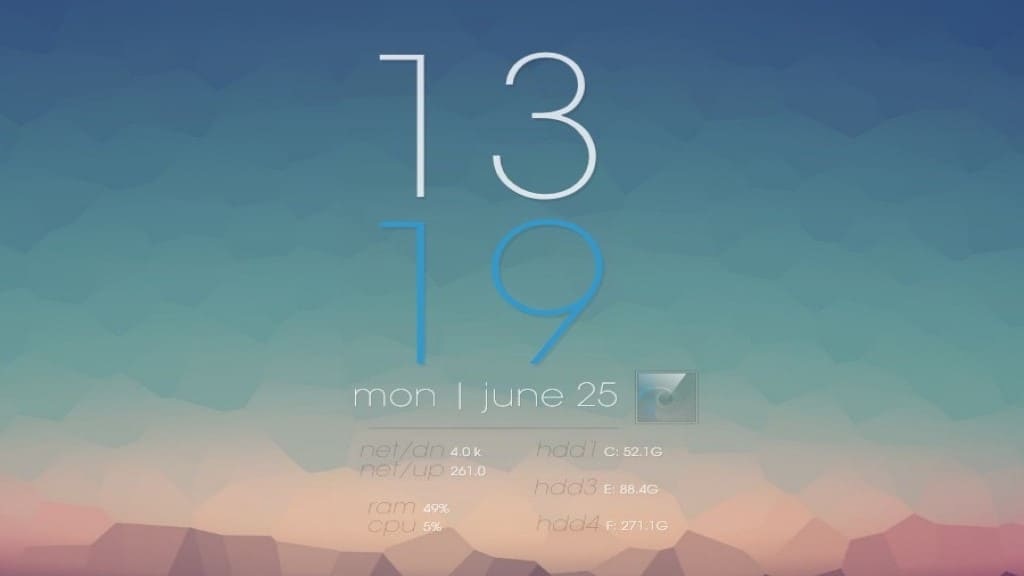 As the name suggests this skin is built with lovers of minimalism in mind. The design is not going to interfere with your normal usage of the PC. It's going to show you subtly the system information, clock, date, and a music player in a way that's really elegant too, pun intended.
Its opacity is going to blend in really well with the background picture and you're not going to be distracted by it whatsoever.
13. Moderate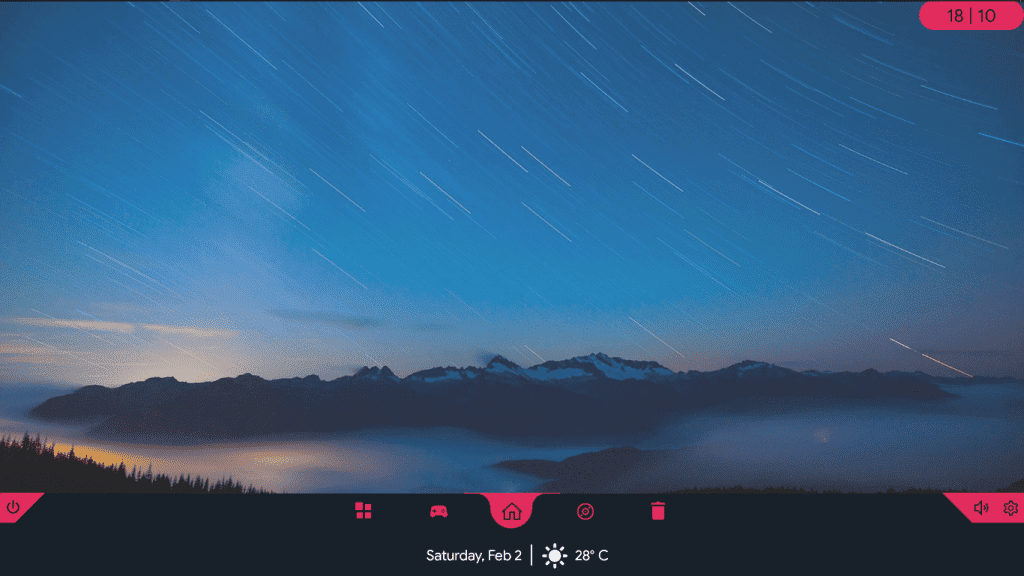 One of the best things that I liked about this theme was the simplicity and the robust design elements. However, not everyone might like its design since it's made to replace the taskbar with all the features and functionality that it offers. I'm going to say that if you don't have a touch screen then this widget might seem a bit redundant for you.
You can control the music, open specific files, look at disk usage and other system information, empty the recycle bin and open the games directly from the bottom bar.
14. Semplice Rainmeter Suite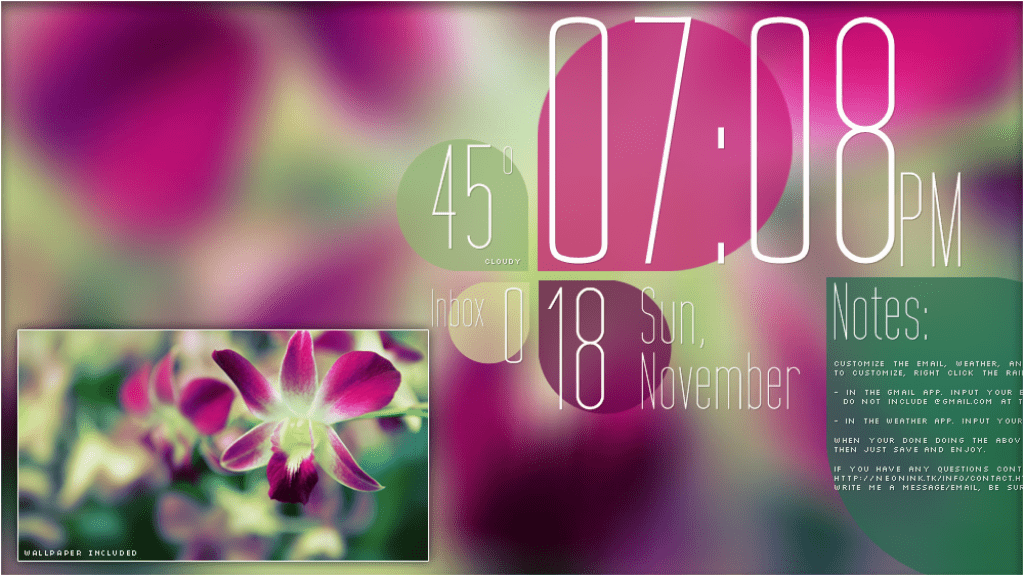 The Semplice Rainmeter Suite offers a lot of widgets that are going to help you customize the desktop to your liking. The visual side of things is minimalistic with some brave design choices almost making it look like a flower when combined in the way I did. The main things that it has to offer are the clock skin, weather, date and time, e-mail and finally notes.
If you were looking for a slick elegant design then I would totally recommend this skin since it's one of the better ones out there.
15. The Amazing Spiderman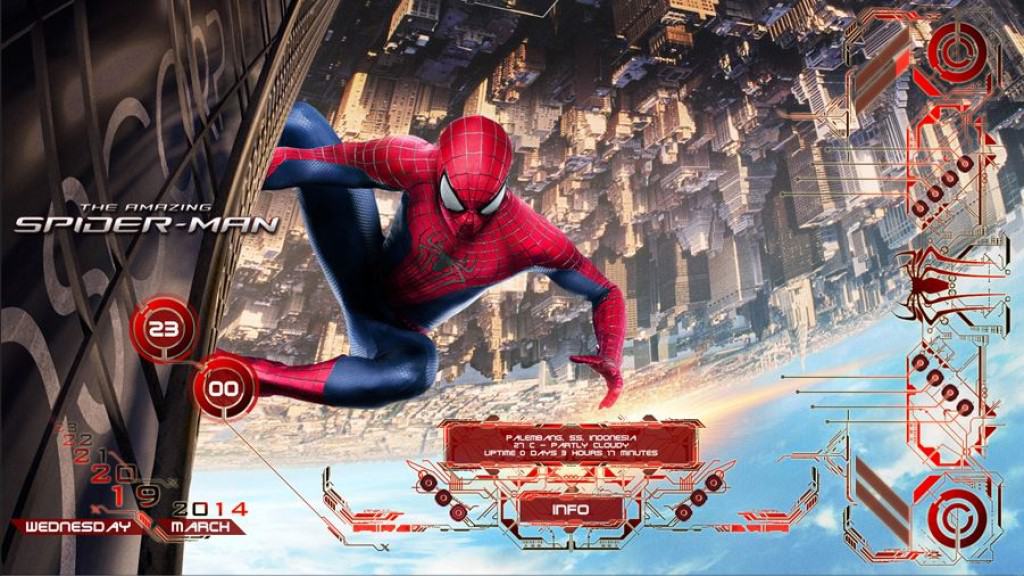 Download The Amazing Spiderman
This skin's obviously inspired by Spiderman and I'm sure the fans will greatly appreciate it. I certainly did and I'm not the biggest fan either, which means that everyone can enjoy it. It has a nice design that's made to look kinda futuristic with some spidey nuances.
You will find skins for the system information like ram, CPU usage, disk drives percentages, upload speed, download speed, Cortana search bar, date, time, and more.
16. IronMan-Jarvis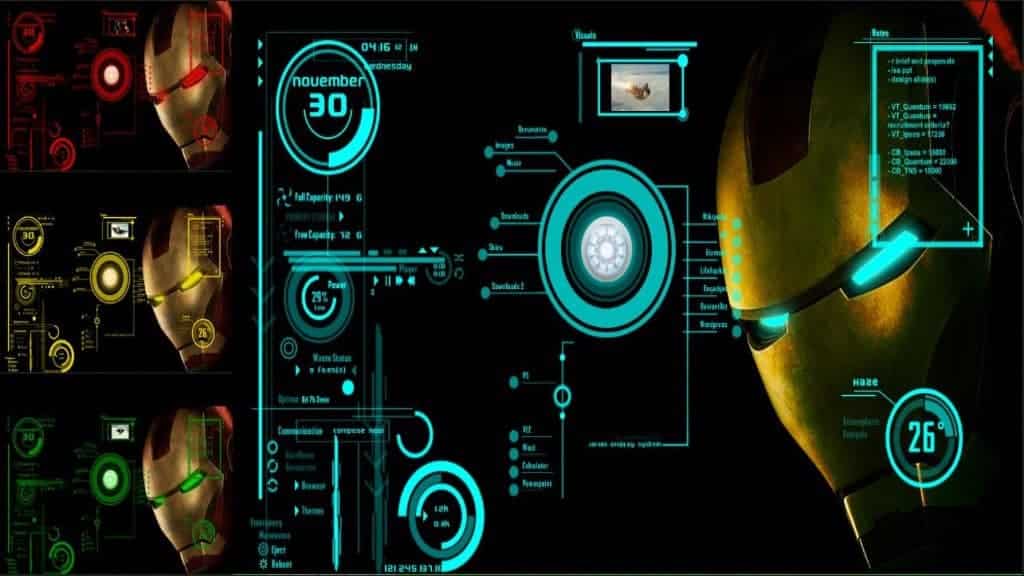 This skin is made to illustrate what it would be like to be inside of Tony Stark's helmet and interact with Jarvis the AI. It's a really cool-looking skin for rainmeter but appearance isn't its only strong point. There are different widgets that are going to help you customize your desktop to the fullest.
You can view your usual system information such as CPU usage, RAM usage, clock, date, hard disk capacity, RSS Feeds, the temperature of the system, and many more.
17. Titillium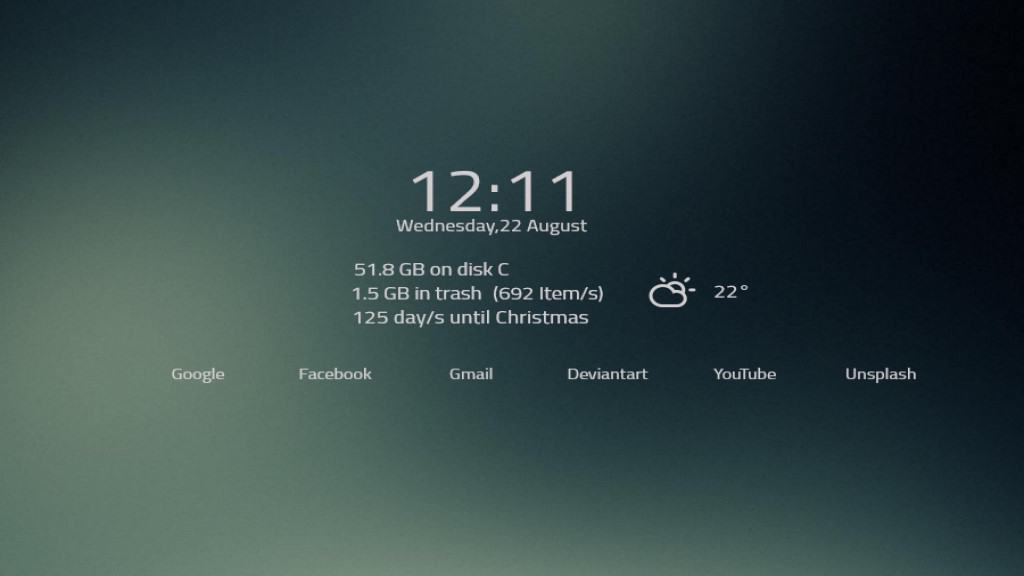 There's a reason that these types of simple skills are really preferable by most users and after trying it myself I know exactly why. They're not invasive and they don't bother you, they sit in the background without distracting you from work or whatever that you do on your pc.
Titillium offers a new look for the weather widget, system resources, date, time, and an interesting audio visualizer.
18. Palette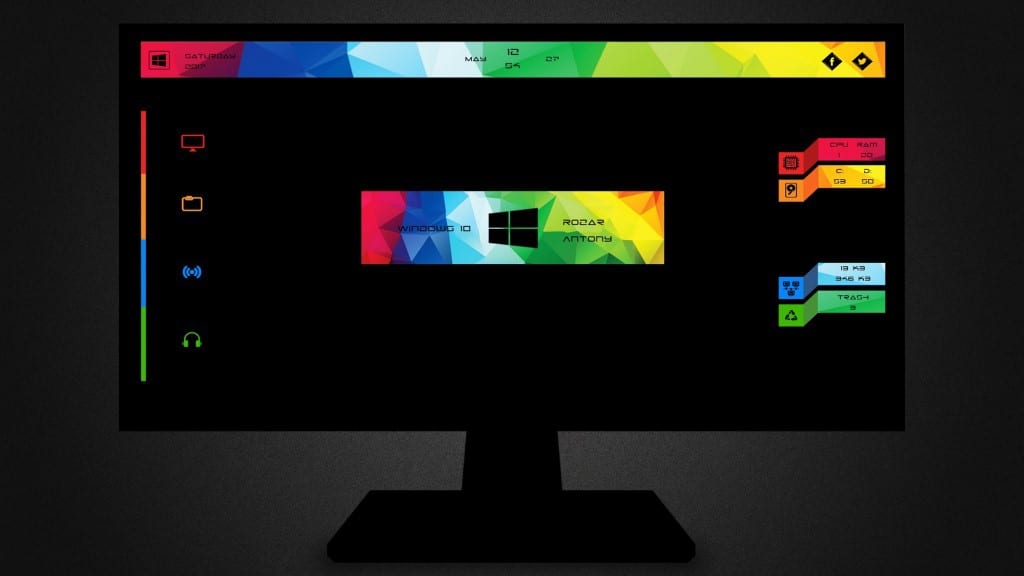 Paired with a dark desktop background I believe this skin is going to look amazing on your desktop. The techy and futuristic look that it offers it's going to make everyone stop and wonder if they are seeing a computer from the future. The widgets that it has to offer vary from, system usage, to ethernet usage, newsfeed, media player, file explorer, and much more.
Even though there are no variants I believe that for the right person that enjoys this type of skin, it's going to be just fine.
19. LIM!T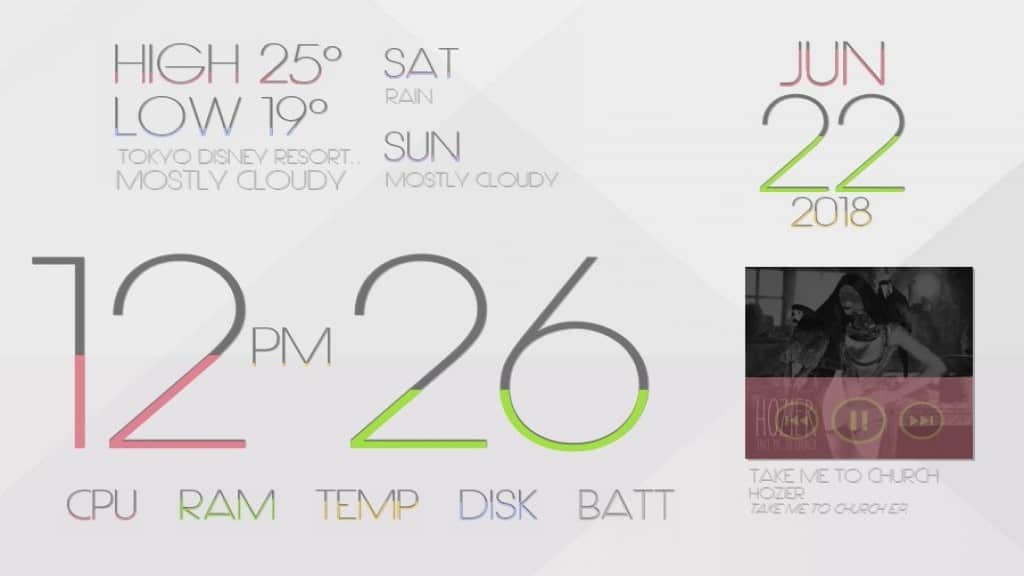 There's a recurring theme when going through these skins and that is the minimalism style that most of them follow. Lim!t is an interesting one since it doesn't bother you with complicated stuff, it fills the element to show information. For example, the clock fills in with each second that it passes.
The same thing happens for the other parts of the skin, and it has a lot to offer from clock, date, CPU, RAM, Temperature, Disk usage, battery percentage, weather, and a media player.
20. Circle Launcher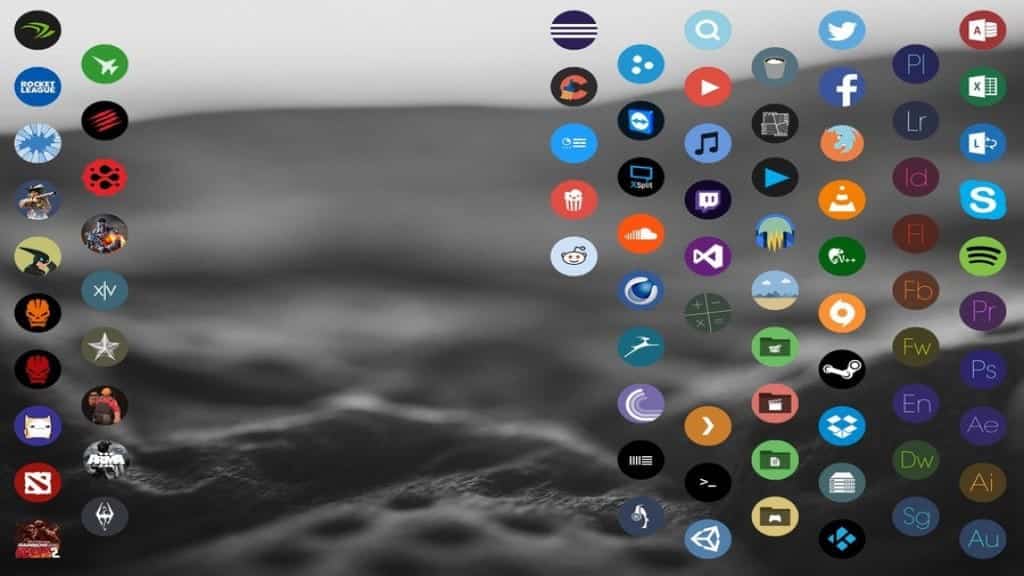 The Circle Launcher is a fairly unique skin from this list because of what it has to offer and how it does that. You can change the entire desktop experience with this skin since it allows you to open any program in the form of a circle as shown in the picture above. After trying it myself I can confidently say that it makes your desktop look more modern and futuristic in a way.
It's the perfect skin for those who need some changes in their desktop appearance and this can tremendously help with that.
21. MemoDijay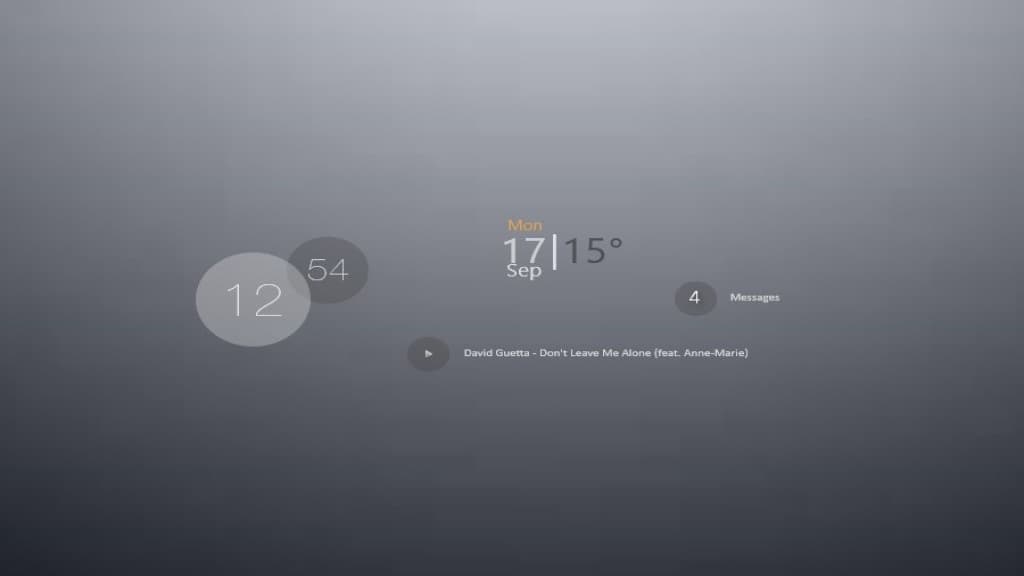 Keeping up with the circle theme from last skin the MemoDijay offers some cool features that are going to improve your desktop experience. It's going to help you display the clock, time, Gmail messages and even has an iTunes music player.
Its opacity makes it blend in really well with any background and it gives strong minimalistic vibes.
22. Neoclock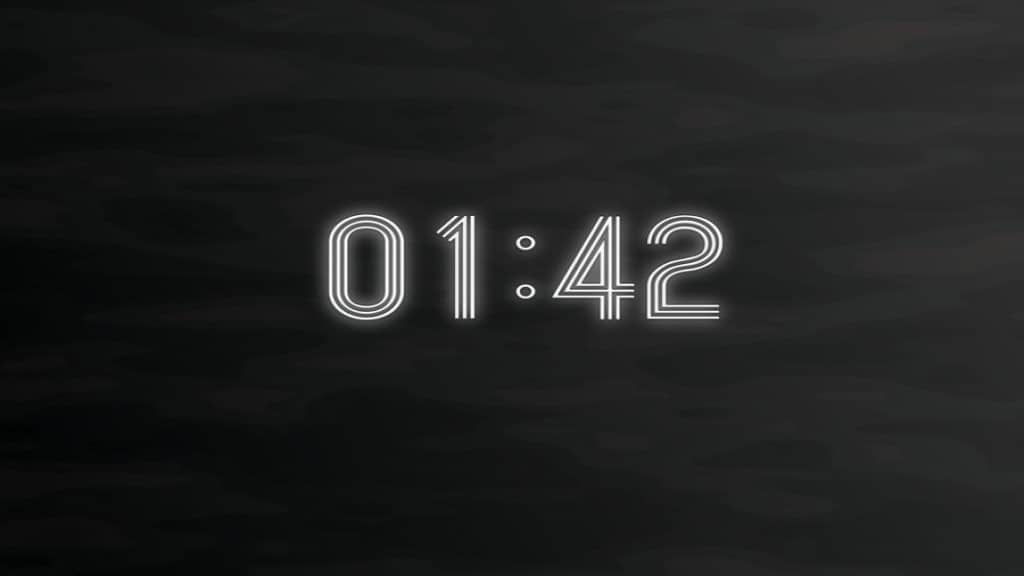 If you wanted the classic neon look to your clock then this is the perfect rainmeter skin for you. Neoclock does exactly what you would think it does. It's going to make your desktop a lot more stylish and compared with a background image that makes it pop this is going to be perfect.
The only thing that it's lacking is the color customizability but overall is a great solid choice.
23. Carbon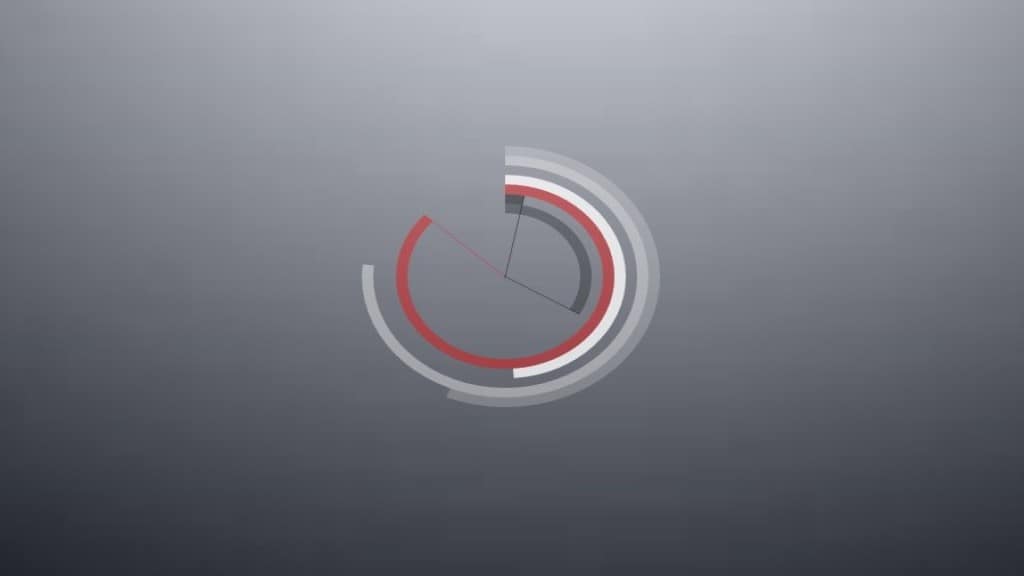 The Carbon skin for rainmeter is a unique skin that helps you display a complex clock that has a hidden feature. That is the ability to display system information such as hard disk usage, RAM, the calendar, time, and more, just by clicking the widget. It changes the outer layers of the clock depending on the type of information that it's going to show.
I think it's one of my favorites for the fact that a simple thing as a clock can display so much in a slick design.
24. Cronotopo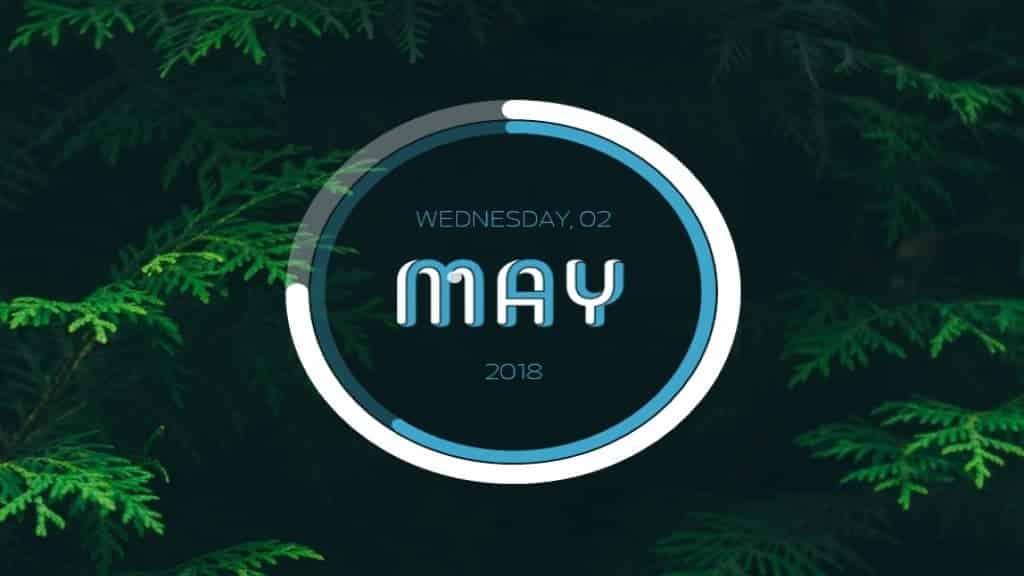 Cronotopo is a really cool-looking skin for rainmeter even though it doesn't offer a lot. As you can see from the picture above it only has one widget that shows the date and time. However, the colors are completely customizable which is a big bonus because it helps to adapt it to whatever desktop background.
It's a simple design that also has a dot spinning in circles around the month which gives it an interesting look.
25. ASTROClock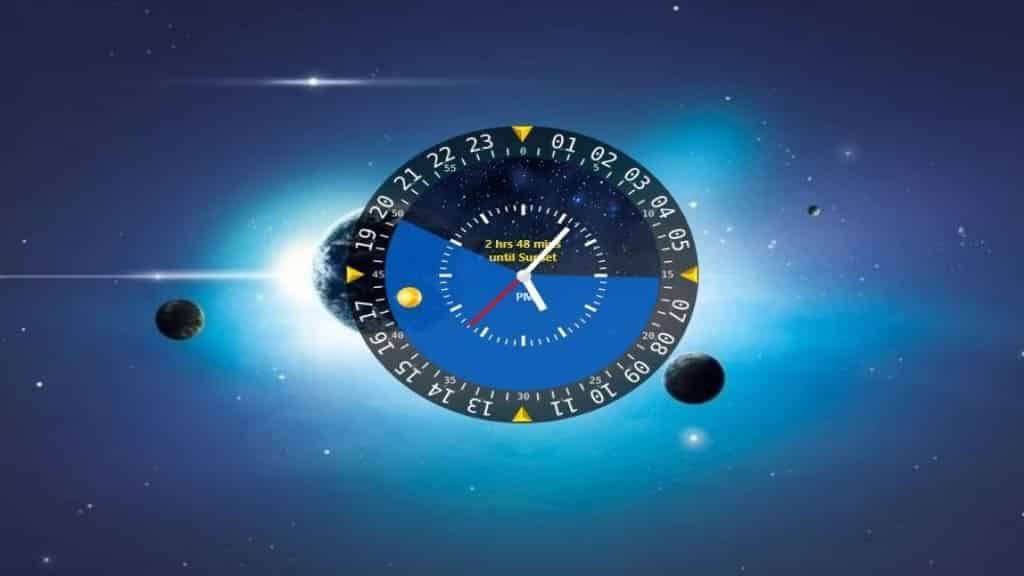 Astroclock is a fantastic skin that has a lot of cool animations to back it up. It's space-themed and as you can see from the picture above it's going to display the earth in a static form, the moon in static form, another smaller rotating earth, a rotating and blazing sun, and lastly a compass/clock of sorts.
Space nerds are going to love tinkering with this skin and its features, it's really well made and not laggy at all. I even checked to see if there was any spike in CPU usage or RAM but nothing out of the ordinary, truly a solid choice.
26. Muon Suite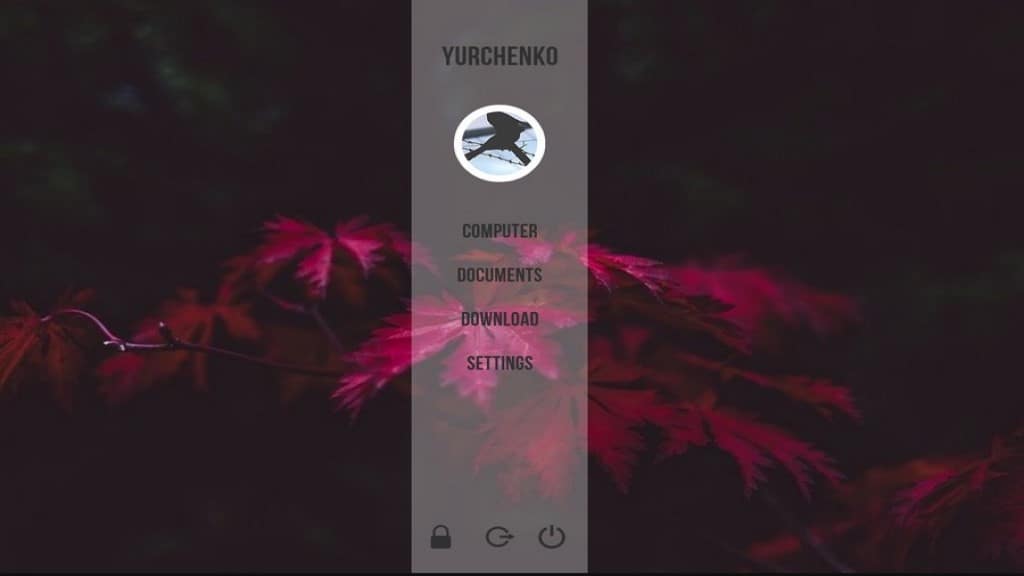 Muon Suite offers an amazing look for your desktop, making it stylish but also not complicating it a lot. It's better if you don't show your desktop icons when using this skin since you have everything you need in the right sidebar or by the icons on the left.
The clock displayed in the middle is minimalistic and it looks great. The weather is also displayed in a cool way. From the shortcuts on the left, you can access any document or location on your PC with a click of the mouse.
27. eTech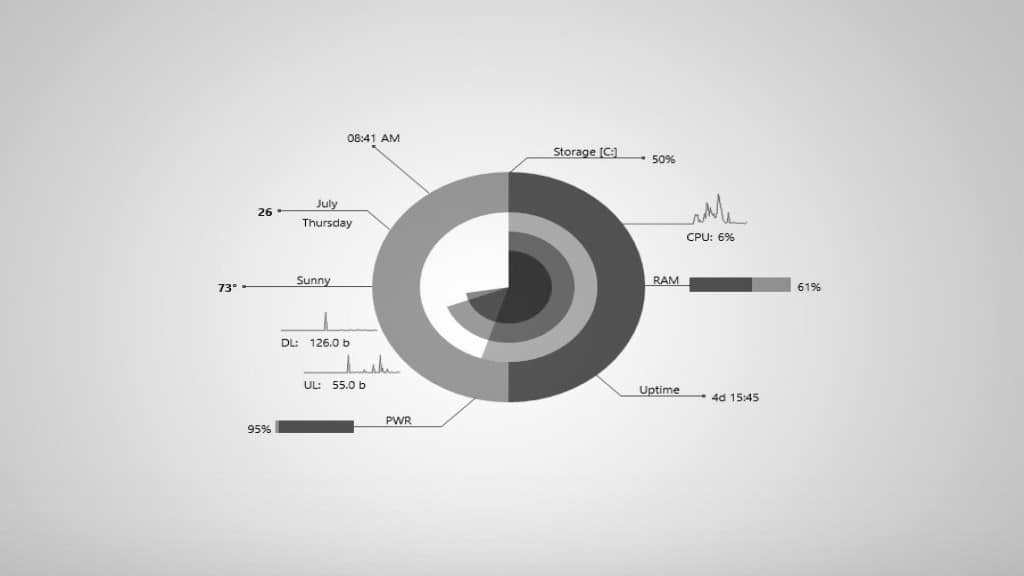 The eTech skin is simple meaning it has one main widget that displays all the information that you would ever need from your computer. It does it in a futuristic and techy way but that's not too complex or hard to look at. This skin comes in two variants the black one which I have shown in the picture above or the light one. It all depends on the wallpaper that you have and the preference.
It displays the Date, Time, CPU usage, RAM usage, Uptime, Download & Upload Speed, Hard Disk Capacity, Power Options, and more.
28. Before Dawn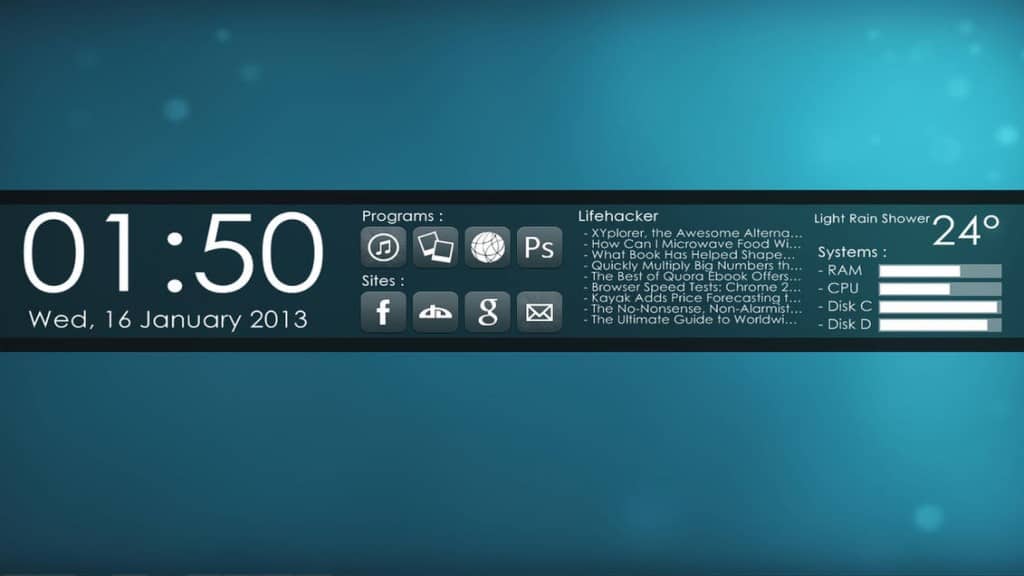 Before Dawn is a nice skin for rainmeter and it has a unique design. Unlike the rest of the skins on this list, this one is a straight bar that has all the information that you would need in one place. It's not meant to substitute the taskbar but if you really want it you can do it since it allows you to open some programs from there.
It displays the usual system information, CPU usage, RAM usage, Disk Drive capacity, date, time, social icons, and many more.
29. Miui Analog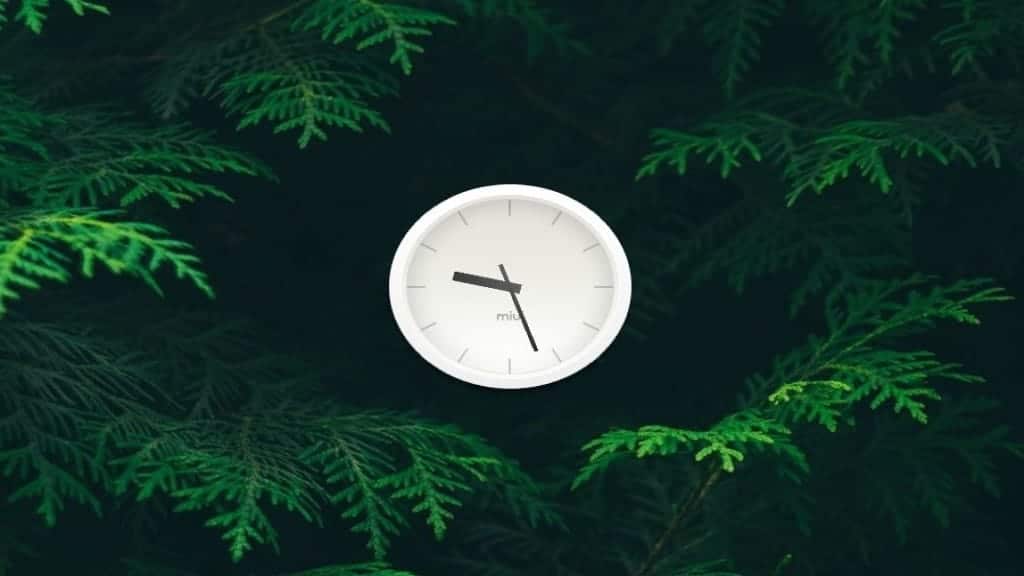 This one is a straightforward skin that does exactly what it says, it stimulates an analog clock that resembles the one on a MI Smartphone. There's not much to say about this one other than the fact that it has a dark mode too.
Depending on your background picture or your likings you can choose to have either one. It looks amazing in either variant so don't hesitate to try it out.
30. Simple Media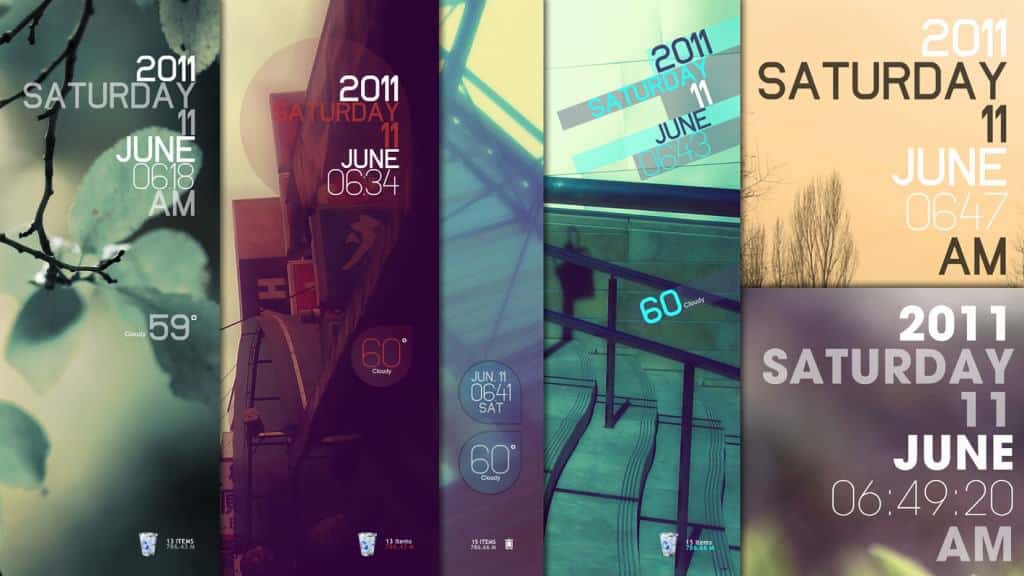 Simple Media is an interesting skin for rainmeter. It displays the date and time in a slick, elegant and fashionable style which I really like. Also, it's going to help you display the recycle bin and the weather in a nice pop style.
Even though it doesn't have a lot of other features there's a ton of variants you can choose from.
Closing Thoughts
In this article, I talked about the 30 best rainmeter skins for 2021 by ranking them from the most popular to the least. The first part has the most popular choices, then the article continues with solid choices. After trying all of them out one by one I can guarantee that all the skins that I have listed here are going to work perfectly for you and also all the links are going to be working.
If you have any questions about this article don't hesitate to leave a reply in the comment section down below. I will try and answer as soon as I can and provide valuable insight. Hopefully, I helped you choose the best skin for your system.