DJI has planned its future Action 3 camera launch this year. So, we'll likely witness the DJI Action 3 arriving before the much-awaited DJI Pocket 3, with September 14, 2022, release date. According to the rumor mill, the new DJI Action 3 will have the following features
Bigger 1-inch camera sensor
Rugged design
Improved heat management
Better battery life
For now, nothing official has surfaced online regarding what this anticipated camera would bring for us. But drone enthusiasts have numerous speculations about the DJI Action 3 features and specs that we'll round up here.
DJI Action 3 Expected Features
DJI first launched its Osmo Action camera in 2019 as a challenge for the GoPro Hero series. Following the DJI Osmo Action, the firm launched DJI Action 2 in 2021, which contained numerous design tweaks and feature upgrades.
While DJI Action 2 wasn't the best, it made a significant jump regarding feature enhancements. For example, it had a larger 1/1.7-inch sensor compared to its predecessor with 1/2.3-inch. Likewise, it features a super-wide 155° FOV, offers support for SloMo videos and 4K recordings, and boasts a waterproof design.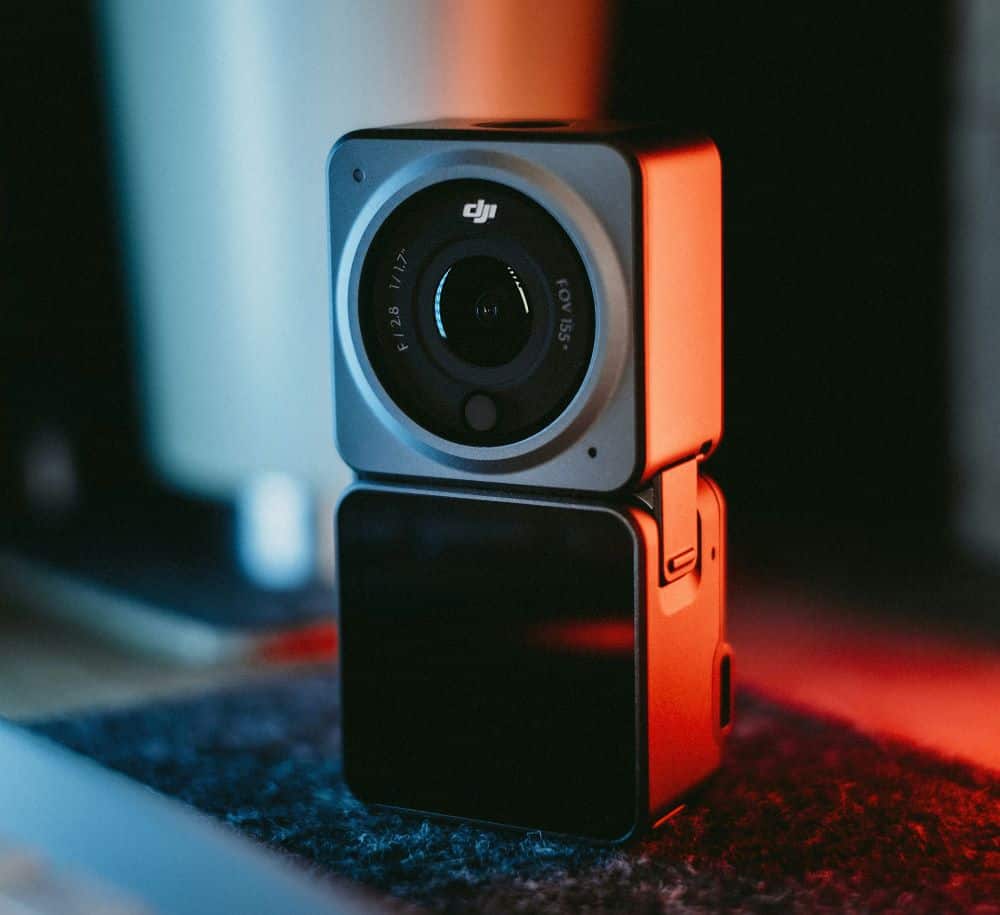 So, with the DJI Action 3, the company naturally strives to bring more improvements to attract customers. Considering the legacy of feature upgrades and the users' demands, here's what we expect to see with the DJI Action 3.
Bigger Camera
Just as the DJI Action 2 featured an improved camera, the DJI Action 3 might feature an even better one with a larger sensor. Perhaps, we may witness the huge 1-inch sensor in the upcoming variant. Given that this huge sensor is already available in the DJI Air 2, it isn't weird to expect the same in the DJI Action 3. Indeed, a bigger sensor would further enhance its rich photographic abilities.
Better Nighttime Imagery
Camera improvements don't only mean specification upgrades for documentation purposes. Instead, these minor tweaks can significantly jazz up the overall camera abilities. So, if we get the anticipated 1-inch sensor with the DJI Action 3, expect the camera to capture even better nighttime images. That means it would allow you to ditch any additional lighting sources and take better, more realistic lowlight images.
Robust Design
The DJI Action 2 introduced a significant design update from the previous Osmo Action. It is pretty small in size and has a sleek metallic form factor that makes it extremely handy. But this handiness came at the cost of its sturdiness.
Nonetheless, it looks like the firm understands that issue. Hence, it may not make any major changes to the design. In fact, according to a leaked image from DealsDrone, DJI may simply encase the Action 3 specs in an Osmo Action casing – the first Action camera that flaunted the utmost resistance.
This "almost similar"-to-the-Osmo-Action design may disappoint some users, particularly the fans of the sleek Action 2. But the firm might have to revert the design to introduce the anticipated specification upgrades.
However, a simple reintroduction of the exact design may render the Action 2 accessories useless for the latest variant. While that's still something to test after the product launch, mind taking a sneak peek at Action 3 accessories? Here is what DealsDrone has shared for us.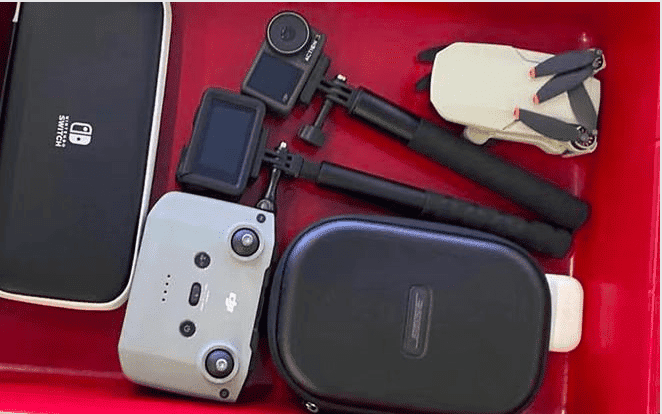 Improved Stabilization
With Action 2, the company introduced the RockSteady 2.0+HorizonSteady technology for stable recordings even during the roughest recording modes. While that sounds impressive, this technology had its limitations. For instance, EIS isn't available in Slow Motion and Timelapse modes, whereas HorizonSteady can only support 1080p or 2.7k video recordings.
So, to beat the competition like GoPro Hero 10, DJI must introduce better stabilization with 4k support with its Action 3 camera.
Enhanced Water Resistance
A true action camera should be robust enough to withstand the roughness of live actions. One of the much-needed features at this point is waterproof design.
Although the DJI Action 2 bears waterproof, drop-proof, and dust-proof technology, it can only withstand up to 10 meters. Whereas, if you want more, you need to pair it up with a waterproof case to enable it to bear up to 60 meters of depth.
Hence, we won't mind the new Action 3 camera setting its users free from the hassle of arranging waterproof cases by featuring better resistance. The latest leaks from DealsDrone also suggest the same – the new Action 3 may resist water up to 16 meters without any protective case.
Increased Battery Life
The present batteries in Action 2 camera can manage up to 70 minutes of filming. But, of course, this time frame can't suffice to cover your favorite moments; some memories deserve to be recorded entirely, which may go beyond a couple of hours.
Although, you can extend the recording time to 160 minutes with the Front Touchscreen module or 180 minutes with the Power module. But it's kind of a limitation for power users to carry along so many small accessories merely for extended recording sessions.
So, with Action 3, DJI may consider improving the overall battery duration of the camera unit. It should at least manage around 120 to 160 minutes of recording on its own before integrating any additional module.
Better Heat Management
Overheating issue has long been a DJI problem. Both the DJI Pocket 2 and Action 2 have the same problem of getting excessively hot in the middle of filming. And we anticipate the firm to address this problem with its cameras. While the Action 2's reduced form factor looked sleek, it ditched any spaces for thermal management components like a heat sink. So, with DJI Action 3, leaving a little room for introducing a heat sink or alike can significantly improve the camera's usefulness.
Things We Want To See In DJI Action 3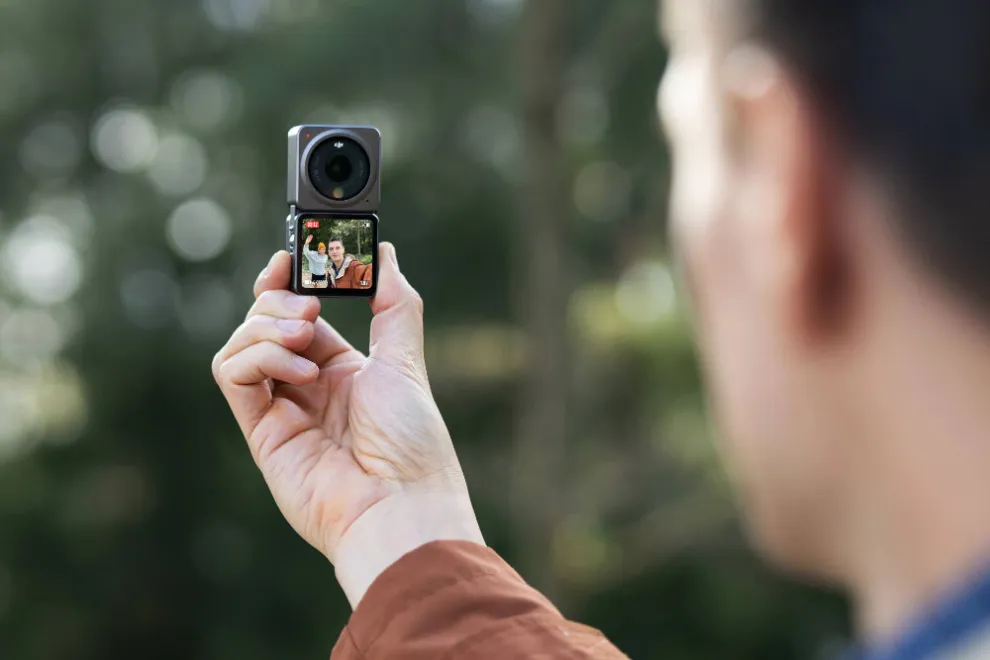 Apart from the expected feature enhancements, we would also like the new camera to address the glitches of DJI Action 2. But, of course, all its fancy features will be of no use if the camera doesn't fix the problems of the existing DJI A2. So, here's our wishlist for the upcoming action gadget.
True 10-bit HDR
Although DJI calls its Action 2 an HDR camera, it precisely lacks the typical 10-bit HDR. So, we want the firm to introduce true HDR with the upcoming Action variant to make it desirable.
Improved Endurance
Although the existing Action 2 withstands water up to 10 meters, the DJI Action 3 shall also flaunt an improved resistance. However, the camera is vulnerable because the battery module isn't waterproof. So, losing the batteries will be severe damage, needing you to spend at least $75 to replace them. (While it sounds easy, it actually isn't, especially now that the batteries are out of stock on the DJI online store.)
Hence, we won't mind the new Action 3 camera facilitating the users by featuring a water-resistant battery module. It will surely add to the camera's resilience when coupled with a waterproof casing.
Built-in SD Card Module
While you can add a memory card with the DJI Action 2, it's available in a separate module which seems inconvenient to manage. It will be a big plus for smooth and rich action photography if DJI considers introducing SD card support with the main module.
External Microphone Support
Though Osmo Action 2 flaunts improved audio results, it still lacks the much-anticipated dedicated slot for an external microphone. This little addition can dramatically enhance the users' experience, giving them a more personalized sound experience. So, tweaking the camera size to make room for a mic slot will be highly appreciated.
DJI Action 3 Price
The firm launched its Action 2 camera with an initial price tag of $399. However, given how it brought improvements from its predecessor and anticipating the enhancements with the upcoming variant, the DJI Action 3 will likely come with a price tag of $400 or more.
DJI Action 3 Release Date
DJI launched its Action 2 camera in November 2021 – two years after the first Action release. Considering these timelines, users generally hoped the DJI Action 3 to arrive until the fall of 2023.
However, the company is seemingly ready to surprise its users with an early launch. As it teased recently via its official Twitter handle, the firm has scheduled September 14, 2022, as the DJI Action 3 release date. (Of course, it hasn't confirmed the name. But come on, the camera image is a clear hint of that. Isn't it?)
DJI Action 3 Alternatives
Until the DJI Action 3 arrives, you can satiate your photography cravings with these alternative cameras.
GoPro Hero 10
DJI Action 2
Wrapping Up
For all avid photographers, the DJI Action 2 has been a wonderful treat from the firm. So, we naturally expect the upcoming Action 3 model to be even bigger. That is all about what we know so far regarding the forthcoming DJI Action 3 camera. But keep an eye here to stay updated about this fantastic camera because we'll add more to this roundup as we hear more leaks and rumors.